Digital signage offers marketing teams incredible flexibility when it comes to sharing up-to-date information. However, the great obstacle remains object hyperlinking, that means connecting physical objects to your internet sources. In comes the QR Code, connecting your audience to your social media channels, online stores, product, and services information. Scroll down to delve further into the wonders of the square Code.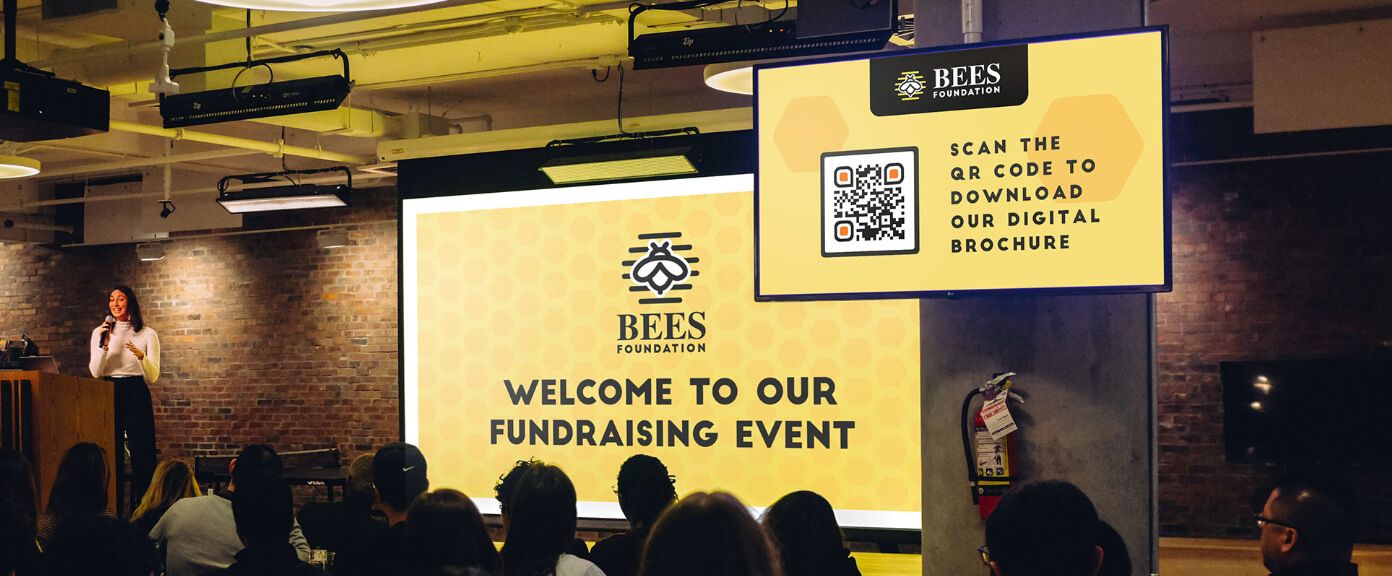 The Benefits of Using QR Codes on
Digital Signage
Reduction in paper waste? Check. Information updated with real-time data? Check. Enhancing customer experience and engagement? Check and check. Be honest, you are not sure if we are talking about QR Codes or digital signage. That is because, with their powers combined, both can launch tradigital marketing into the future it deserves. They are both eco-friendly fountains of information that enhance customer experience and improve how people navigate the influx of information and brands.
1.

There is something different about QR Codes

QR Code scanning rates have seen a consistent increase in the last few years, in reach, interaction, and, the most interesting of all, growth of interaction per active object. Not only are people becoming accustomed to seeing QR Codes and scanning them, but they are also more likely to scan them more than once.

At this point, you might be wondering why are QR Codes in the spotlight once again. Let's have a look at some other statistics. The number of worldwide smartphone users has also been on a continuous upward trend since 2011 and is predicted to reach 3.8 billion by 2021.
2.

Show, don't tell

Here is an interesting thing to keep in mind as you roll out ideas for your future marketing campaigns. 2020 trends show undeniable importance in brand transparency when it comes to customer purchases. But transparency to what end? Research shows pressure being applied to uphold companies' reputations through supply-chain transparency.

Marketing needs of the coming decade? Meet QR Codes. Allow your audience to experience your company's story through action, senses, and feelings rather than through the summarization or description.

By offering a variety of QR Code types, you can approach campaign challenges with creative and fun solutions. The Video QR Code and the Image Gallery QR Code can help you share supply-chain information in a fun and engaging way. Organize events with ease and make them easy to save and share for your attendees with the Event QR Code. To find the solution that best suits your marketing needs, check out our enriching QR Code types.
3.

Editable and updatable information

It's important to select marketing tools that give you the flexibility to mend errors efficiently at any time. With Dynamic QR Codes, you can still edit information, fix any error, or change the QR Code type even after you have generated, printed, and launched your campaign. Interested in discovering more possibilities? Visit our page The Advantages of Dynamic QR Codes.
4.

Boost brand awareness

QR Codes now come with an endless library of design possibilities. Regardless of the marketing material you choose for your QR Code marketing campaign, you can match the colors and style to create a seamless brand experience.
5.

Gauge your success

QR Code Generator PRO offers a tracking feature that gathers statistical values for Dynamic QR Codes. In addition to amassing frequency of scans and unique scans, you get information on the location, date, time, device, and operating system used for each one. With this real-time data, you are always up-to-date on your QR Code's performance success. Find out more about all the benefits you can glean from our tracking feature here.
How to create a QR Code on a
Digital Signage

?
Go to QR Code Generator and select the type of QR Code you'd like on your digital signage. We recommend using the URL QR Code to start with.*
Enter the website address.
Your QR Code will be generated automatically.
Now, customize the design of your QR Code by adding a frame and a "Scan Me" logo.*
Select colors to match your style or company brand identity.
Select 'Download' to receive your QR Code file in .jpg format.
Integrate your newly-created QR Code to your digital signage design.
*Sign up to choose more QR Codes such as Event, Video, and Coupon, where you have the option of adding more information, more visuals, and edit or replace all the information without reprinting a new QR Code. You can also choose from a variety of frames and upload your own logo.
QR Codes on
Digital Signage

Best Practices

The QR Code no longer needs to just be monochromatic, meaning you no longer have to give it a dull prescriptive approach. You can now design it to fit your brand with a variety of creative tools. Here are five best practices to follow when creating QR Codes. For even more design tips and tricks, visit our blog and our in-depth design guide.
1.

Add instructions

One big mistake QR Code users have made in the past is printing them without a short written explanation of what the consumer would gain or learn from scanning one. Make sure to incentivize your consumers to scan your Code, or else all your marketing efforts will be for naught.
2.

Frame it

With our customizable frames, you can make your QR Code complement your creative design. When generating your Code, you will be offered a wide variety of ready-made frames with different Call to Action (CTA) messages and color options from which to select. If you want to add personalized details, you have the option of customizing even more by choosing a different shape, a different icon, and even adding your own text. Check-out our guide to QR Code frames here.
3.

Add a logo inside your QR Code

Once you have selected a frame option and customized your Code's shape and color, you can choose to incorporate a brand image or company logo at the center of your QR Code. Our system automatically detects the best and largest size for uploaded logos to make sure QR Codes remain scannable, so you do not have to worry about making the correct adjustments.
4.

Save your designs

Reuse the same, branded QR Code design without fretting about recreating an old one manually. QR Code Generator PRO allows you to save all your designs as templates, so you can reuse them for any of your marketing or service endeavors.
5.

Customizable URL

By default, every Dynamic QR Code gets a random short URL that redirects to any page you want when the QR Code is scanned. The short URL can be customized to your preference, using your company's name, for example, to help you stand out from competitors and build more trust among users. Follow these steps if you would like to edit your short URL.

For more information on getting started with QR Codes, visit our Help Center page.
See QR Codes on
Digital Signage

in Action

Need some inspiration to get the creativity going? Here are five user cases, featuring fictional companies making real-life uses of QR Codes in their business practices on their digital signage.
QR Codes on real estate signs
The Home Finders were on a mission to boost property sales with the motto: The more people are exposed to your product, the more likely you are to find a buyer. Digital signage gave them the unique opportunity to update the featured information as they sold properties, and the vCardPlus QR Code connected prospective clients directly with a realtor in order to set-up an appointment on the spot.
Improve networking for your finance and insurance companies
It was always a bit of a challenge for Global Worth Trust to maintain the relationships they built at the annual finance seminar. The best way to sustain a productive exchange is to trade information, which was the basis for the creation of their Global Worth Trust app. To ensure maximum reach and downloads, they promoted it on their presentation slides with our App Store QR Code. The advantages? Scanners had access to any of the bigs: Apple App Store, Google Play, and Amazon Appstore. At the same time, the company was able to measure how many people scanned the Code and compare it to how many people scanned it on different days of the seminar.
Get feedback for your government agencies
In order to maintain a good relationship with your audience, it is always important to improve services based on feedback. Springfield City Council understood this perfectly, so they promoted their questionnaire with our Feedback QR Code uploaded to their digital displays across Springfield public spaces. This gave tourists and citizens the chance to instantly scan and fill-out the questionnaire to help the city council refine their services. Additionally, categories and subcategories could be added, removed, or edited any time without having to re-upload the Code.
Unique grand opening ideas for retailers
First impressions are everything, and in order to make the most out of the grand opening of their new locations, Elle Boutique pulled all the stops. QR Codes are small, fashionable, and easy to incorporate seamlessly into any brand layout. By implementing the Event QR Code, it gave Elle Boutique's team the flexibility to focus on designing an eye-catching digital display without dragging it down with information overload. People could scan and access date, time, location, description and save all this information to the mobile calendar of their choice. A customizable button allowed attendees to RSVP instantly, giving Elle Boutique a good idea of how many people to expect.
Successful social marketing for non-profit organizations
It's the 21st Century! No more wasting resources and money on paper and ink, no more wasting time during a presentation with handouts. Bees Foundation decided to make everyone's life easier. Instead of printing out their brochures, they uploaded it to a PDF QR Code as an e-brochure and added it to their digital display slides. This meant anyone who was interested in getting more information could scan the Code and save the file to their mobile devices to read over later. The customizable button linked scanners directly to Bees Foundation donation page, in order to stimulate their fundraising efforts.