Best Practices
Thanks to QR Codes, Fashion Marketing Just Got a Style Upgrade
Once the mainstay of warehouses and stockrooms, using QR Codes for inventory seemed to be as far as this humble 2D square would go. But now it seems that QR Codes have finally found their own place in fashion's front row — and have even become bonafide fashion marketing tools of their own.
There's a myriad of reasons why QR Codes and fashion are made for each other. But first, let's look at what is fashion marketing, exactly, and then we'll see where you can pick up some inspiration for your own fashion marketing strategy.
What are the basics of fashion marketing?
In the fast-moving world of fashion, your brand or label needs to stay at least two steps ahead of the next big thing. Whether your brand can adapt to the newest whirlwind trends, or you're focused on designing or producing for just a few select collections a year, you'll want to keep up with the latest marketing strategies used in the fashion industry to connect with your consumer base.
Fashion marketing means everything that goes into promoting and advertising your brand or products. Factors like the season, your target market or demographic, product pricing, sales goals, and brand awareness should all be taken into account when creating your campaigns. Creativity is also important — and you'll soon see some clever examples of where QR Codes and fashion might have found a muse in each other.
Ultimately, however, fashion marketing is about making your brand's products or designs stand out from the rest and tapping into the right consumers at the right time. Let's look at how QR Codes in the fashion industry can help put your brand on the catwalk to success.
5 reasons why QR Codes are fashion marketing's ultimate accessory
When creating a strategy for your brand, there are a plethora of fashion marketing tools you'll want to use. Whether crafting clever campaigns that are sure to have fashion's finest hyping your next collection or collecting data-driven insights into who's buying your products and when, driving sales and maximizing brand awareness should be at the top of your agenda.
Fortunately, QR Codes can help you with both the creative and business-focused elements of your fashion marketing strategy: a QR Code in print advertising can help you reach out to an audience with results than a traditional magazine ad, for example, and a QR Code for products can help consumers better understand your brand, or what it is that they're buying.
When the industry is awash with marketing innovation – whether with the Nike QR Code overtaking its stores or payment solutions provider Klarna creating a show with nothing but QR Codes – it pays to have a few tricks of your own. Here's why QR Codes for fashion marketing can help you stay ahead of the rest.
#1 Boost your branding with customized QR Codes
For some, black and white will forever remain a haute classic color combination. But in the world of digital marketing and social media, you'll probably want your QR Code to take on more Instagram-friendly hues. Luckily, QR Codes can be completely customized to match your campaign and its palette — and there's even a few QR Code styles that can make yours into a showpiece.
#2 Streamline print to mobile
Even before the pandemic turned retail on its head, QR Codes were making inroads into the fashion world. Still, e-commerce has become a dominant force in everyone's life — and may have changed how you shop forever.
Despite online retail becoming a first-stop for buying new clothes, fashion marketing, and luxury brands, in particular, still rely heavily on print ad spending. For your brand or e-commerce business, QR Codes are a clever way to understand how your customers react to your print ads and for you to get an idea of what their return actually is.
By placing a QR Code in your print ad campaigns, your target audience can simply scan and shop — and take an instant leap from the ad they see on a printed ad to your online store. Plus, you can also learn more about your customers from this data, as you'll see in the next step.
#3 Use QR Code scan data to track your campaigns
Your impeccably designed and printed QR Code has a lifespan beyond the nearest paper recycling facility.
With QR tracking, you can learn more about when and where the QR Codes you use in your fashion marketing campaigns are used. This is because Dynamic QR Codes allow you to access all sorts of real-time metrics: QR Code scans by location (city and country), time scanned, unique vs. total scans, and operating device used.
With QR Code Generator PRO, there are many types of Dynamic QR Code solutions to convert images, videos, sound files, app store links, PDFs, and much more into QR Codes — all of which can be fashion marketing tools in their own right.
#4 Calculate your ROI for digital and print fashion marketing campaigns
No matter whether you use your QR Codes in fashion marketing for print or digital campaigns, or both, you can leverage it to help you understand the exact ROI of your marketing efforts. When you combine the crucial QR Code scan data with Google Analytics integration, the entire customer journey becomes transparent and trackable.
#5 Update without reprinting
There are a few types of QR Codes you can use — and the debate around whether marketing strategies in the fashion industry should use Static vs Dynamic QR Codes is sure to decide on a clear winner: Dynamic QR Codes.
Editable and trackable, you never have to worry about reprinting a Dynamic QR Code if something about your campaign changes. If you need to swap out a link, update your display page, or even completely change your type of QR Code solution (such as a video instead of images), you can do so without changing the appearance of the original QR Code itself.
QR Codes and fashion marketing: creative examples to inspire
For retailers, the benefits of using a shop QR Code are endless. Even sneaker behemoths Nike has created their own Nike QR Code, which they use to reward devoted customers for in-store shopping.
However, there are many ways in which you can incorporate your fashion marketing QR Code into your marketing strategy.
Around the store
Post-pandemic life will still have plenty of room for the bricks-and-mortar experience of shopping — and with it, the opportunity for you to use your fashion marketing QR Code.
Try adding a QR Code on table tents at the checkout counter, near the dressing rooms, or next to product displays. In the example above, a Facebook QR Code added to a table tent connects users with a fashion retailer's Facebook page.
On clothing tags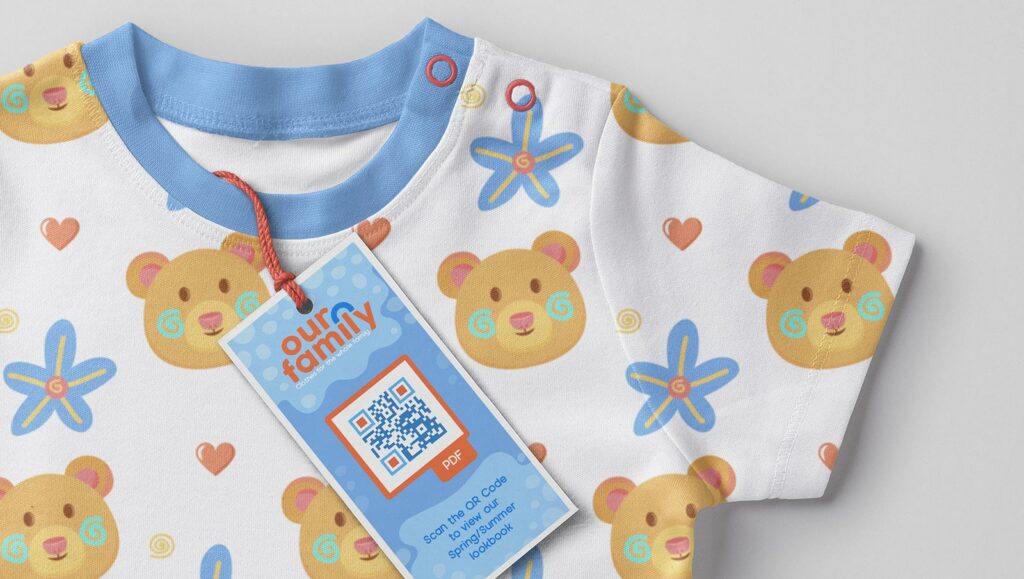 As consumers become conscious about shopping, QR Codes on clothing tags can help them make better ethical fashion choices. With QR Code labels, you can provide your customers with an overview of how your pieces were designed, sourced, and made. It's also possible to convert a lookbook in the form of a PDF to a QR Code, as the above example does.
On sales and product packaging
A nifty fashion marketing tool that's often overlooked, using a QR Code on packaging can let customers either scan the code themselves or, as In the example below, where a physical store has added a Social Media QR Code to their bags, let other potential customers scan and discover more about your brand.
Even if they are only seen post-purchase, QR Codes can still foster brand awareness. In the example below, a QR Code video connects customers with the style-makers who wear and promote that brand.
Event marketing
Brand events and runway shows are fixtures in any fashionista's calendar. Whether your brand is sponsoring a show or unveiling its latest collection at a show, event marketing QR Codes are a must when organizing your well-dressed guest lists.
Using an Event QR Code on print materials like invitations and the QR Code short URL on digital platforms (like social media and email marketing) enables your guests to simply scan and find out all they need to know and register.
As a designer or retailer, fashion marketing is like oxygen for your brand. Without a well-considered strategy that's able to shift as quickly as upcoming trends, you'll find it more difficult than ever to catch the right market on the right wave of the zeitgeist. When looking for fashion marketing tools that can bridge digital and physical strategies, however, QR Codes and the fashion industry make the perfect pairing — and there are plenty of creative ways that they can keep your strategy fresher and more creative than ever.