Here is your chance to create an interactive shopping experience for buyers, forge the way for technology in fashion, and manufacture trust in your brand with QR Codes.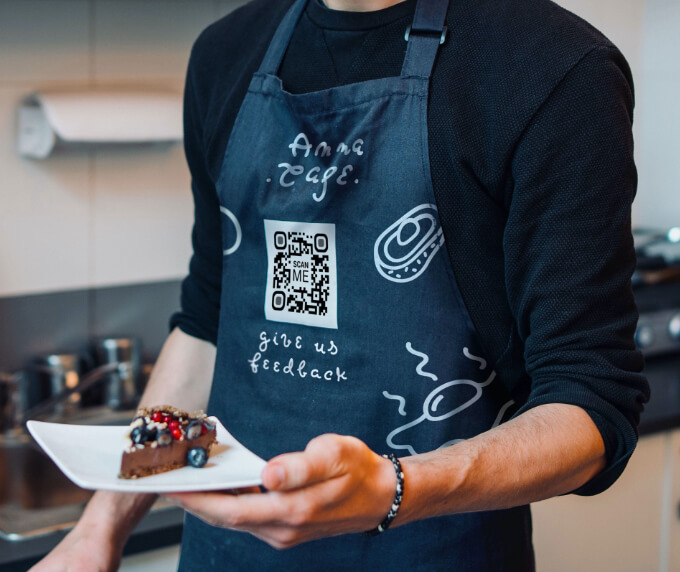 The Benefits of Using QR Codes on
Clothing
The fashion industry has a chance to evolve in this digital era by improving customer experience with QR Codes. Connect buyers to the clothing production line with our Video QR Code or Image Gallery QR Code, so they can witness the manufacturing process from raw materials to the store racks. With current issues of sustainability, labor exploitation, cultural appropriation and delayed adoption of technology saturating the fashion industry, QR Codes are a creative and fun chance for brands to stand out by showing they are part of the solution, not the problem.
1.

Set the new norm in fashion

Get creative with your clothing labels by helping shoppers envision their new outfit with our Image Gallery QR Code. With its mobile-friendly format, you can showcase outfits on models from small to plus size in a series of images people can scroll through, save, and view later at their own leisure. Social media has given people a unique chance to express themselves, building communities for underrepresented groups in the fashion industry and giving voice to how it can be improved and showcasing bold trends. Our Social Media QR Code gives you the opportunity to promote inclusion by helping you collaborate with these channels. With just one scan, customers connect directly to each profile, whether on Youtube, Facebook or Instagram, without typing or searching, inspiring them to shop more for the featured new looks. QR Codes are a unique technology that allows your store and brand to be a part of this growing movement, seeking to not just diversify but to also promote inclusion, and connecting you to the many communities online.
2.

Tell a story

Video QR Codes on clothing tags can help tell the story of your clothing line from inspiration to production, and the actual creation of the garments from the textile industry to fashion retailers. Adopting a brand transparency strategy creates trust between consumers and your company, increasing engagement with your clothing lines. In short, keeping your clothing brand as transparent as you can favor sales, especially in a market that is demanding more respect for labor laws in the textile industry. With our QR Codes, you can display multiple videos on a mobile-friendly page, and the best part? You can always add new videos or remove old ones anytime.
3.

The missing link

Boost your sales by printing a Dynamic URL QR Code directly on your clothing label, allowing you to link scanners to any target URL. To your online shop for instance. This means that instead of losing a customer when they cannot find their favorite style in the right color or size, you will gain more online traffic and sales with QR Codes.
4.

Cause-driven campaigns

Integrating more digital tech into fashion and retail stores does not just create a seamless offline to the online shopping experience. Socially aware brands are more appealing to buyers, which is why several clothing companies like American Eagle are boosting their marketing through social awareness by embedding QR Codes onto some of their clothing lines. You can do the same! Give back to your community and share what causes you stand for by incorporating a link to a donation page with our Dynamic URL QR Code. Or make a campaign go viral with our Social Media QR Code.
5.

Advertisement

You have already printed your store's name and logo on employee uniforms, but why stop there? With QR Codes, you can use clothes to further your advertising efforts. Print a Feedback QR Code on employees' uniforms for a convenient way to get customer reviews, or an App Store QR Code if you would like to provide the services of a trainer or nutritionist at the gym through your own app. Or, optimize the promotional efforts of handing out free, official T-Shirts at events with a Social Media QR Code printed on the fabric. Once scanned, it would lead to all your social media platforms, boosting your follower count.
6.

Test and optimize

Static QR Codes cannot be changed once you have created them. A Dynamic QR Code, on the other hand, opens a world of possibilities. Chief among them is the ability to monitor statistical values that are vital to optimizing your marketing campaign by seeing what did and did not work. In addition to gathering the frequency of scans and unique scans, you will get information about the location, date, time, device and operating system used for each scan. With this real-time data, you will always be up to date on your QR Code's performance success.
How to create a QR Code on a
Clothing

?
Go to QR Code Generator and select the type of QR Code you'd like on your clothing. We recommend using the URL QR Code to start with.*
Enter your website address.
Your QR Code will be generated automatically.
Now, customize the design of your QR Code by adding a frame and a "Scan Me" logo.*
Select colors to match your style or company brand identity.
Select 'Download' to receive your QR Code file in .jpg format.
Integrate your newly-created QR Code to your clothing design.
*Sign up to choose more QR Codes such as Event, Video, and Coupon, where you have the option of adding more information, more visuals, and edit or replace all the information without reprinting a new QR Code. You can also choose from a variety of frames and upload your own logo.
QR Codes on
Clothing

Best Practices

Since the QR Code is no longer constrained by a black and white outfit, you no longer have to give it a dull prescriptive approach. You can now design it to fit your brand or your very own identity with a variety of creative tools. Here is a guide to some of the features at your disposal.
1.

Add instructions

One big mistake QR Code users have made in the past is printing them without a short written explanation of what the consumer would gain or learn from scanning one. Make sure to incentivize your consumers to scan your Code, or else all your marketing efforts will be for naught.
2.

Frame it

With our customizable frames, you can make your QR Code blend in with your creative design. When generating your Code, you will be offered a wide variety of ready-made frames with different Call to Action (CTA) messages and color options from which to select. If you want to add personalized details, you have the option of customizing even more by choosing a different shape, a different icon, and even adding your own text. Check out our guide to QR Code frames here.
3.

Add a logo inside your QR Code

Once you have selected a frame option and customized your Code's shape and color, you can choose to incorporate a brand image or company logo at the center of your QR Code. Though there are a few ready-made options to select from, you can also upload your own logo or your own CTA like "Read more," "Like us" or "Find us." Our system automatically detects the best and largest size for uploaded logos to make sure QR Codes remain scannable, so you do not have to worry about making the correct adjustments.
4.

Save your designs

Reuse the same, branded QR Code design without fretting about recreating an old one manually. QR Code Generator PRO allows you to save all your designs as templates, so you can reuse them for any of your marketing or service endeavors.
5.

Customizable URL

By default, every Dynamic QR Code gets a random short URL that redirects to your page when the QR Code is scanned. The short URL can be customized to your preference, using your company's name, for example, to help you stand out from competitors and build more trust among users. Follow these steps if you would like to edit your short URL.
6.

Test before printing

The minimum recommended printing size for a QR Code on any marketing material is 2 x 2 cm (about 0.8 x 0.8 in). From there, you can always make it bigger, but we do not recommend going smaller as it would render your Code unscannable or even unnoticeable. Elaborate designs and low color contrast, or a large number of encoded characters require a larger printing size. To ensure your Code is perfectly readable, you should do extensive field testing with various smartphones and apps, which gives you the assurance that every user will be able to scan your Code.

For more information on getting started with QR Codes, visit our Help Center page. And visit our How to Get Creative with QR Code Design page to learn more about the dos and don'ts of QR Code design for optimal results on your clothing line.
See QR Codes on
Clothing

in Action

There is an endless source of uses if you combine creativity, functionality and QR Codes with your marketing efforts in business, fashion and customer service. Below, we have listed a few fictional cases of QR Codes on clothing to inspire you.
Retailers
Not a lot of people were aware of Elle Boutique's plus-size collection. Inspired by the #theREALcatwalk, they wanted to bring their new lookbook to life in a way that would engage customers with their clothes, but also contribute diversity to the fashion world. They printed a Video QR Code on their clothing labels with a CTA encouraging people to scan the Code in order to discover their plus-sized looks. Instead of static pictures, they now had an engaging way to show different styles and outfits, so anyone interested in shopping would have a better idea of how one garment would fit.
Photographers & Videographers
Through the Lens collaborated with a fashion line to create landscape pictures to be printed on a new graphic T-Shirt collection. In order to promote their work and connect potential clients with the photographers, they printed a Business Page QR Code on the clothing labels. Customers could now scan the Code and discover their slogan, address, opening hours and add a button that linked to their online portfolio.
Cities & Culture
Keeping up to date with local events can be tough, especially when you have just seen it on a poster or took a flyer that is eventually misplaced and forgotten about. Springfield City felt they could increase event attendance without wasting more money on printing flyers and posters. So, they created and printed an Event QR Code on the T-Shirts of tourism office workers so when people came in, they could just scan their Code and access the latest event information like date, time, location and they could automatically save it on their calendar app of choice, so they get a reminder when the event approaches.
Home Repairs & Maintenance
Happy House Crew wanted to give their clients the opportunity to voice any concerns or satisfaction with their work. They decided the easiest and most cost-effective way was to generate and print our Feedback QR Code on their uniforms. When scanned, the Code led to a customized page with categories and subcategories for review. Once submitted, the feedback was sent directly to Happy House Crew's email address of choice, making it easier to review at their own convenience.
Musicians and Artists
In the heat of the concert, it is not always easy for people to remember to search for their favorite band online, in order to keep up to date on their releases and events. The Three Sparrows knew this and wanted to increase traffic on their online platforms. Their solution? Print a Social Media QR Code on the one thing fans were likely to walk out with: clothing merchandise, successfully making it easier for attendees to become regular fans through Facebook, YouTube, and Instagram.
FAQ
QR stands for "Quick Response." It is a two-dimensional version of the barcode, granting instant access to hidden information within the Code once scanned. As an open-source technology with a broader information capacity, it is no wonder the QR Code is gaining in popularity. They can store up to 7089 digits or 4296 characters, including punctuation marks and special characters, with numbers and characters, as well as words and phrases (that is, internet addresses) having the ability to also be encoded. You might ask yourself, well, how do they work? Visit our blog to find out more about the QR Code's history, data encoding abilities and much more.
We have two potential scenarios here. If the QR Code is on an item of clothing you are either interested in buying or have already purchased, then the process is the same as if you scanned a QR Code on any marketing material. That is, if you have an iPhone, launch the camera app, point and scan. If you have an iPhone iOS 12, there is a QR Code reader on the control panel itself. Easy peasy. If you have an Android phone, you may be required to get a scanner app, unless your Samsung phone comes with Bixby vision or Google Assistant, which can recognize and scan QR Codes. Now, let us appease your mind in regards to the second scenario. If a QR Code is on an item of clothing of either an employee or an activist, trust us when we say they know they are wearing a QR Code and, more often than not, expect you to scan it. It never hurts to ask for permission though, before pointing your mobile device's camera at someone.
First, you have to create one, so go to QR Code Generator to get started. Once you have selected the type of QR Code that best fits your interests and have designed it to fit your aesthetic, download it. Once this is done, your next step is to have it printed at a T-Shirt printing shop. Make sure to follow these tips so you have the best QR Code quality.