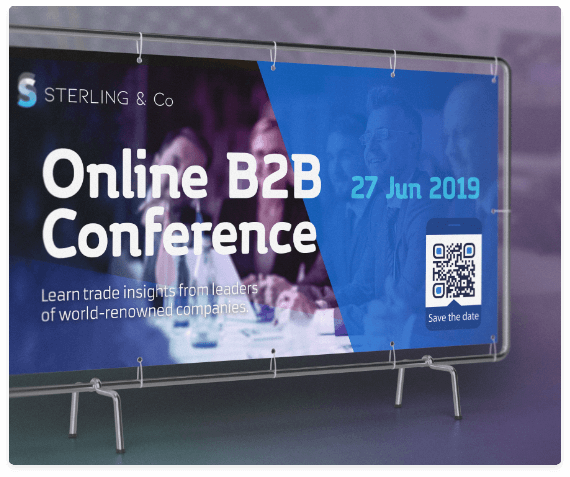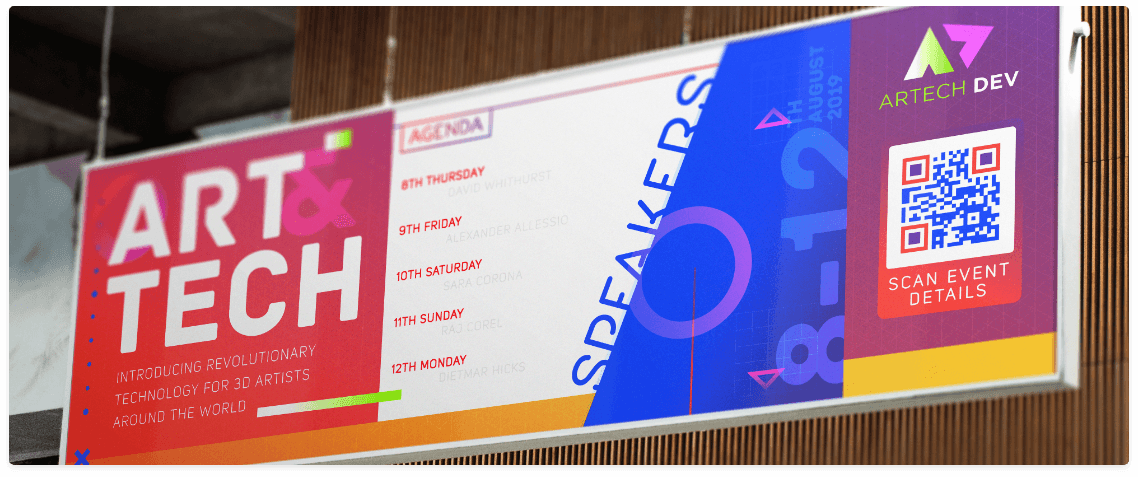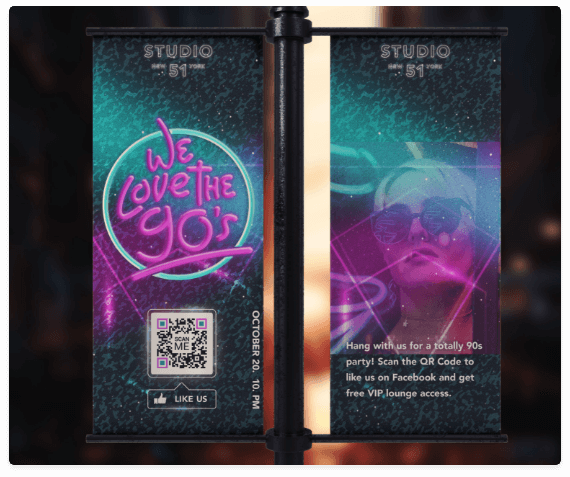 How to Use QR Codes on Banners
Weatherproof hanging banners and stand up banners are ideal for prime roadside locations while bold vertical banners stand out at conferences, shows, and fairs. And, when you put a QR (or Quick Response) Code on a banner you immediately increase consumer interest and interaction.
Why put QR Codes on banners?
Using well-designed QR Codes on your banners brings together traditional, more visible advertising with online marketing, letting customers interact with your business and product. Use QR codes on banners to grow followers with a Social Media QR Code, link customers to your menus with a PDF QR Code, inform them of upcoming events with an Event QR Code, let them know about new products or give them a Coupon QR Code to generate customer loyalty. For a complete list of what's available visit QR Codes for every purpose.
Why are banners good marketing tools?
Outdoor hanging banners and vertical banners are constantly visible, providing a permanent audience interaction rather than the fleeting impact of a TV or radio ad. This active engagement between audience and business is hugely increased when targeted QR Codes are added to banners. The advantages of banners with QR Codes include their:
inexpensive cost in comparison to other forms of advertising
continued use - hanging banners can be left in place while stand up banners can be used multiple times
versatility - they can be produced in any size and color, designed as retractable banners or even mounted on rotating stands
targeted marketing - for example, banners in shopping centers generate sales by catching consumers in a spending mood.
What makes a banner stand out?
Whether you are using simple stand up banners or a series of hanging banners and retractable banners as a backdrop for a trade-show stand, they need to make your business stand out from the competition. Displaying a personalized message or company slogan is vital while the banner's color scheme should be in clear contrast to its surroundings.

For banners that are visible from yards away, pick a bold and clearly readable font. This is particularly important at trade shows and fairs when you need to stand out from the crowd. On stand up banners, communicate your message with as little text as possible and let your QR Code provide further information to potential customers.

On hanging banners, vertical banners and retractable banners used as stand backdrops, organize the information in a logical way, using small chunks of text while positioning the QR Code where visitors to your stand can easily access it with their smartphones.
How to design QR Codes for banners?
Gone are the days of boring black and white QR Codes. They can now be customized to reflect your company or organization's colors or even have your logo embedded in the design. For extra impact, think about adding a QR Code Frame with information about what customers can expect when they scan.
For ease of scanning, make sure there is a distinct color contrast between the foreground and the background of the design while adding a bold border makes the QR Code even more tempting. While QR Codes can be too small, they can never be too large making them an ideal marketing tool for banner use.
Most importantly, before you start printing your QR Code design check whether it functions as you want it to across a full range of mobile devices. For further information on designing QR Codes and their successful positioning on all banner designs check out our page on how to get creative with QR Code design.
How to print QR Codes onto banners?
When you are happy with your design, you have checked that it is scannable, and the links work, then the next stage is printing it onto your banner. The vinyl used for most banners provides an ideal surface for QR Code printing while choosing a slightly matte finish rather than high-gloss eliminates light reflection and distortion.
When printing onto retractable banners or vertical banners, think about the positioning of the QR Code, making sure it is within easy reach of your target customers and their smartphones. It makes sense, before ordering a large print run, to check the QR Codes on your banners are fully functioning.
For successful printing, we've put together our top 10 tips for printing QR Codes.
Get your 14-DAY TRIAL of QR Code Generator PRO
Test all features for free and without obligation