Email marketing is a marketing method that companies can simply no longer afford not to use. With over 5 billion active email users, companies across the globe are striving to reach their target audience. If you're searching for a way to stand out from the crowd, that also tracks your campaigns and is convenient for mobile and desktop users, look no further than QR Codes.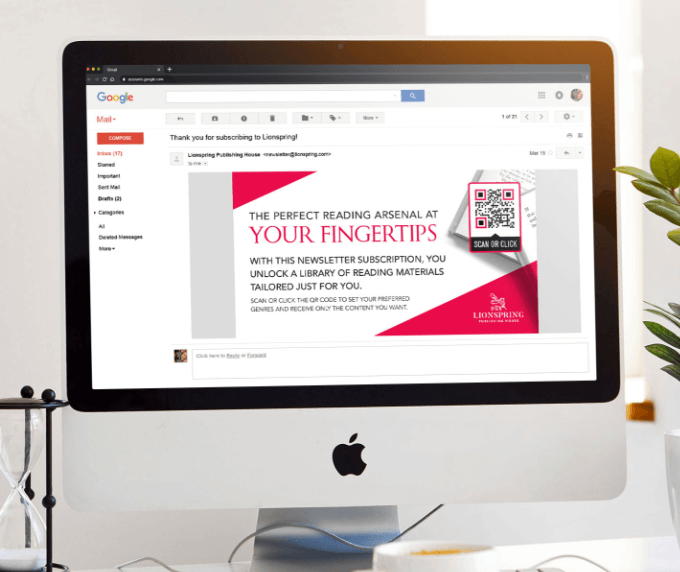 The Benefits of Using QR Codes on
Emails
More and more marketers have added email marketing to their strategies because it's known for having one of the best ROIs (return on investment) of any digital marketing method. If you're looking for a simple, yet tactful method to improve your email marketing campaigns, you'll definitely want to take a look at what QR Codes can offer.
1.

Match custom QR Codes to your email style

All QR Codes made with QR Code Generator PRO are as customizable as your email campaigns. They can incorporate custom frames, fun edges, specific brand or graphic design colors, a logo or image in the middle, and your CTA (call to action). This means that all QR Codes can be designed so they match perfectly with each and every email.
2.

Complete QR Code tracking for email campaigns

Email campaigns require heavy data analysis and consistent optimization to reach peak levels of efficiency. As a result, Dynamic QR Codes are the perfect complement to email marketing campaigns, because they come with crucial tracking data for exactly this purpose. With QR Code Generator software, you can view QR Code scanning metrics for Dynamic QR Codes and view information such as location by city and country, unique vs. total scans, time scanned, and operating device used. Optimization is now as easy as a QR Code scan!
3.

Always editable & updatable

What's more, Dynamic QR Codes can be edited whenever you need it. It's no problem if you need to update the link to your website or change your QR Code solution, such as using an App Store QR Code instead of a Video QR Code - all of which can be edited without changing the original appearance of the QR Code. The negative results from link mistakes in your emails are now completely minimized.
4.

Reach mobile & desktop users

Using QR Codes gives users convenient access to your content on mobile and desktop (even for print materials!). For email campaigns, you can't be sure whether users will view your content via mobile or desktop, so add a QR Code and now they've got both options directly at their fingertips.
5.

Flexible QR Code solutions fulfill every need

QR Code Generator has developed solutions for every type of information you'd like to link to your email, including apps, social media links, events and much more. Not to mention that each solution comes ready with mobile-optimized and customizable content!
How to create a QR Code on
Emails

?
Go to QR Code Generator and select the type of QR Code you'd like on your email. We recommend using the vCard QR Code to start with.*
Enter all the details you'd like to display.
Select 'Generate QR Code'.
Now, customize the design of your QR Code by adding a frame and a "Scan Me" logo.*
Select colors to match your style or company brand identity.
Select 'Download' to receive your QR Code file in .jpg format.
Integrate your newly-created QR Code into your email design.
*Sign up to choose more QR Codes such as Event, Video, and Coupon, where you have the option of adding more information, more visuals, and edit or replace all the information without reprinting a new QR Code. You can also choose from a variety of frames and upload your own logo.
QR Codes on
Emails

Best Practices

Email marketing requires a few particular elements to be successful in terms of design and testing. Here are a few tips to ensure that your email marketing campaign with QR Codes generates the best possible results.
1.

Make your CTA stand out

The most important part of your email design is the CTA. The CTA is typically a button that uses a phrase with an action verb to encourage users to take a particular action, for example, "Buy Now" or "Learn More". Your email designs should be centered around this CTA in a way that makes it clearly stand out from other designs. QR Codes come with CTAs directly on their frames to concretely strengthen this essential email design element.
2.

Use brand copy & styling

Each email should also be designed to reflect your brand values and style, as well as be individualized for the product or service you'd like to promote. Individualization, therefore, involves using a unique brand copy in combination with creative graphic design. QR Codes integrate seamlessly with brand designs in that you can customize all aspects of their appearance.
3.

Optimize your results

It's a tough bet to create an email marketing campaign that works without optimization. There is always a way to improve and become more efficient. Use QR Code tracking in combination with email marketing to analyze results, test various email audiences, and skyrocket your revenue.
See QR Codes on
Emails

in Action

To provide some guidance on how QR Codes can be used in email marketing campaigns, here are some examples based on fictional business narratives.
Real estate
The real estate industry is a heavy user of email marketing campaigns to boost event attendance. The Home Finders wanted to get more attendance to a particular property showing, so they added an Event QR Code to an email campaign, on their for-sale sign on the property, and on the shop front next to the property's description. Attendees could view all of the event details, including a Google Maps location, register, and automatically add the event to their calendar.
Retails
Elle Boutique, a fashion retailer, wanted to direct users to their mobile app store because they noticed their conversion rate was better via mobile than on their desktop website. They added a Coupon QR Code to their email marketing campaigns in order to encourage users to shop more on their mobile apps to maximize their sales.
App developers
eGo Gaming Studios recently developed a new mobile gaming app for a successful desktop computer game. In order to direct current desktop game users to the mobile app, they added an App Store QR Code to an email campaign, their social media feed, and on a particular landing page to ensure their users could conveniently access the app.
Business consultants
A popular form of lead generation, more and more B2B companies are using webinars to get in touch with initial leads and then retarget them with email marketing. Brixton Business Consulting decided to maximize their webinar attendance by connecting webinar registration through an Event QR Code that they added to email campaigns, as well as on print materials at networking events and conferences.
Hotels & resorts
Giveaways are a fantastic way of increasing your email subscribers and boosting social media engagement. Grand Hotel & Resort used Social Media QR Codes on emails to offer new customers a chance to win hotel accommodation vouchers in exchange for social media likes and shares.
FAQ
The size of your QR Code depends on the material it's placed on and the surrounding graphics. As a rule of thumb, QR Codes should be a minimum of 2 x 2 cm (around 0.8 x 0.8 in) and maintain the quiet zone so any scanning issues are avoided. For QR Codes on emails, minimum QR Code sizes could be sufficient, but make sure to test your complete graphic design on different devices to check whether it's readable and has a pleasant aesthetic for all types of users.
The type of QR Code you need depends entirely on your email marketing campaign. A list of all QR Code solutions can be found here. You may want to add QR Codes on emails for circumstances such as event marketing, app downloads, or social media engagement.
QR Code Generator has taken QR Code customization far beyond the original version of black and white QR Codes. You can design custom QR Codes to fit each email in terms of size, branding, colors, styling, as well as the type of QR Code used. For more help with QR Code customization and design, take a look at this article.