Utilizing QR Codes for nonprofit organizations
Employing QR Codes for nonprofits amplifies your donation reach. Simply displaying a QR Code on your promo materials from nonprofit business cards to flyers narrows the gulf between your donation page and your potential donors, making your nonprofit more accessible.
Fresh-off-the-rack QR Code ideas for nonprofits
Nonprofit organizations need a strong brand to make a social impact. Potential donors need to trust your organization and feel drawn to your mission before they put money on the table. What better way for your audience to build trust and loyalty with your nonprofit brand than using the power of tech?
When looking for a cost-effective method to drive more engagement, market nonprofit fundraising campaigns, and fast-track connections for your nonprofit, there's nothing more interactive than QR Codes.
Whether you're launching a fundraising campaign, hosting a charity event, or collecting donations, QR Codes are the glue that connects offline to online experiences, ensuring that each scan is the start of a meaningful relationship with your nonprofit brand. Take a look at our ideas so you can start using QR Codes for your nonprofit organization right away!
Meet Protect the Bees Foundation
Protect the Bees Foundation isn't actually a real nonprofit organization, but it could be your charity, fundraiser, or not-for-profit organization. Incorporating QR Codes into your marketing strategy allows you to create valuable experiences that have a positive impact on people and your organization. Ready to take your nonprofit to the next level? Check out these creative QR Code ideas for nonprofits and learn how you can do the same.
Dynamic URL QR Code
Promote your donation page
Include the Dynamic URL QR Code in every nonprofit brochure or booklet your organization prints out. With this charity QR Code, potential donors, stakeholders, and investors can quickly get to your website or donation page should they decide to support your cause. Use analytics to track the number of scans on your QR Code so you can find out which print medium you should invest your budget into. Or you can use the time when your donor code was scanned the most to determine if hosting a particular event proved to be successful. With this level of accuracy collected from scan metrics, you'll know precisely what your ROI (return on investment) is to the tee.
Create now
Learn more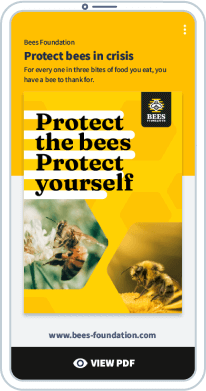 PDF QR Code
Display more info minus the clutter
Nonprofit flyers and banners have limited space, which is why the PDF QR Code allows you to provide more information with minimal space needed. You can upload your online nonprofit brochure or booklet detailing your cause, why people should support it, and any other essential information. Whenever the information on your online document changes, you can always upload a new PDF without having to reprint the QR Code. When you use our QR Code Generator for your nonprofit, you keep the design of your print materials clean without ever having to sacrifice aesthetics.
Create now
Learn more


Create, manage, and track all your
QR Codes

.

Design beautiful QR Codes your way. Add your own color, logo, and frame.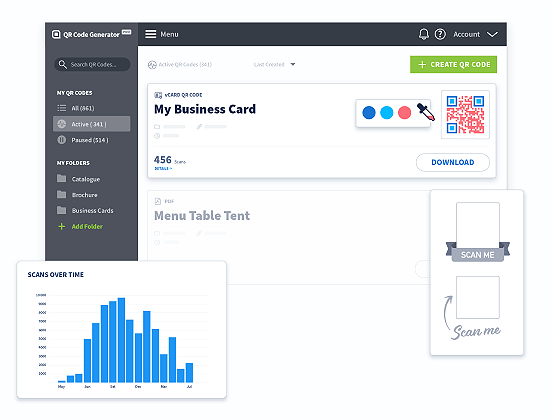 Video QR Code
Welcome members with a video
Whether it's a recurring or one-time donation, each support should be acknowledged equally. With the Video QR Code, you can thank those who support your organization easily with a heartfelt video. This Code can be printed on a personalized letter, or in a welcome packet after every contribution. This, in turn, will make them feel even more connected to your organization. Plus, you get to display an entire video playlist so you can take your supporters on a journey to reach your nonprofit's goal.
Create now
Learn more
Feedback QR Code
Strengthen your organization
It's difficult to gauge how successful fundraising events are due to the many factors involved. By incorporating the Feedback QR Code, you get to ask for feedback easily as each input gets sent to your email address. Now you can quickly get staff, volunteers, and members of the public to leave their feedback with a single scan. Remember to follow up with those giving you feedback! It shows you appreciate their time and it sets the tone for sustaining a long-term relationship with them. Say goodbye to paper surveys and say hello to the Feedback QR Code.
Create now
Learn more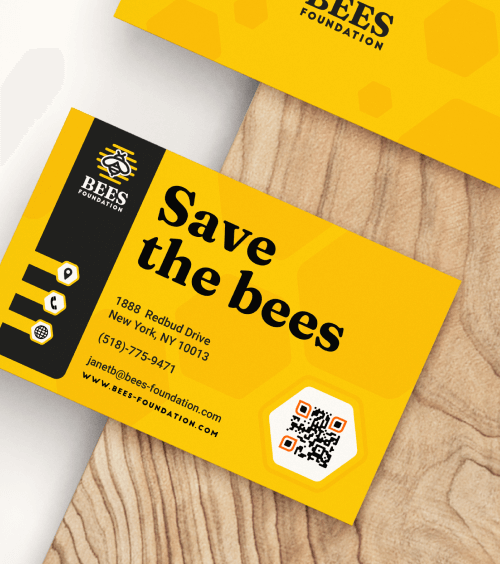 vCard Plus QR Code
Never run out of business cards
Make it easy for potential donors to get in touch with you by adding the vCard Plus QR Code on your nonprofit business cards. A quick scan will let your acquaintance save your phone number, email address, office location, LinkedIn page, and more. If you run out of physical business cards at an event, simply get them to scan the QR Code so they can save it to their smartphones immediately. Use this solution as your digital middleman to turn business contacts into long-term connections.
Create now
Learn more
Social Media QR Code
Broaden your social network
Nonprofit organizations depend on a vast web of social connections to fund their mission. By adding a Social Media QR Code to any of your print materials, you connect new audiences to not only one of your social media profiles but all of them with one scan! Call on a wider social network to support your cause and encourage more donations. Using this particular QR Code on a nonprofit brochure or a flyer spreads brand awareness which attracts a wider pool of donors to learn more about your organization's work and fundraising campaigns.
Create now
Learn more
Join over 10,000,000
worldwide

users
The do's and don'ts of using QR Codes for nonprofits
Keep a quiet zone: You know the blank space surrounding the pixels of the code? That's called the quiet zone. Without this space, the QR Code would be deemed incomprehensible, therefore, unscannable. So to avoid this sequence of events, keep a clean blank space and try not to blur the edges. A general rule: ensure that the quiet zone is more-or-less four times the width of the pixels.
Include brand colors, logos or images: Attract more scans by adding your brand logo or an image to the center of the QR Code. Remember to integrate the colors associated with your brand to boost brand recall. Users are more inclined to scan the QR Code if they recognize and trust the brand. If you choose to add an image, double-check the image quality before you download or print it.
Select the right colors: Creating a QR Code design with juxtaposing colors is a delicate balance. On the one hand, you want your code to stand out, on the other, you want to avoid color overload or color clashes. Pick colors that contrast each other in a complementary manner, so that every part of the code is visible and scannable.
Add a call-to-action (CTA): A QR Code wouldn't be fulfilling its objective without a CTA. The idea is to encourage the user to make an action, that is to say, scan the code. A clear QR Code CTA succinctly instructs the scanner to make the desired action. Try the CTA "Donate Now" to prompt more scans and donations.
Inspect your links: Be meticulous about checking your links: examine if the link is correct and if the link works. Of course, if you've selected a Dynamic QR Code, you can change the link, without compromising the code. Hot tip: constantly update your links and content to keep your links intact and your content up to date. It not only looks professional, but also gives donors and stakeholders seamless, scannable access to your nonprofit organization at all times.
Test, test, test: And finally, one of the most important steps before printing your QR Code is to conduct rounds of tests. Simply point your camera in the direction of your spanking new QR Code and observe its readability on different digital devices. Check out QR Code printing tips to avoid any potential mishaps.
QR Code Generator
PRO
Your all-in-one QR Code marketing platform
Now you can fully customize your QR Codes by using your brand colors, add company logo, get scan statistics, and even edit the content after print.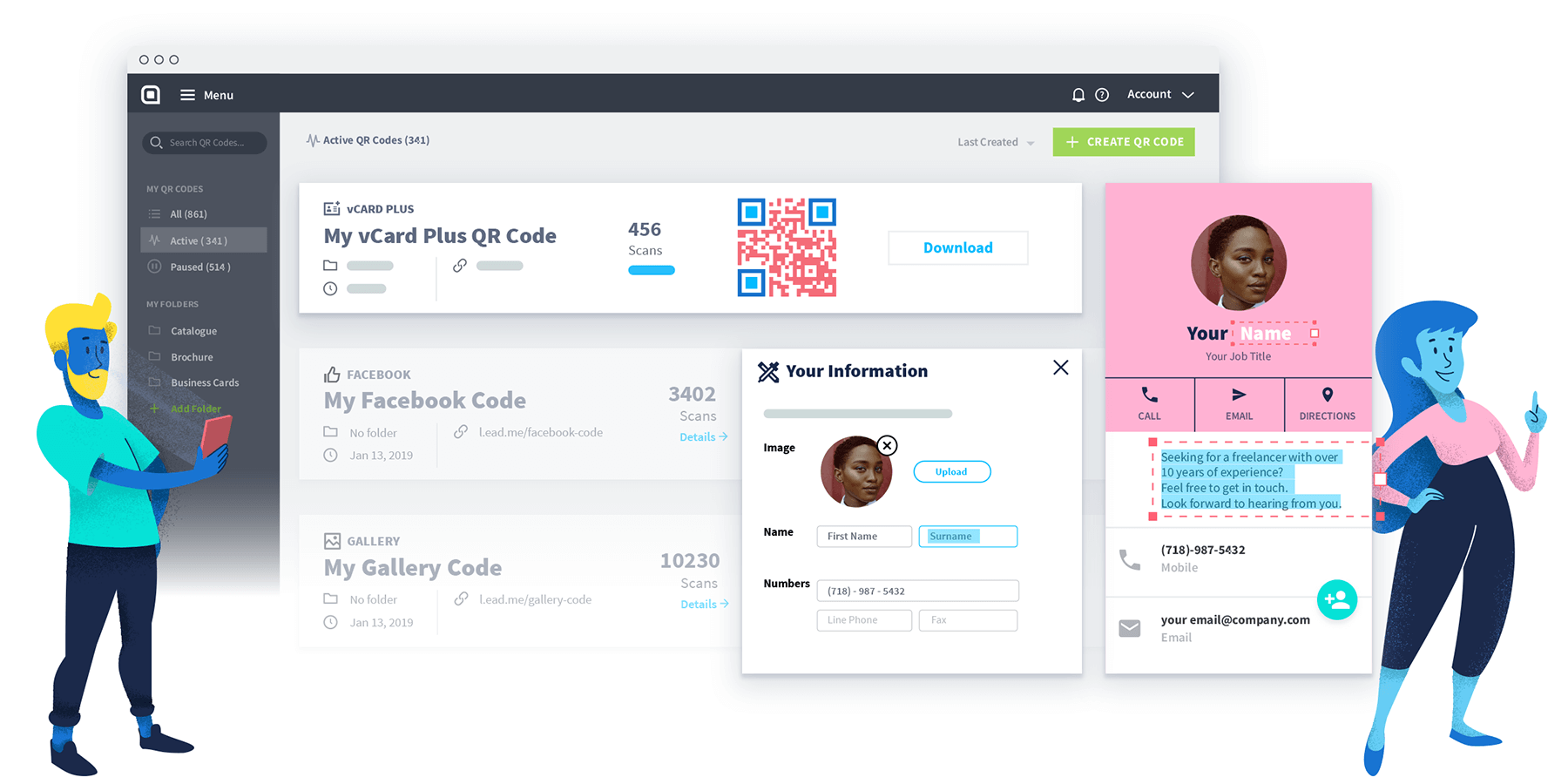 Plus other benefits you'll enjoy across QR Code Generator PRO
Worry-free, mistake-proof
Integrate QR Codes in the early planning stage and only add the contents when you're ready to go live, even after print.
Perfect resolution, every time
Your QR Codes stay in high-resolution no matter what they're printed on. Download in JPG, PNG, SVG, or EPS.
Stay organized effortlessly
Label your QR Codes and create folders to keep them nice and tidy so you can focus on performance.
Collaborate securely online
Add team members to your account and take full control over what they can see or do — complete with their own logins.
Make a great first impression
Customize the short URL or stand out from your competitors and use your own domain to foster brand loyalty.
Stay on top of everything
Add campaign info so you know when the campaign starts, which medium it's on, and how many copies printed.
FAQ
Static QR Codes have zero trackability or edibility features. This means that once you create a Static QR Code for your nonprofit organization, there's no turning back. Static versions work best for one-time cases, in particular for personal purposes. On the other hand, Dynamic QR Codes are better suited for marketing because you can track, measure, and edit your code at any time. The convenience of this solution permits you to fix typos post-print or tweak marketing materials mid-campaign—without needing to create a new code.
Go to QR Code Generator and sign up for an account. Select Create QR Code on the dashboard. On the next page select Website and then click the button Next. Then, name your QR Code and enter your donation page or landing page onto the field. Now is the time to play! Customize your QR Code, taking into account the logo, frame, edge, shape, and CTA (call-to-action). Hot tip: we strongly recommend adding your logo so that donors recognize your brand. This will ensure more trust, making donors feel more secure to donate to your cause. Once you've completed all those steps, download your QR Code image. Congrats! You're officially the proud owner of your very own QR Code.
Yes, Static QR Codes are yours for the keeping, but it's set in stone once created. Remember, Static QR Codes can't be edited or tracked. This is why we suggest selecting Dynamic QR Codes for your nonprofit organization. Please note that if you sign up for a free trial, you will only access your Dynamic QR Codes for 14 days. After that, your Dynamic QR Codes will be deactivated. If you want to reactivate your QR Codes, simply upgrade to one of our paid plans. Visit the Help Center for more information.