Your consumers are your brand, so strengthen their loyalty and trust by providing them with more information and entertainment with QR Codes while breathing new life into traditional marketing.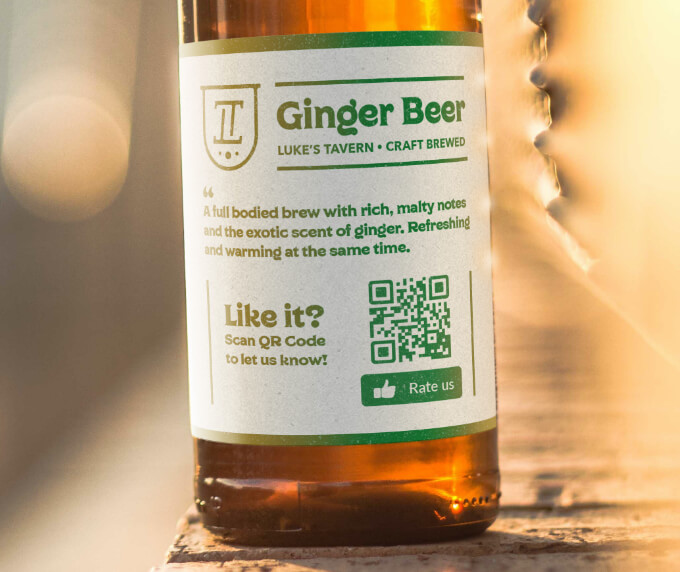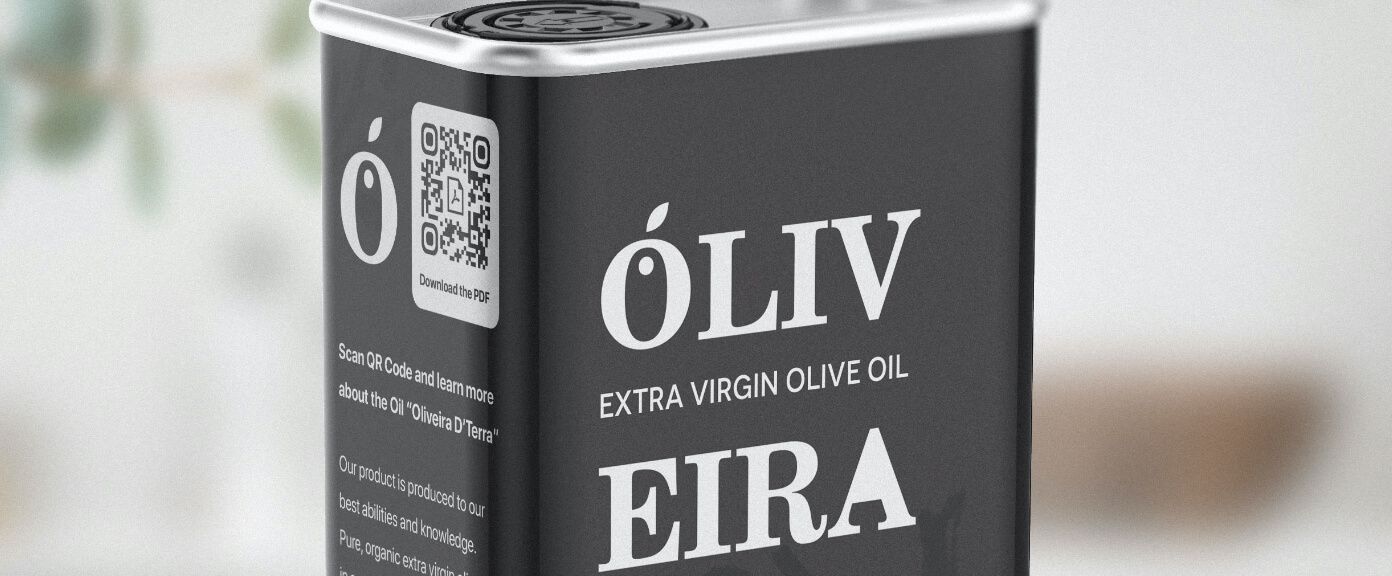 The Benefits of Using QR Codes on
Bottles and Cans
So you thought digital marketing was coming to give the boot to print. Well, think again. QR Codes are the bridge between digital and print, yes, but they are also an alternative way to enjoy traditional marketing. With vigor.
Tom Daly, global group director for mobile strategy and spotting trends at The Coca-Cola Company stated in 2016, "My job is pretty simple: I have to make sure that if consumers have a mobile phone in one hand, then I need to put a coke in the other." In the effort to make products and their ingredients more transparent, QR Codes have risen to the occasion. At the helm of smart labeling, QR Codes help you link consumers to product details like ingredients, manufacturer, provenance and ingredient sourcing. But that is just the tip of the iceberg. To go back to Tom Daly, "within the arm's reach of desire" is what Robert Woodruff, Coca-Cola's president from 1923 until 1954, described the role of the company's brand strategy. And that's what you want your brand schemes to revolve around.
1.

Creating desire

When it comes to enhancing brand desirability, if created right, a QR Code can help you design a memorable experience with active user participation and interactive storytelling that will build loyalty and even turn consumers into brand champions.

Here is some inspiration. Launched in 2011 in cooperation with Ball Packaging Europe, Coca-Cola planned exclusive once-only music shows in German cities, keeping the details hidden until the last minute, then promoted it on their new 25 cl Coke cans with smartly designed QR Codes. One scan took consumers straight to the Music Portal, with which consumers could have a multi-faceted visual, taste and sound marketing experience.
2.

Smart label

With a limited amount of space on bottle labels and cans, QR Codes on beverages enable you to reach customers with the technology they use. QR Codes are now small enough to fit as part of your existing design or, with the advent of the branded QR Code, you can adjust their colors, shape, and frame to design a new campaign around them. So, allow your consumers to access key information about your beverages like provenance, nutritional and geographical facts about ingredient sourcing with just one scan from their mobile devices.

With more and more people turning their attention to what they consume, the fate of brand desirability rests on the hands of transparency. It's not enough anymore to say your bottled or canned drinks are made from the best stuff, use our Video QR Codes to take buyers on a journey through orchards, quality control and testimonials from orchard workers on a playlist. Consumers will no longer have to wonder "where was this made" or ask supermarket sales staff, with any of our QR Codes, you can provide them with any information they need on your product at the point of sale and after purchase.
3.

Smart feedback

Here is something for you to mull over. In less than a minute, consumers can scan, rate and comment on a new flavor, packaging or product with our Rating QR Code. Once submitted, the ratings are directly sent to your specified business email address, so you can start celebrating on a successful launch or go back to the drawing board.
4.

Smart tracking

Switch up the cadence in your return on investment (ROI) and upgrade what you know about your scanners with our Dynamic QR Code. You do not just get insight on frequency, but also on the uniqueness of scans so you know how many users scanned the Code. Let's go a little deeper now. You can also find out the location, date, time, device and operating system used for each scan. Why is this important? Because better the devil you know than the devil you don't. How can you improve marketing campaigns or product reach if you do not know when it has or has not been successful? Here is some more in-depth information about our QR Code tracking.
How to create a QR Code on
Bottles and Cans

?
Go to QR Code Generator and select the type of QR Code you'd like on your bottle or can. We recommend using the URL QR Code to start with.*
Enter your website address.
Your QR Code will be generated automatically.
Now, customize the design of your QR Code by adding a frame and a "Scan Me" logo.*
Select colors to match your style or company brand identity.
Select 'Download' to receive your QR Code file in .jpg format.
Integrate your newly-created QR Code to your bottle design.
*Sign up to choose more QR Codes such as Event, Video, and Coupon, where you have the option of adding more information, more visuals, and edit or replace all the information without reprinting a new QR Code. You can also choose from a variety of frames and upload your own logo.
QR Codes on
Bottles & Cans

Best Practices

Please refer to the color glossary from here on out when talking about the QR Code. You can now design it to fit your brand or your very own identity with a variety of creative tools. Let us offer you a guiding hand through some of the features at your disposal.
1.

Add instructions

One big mistake QR Code users have made in the past is printing them without a short written explanation of what the consumer would gain or learn from scanning one. Make sure to incentivize your consumers to scan your Code, or else all your marketing efforts will be for naught.
2.

Frame it

With our customizable frames, you can make your QR Code blend in with your creative design. When generating your Code, you will be offered a wide variety of ready-made frames with different Call to Action (CTA) messages and color options from which to select. If you want to add personalized details, you have the option of customizing even more by choosing a different shape, a different icon, and even adding your own text. Check-out our guide to QR Code frames here.
3.

Add a logo inside your QR Code

Once you have selected a frame option and customized your Code's shape and color, you can choose to incorporate a brand image or logo at the center of your QR Code. Though there are a few ready-made options to select from, you can also upload your own logo or your own CTA like "Read more," "Like us" or "Find us." Our system automatically detects the best and largest size for uploaded logos to make sure QR Codes remain scannable, so you do not have to worry about making the correct adjustments.
4.

Save your designs

You can use the same design for every canned good, beverage or bottle without fretting about recreating an old QR Code design manually. QR Code Generator allows you to save all your designs as templates, so you can reuse them for any of your marketing endeavors.
5.

Customizable URL

By default, every Dynamic QR Code gets a random short URL that redirects to your page when the QR Code is scanned. The short URL can be customized to your preference, using your company or product name, for example, to help you stand out from competitors and build more trust among users. Follow these steps if you would like to edit your short URL.
6.

Test before printing

The minimum recommended printing size for a QR Code on any marketing material is 2 x 2 cm (about 0.8 x 0.8 in). From there, you can always make it bigger, but we do not recommend going smaller as it would render your Code unscannable or even unnoticeable. Elaborate designs and low color contrast, or a large number of encoded characters require a larger printing size. To ensure your Code is perfectly readable, you should do extensive field testing with various smartphones and apps, which gives you the assurance that every user will be able to scan your Code.

For more information on getting started with QR Codes, visit our Help Center page. And visit our How to Get Creative with QR Code Design page to learn more about the dos and don'ts of QR Code design for optimal results on your bottled or canned goods.
See QR Codes on
Bottles and Cans

in Action

Sometimes it takes more than a series of instructions to convince us on any matter, and the QR Code is no exception. So here are a few fictional examples of real-life uses that have aided companies stand-out, reconnect and manufacture desire amongst their consumers.
Restaurants
Southern Restaurant's homemade lemonade was so popular, they decided to brand it and sell it in local supermarkets. In order to inspire consumers to use their products for parties and events, they wanted to offer them a series of cocktail recipes at purchase, but the limited space on the bottle labels allowed for only one cocktail with no picture. And adding a booklet would increase the price of making, and by proxy selling, the product. So, they turned to our QR Code Generator and added a Image Gallery QR Code, which gave them the flexibility they needed to add as many cocktail recipes as they wanted, update them without having to reprint or regenerate the Code, and made it easy for consumers to share them with friends and family on social media.
Consumer Packaged Goods
In the past, Betty Baker had updated some of their product packagings but discovered much later that it had left a poor impression on their customers. The company wanted a better way to get feedback on their new products or packages without having to scour the internet to find out if it was successful. So, when they decided to release Cake Mix in a Bottle, they added our Rating QR Code on the label, so people could submit their opinion about the launched product directly to a Betty Baker business email through the scanned Code. Honestly, it made everyone's life easier. And the design team was able to make tweaks much sooner than before.
Tourism
Wine tours were becoming popular vacation destinations and World Trekker Tours, as a fictional travel agency, wanted in on it. So they partnered up with a winery to offer exclusive guided tours of the vineyards, the warehouses and bottling lines, including a tasting of the wines. And to make sure they would reach and catch the attention of the right audience, they printed an Event QR Code on the winery's bottles to promote it with dates, itineraries, and a button to purchase tickets and book the trip.
Event Management
For the annual summer festival, Verge Event Management collaborated with their sponsoring beer brand to offer attendees a 25% discount when they bought a six-pack. However, Verge had recently made a pact to reduce their carbon footprint, so they decided against printing extra coupon papers and chose to use our Coupon QR Code, effectively making its collection and redeeming for the guests and consumers hassle-free and waste-free. Easily downloadable, the QR Code made it possible for people to email it to themselves, share it with friends and redeem it when purchasing their ticket online.
Gym and Wellness Studios
Inspired by the fortune cookie, Studio Gym wanted to encourage their subscribers to continue on their journey to better health and fitness, so they printed our Text QR Code on their branded protein shakes. Whenever a consumer scanned the code, they received an uplifting message meant to cheer them on their next workout.
FAQ
Companies have been extremely creative so far in their use of QR Codes on bottles and cans. Personalized messages for Father's Day on whiskey bottles, helping singles meet each other at a bar over a beer or even delivering awkward messages. And there is so much more to be done! Tell your wine's story, share your brand vision, your company's history or get feedback on a new product with our QR Codes.
If you consider how much you could save on printing costs yet provide a plethora of information to consumers with QR Codes, you would not be asking. You would know that they can help you build on your marketing strategy, and make your brand trustworthy. Trustworthy brands mean consumers are more loyal when they know what your company is all about. Loyalty, in turn, means you make brand champions of your consumers. So, yes, it is ideal.