QR Code Tracking in Real-Time: Explained
Do you wish you could know whether your print ads are reaching your target audience? With the tracking feature, QR Codes offer a new way of doing traditional marketing. They equip your print material with the necessary tools to understand if an ad translated to product sales so you can optimize your campaigns over time.
Static vs Dynamic QR Codes
Though Static QR Codes are free to generate, they remain uneditable and untrackable, which makes them suitable for personal uses or fixed information. If you want to take your marketing campaigns to the next level, Dynamic QR Codes are what you are looking for with their editing and tracking features. But what does the tracking feature entail? And how can it help you calculate and improve your ROI (return on investment)?
Why it is important to track your marketing metrics
Creating a data-driven strategy for your campaigns is necessary to understand how your marketing efforts impact business success and report ROI. With a solid, reliable tracking method, you can:
Discern your target audience.
Find out how customers reached your products, services, and digital platforms.
See if a particular design change improved traffic to your website.
Help you identify fake traffic, set expectations and goals based on your traffic history.
Give you more clarity on what is working and what needs to be improved.
Guide your marketing campaign in a strategic and informed way.


Create, manage, and track all your
QR Codes

.

Design beautiful QR Codes your way. Add your own color, logo, and frame.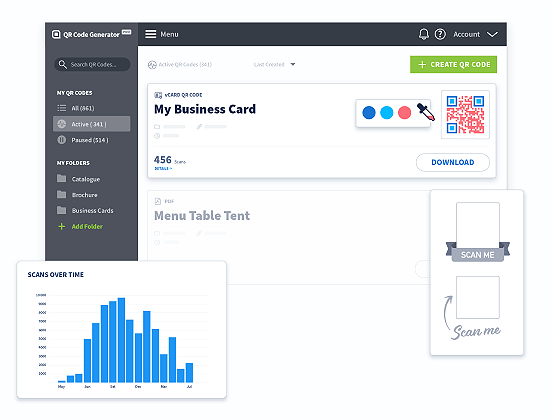 How to access your QR Code metric tracking tool
Once you have created your QR Code, you can access it via the QR Code Generator PRO Dashboard. If you created a Dynamic QR Code, you will see a "Details" link next to your Code under the number of total scans. On the other hand, a Static QR Code will neither show total scans nor an option to access more tracking details.
Metric data is provided in real-time. That means all collected data flows into your statistics report within seconds, giving you an up-to-date overview of your QR Code marketing.
Track your total and unique scans
These metrics allow you to track two things. Total scans show the complete number of times a QR Code was scanned, giving you a grand total that includes one time scans and repeat scans done by the same device. The unique scan metric counter focuses on tracking the specific number of scans per device, which gives you an even better idea of how many people interacted with your marketing message.
Scans by top cities and countries

Keeping track of metrics by cities and countries is especially useful for multinational corporations interested in expanding their global network and ease market penetration. Based on an individual's IP address, this numerical data is sorted in decreasing order and divided into two columns: Total numerical amount of scans and its percentage.
Scans over time
Timing is everything. Knowing when is the most opportune moment to release a print marketing that will give you a good return on your investment is invaluable. This is why our scan statistics page breaks down by month, day and hour live data on QR Code scanning metrics. The best part? This information is laid out in a comprehensive graph, designed to clearly delineate which date and time brought the most success to a campaign and which ones didn't, giving you the tools you need to optimize your campaign every time.
Scans by operating system
We have a where, we have a when, and how many times. Now, we give you the what. What operating system is preferred amongst your target audience? Our scan statistics include the percentage of scans that were done, from most to least, using Android, iOS, Windows, OS X, Linus, and Chrome OS. This gives your marketing efforts a better direction with which to work.
Shareable CSV report
Comma-separated values (CSV) is a format that represents sets of sequences or records with an identical list of fields. Our scan statistics page gives you the option to export all of the above metric data as a CSV file, allowing you to import it to a spreadsheet program like Excel and share it with ease.
Press X to start again: Reset your scans
Want to restart your campaign or switch to another medium, location and even try out a different design to see which one gets you more scans? No problem. QR Code Generator PRO lets you reset the scan counter to 0 as many times as you need to improve your marketing reach.
QR Code tracking best practices
Now that you know the who, the how, the when, the where, and the what, you can get to work. Below are a few fictional companies making real-life use of the QR Code tracking feature. Let's get creative, shall we?
Improvement from key metric tracking
FAQ
A/B testing is a great way to evaluate your target audience's response to specific elements and the effectiveness of your content depth, CTA, images, or videos. Combining a Social Media QR Code with your follower count helps you know how many people scanned your QR Code versus how many people were compelled to follow once they reached your content. Or, which social media platform garnered more followers, so you know which channel is lagging behind and needs more SEO and content depth.The QR Code Generator PRO statistics page gives you the option to add campaign information such as print run, in case you are running a sticker marketing campaign for your channel, medium, and campaign start and end date. This gives you more accurate results over a specific period of time.
Split testing compares two different, distinct designs, while A/B testing specifically focuses on improving a campaign's elements. You are, in essence, pitting your champion design against challengers to see which variation works best. While split testing helps you select one of two campaigns, A/B testing enables you to improve your campaign's existing elements. All QR Code tracking metrics can help you tremendously in A/B testing, especially in your print marketing, by telling you how many people interacted with your message. It helps you test which times are the most productive for your campaign, which locations are the most profitable for your brand, and what operating system your target audience uses the most. The more you know about your customers and audience, the more you can cater to your services and products to their needs.
Static QR Codes get an unlimited amount of scans. However, these are untraceable and offer no useful metrics for your marketing efforts. With Dynamic QR Codes, you can select the plan that best fits your needs. Most plans offer unlimited scans, and you are always welcome to switch plans any time directly from the Billing section of your account or just reach out to our multilingual, round-the-clock customer service representatives.