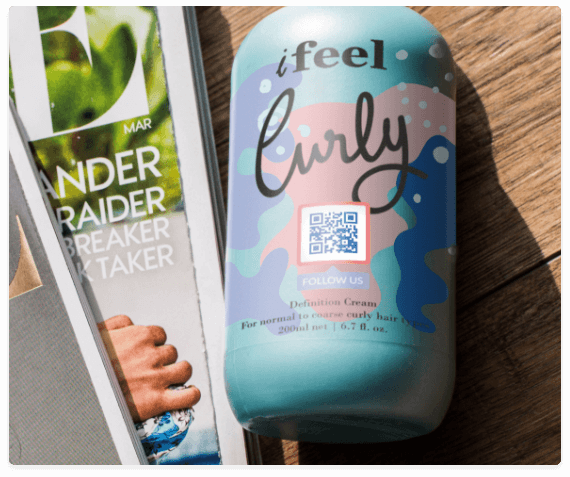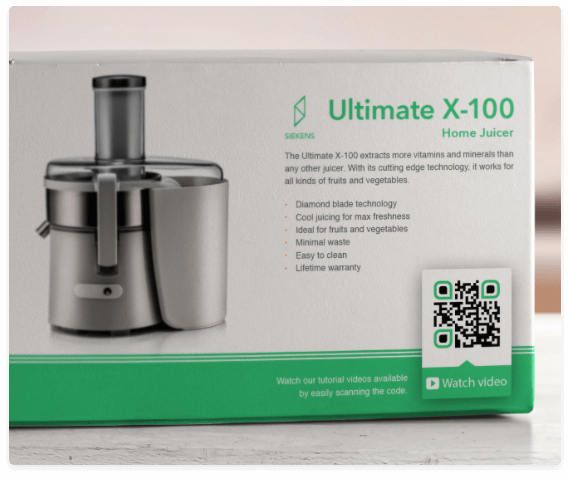 How to Use QR Codes on Product Packaging
Why QR Codes on packaging matter
Placing QR Codes on product packaging is an effective marketing tool because QR Code scanning is fast, simple and takes the customer directly to your information. Whether your goal is to receive customer feedback, promote your social media or make it easy to reach out to customer support, simply adding a QR Code that leads to your specific information boosts the value of your packaging.
QR Codes and different types of packaging
Depending on the industry, product or service, there are multitudes of branding opportunities in every type of packaging. Below are three types that every marketer should know.
Primary packaging
The primary type of packaging is the container that holds the product itself. Products can come in paper, carton, cardboard, plastic, glass or metal containers. Labels on these may need to include ingredients list, expiration date and warning symbols. Also, they need to be visually appealing and recognizable to the end user. Examples include canned goods, toothpaste tubes, perfume bottles, and candle jars.
There are so many opportunities to use QR Codes on packaging of this type, especially because the consumer holds onto it for a long time. If you want customers to know about how your product was made, you can include the Video QR Code to show a series of videos regarding the product origin. Use the Social Media QR Code to encourage customers to post a photo of your product wherever they are in the world and grow your social media following.
Secondary packaging
This type supports the primary packaging and refers to the container that holds the product indirectly. It is the box that holds a pack of medicine tablets or tray and shrink wrap around a pack of cans. Like primary packaging, labels on these may need to contain information such as ingredients list and expiration date.
There are endless opportunities to use QR Codes on secondary packaging solutions. You can link to your online promotion or sweepstakes with the Coupon QR Code. Use the PDF QR Codes to lead customers to your step-by-step tutorial so that they know how to use your product properly.
Tertiary packaging
Generally used for grouping items together, tertiary packaging solutions include pallets, corrugated boxes and cartons. While the purpose is mainly for transporting, this type of packaging can still be used for brand marketing. The Business QR Code on your transport boxes would be a great way to let people know what kind of company you are.
5 tips for QR Code design on packaging
1. Add color


Color is the easiest way to make QR Codes lively. Play around with your brand or campaign theme colors to make your QR Code appealing to scan.

2. Include a call to action


For better chances of more scans, include a call to action so consumers know what content they'll get. Custom designed QR Code Frames are colorful borders with different messaging to encourage even the passive passersby to scan.

3. Print big


In general, QR Codes should be at least 2 x 2 centimeters (around 0.8 x 0.8 inches) in size. It is always better to be on the safe side and print the Code bigger on your packaging. Avoid printing on edges that cut off your QR Code or on uneven surfaces that would distort the image to avoid making it unscannable.

4. Consider placement


Placing QR Codes next to barcodes can also make it difficult to scan. If you have both types of codes on your packaging, place one on a different side from the other.

5. Inspect material


Since packaging can come in a variety of materials, be wary of choosing one that reflects too much light since this also competes with the scannability of your QR Code. Whichever type of packaging you decide to print your QR Codes on, it's important to use the best resolution available. Professional printers will need high-quality images, so provide your QR Code image in .eps or .svg format by downloading it directly in your account. And especially with costly, high volume print jobs, always request proofs to test scan before printing to avoid any mishaps.
For more valuable tips, check out our print guide here.
QR Code tracking for better marketing
Improve your marketing strategy with insights gained from tracking your QR Codes. With a membership to QR Code Generator Pro, you can get information such as the total number of scans, operating system and date for each scan in a downloadable PDF or SVG file. For example, you can create different QR Codes for your products and track which type of messaging or design does best so that you can adjust your campaign for next time.
Get your 14-DAY TRIAL of QR Code Generator PRO
Test all features for free and without obligation