Make your information simple, relevant and clear with QR Codes, and invite your consumers to really judge your products by their packaging.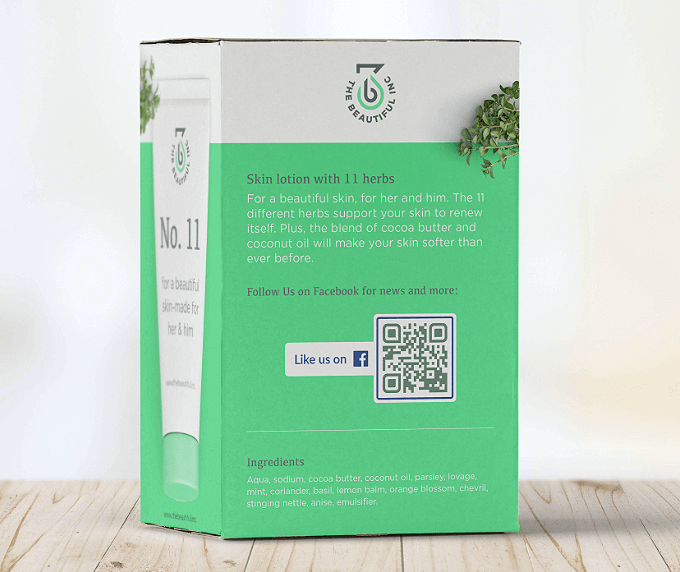 The Benefits of Using QR Codes on
Product Packaging
1.

Combat information overload

Riddle us this: what lets you decrease while increasing? No need to ponder too long on the solution. QR Codes allow you to optimize your product information and the benefits you provide to consumers while freeing up space on and improving the product packaging's smart design. You can connect your audience to your whole supply chain, to your social media platforms and even to a smarter way of shopping with just one scan without information overload.
2.

Connect with consumers

How about shifting the conversation about your products to social media, where you can build a community and keep your customers engaged with your business. With our mobile-friendly QR Code pages, which allows you to list all your social media accounts, you empower buyers to choose their favorite way to follow you whether it's via Facebook, Twitter, Instagram or any other platform.
3.

Coupons and deals

Are you hosting a special offer for the holidays, or deals on your latest products, and want not just your loyal customers, but also marketing leads to know about it? Perfect, because that is exactly what QR Codes will help you do. With Coupon QR Code, you deliver your digital coupon campaign directly to your consumers with a simple scan.

But it's not just about informing them. The increase in mobile users during the last few years is not just apparent in Google developers shifting to mobile-first indexing, it means consumers are expecting more content that is mobile accessible. By printing a Coupon QR Code on your product packaging, you give your customers direct access to promotion details, make coupons redeemable with just one scan, enable them to quickly save your coupon, email it to themselves, and instantly share it with friends on social media or anywhere online.
4.

Mobile commerce

Encourage post-purchase engagement by putting a QR Code on your product packaging that directs shoppers to a landing page with a subscription option, or your online store where they can easily continue shopping for more of your merchandise. With our QR Code Generator, deliver electronic commerce directly to the consumer's hand, wherever and whenever, via wireless technology.
How to create a QR Code on a
Product Packaging

?
Go to QR Code Generator and select the type of QR Code you'd like on your product packaging. We recommend using the URL QR Code to start.*
Enter your website address.
Your QR Code will be generated automatically.
Now, customize the design of your QR Code by adding a frame and a "Scan Me" logo.*
Select colors to match your style or company brand identity.
Select 'Download' to receive your QR Code file in .jpg format.
Integrate your newly-created QR Code on your product packaging design.
*Sign up to choose more QR Codes such as Event, Video, and Coupon, where you have the option of adding more information, more visuals, and edit or replace all the information without reprinting a new QR Code. You can also choose from a variety of frames and upload your own logo.
QR Codes on
Product Packaging

Best Practices

If you are going to use QR Codes on your product packaging marketing strategy, there are a few things you should keep in mind when structuring your design. No longer monochromatic, the QR Code now has a variety of design options you can use to get your audience's attention. Here is a list of tips.
1.

Add instructions

One big mistake QR Code users have made in the past is printing them without a short written explanation of what the consumer would gain or learn from scanning one. Make sure to incentivize your consumers to scan your Code, or else all your marketing efforts will be for naught.
2.

Frame it

With our customizable frames, you can make your QR Code blend with your product packaging design or your company's brand identity. When you start designing your QR Code, you will be offered a wide variety of ready-made frames with different Call to Action (CTA) messages and color options from which to select. If you want to add personalized details, you have the option of customizing even more by selecting a different shape, a different icon, and even adding your own text.
3.

Add a logo inside your QR Code

Once you have selected a frame option and customized your Code's shape and color, you can choose to incorporate a logo at the center of your QR Code. Though there are a few ready-made options to select from, you can also upload your own logo or your own CTA like "Coupon," "Like us" or "Find us." Our system automatically detects the best and largest size for uploaded logos to make sure QR Codes remain scannable, so you do not have to worry about making the correct adjustments.
4.

Save your designs

Let's say you want to promote the release of a new product from the same series, or you have expanded your departments to include more services for your clients and want to remain consistent with your design. Well, no worries, you no longer have to fret about recreating an old QR Code design manually. QR Code Generator allows you to save all your designs as templates, so you can reuse them for any of your marketing endeavors.
5.

Test before printing

The minimum size of a QR Code on your product packaging should be 2 x 2 cm (about 0.8 x 0.8 in). From there you can always make it a bit bigger, but we do not recommend going smaller as it would render your Code unscannable or even unnoticeable. Elaborate designs and low color contrast, or a large number of encoded characters (especially in vCard or Plain Text QR Codes) require a larger printing size. To ensure your Code is perfectly readable, you should do extensive field testing with various smartphones and apps, which gives you the assurance that every user will be able to scan your Code.

For more information on getting started with QR Codes, visit our Help Center page. And visit our How to Get Creative with QR Code Design page to learn more about the dos and don'ts of QR Code design for optimal results on your product packaging.
See QR Codes on
Product Packaging

in Action

QR Codes offer so much more in regards to enhancing consumer experience with your product packaging. Inspire your package design efforts with the following fictional companies who made QR Codes a part of their product packaging.
Consumer Packaged Goods
Betty Baker wanted to make it easier for their customers to store and redeem their coupons. With over a billion smartphone users, they decided to use QR Codes to their advantage by running a digital coupon campaign using our Coupon QR Code on their baking product packaging. Customers who scanned the QR Code were able to access more information about promotions, directly save coupons to their smartphones, email it to themselves, and instantly share it with friends on social media or anywhere online, all on a mobile-friendly page. No need for consumers to worry about storing or remembering to grab your coupons. If they have their phones, they have your coupons. And, by using our Dynamic Code, they were able to measure how successful their coupon campaign was with our track feature, which shows how often, where, when and with what device your Codes are scanned.
Software & Game Developers
After releasing a new game, eGo Gaming Studios wanted feedback for different categories from gaming experience, package design appeal and, most important to the development of their online store, which platform customers used to make their gaming purchases. By using our Feedback QR Code on their packaging inserts, they were able to customize the page with their own brand, create categories and subcategories for review, and collect customer contact information, such as email address and phone number, in order to increase their mailing list for future offers. Additionally, every feedback submitted was sent directly to eGo Gaming Studios' email address.
Consumer Electronics
Siekens Electronics is a fictional manufacturer with a very real dilemma: How could they make their user manuals more user-friendly and easier for consumers to access any time? They decided to bridge print and online by printing our Video QR Code on their electronics packaging, with clear instructions on what they could access if they scanned the Code. The Siekens team created a video playlist to show consumers how different electronics worked and to advertise related products and their latest arrivals. With time, they found that printing the QR Codes directly on the packaging, linking to either videos or PDF versions of the user manual, could save them more money on printing costs.
Retailers
Elle Boutique were having great local success with their retail store, but they wanted to expand their market reach on a national and, potentially, international level. By adding our Dynamic URL QR Code to their packaging, they were able to link their current customers to their online store and promote their social media accounts. This increased the traffic on their website and the number of shares and likes on their posts, successfully utilizing QR Codes to empower their consumers to promote for them.
Hotels & Resorts
Business Page QR Code was exactly what Grand Hotel & Resort needed to boost their in-store sales for their spa products. The QR Code provided guests with important business information on a mobile-friendly page, displaying their mission statement, address, opening hours and, with the addition of a button that linked to their online shop, foreign guests were able to re-purchase products hassle-free.
FAQ
To be honest, not using QR Codes means you are not using the Social Web to its full potential. Print media is not going anywhere anytime soon, so it is important you link your products to your online platforms with QR Codes to strengthen consumer loyalty and trust. In an oversaturated market, it is vital you stand out and build a community around your products and services to ensure sales. Customers are more likely to buy and recommend a product if they are more engaged with your company. But don't take our word for it, check out the page we have dedicated to our customers and their testimonials.
With QR Codes, you have the opportunity to include an almost unlimited amount of information on your product packaging without creating visual overload. Anything from business operating hours to connecting your consumers to your whole supply chain can be included on your packaging with a QR Code. Find out more on our One QR Code, Many Possibilities page.
Aside from helping you declutter your packaging design, connect your consumers to your products and even reduce paper waste on user manuals with our PDF QR Code and Video QR Code, you can also measure your campaign's success. With our Dynamic QR Codes, you can track how often, where, when and with what device your Codes are scanned. Like this, you will have a solid overview of your campaign's success at all times. Find more solutions to your product packaging campaign by checking out our QR Codes for Every Purpose page, and for more tips on how to run a QR Code campaign, check out our Tips for QR Code Campaigns page.