Discover
Coupon

QR Code use cases

From fitness studios to finance companies, the possibilities are endless for any industry.
Publishers

Photographers

Consumer goods

Restaurants

Cities

Retailers
For

Photographers

Get potential clients to try out your photography service with a coupon

Get started

For

Retailers

Provide a coupon at your store for customers to try out the latest collection

Get started
Join over 10,000,000
worldwide

users
Go from idea to result with
Coupon

QR Code

Create, customize, and launch the perfect campaign in minutes
Create
Display coupon or discount codes
This strategy is by the far the best way to get your customers' attention. Choose whether you'd like to display a text code for online store check-out or barcode to be redeemed and scanned in-store.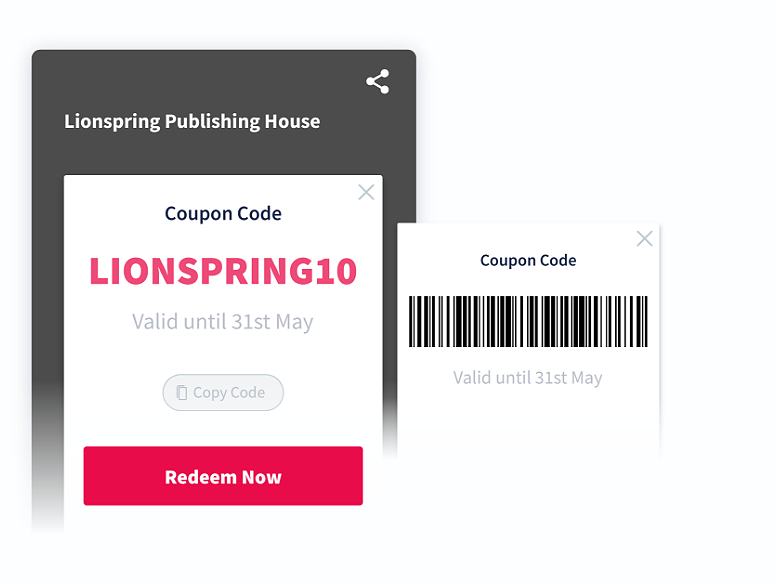 Customize
Make it your own
Take advantage of the included landing page and personalize it by adding your own colors, photo, description, validity, location, website, and even a welcome screen to enhance the shopping experience.
Flexibility
Engage a wider audience
Your QR Code not only looks good, but the content itself beautifully adapts to different devices it's displayed on. Tablet, desktop, or smartphone—we've got you covered.
Convenience
Get twice as many customers
The page is easily shareable online; either via social media or email. There is also the added convenience to copy the URL and share it via text message to friends and family.
Update
Create with confidence
Never worry about making mistakes ever again. Any information on the page, including the coupon or discount code can be replaced at any time without reprinting a new QR Code.
Get started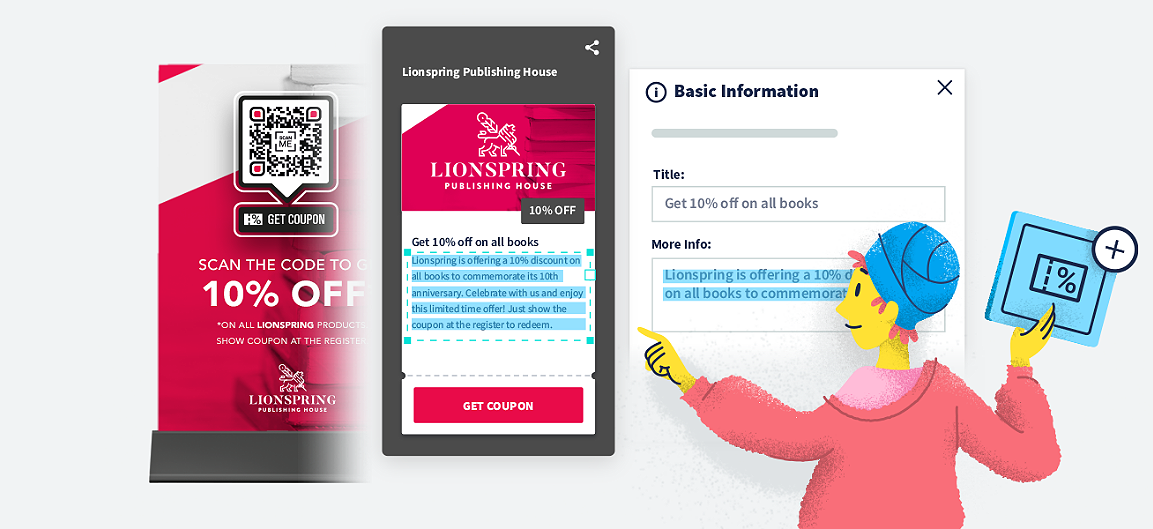 How to create a
Coupon

QR Code

In just three simple steps
1. Enter

2. Design

3. Integrate
1.

Enter

Select Coupons in the app and then enter your discount code. You may choose to display a text code or your own barcode.

2.

Design

Customize the landing page by entering other info and description. Then personalize the QR Code with colors and logo.

3.

Integrate

Download the QR Code in high-quality JPG, PNG, or EPS and then add it to the medium you'll print it on.
Plus other benefits you'll enjoy across QR Code Generator PRO
Foster brand loyalty
Customize or create your own short URL to build brand awareness.
Unleash your style
Use brand colors and add company logo to stand out from your competition.
Collaborate securely
Invite other team members, complete with their own logins.
Measure success
Track where, when, and how many people scan your QR Codes.
Print in high-quality
Your QR Codes stay in high-resolution no matter what.
Keep organized
Label your QR Codes, create folders, and add campaign info to keep them nice and tidy.