Product
Why Your Marketing Campaigns Should Use QR Codes
Want in on the next big trend that'll skyrocket your business to success? Then you've come to the right place! So, here is a comprehensive overview of how QR Codes can take your marketing campaigns to a whole new level!
Why are QR Codes useful for marketing campaigns?
QR Codes have been steadily increasing in popularity across the globe – and for good reason. Even though they just might appear like pixelated squares, they're one of the most clever and powerful inventions in the marketing and business world today.
More and more brands are embracing QR Codes because:
Anyone with a smartphone can use them
They conveniently connect print to mobile, which improves print advertising
They come with mobile-optimized content
There are tons of different types of QR Codes for every need (videos, images, PDFs, apps, social media links, digital business cards, and more)
Their short URL enables their use in digital marketing
They're fully customizable
Dynamic QR Codes can be tracked and edited
They have a high error tolerance
They can hold large amounts of data
They can be scanned from afar
They can be used for contactless mobile payments
…and much more!
How to use QR Codes to improve your marketing campaign
QR Codes support all aspects of marketing campaigns, including ROI (return on investment) calculations, A/B testing, campaign optimization, as well as integrate multiple marketing mediums. Let's take a look at how this works.
Track ROI
The goal of any marketing campaign is to get the best bang for your buck, right? That's why you need to track ROI to understand if the investment was actually worth it. With QR Codes, you can calculate ROI for all types of marketing campaigns, both print and digital, or even a combination of the two. If your marketing campaign uses a Dynamic QR Code, then you can automatically view any scan metrics related to that campaign in your QR Code Generator account. These metrics are broken down into the categories of time scanned, operating device used, scans by top cities and countries, and unique vs. total scans.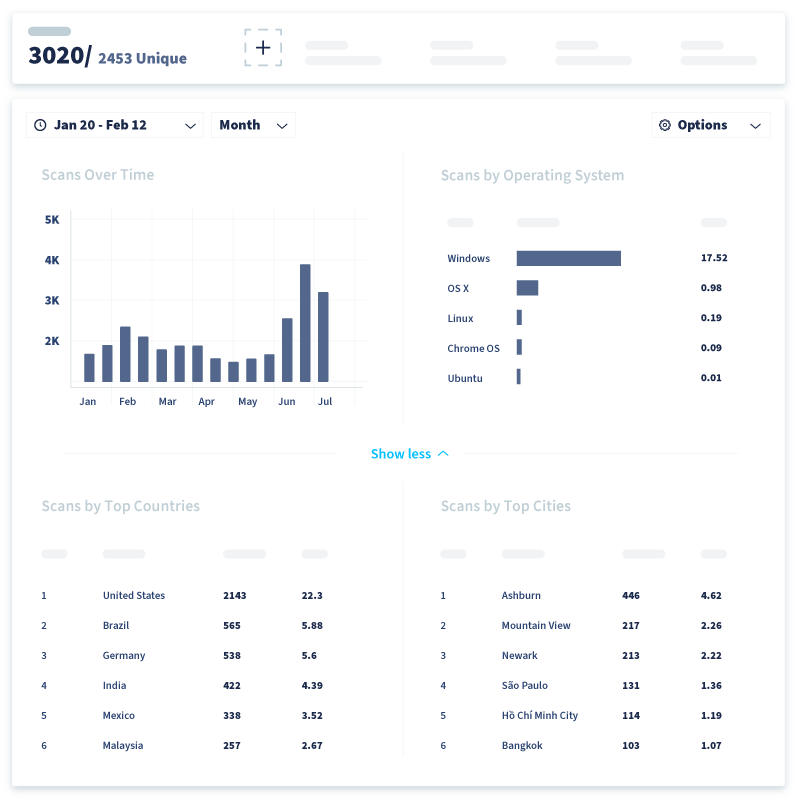 Multi-channel marketing
The tracking metrics mentioned above can be viewed for both print and digital marketing campaigns. For print ads, users see your QR Code and scan it with their smartphone, and for digital marketing, users can access the same content with a short URL. A short URL replaces longer links to your content and speeds up their loading times. With both possibilities available, you can reach users on the desktop, mobile, tablet, and print – all with the same QR Code.
When you use QR Code Generator PRO for your marketing campaigns, you can segment your campaigns based on marketing medium and start and end date. This enables you to compare results from different channels and determine which methods are the most effective.
A/B testing
Well-designed marketing campaigns use A/B testing (comparing two or more similar concepts to see which one performs the best). Even the smallest of details can make major improvements to conversion rates. In the same manner that you segment campaigns by marketing medium and time, you can also view results for different QR Codes and compare them. In your QR Code Generator account, you'll see a list of each different QR Code you create. To check the tracking data for that QR Code, click on details to view more.
Common A/B tests for QR Code marketing campaigns include comparing:
Call to Actions (CTA)
Graphic design elements
QR Code display page customization elements (color, description, which link your CTA button uses)
Where the QR Code is marketed (such as social media ad vs. poster ad)
The amount of A/B testing you can do is basically endless. It all depends on how you'd like to engage your target audience and what you'd like to sell.
Optimize and update
After you implement a few A/B tests, it's likely you'll need to make some updates. You can continue using the QR Code image that worked the best, but update that same QR Code's content or change your type of QR Code. As long as you've used a Dynamic QR Code, both options are possible without having to redesign your QR Code image whatsoever, giving you full-scale optimization opportunities without the stress of needing to create a new QR Code.
How to design QR Codes for a successful marketing campaign
If you're ready to rock'n'roll with your next QR Code marketing campaign, follow these steps to design your QR Code and the content connected to it.
#1: Use a frame and CTA
QR Code design begins with choosing your frame and CTA. We have a whole host of custom frames available if you need some help, but you're totally free to design your own as well.
Once you've chosen your frame, then you need to write your CTA. In the above image, the CTA is "Scan me" but it'll work even better if you customize it for your own content. A well-written CTA has 3-5 words and uses an action verb. For example, if you were using a Facebook QR Code to promote Facebook profile likes, your CTA might be "Scan to Like".
#2: Style for your brand
The best-case scenario is that your QR Code frame and the pixels reflect your brand. You can input your brand colors as hexadecimal values to ensure the exact color is used. When choosing your colors, you also need to consider where the QR Code is used. For example, if you're using a Video QR Code on the packaging of a juice machine, then you need to adapt the QR Code to that design. The colors should match both your brand as a whole, but also the particulars of the packaging design in terms of size and color contrast.
#3: Add your logo
You've also got the option to add your logo to your QR Code image during the design process. We'd absolutely recommend doing this because it gives you an extra boost of branding and also helps customers to trust that your QR Code is authentic.
#4: Consider the appropriate size
After your design is complete, you'll need to download it and add it to the graphic design it'll be used with (which can be done with any image editing tool). You've got the option to download QR Codes as JPG, PNG, SVG, and EPS image files to give you full control over customization. The size of your QR Code depends on where you're promoting it and how far away users may stand from afar to scan it, meaning that something like a billboard ad will need a larger QR Code than a flyer. The further away someone can stand, the larger the QR Code needs to be. We've got an overview of QR Code sizing here to help you out.
3 marketing campaign examples with QR Codes
What do QR Code marketing campaigns actually look like? Here are a few examples from fictional brands to give you a bit of inspiration to start your own.
QR Codes on emails
QR Codes have become increasingly popular in email marketing, especially when the goal is to direct traffic to mobile platforms like apps or boost event registration. In the image below, a business consultant has used an Event QR Code to promote an upcoming webinar in email marketing. Users can sign up through the Event QR Code and automatically add the event to their calendars. The advantage here is that users have the choice to register both via mobile and desktop.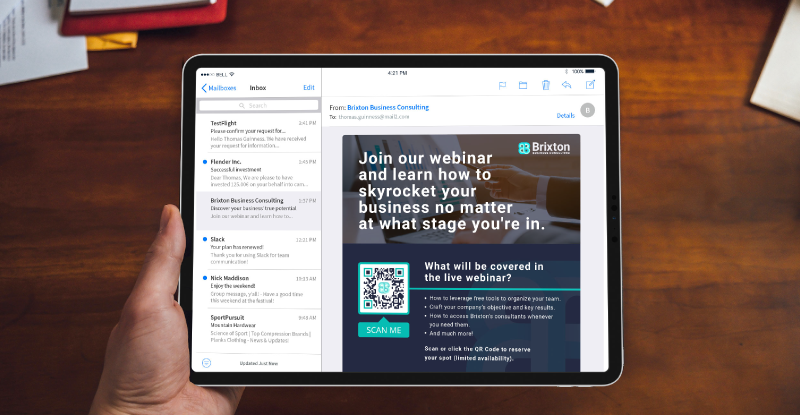 QR Codes on brochures
If you're doing a guerrilla marketing campaign that involves handing out brochures or flyers, you'll definitely want to put a QR Code on them. Without QR Codes, it's quite hard to understand what your true ROI is (unless that's the only marketing campaign you're doing, which is extremely limiting and not recommended!). Because QR Codes come with campaign tracking metrics, you'll know exactly how many sign-ups you get from handing out brochures. This was exactly the strategy that the gym in the below image did through a Video QR Code.
QR Codes on shop windows
There are so many ways that stores can utilize physical space to promote content with QR Codes. In the image below, a shoe retailer promotes a discount through a Coupon QR Code on a shop window. Using a similar concept, stores like this may also want to consider adding QR Codes to product displays for growing social media followers or promoting a mobile shopping app.
QR Codes make it easy for anyone to connect their offline material to the online world. But, if you really want to take your campaigns to a whole new level, we consistently update our QR Code Marketing Library to give you the latest information on how you can enhance your print and digital strategies.