Event QR Code for Event Marketing & Planning
What is an Event QR Code?
An Event QR Code is a solution that enables easy event marketing and planning. Ideal for print marketing materials, users can simply scan the QR Code, view all the event details like the time and location, and link to your preferred ticketing service to purchase tickets. They can even add the event details directly to their digital calendars with a tap. Event marketing and planning has never been easier!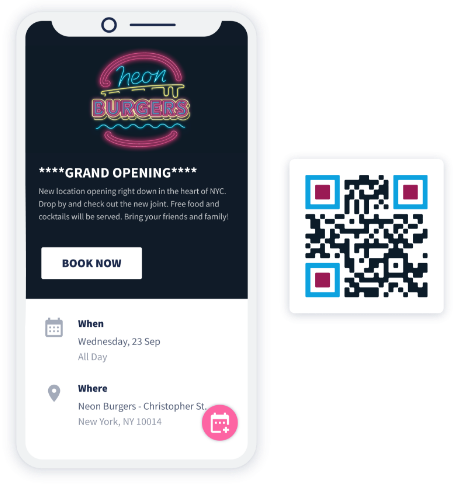 What information can I display with an Event QR Code?
An Event QR Code displays the following elements on a mobile-friendly page:
A featured image and customizable brand colors.
Comprehensive event information: Company or organizer's name, event name, event description, CTA (call to action) button for tickets, date, time and location.
List of amenities available at the event shown as icons and an additional description section.
The details of the contact person for the event: Name, phone number, email, and website.
An optional sharing button for users to share your event page.
How does an Event QR Code help me market and plan events?
All your event details in one convenient place
An Event QR Code is an ideal tool for event marketing and registration. They display comprehensive information about your event on an event page that's viewable on any device and is mobile-optimized. Users only need to scan your QR Code and can directly view the event, book their ticket, and add the event to a digital calendar. Done and done!
Perfect for event marketing with print materials
This process is particularly useful for print marketing materials because QR Codes enable a user to transition from print to mobile seamlessly. They no longer view an ad and then need to look up your links later—while you simply hope they even do this. It's just too inconvenient. With QR Codes, the links are automatically accessible for any smartphone user—meaning you get better and faster event attendance.
Event QR Code campaign tracking and editing
The benefits don't stop with print. Event QR Code is a type of Dynamic QR Code, meaning it can be tracked and edited at any time. If you use our QR Code Generator PRO software, you can view real-time scan metrics such as location by city and country, time scanned, operating device used, and unique vs. total scans. This means you can track and optimize QR Code campaigns for any channel, both print and digital. Furthermore, Dynamic QR Codes can be edited even after you download them. So, if you've accidentally made a mistake in your event description, or even decide that you'd like to try out a different QR Code solution, you can do so without creating a new QR Code.
Automatically generated short URLs
All of our QR Codes come with an automatically generated short URL. This has major advantages, including:
QR Code campaign integration for digital channels with the short URL as your link.
A short URL speeds up scanning and loading times.
Short URLs look better on short-form copy such as social media or in emails because they get rid of long, ugly links.
You can customize your short URL for your brand or event.
Your short URL is entirely secure because only you can edit and access its scan statistics.
Full-scale customization
Both your event display page and your Event QR Code itself are entirely customizable. You can style them with particular brand colors, your logo (when in the QR Code it goes in the middle), give your QR Code a custom frame and unique CTA, and even change the edges. Each QR Code can be matched perfectly with your designs.
How to make an Event QR Code?
Sign up to QR Code Generator PRO and get started with a 14-day free trial. You can upgrade at any time to continue using the QR Code if you decide the tool is right for you.
Once your account is activated, select Create QR Code in the dashboard then choose Event.
Start by naming your QR Code, and then customize the page colors to match your personal style or company identity. You can also upload a featured image, your logo, or a welcome screen to amplify your branding power.
Next, add all the basic information about your event. This includes the company or organizer's name, your event name, a description of the event, and an optional CTA button to drive event registration. Below this, you can add the event date, time, and location.
Then, you have the option to write specific information about the event such as catering or speakers, as well as include the contact person's phone, email, and company website.
As an additional option, you can add a sharing button to your page so it can be shared via text, email, or social media.
To personalize it further, select one of the ready-made QR Code frames and add your own custom text to urge your audience to scan the Code.
Add some finishing touches such as adding a logo in the center of your QR Code and changing the Code's color to suit your brand.
Finally, download and integrate it into the file design of your print collateral.
Can I see some use cases for an Event QR Code?
If you'd like to get inspired to use QR Codes in innovative and unique ways, here are a few examples from fictional brands to get your creativity flowing.
Real Estate Agencies
A real estate agency like The Home Finders is no stranger to event marketing because property showings are precisely how they can sell their properties. They create an event for each property, add the event details to an Event QR Code, and then display them on magazine ads, on the property display signs, and their office window. Now those interested can get all the details and register for the event 24/7.
Event Management
Verge Event Management is an event management company that uses Event QR Codes for all sorts of purposes. They use Event QR Codes to market their events on print and digital displays, optimize event marketing campaigns, and always use top-notch QR Code designs that fit the design requirements for all of their clients.
Hotels & Resorts
A large hotel like the Grand Hotel & Resort often hosts large events and conferences. They help their event hosts gain attendance by adding QR Codes to brochures at check-in and in the rooms, as well as on poster ads around the hotel.
What are some best practices for using an Event QR Code?
Adding event information
Event QR Codes can display all the details of an event. If you want to get the most of your Event QR Code, make sure all the details you need are filled in, particularly the CTA button to your booking or event registration link. Without this link, participants' attendance won't be recorded in your system. You can add a link from any event management platform you prefer, such as Eventbrite or Facebook event.
Minimum size
QR Codes shouldn't be printed any smaller than 2 x 2 cm (around 0.8 x 0.8 in), because they could become too small for both QR Code scanners and readers. However, this in no way detracts from your designs, because the size of QR Codes can be scaled up as needed—even as large as billboard ads! If you're not sure what size to use, try your design with a few sizes and compare them. We always recommend using a larger version to ensure you avoid scanning issues. Learn more about printing your QR Codes.
Logo
We've developed QR Codes so you can add your logo in the center. This is a great idea, because it connects the QR Code with your brand, as well as ensures the user that the QR Code is safe to scan.
Colors
While you have full-scale customization capabilities with our QR Codes, there are a few details to keep in mind during the design phase. We recommend to always use a darker color for the foreground (the black and square pixels itself), a lighter color for the background, and maintain the quiet zone to avoid any scanning issues. Get the complete guide on custom QR Code design.
Printing formats
QR Codes can be printed as JPG, PNG, EPS, or even SVG image files. This enables you to input your design on whichever platform, and also do additional customization if necessary. Adding a QR Code to a design can be easily done with any photo editing tool.
FAQ
Yes, this is possible if you create the event on Facebook and then use that link for your Event QR Code's CTA button.
Yes, the only requirement is that your CTA button links to a page with a scheduling tool that enables event registration such as Eventbrite.
Yes, if you've used an event tool or created a link where users can book tickets, then you can use this link to direct users to your CTA button.
If no registration or ticket purchase is necessary, you may simply use the Event QR Code to display all your event details without additional links. Your guests will be able to save the event details directly in their calendars.