Industry Trends
Upgrade Your Email Marketing Strategy With QR Codes
Implementing the best email marketing strategy takes a touch of creativity, a tad bit of personalization, and a heap of testing. That is why QR Codes are the perfect addition to email marketing because they can be customized, easily tracked and have immeasurable uses that amplify your campaign's uniqueness.
What is email marketing?
The process of email marketing is quite simple. It involves the use of email marketing campaigns to promote a company's products or services. Email marketing has a stigma that it's outdated and no longer useful, but actually, it's quite the contrary: 85% of U.S. retailers consider email marketing one of the most effective customer acquisition tactics. Customer retention and customer loyalty are some of the main reasons that email marketing is used. Every type of industry across the globe has found a use for email marketing because so many people use email, literally 94% of internet users.
Email marketing gives brands a method to speak directly with their customers through personalized messages with easily trackable results. Here are a few of the ways email is useful for marketing campaigns:
Collect customer feedback and reviews.
Inform users about new products & services.
Promote discounts & seasonal offers.
Encourage event registration.
Release company news.
Send users more information about how to use their current product or service.
Start brand awareness for a new company.
Send specialized products and services unique to your interests.
Retargeting for incomplete purchases.
Email marketing statistics
The fact that email marketing is so accepted by such a wide variety of people is what has made it so popular. Research shows that as much as 3 out of 4 adult online users actually prefer email marketing over other marketing methods. So basically, users are used to and enjoy receiving these types of emails. Here are a few other noteworthy email marketing statistics to grab your attention:
93% of B2B marketers use email to distribute content.
73 percent of millennials prefer communications from businesses to come via email.
80% of business professionals believe that email marketing increases customer retention.
59% of respondents say marketing emails influence their purchase decisions.
Email marketing ROI (return on investment)
One of the biggest success factors for marketing campaigns is ROI. For email marketing, email generates $38 for every $1 spent, which is an astounding 3,800% ROI, making it one of the most effective options available. Calculating exact ROI is one of the top advantages of online marketing when compared with more traditional channels like TV or radio.
The success of ROI is based on specific email marketing benchmarks (factors for comparison) and KPIs (key performance indicators) that convey how successful or not a campaign was. These factors also provide direction for how campaigns can be improved. Email marketing KPIs are:
Open rate: percentage of people who open the email.
Clickthrough rate: percentage of people who clicked on the email CTA (call to action).
Bounce rate: percentage of unsuccessful emails (such as filtered by spam).
Unsubscribe rate: percentage of people who unsubscribed from your email list.
For an overview of benchmarks for specific industries, Mailchimp has a helpful table here.
How can QR Codes strengthen your email marketing strategy?
A key success factor for email marketing campaigns is how well they address the person individually and how the email itself is formatted. QR Codes are a great way to make email marketing campaigns more creative and unique to gauge user interest. Here's an overview of the benefits both for users and for marketers.
Further tracking metrics
As mentioned above, tracking and benchmarking are essential to running successful email marketing campaigns. Using Dynamic QR Codes made with QR Code Generator software provides additional tracking metrics specific to QR Code campaigns. This includes information such as location by city and country, time scanned, operating device used for the scan, and total vs. unique scans.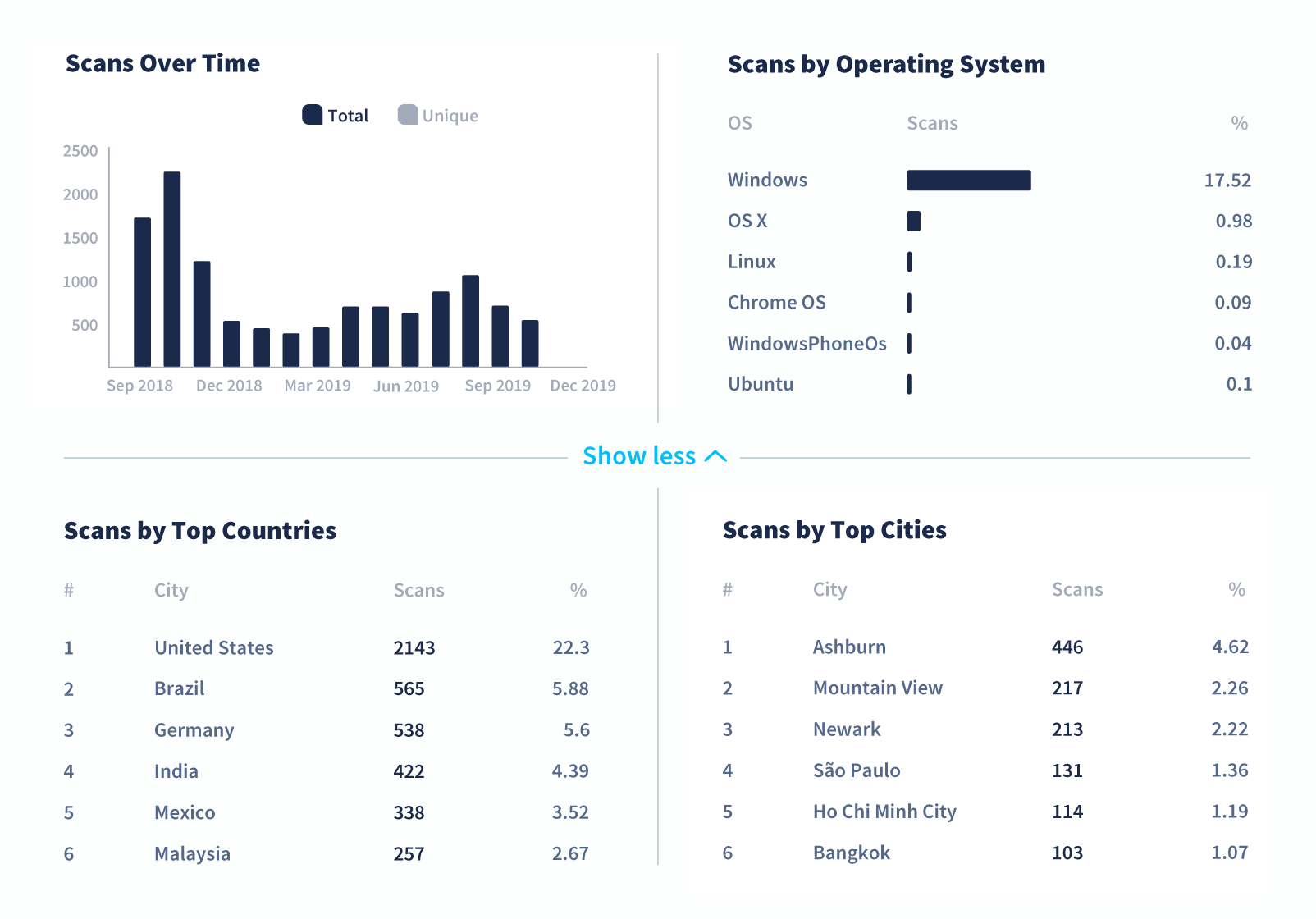 Dynamic QR Codes can also be combined with Google Analytics to take tracking a step further. Not only can you see when users scanned your QR Codes, but you can also track the path they take after this, such as which pages they viewed before making a purchase on your website.
For more information on how to set this up, take a look here.
Works with A/B testing
Speaking of additional tracking information, a common way to test email marketing campaigns is using the A/B method. A/B testing means that you send two or more email campaigns with slight variations between them to determine which one is more successful. When used with QR Code tracking information, you can compare campaigns across different locations and time periods, giving you the utmost power in terms of campaign optimization.
Custom QR Codes that convey your brand
Email marketing is one of the top methods for sending personalized messages. That is to a large extent the entire point of email marketing. QR Codes fit perfectly with this goal because of how many possibilities there are for customization. Each QR Code can be styled with custom frames, a logo, brand colors and a unique CTA (call to action).
Pro tip: When designing QR Codes, there are a few factors to take into consideration such as the size, the material it's printed on, which colors to use and more. For an overview of QR Code design tips, take a look here.
Wide variety of linkable information
QR Codes can not only be customized, but they also can be linked to a wide variety of information. Whether you'd like to share your videos, increase social media engagement, get app downloads, or send users to a specific landing page, QR Code Generator has solutions for every type of QR Code needed.
What's more, Dynamic QR Codes can also be edited at any time without changing the original QR Code appearance. This means that you can change the type of QR Code linked as well, for example, from an Image Gallery QR Code to a Video QR Code. Not only does this help avoid costly mistakes, but it also makes QR Codes used in email marketing campaigns easy to update.
Lessen the step from desktop to mobile to increase conversions
A QR Code in an email makes sense especially if users open an email on a desktop. For example, A vCard Plus QR Code makes it easy to scan and save contacts directly to a phone. This works for events as well: you can just scan the Event QR Code with your smartphone app so the event details are automatically added to your calendar. As a result, QR Codes remove this extra step that users have to make to switch between devices, which can be a factor for whether they actually convert.
3 email marketing examples with QR Codes
To give you some starter ideas for how QR Codes can be used in email marketing campaigns, we've got some specific examples for you below.
Get more attendees to your real estate agency open house event
Many email campaigns focus on getting event attendance and one of the most popular industries for events is real estate. Whether it's an info session or an open house viewing, email marketing simplifies the process of sending out invites – particularly to the right people. You can encourage event registration in an email campaign with an Event QR Code, but also list this QR Code on the for sale sign next to the house to maximize attendance.
Simplify the app downloading process
App marketing, in particular, works well with email marketing because of the mobile aspect. If someone opens the email on their phone, they can scan the App QR Code and download it without a hinge. Even if they open this email on their desktop, the process is still easier because they only need to scan the QR Code with their smartphone and install the app. This removes the clunky step of making a potential customer read the email via desktop and then go and search for the app separately on their phone. The easier the process is, the higher the conversion rate will be.
Promote mobile-based discounts as a fashion retailer
Fashion and e-commerce businesses are known to be heavy email marketers because it simply works. You can promote limited-time offers to already loyal customers, announce new products to engage followers and present personalized shopping lists that allow for purchases with a simple click. Particularly if this is done with mobile in mind, as many apps also work on mobile versions (think Amazon or H&M), a Coupon QR Code can offer a discount to be applied directly to a mobile store, or you can link a user to the mobile store directly. Many people already do online shopping on the go and this makes it even one step easier.