Best Practices
How QR Codes Increase Brand Awareness
Brand awareness is extremely important for businesses to establish their first connections with customers and understand their brand's value. By building a strong brand identity and using it to develop awareness of your brand, your products and services will eventually market themselves – all thanks to the recognition your brand has earned.

To do this, you'll want to use clever marketing to boost your awareness of your brand. What is the purpose of QR Code use in increasing brand awareness? When used as part of your strategy, QR Codes form a neat package: you can use them to track campaigns, customize them to match your brand's visual aesthetic, and use them to bridge the digital divide between you and your customer base. Of course, there are many different types of QR Codes, each with its own unique purpose and benefits.
What is brand awareness, and why does it matter?
The concept of brand awareness can be defined as how familiar your target audience is with your brand, and how well they recognize it. So, the more people that know of a brand and associate it with a certain product or service, the more popular it becomes – and popularity means more revenue over the long run. Quantifying brand awareness with numerical metrics is quite tough because it's such a vague yet still far-reaching concept in business.
Despite this, it still has extremely high value because of this "popularity effect." Some products sell well entirely because of their high level of brand awareness (think Tesla and its hefty 2018 sales losses, while still selling more cars than BMW and Lexus). People love the Tesla brand because of the reputation and values that come with it, so they still sell cars even when the latest models are considered some of their better products.
Establishes trust
First-time buyers or users might take some convincing to get on board with your product or service – a prime example of the importance of brand awareness. By building awareness of your brand, consumers will learn the value of your brand and trust your products or services. This is when brand awareness starts to establish trust between you and the consumer – leading to sales, customer loyalty, and a bolstered reputation in your industry or market.
Creates association
When you think of the internet, you might think of Google. When you think of computers, you might think of Apple. Having good brand awareness means that customers connect your brand with a certain product or service, whether they use them or not. Brand names can even become a part of daily speech, as in "I googled it." As a result, we internalize the brand so well that it begins to market itself.
Builds brand equity
Brand equity refers to the brand's total value from a financial standpoint. This may be the most quantifiable part of brand awareness. When a company has good brand equity, it comes with benefits like:
Increased prices for products and services
Better stock prices
Easier to expand product or service lines
Higher levels of influence and societal impact
The opposite is also true if you have negative brand equity. For many brands, particularly when they get larger, there is a combination of both positive and negative aspects of brand equity.
How to measure brand awareness
Brand awareness is not an exact science. There's no quantifiable way to put a figure on the perception of your brand, and how this brand awareness equates to sales or turnover. For example, it's complicated to analyze exactly how much revenue is generated by a huge name like McDonald's or Samsung, simply based on their brand awareness alone. There are too many factors at play. Nonetheless, there are a few metrics you can analyze to gain an understanding of how your brand awareness is developing.
Qualitative measurements
There are three methods you can use to gauge brand awareness on a qualitative level:
Google Alerts: This handy Google app allows you to set notifications, and alert you whenever your brand is mentioned online.
Social listening: Monitoring your engagement levels across social media, not directly from your pages, but from external sources.
Brand awareness surveys: Directly asking your customers for feedback about your brand.
Quantitative measurements
If you're looking for really specific numbers, take a look at these three metrics to analyze the quantitative value of brand awareness:
Direct traffic: The number of people who directly searched for your website.
Site traffic numbers: The total amount of people visiting your website from all channels.
Social engagement: How well people engage directly with your social media channels (i.e., analyzing your insights metrics).
While these measures are still "quantitative," it's still tricky to say exactly how much revenue they generate in the end. But if they are increasing, it's a good indicator that your brand awareness is also improving.
3 ways you can use QR Codes to boost your strategy for brand awareness
If you want to ensure that your brand awareness keeps going up, a tactful method is multi-channel marketing with synchronized brand styling. What can you do to make this happen? Considering adding QR Codes to your vault of brand awareness tools. With QR Codes, you can track marketing campaigns, customize QR Codes for any marketing materials, and edit and update them for any medium needed.
1. Customize QR Codes to match your brand
Your brand is unique and should remain that way. QR Code Generator has taken QR Code technology much further than their simple black and white barcode brethren, meaning your brand can shine through on each and every QR Code. They can be styled with a custom QR Code frame, fun edges, specific brand colors, your logo or an image in the middle, and a unique CTA (call to action) that ensures more scans.
Pro tip: If you need a bit of guidance on how to design a QR Code, take a look at our guide.
2. Edit, track, and adjust
When it comes to Static vs Dynamic QR Codes, the awesome advantage of Dynamic QR Codes is that they come with important tracking data for you to measure your campaign success. QR Code Generator software provides scan data for location by city and country, time scanned, unique vs. total scans, and operating devices used.
Furthermore, Dynamic QR Codes can both be edited (such as a new link) or even have the type of solution changed (such as swapping out images for a video). This means you can make real-time updates and optimize your marketing campaigns without ever having to change the appearance of the original QR Code.
Pro tip: Track your entire customer journey from the QR Code scan to the actions they make on your website or content by integrating your campaign with Google Analytics.
3. Harmonize multi-channel marketing
Brand awareness works best when the styling and values conveyed through your marketing channels match across multiple platforms. You can size QR Codes to fit each type of platform and adjust their style for individual marketing campaigns or particular products so that customers recognize your brand no matter which channel they view.
There are QR Code solutions for nearly every purpose, meaning their size can be adjusted to fit on both print and digital mediums. They can be small enough to fit on a tag like in the image below or even a billboard ad that is viewable and scannable from afar.
3 examples of how QR Codes can increase brand awareness
Brand awareness can be obtained in a wide variety of ways, but it's the creative and engaging methods that tend to have the best success. If you're looking for some inspiration on how QR Codes can be used in real marketing campaigns that increase brand awareness, we've outlined a few examples below.
1. A Coupon QR Code on a food truck
Food trucks rely on brand awareness so that they maintain repeat customers and get in touch with new ones regularly. To create initial brand trust, companies can utilize a coupon QR Code generator and enable customers to scan a code on the side of the food truck, so they are encouraged to try out the food. If they are satisfied, there's a good chance they'll come back and also spread the word, which is a fantastic way to increase brand awareness.
2. A Social Media QR Code on retail product packaging
Social media is one of the top methods to increase brand awareness – it's one of the quickest and easiest ways to get a rounded overview of your business and message. If you first establish a connection with your customers and get them interested in your content, they're much more likely to convert and remain loyal over the long run.
As an example, a fashion retail shop could place Social Media QR Codes on product packaging, on tags, on table cards at check out, and in the dressing room to increase followers. Social media metrics are one of the most tangible methods for quantifying brand awareness, so this would give you a good idea of how interested customers are in this particular brand.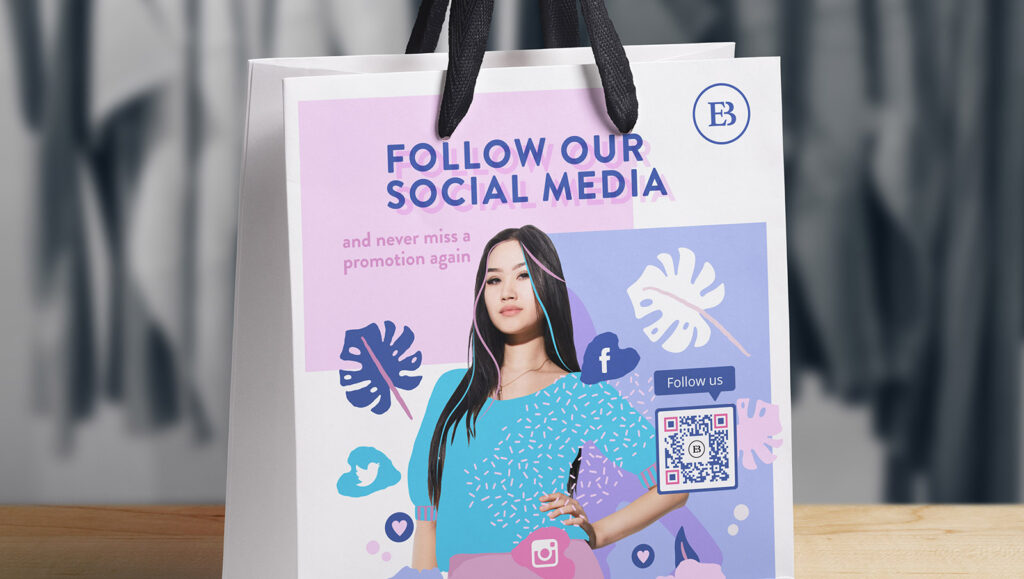 3. A Business Page QR Code in a real estate brochure
Real estate agencies often work heavily with print marketing campaigns and update their customers through magazines and brochures sent via mail in an effort to increase brand awareness and generate interest in specific properties. They can ensure that their readers can easily understand their business by adding a QR Code for business to the materials they send. They can also use a Dynamic QR Code generator to send readers new listings in an engaging format. Turn images to QR Code, or create an interactive house tour by uploading a QR Code video.
An unquantifiable but vitally important strand of marketing, brand awareness lays the foundation for consumers to trust your business. There are many different ways to develop how the public sees your brand, but understanding brand awareness will help this translate into long-term success. With an attentive marketing strategy at hand, you'll be well on your way to boosting your brand's awareness – and QR Codes are sure to help you with those steps ahead.