How to Design a QR Code with Frame
Get up to 173% more scans by just adding a frame on your QR Code. With QR Code Generator PRO, all you have to do is select from our beautiful frame designs, customize it, then download.
Why does a QR Code with a frame get more scans?
No matter what you intend to use the QR Code for, at the end of the day, you want the maximum amount of people to scan it, right? So, adding a frame to your QR Code is precisely what makes it "pop" in a similar manner that all Call to Actions (CTAs) in marketing do. A QR Code with a frame draws the reader into making a specific action due to its shape and color, while the CTA within the frame (such as Scan Me) clarifies the purpose of scanning the QR Code.
Who should use QR Code frames?
Well-designed QR Codes heavily influence how often your QR Code is scanned. This means that every single QR Code should have a frame and CTA. Due to their flexibility and wide range of uses, QR Codes are applicable for every single business today.
The following are a few industry-related examples to give you a better understanding.
Gyms and Wellness Studios
QR Codes on business cards are becoming increasingly popular because they add so much more value than a print business card alone. If you own a gym or a wellness studio, You can choose to create a digital business card with a vCard Plus QR Code to enable your clients to save and share your contact information without manually typing them. Or, create a Business Page QR Code that summarizes your business and encourages your customers to book an appointment or an App Store QR Code to connect them directly to your fitness app. In all cases, each type of QR Code comes with a custom frame and CTA.
Real Estate Agencies
The real estate industry has endless uses for QR Codes with frames. For example, a vCard Plus QR Code on an office window display enables potential buyers to get in touch with the agent responsible for a property they're interested in. QR Codes have no minimum scan distance, meaning that they work perfectly for large-scale print ads like billboards. For this purpose, you could then use a Video QR Code to share a video about a specific property or multiple properties available.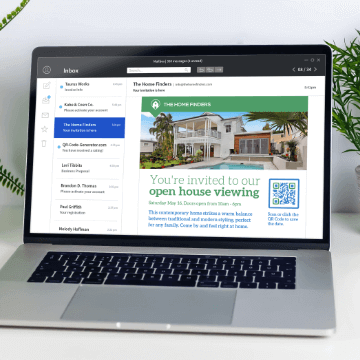 QR Codes also work on digital marketing platforms, such as emails or social media posts. One option would be to combine your social media campaign with an Event QR Code to maximize attendance for a property viewing event. Despite the fact that these QR Codes are used on different platforms and come in different sizes, you can see from the examples that you can create frames with CTAs that adapt perfectly to your graphic designs.
Retailers
Both in-store and online retailers can make full use of QR Codes with frames. You can use a Social Media QR Code on product packagings or shopping bags. Or print a Coupon QR Code on a store opening event invitation to attract first-time customers. Another possibility would be to print a Video QR Code on a product label. QR Codes with frames are fully customizable for every type of medium, no matter how small, large, or creative your design requirements are.
How to design a QR Code with frame
With QR Code Generator PRO, using a frame with your QR Code is as easy as choosing from our list of ready-made frames. The following steps allow you to design a QR Code from start to finish. To get started, log in to your account or create one for free.
#1 Choose the type of QR Code
The first step in designing your QR Code is to choose which type you'd like to use. There are QR Codes for videos, events, social media profiles, apps, images, sound files, and more. Keep in mind that if you decide to use a Dynamic QR Code, you can edit the internal content anytime without having to create a new QR Code. So even if you can't decide which QR Code you want to create now, you can always design it first and change later.
#2 Select a frame
Once your QR Code is created, you can now select a new "home" for your QR Code. These ready-made frames are created specifically to help you attract more scans with their eye-catching designs.
#3 Use your brand color
Once you decide which frame you'd like, you can give it a particular color based on hexadecimal values (such as #000000 for plain black). When deciding the appropriate color, you need to take the following into account:
Your brand colors.
The appropriate color contrast.
The color of the material the QR Code is on.
The color of your frame should contrast enough from the rest of the graphic design and the background to be readable for a QR Code scanner. This is also the general rule that the CTA section of any marketing design (in this case, your QR Code) should direct the reader's attention to that point, so consider how you can choose colors that highlight the QR Code as the point of focus.
Pro tip:
If you're unsure what your hexadecimal color is, you can use our color picker and select the correct color. Hexadecimal values are more suitable in the case that you need really the exact color.
#4 Update your Call to Action text
Next, edit your QR Code's CTA text. The CTA should directly convey what action you'd like a reader to take as a result of viewing your marketing message. You can use the default CTA, "Scan Me" but it's better if you customize it based on the intent of your QR Code. For example, if you're using a Social Media QR Code to grow followers, you CTA might be "Scan to Follow."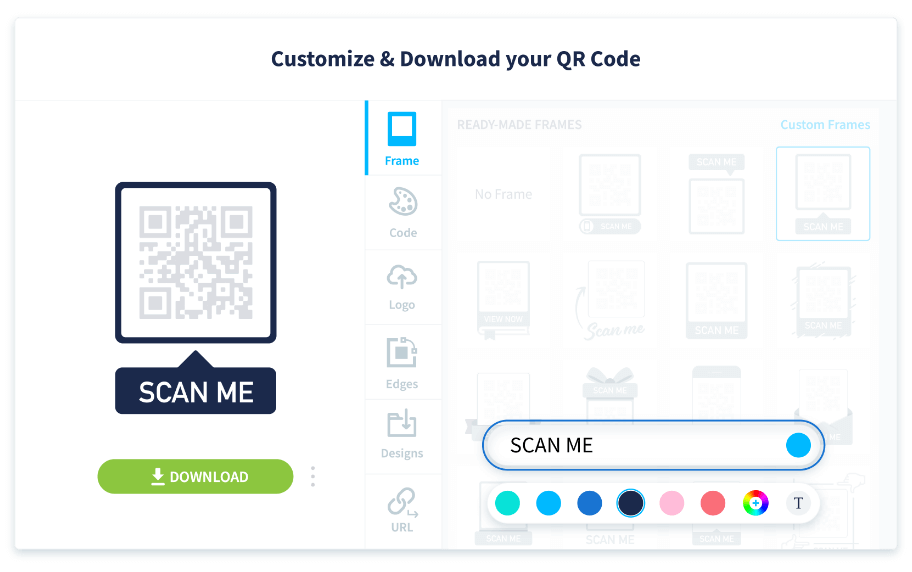 In order to edit your CTA text, click on the "T" button at the bottom of the customization panel, and type it on the box that pops up. You can view the changes you make in real-time on the left-hand side of the panel.
#5 Download your QR Code
Now your QR Code frame is fully designed and ready to go! You've got the option to download the QR Code in four different image file formats: JPG, PNG, EPS, and SVG, so you can choose which type best fits your graphic design requirements. Your QR Code can be added to your design with any photo editing tool easily.
QR Code with frame design best practices
There are a few things to keep in mind when selecting and designing your QR Code frame. The following section gives you a detailed overview.
Match your frame with the type of QR Code
Your QR Code frame is a part of your CTA, so it should reflect the type of action you'd like the user to take. You can choose from ready-made frames already in the app or you can create your own. Whatever the case may be, the most important is that it matches your CTA. You can see from the example in the image below the CTA is "Get the app" so it uses an App Store QR Code. The frame also looks like a smartphone, which grabs the reader's attention to scan it and download the app.
Maintain the quiet zone
The quiet zone is the white space around your QR Code that distinguishes it from the surrounding designs for QR Code scanners. When you use a QR Code with a frame from QR Code Generator PRO, the quiet zone is automatically preserved within the frame. So, make sure that if you do any further editing on your own that you don't remove the quiet zone.
Custom CTA text length & action verb
The general rule of thumb for writing CTAs is that they are 3-5 words long and include an action verb. We recommend using a CTA that matches the type of QR Code. For example, if you're using a Video QR Code, your CTA might be "Scan to Watch". Using a CTA that's longer or doesn't refer to a specific action can confuse the reader and result in them not scanning your QR Code.
FAQ
Although your QR Code frame itself doesn't necessarily have to be square, your QR Code does, otherwise you risk it not being readable for a scanner. When you design your QR Code with QR Code Generator, all QR Codes are automatically square, so that this issue is avoided.
Your QR Code frame depends on the size of your QR Code. While QR Codes should be no smaller than 2 x 2 cm (0.8 x 0.8 in), there is no limit to how big they can be. You only need to ensure that the QR Code has high enough image resolution and is positioned well to be scanned from a distance. If you design your QR Code with a frame with QR Code Generator, the frame automatically scales with the size of your QR Code, because they come as one single image.