Convert image to QR Code online
How do I convert an image to QR Code online?
It is easy to convert an image to QR Code online with our QR Code Generator. Also known as Image Gallery QR Code, it is a QR Code solution that enables you to display not just an image, but multiple images in the form of a gallery. The images are displayed on a mobile-friendly page that summarizes your photos and related business through elements like your website link and a customizable CTA (call to action) button.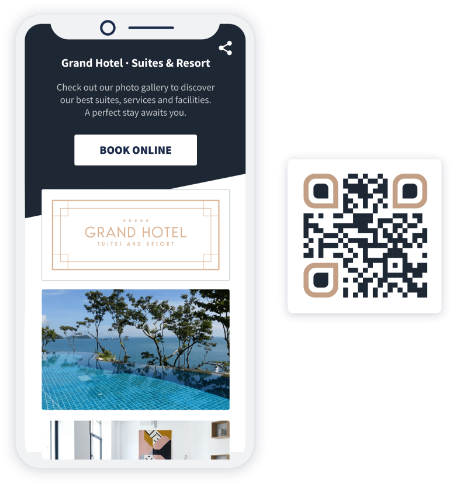 What information can I display on the Image Gallery QR Code?
When using the generator to convert an image to QR Code online, you can display the following elements:
A headline, your website link, and a short description of your business.
A featured image and customizable brand colors.
Unlimited photos displayed as an image gallery (optional to be shown in a grid format).
An optional and customizable CTA button to direct users to another link (such as a landing page).
Why do I need to convert an image to QR Code online?
Compile multiple images into an image gallery
The Image Gallery QR Code solution is ideal for displaying multiple images in the form of a gallery, which can be used to inspire users to visit both your website and a landing page from the CTA button. This type of QR Code solution is highly useful for print marketing and streamlining the process for users to access links via their smartphone, instead of having to look them up later.
Useful for portfolios, resumes & other print business documents
Showcasing your work as a graphic designer, photographer, design agency, or even a company such as real estate will find the Image Gallery QR Code worthwhile. You can add these QR Codes to a resume or business card to display a portfolio, business print materials like brochures, print ads in magazines and newspapers, or even large poster ads. The possibilities are endless!
Automatically mobile-optimized
QR Codes focus on directing traffic to mobile in particular, and we know how valuable mobile is for your marketing and business needs. As a result, all of our QR Codes at QR Code Generator comes with displays that optimizes your linked content for all devices, including desktop, mobile, and tablets.
Style the QR Code to match your brand
Both your image gallery page and the QR Code are entirely customizable. You can add your unique brand colors, your logo to the loading screen and the QR Code, as well as add a CTA to your QR Code frame and on the page. Furthermore, you can also download QR Codes into different image file formats, enabling you to customize your QR Code campaign for all types of designs and marketing platforms.
Functional for digital & print marketing
QR Codes work wonders for multi-channel marketing - particularly when print mediums are involved. Before QR Codes existed, you likely saw print marketing in the form of something like a billboard ad but struggled to connect with that brand later on, because there was no way to save the link. QR Codes remove this problem entirely because users can simply scan the QR Code with their smartphone, and your links are directly there. No more lost customers!
Updatable, editable, & trackable QR Codes
If QR Codes don't sound impressive enough already, we've got one more added benefit for you: QR Code tracking and editing. The Image Gallery QR Code solution is a type of Dynamic QR Code that enables real-time tracking metrics through the QR Code Generator dashboard. You can view data on your QR Code scans such as location by city and country, time scanned, operating device used, and unique vs. total scans. This makes both campaign optimization and ROI calculations possible - even for print! Furthermore, Dynamic QR Codes can both be edited and changed without having to redesign your QR Code. If you'd like to update a link, add a new image, or even change your type of QR Code solution, it's possible at any time without disturbing current campaigns.
So how do I convert an image to QR Code online?
Sign up to QR Code Generator PRO and get started with a 14-day free trial. You can upgrade at any time to continue using the QR Code if you decide the tool is right for you.
Once your account is activated, select Create QR Code in the dashboard then choose Images.
Start by naming your QR Code, and then customize the page colors to match your personal style or company identity. You can also upload a featured image, your logo, or a welcome screen to amplify your branding power.
Then, upload the images you'd like to display. You can choose to display them in a grid view. There is no limit to how many photos you can upload.
Next, add a headline and short description to inform your audience what your page is about. Then, enter all your website URL. You also have the option here to add a custom CTA button with an additional link (such as a landing page).
To personalize it further, select one of the ready-made QR Code frames and add your own custom text to urge your audience to scan the Code to view your videos.
Add some finishing touches such as adding a logo in the center of your QR Code and changing the Code's color to suit you.
Finally, download and integrate it into the file design of your print collateral.
Can I see some use cases for an Image to QR Code online?
If you'd like to get inspired to use QR Codes in innovative and unique ways, here are a few examples from fictional brands to get your creativity flowing.
Photographers
A photographer's business is centered around images. Through the Lens Studio decided to boost their print marketing and image displays with an Image Gallery QR Code. They added them to photographer business cards and on their office window so passersby could get a look even when they're closed.
Real Estate Agencies
The Home Finders is a real estate agency that heavily uses print marketing to display their properties. They used an Image Gallery QR Code for a newspaper ad and also added it to the display sign directly outside the property. Users could scan their QR Code, view the property's details and even book a viewing directly.
Hotels & Resorts
Grand Hotel & Resort wanted to show off a new location with luxury suites. They used an Image Gallery QR Code for local banner ads with a direct link to their landing page to make a booking.
What should I know before converting my image to QR Code online?
Minimum size
QR Codes have a minimum size of 2 x 2 cm (around 0.8 x 0.8 in). This enables both users to read them, as well as so QR Code scanners can detect them. QR Codes can be adjusted in size according to the particular design, but if you're wondering whether or not your QR Code is too small, then opt for a larger version so you can avoid QR Code scanning problems. For further information on printing QR Codes, take a look at this overview.
Logo
All our QR Codes have the option to add your logo (or an image) in the middle. We absolutely recommend doing this, because it gives you an extra opportunity for branding, as well as that it ensures users that scanning your QR Code is secure.
Colors
You can add custom brand colors to your QR Code's frame and edges to match them with any graphic design and give them a more professional appearance. Nonetheless, there are a few details to keep in mind such as always using a darker color for the foreground (the black and square pixels itself), a lighter color for the background, and maintaining the quiet zone to avoid any scanning issues. For a complete guide on custom QR Code design, we've got an overview here.
Printing formats
The QR Code file itself can be downloaded in four different image file formats: JPG, PNG, EPS, or even SVG. This enables you to integrate the QR Code image into any design you need, add your own styling elements, and adjust the size. Adding a QR Code to a design can be done with any photo editing tool.
Image display
For a solution like an Image Gallery QR Code, you have the option to display as many images as you need. However, there are two elements to keep in mind regarding images: First off, the more images you add to your QR Code, the larger the amount of data becomes. When you overload QR Code data, the Code tends to load slower. Furthermore, too many images can be distracting to users. It's best to add just a few purposeful images related to your business or page topic instead.
FAQ
You can add as many images as you want to an Image Gallery QR Code. Nonetheless, it's still a good idea to focus your images on a few of the best examples to the QR Code isn't overloaded with data and loads slower, as well as making it easier for your audience to browse through the images without being overwhelmed.
Only the images you uploaded to the QR Code will be displayed to the public. We also do not share your information with any third-party to protect your privacy.