Industry Trends
QR Code Advertising: How to Integrate Them into Your Ads
QR Code advertising refers to using QR Codes as a campaign tool to boost audience engagement on ads. Users can directly interact on their smartphones with the ads, growing customer connections. This can create memorable experiences, leaving an impact on audiences. Simply choose your QR Code solution and place it on an ad material of your choice.
8 ways to use QR Codes in advertising
There's no shortage of creativity when it comes to incorporating QR Codes into advertising. Let's explore some exciting ways to spruce up your ad with these pixelated squares.
#1 Coupons
Coupon marketing has been in the game for more than a century. And guess what? It's still going strong! Retailers are still keeping it in their toolkit, and we don't see it taking a backseat, either.
Not only does it inspire repeat customers, leading to more customer loyalty, but coupon marketing also has the potential to skyrocket sales. Looking to promote a specific product and gently nudge your customers to purchase it? Try using a Coupon QR Code—a seamless, mobile-friendly solution that digitizes your coupon. Whether customers are in-store or online, they can scan to redeem the discount. Easy-peasy.
#2 Product packaging
Leveraging product packaging as an advertising vehicle is a savvy approach to making a lasting impression on your customers while keeping your ad budget intact. Enter "packvertising," a novel concept that merges advertising practices with packaging, forging an unforgettable brand experience for your customers. With a deliberate focus on package design, brands can establish meaningful connections with customers from the beginning to the end of their journey.
One easy way to unleash the potential of packvertising is by implementing a Product QR Code on your packaging. When you integrate a pixelated square into your package design, you can connect your customers to your social media accounts, engaging videos, or even your webshop. Embrace QR Codes as the gateway to sharing innovative and unparalleled brand experiences, leaving your customers captivated and craving more.
#3 Social media
There's no magic formula for effortlessly bringing in a steady stream of followers to your social media platform. Let's face it: Building a substantial following doesn't happen overnight, despite what some viral content creators may claim.
But one can't deny that an engaged social media audience is a hallmark of success in the world of online marketing. While a robust social media strategy certainly contributes, solely relying on increasing your following through social media might not always be enough. That's where offline marketing can still be a loyal ally. And guess what? A Social Media QR Code is the perfect tool to narrow the gap.
By incorporating this QR Code into your offline marketing materials, be it a behemoth billboard or a compact business card, you can smoothly guide potential followers from the physical world to your online presence with just a scan! Capture the attention of a new audience in the wild—on the streets, inside a shop, or at a bus stop—and incrementally cultivate your social media following, scan by scan.
#4 Television
Smartphones are powerful computers in our pockets. Whether we're clicking on a link, sharing a tweet, or scrolling on social media, these pocket-sized devices enable us to juggle multiple tasks, even if we're not the best multitaskers in the world.
But when it comes to TV ads, there's a genius way to connect a user's TV with their mobile device: QR Code advertising. This sophisticated feature empowers viewers to access the digital ad within seconds and engage seamlessly with the content on their mobile devices.
By employing QR Code ads as bridging devices, you can lead them to take the next action while tracking the number of scans your ad generates. See the picture below to witness how you can unlock higher levels of engagement for your TV ads.
#5 Out-of-home ads
Out-of-home (OOH) outdoor advertising remains an effective medium that reaches audiences beyond the confines of their homes. It creates multiple avenues for connecting with brands, whether audiences spot a billboard on the subway during their commute, a poster while strolling past their local cafe, or a creative mural ad while crossing the street.
These on-the-go ads have a nifty way of stopping passersby in their tracks, presenting brands with an enormous opportunity to engage their audience in spectacular and innovative ways. But if brands want to invoke more curiosity about their ads, QR Codes have a magnetic way of reeling audiences in.
Why? Because users are not merely passive viewers of ads. They now have the exciting possibility to interact with the ad by scanning the QR Code. This gives users a clear path to follow after viewing the ad. Once the user scans the QR Code, they can take the ad with them wherever they go, allowing them to carry the brand's message and offerings in their pockets.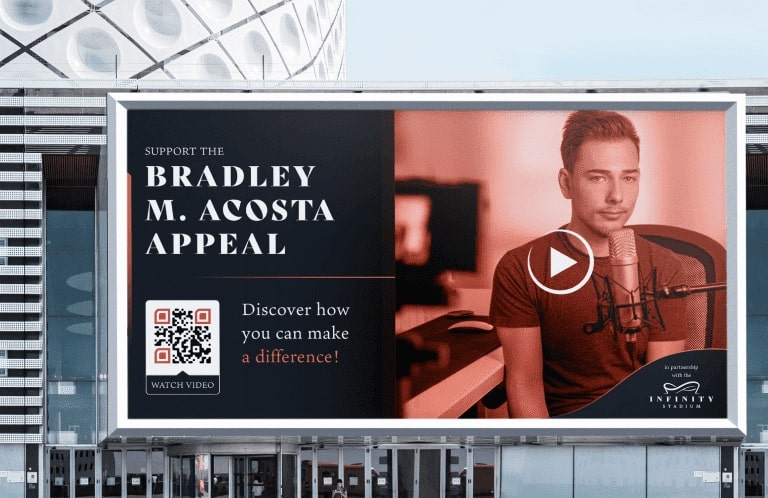 #6 Event advertising
There are multiple channels you can use to advertise your upcoming event to your target audience. From social media and email to content marketing to print ads, you can spread the word like wildfire when done right.
One tool to amplify your audience reach is an Event QR Code. The best part about including this mobile-friendly software in your advertisement is that you make it as easy as pie for your audience to look up the event.
You'll be able to add event details like venue, date, and time. Plus, you can add an optional button that directs your audience to a webpage to purchase the tickets straight away, without hassle. Bonus? Your eventgoers can also save the event in their calendars as an extra reminder!
Boost your event attendance with QR Code advertising so you can focus your efforts on other important tasks that will elevate your event.
#7 Pushing app downloads
In the ever-expanding digital world, new apps are springing up like mushrooms, each vying for consumers' attention. Amidst this fierce competition, one mobile app shines brighter than the rest — Hinge. Touting itself as "The dating app designed to be deleted," Hinge sets itself apart with its one-of-a-kind approach.
Hinge's ads are full of witty copy that strikes a chord with those familiar with the frustrations of online dating. Hinge serves as an example of how originality in advertising makes a brand stand out.
However, to encourage more on-the-spot app downloads, one strategy would be to incorporate an App QR Code in their advertisements. The App QR Code is a brilliant tool to have in your arsenal, as it's specifically designed to drive more app downloads.
When users encounter the ad, they can instantly engage by scanning the Tetris-like square, which will direct them to a download link. This frictionless experience will not only pique their interest but also increase the chances of them downloading your app. Jump on board with QR Code advertising as an awesome addition to your toolkit, and see your app's success skyrocket!
#8 Podcast advertising
Attention all podcasters: Looking to grow your listener base? As a podcaster, there are a number of ways to promote your podcast and attract a larger audience. You could use social media to get the word out or even land an interview with a well-known podcaster whose social clout can bring in more eager listeners to your show.
But that's not all. Another viable option is outdoor advertising. A prime example is the true-crime podcast Atlanta Monster, which used billboards to reach a more specific and targeted audience.
You don't necessarily have to go all out with pricey OOH ads. There's a sweet spot that's budget-friendly and still gets you the results you want: QR Codes. You can advertise your podcast on print materials like posters, stickers, packaging, and more. Just add an MP3 QR Code or a Spotify QR Code to your advertising medium, and voilà! Your listeners can easily tune in to your podcast.
The pros of leveraging QR Codes for advertising
Benefits abound when it comes to incorporating QR Code advertising into your campaign. Discover how it can elevate your ads.
Connect with ease
QR Codes offer a powerful way to connect with your audience, providing them with almost immediate access to a wide range of interactive content. Simply by scanning a QR Code, users can dive into enriching multimedia experiences, from watching videos and viewing images to listening to audio. Or, you can simply link QR Codes to websites, landing pages, and social media sites, enabling users to engage with your brand or product.
Unlocks immersive experiences
When incorporating QR Codes into your advertising strategy, you open up the potential to captivate your audience in unprecedented and creative ways. These Codes become a passage through which you can communicate with your customers, tell your brand story, and craft interactive experiences that leave a lasting impact.
Try experimenting with different QR Code types to take user engagement to the next level, fully immersing your users in a unique brand experience by designing multi-sensory interactions they will never forget.
Accessible metrics
The major perk of incorporating QR Codes into your ads is that you can track the performance of your ad in real time. This feature allows you to access metrics such as the geographic locations where the QR Code is being scanned, the digital devices used by the audience, and the level of interest generated in different cities and countries.
Heads up: QR Code tracking metrics are accessible exclusively through Dynamic QR Codes. But the good news is that Dynamic QR Codes can amplify your ad campaigns and help you get more accurate performance results.
How to create a QR Code for advertising
Though creating QR Codes may seem intimidating initially, it's actually a straightforward process. Let us guide you with step-by-step instructions on creating your own QR Code ad.
Sign up for QR Code Generator.
Once you land on the Dashboard, select Create QR Code.
Select the type of QR Code advertising solution you want. For example, you could select a Video to QR Code.
Fill in all the information required about the content of your QR Code.
Customize it by choosing the frame, color, pattern, etc.
Test the Code by scanning it on multiple devices.
Download the QR Code and start your ad campaign!
Final words
The versatility of QR Codes makes them truly remarkable tools for any advertising campaign, whether it's in the realm of traditional or digital marketing. Their adaptability empowers brands to seamlessly integrate QR Codes into various materials, maximizing their potential to engage and connect with your audience. Curious to try it out?
Sign up and start your free trial today!