Product
Boost Product Marketing With QR Codes

Product marketing acts as the bridge between sales and marketing and plays a pivotal role in making sure products are sold in the most efficient manner. But did you know that this can be combined with QR Code technology?
What is product marketing?
Product marketing is the connector between marketing and sales. The idea, of course, is to sell more products and generate a profit. But it also includes points such as:
Making sure a product's features have a suitable position in the market.
Communicating with sales and marketing teams to ensure they have all the knowledge to prepare their strategies.
Understanding how a product solves a customer's pain points.
Adapting the product as customer demand and the market evolve.
Creating go-to-market strategies for how products will be marketed and sold.
Formulating buyer personas and the relevant content strategy to appeal to a specific target market.
As opposed to more generic conventional marketing methods, product marketing takes a highly strategic approach and is in itself a part of conventional marketing. While conventional marketing focuses more on the promotion of the brand, product marketing emphasizes the value of the products and how to sell them.
What is the relationship between product marketing and QR Codes?
QR Code technology was originally developed to improve upon Barcodes used for product inventory management. QR Codes hold large amounts and a wide variety of types of information due to their cleverly designed square shape. While their original use was intended to keep track of products, QR Code technology has made huge advances. They now have countless uses in sales and marketing, as well as just general product enhancement. Let's take a look at how this works.
Ability to track QR Code campaigns
One of the biggest advantages of QR Codes created with QR Code Generator is that you can monitor campaign metrics with Dynamic QR Codes. All marketing campaigns require close observation of data to ensure that the campaign runs as efficiently as possible. When Dynamic QR Codes are used you can track: location by city and state, time scanned, operating device used and total vs. unique scans.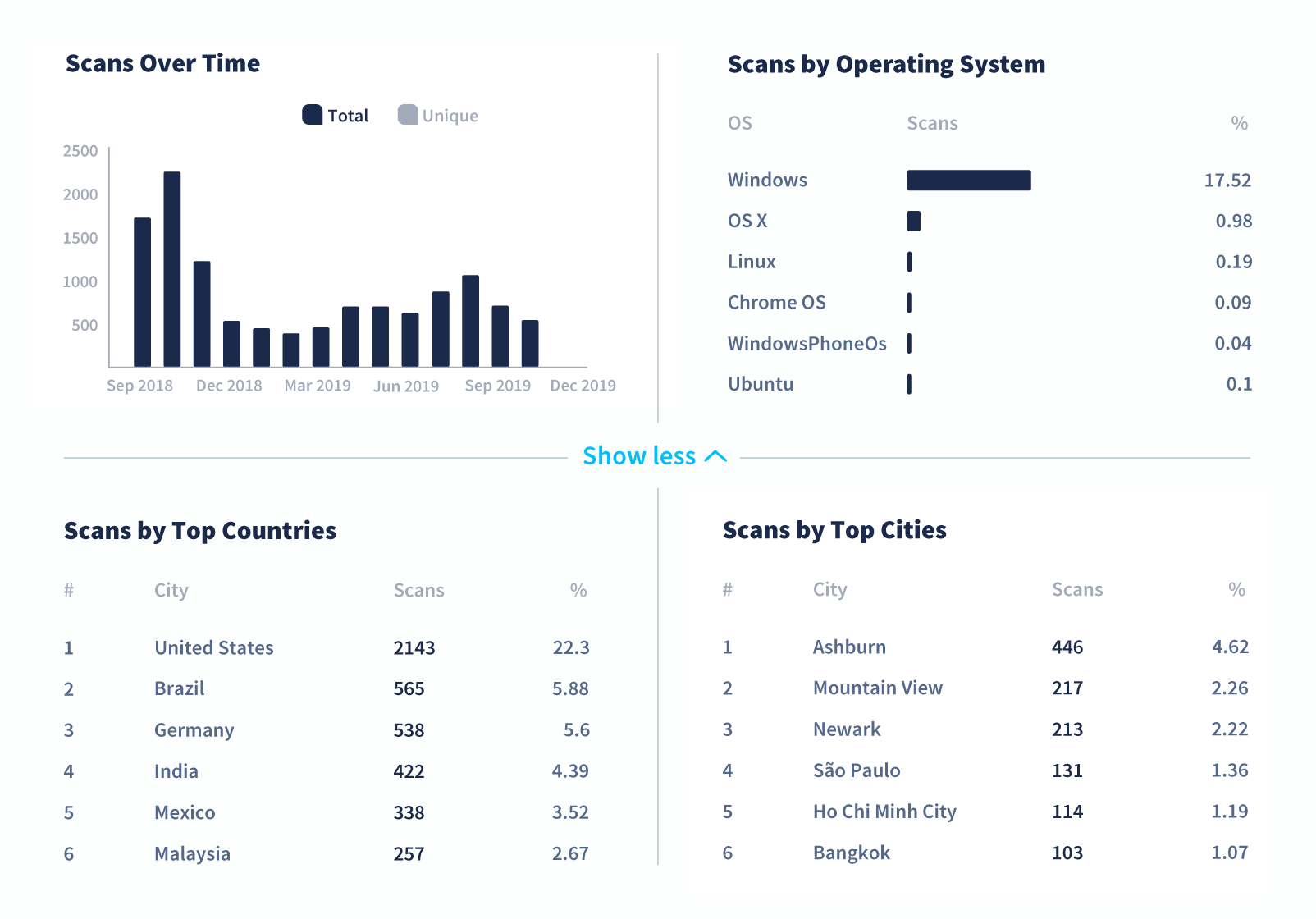 Not only does this essential information allow you to compare campaigns across different time periods and locations, but it also allows you to track ROI (return on investment) on print materials. In the past, with marketing campaigns that involved brand messages on materials like posters, billboards, product packaging and more, it could only be estimated how much income actually generated. QR Code technology removes this issue entirely because now you can track exactly how many people scanned the QR Code and took a certain action.
It's possible to take QR Code tracking a step further with Google Analytics. The tracking doesn't have to stop with the person scanned – you can actually see the path that the user took from scanning the QR Code, going to a website and then making a purchase. For an overview of how to set this up, take a look here.
Customized QR Code designs enhance brand awareness
Forget the outdated and boring black and white QR Code designs. QR Code Generator's software brings customization to the forefront of QR Code usage. You can design QR Code elements with custom frames, a specific brand or product packaging colors, add your logo and a CTA (call to action). No matter what design you need, the QR Code can be individualized to fit with any graphic design style.
Pro tip: There are some important factors to take into consideration when adding QR Codes to print materials and product packagings, such as size and graphics. A fantastic overview of this can be found here.
The flexibility of linked material
In addition to the vast array of design capabilities, it's also possible to link QR Codes to many different types of information. With products, you can market them via social media, direct users to product information landing pages with Dynamic URL Codes, or promote them with email marketing.
They can be added to product packaging as well to offer discounts with a Coupon Code, add a special recipe or user manual with a PDF Code, as well as generate reviews with a Rating Code.
See the full list of our QR Codes types.
How to create a product marketing strategy
Every product marketing strategy should be unique for that specific product or brand involved. Nonetheless, the majority of product marketing strategies follow more or less the same path to completion. The key is to generate awareness around your product and convey its value to your target market in the right way, at the right time.
#1 Do your research
Product marketing begins long before a product is completed. Regardless of whether it's a product or service, any marketing strategy should begin with research. The first half of this is determining your target market. What language do they speak? How old are they? What marketing channels do they use? What are their interests? What problem does this product solve? The second half involves scoping out your competition. What marketing strategies are they using? What unique aspects does your product have that theirs don't? This information provides direction for knowing how to market and sell your product.
#2 Create a story
In many cases, direct selling is not what makes customers interested. Instead, focus on conveying the value of your product through a story that speaks to your particular target audience. Start by thinking like your customers and consider what types of information might be interesting to them. Engage them with your brand by speaking to them personally in their own language (literally their language, as well as the cultural aspects of their language like slang or appropriate jargon). When marketing is done using a story, it sounds a lot less like selling. And though this may be the end goal, the less marketing sounds like selling, the more customers tend to be interested.
#3 Set up your content plan
Once you know how to speak to your target audience, create a plan that promotes these messages on the appropriate channels and at suitable times. This may be done over a short period to promote a discount or can be a part of a long-term plan across years to increase brand awareness. Whatever the case may be, this content should be readable, unique and interesting for your target audience in order to engage them directly.
#4 Formulate a launch plan
Once you get to the launch stage, your product is ready and you want to start promoting it, spiking interest for this launch is key for boosting initial awareness and sales. When it comes to products, in particular, a launch event is a great way to begin. Depending on your goals, you could invite potential customers or buyers of your product. Inviting family and friends, as well as those close to the project is a good way to start a buzz surrounding the product.
QR Code use case: There are multiple ways that QR Codes can help with a launch event. You can easily promote your event and gain more attendance using an Event QR Code, which displays all event details on one easy page. This can be sent via email as well as added to posters and flyers. During the event, to enhance your product information, you can add Image Gallery and Video QR Codes to that attendees can experience more about your products. After the event, you can collect feedback on what people thought about the product with Feedback QR Codes.
#5 Use PR and community engagement
Promoting your product doesn't end with the launch event. You need to continue promoting your brand among other influential PR outlets and interact with the community surrounding your target market. The better people get to know your product and your brand values, the more they begin to trust you and then make purchases. The success of this interaction should be monitored closely over time and adjusted as needed to make improvements.
QR Code use case: Sometimes getting started with product promotion requires an extra boost. Social media ads are a fantastic method for jump-starting brand awareness, promoting a new type of product from an existing brand, or showcasing sales and discounts. Social Media QR Codes bring attention to your social media channels, while Codes like Dynamic URL Codes direct users to a product landing page.
#6 Connect with your sales plan
All of the marketing and promotion planning should include how this connects with your sales team. If a customer has a question, who will answer it and how? What types of customer service do you want to offer with your product? What are your return and warranty policies? How will the sales team convey product value that is the same or different from marketing content? Sales and marketing go hand in hand, and product marketing management involves ensuring this relationship runs as smoothly as possible.
Product marketing examples with QR Codes
Every type of business that wants to promote products can experience the full benefits of QR Codes. Whether this is a part of the marketing plan or QR Codes are used to enhance product packaging or other print materials, the options are limitless.
Food packaging for a restaurant
Particularly for restaurant chains or restaurants that offer to go and delivery options, product packaging spreads brand awareness. Step up your product packaging game by adding a Video QR Code so that customers understand where the ingredients are coming from. With the huge movement on sustainability, being transparent about the source of ingredients is a great way to encourage customer loyalty.
Make it simpler to assemble furniture
Everyone knows the most dreaded aspect of assembling furniture purchased in a box is trying to decipher the confusing assembly manual. One way to solve this is by adding a Video QR Code to the product packaging explaining how to assemble the product. Imagine the relief a customer will feel when they can get a video overview of how to assemble their exact product!
Boost social media following on product packaging
Ecommerce retailers rely heavily on social media for brand awareness and promoting their products. You can easily add Social Media QR Codes on tags, shopping bags and other packaging materials both when purchased online and in-store. You can also add discounts or other sales information with Coupon QR Codes.