Use an MP3 QR Code to Convert Sound Files to QR Code
What is an MP3 QR Code?
An MP3 QR Code is a QR Code solution that converts a sound file into a QR Code and displays it on a mobile-friendly page. They are super convenient too, because the MP3 file can be played directly without additional apps needed.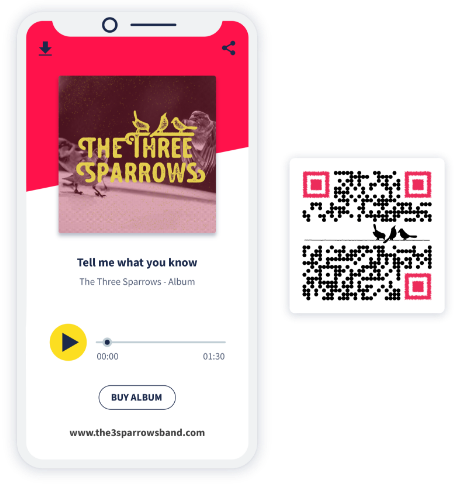 What information can I display with an MP3 QR Code?
An MP3 QR Code displays the following elements on a mobile-friendly page:
A featured image and customizable brand colors.
One sound file upload and display (with an option for users to download).
Comprehensive information about your sound file: Title, description, and website.
A customizable CTA button to direct users to a landing page (or streaming channel).
How should I use an MP3 QR Code to share sound files?
Convert MP3 files to a QR Code for easy sharing—even with print!
The idea behind an MP3 QR Code is that you can convert sound files into a QR Code and easily share them. This works both on digital platforms (with an automatically generated short URL), and on print marketing (via the QR Code). It's particularly useful for print because users have direct access to your links through the QR Code. They no longer see an ad, try to save the link, and then hopefully look it up later. QR Codes get rid of this issue and keep print marketing as modern as digital methods!
Displays sound files to view on all devices
Furthermore, all the content displayed with QR Codes designed with QR Code Generator is viewable from all devices. This means your sound files can be viewed by mobile, desktop, and tablet so you never miss a potential customer.
Customizable QR Code and sound file display page
Both your MP3 QR Code and your sound file display page are completely customizable. You choose your colors, images, and even the text of your CTA button. For your QR Code, you can also use custom colors and frames, an editable CTA in the frame, and your logo (or an image) in the middle. With custom design capabilities like these, your QR Code will never deter from your unique style.
Track and edit your MP3 QR Code
Using an MP3 QR Code also boosts your marketing capabilities. It's a type of Dynamic QR Code, meaning that it can be both tracked and edited. When you use QR Code Generator software, you can view real-time QR Code tracking metrics, including location by city and country, unique vs. total scans, time scanned, and operating device used. What's more, Dynamic QR Codes can be edited even after you've downloaded your QR Code and finished the design. It only requires a quick fix if you need to add a new sound file or use a different link. If you prefer to use another type of QR Code solution instead of an MP3 QR Code, you can also switch this without reprinting your QR Code.
How to make an MP3 QR Code?
Sign up to QR Code Generator PRO and get started with a 14-day free trial. You can upgrade at any time to continue using the QR Code if you decide the tool is right for you.
Once your account is activated, select Create QR Code in the dashboard then choose MP3.
Start by naming your QR Code, and then customize the page colors to match your personal style or company identity. You can also upload a featured image, your logo, or a welcome screen to amplify your branding power.
Then, upload your MP3 file from your computer or use drag and drop. Give your MP3 file a title, more information, and the related website. There is an additional option to use a CTA button to direct traffic to a particular landing page (or maybe a streaming channel).
To personalize it further, select one of the ready-made QR Code frames and add your own custom text to urge your audience to scan the Code.
Add some finishing touches such as adding a logo in the center of your QR Code and changing the Code's color to suit your brand.
Finally, download and integrate it into the file design of your print collateral.
Can I see some use cases for an MP3 QR Code?
If you'd like to get inspired to use QR Codes in innovative and unique ways, here are a few examples from fictional brands to get your creativity flowing.
Musicians & Artists
A band like The Three Sparrows are sound masters. They recently released a new album and decided to promote it with MP3 QR Codes. They connected their top hit to the audio display page and then directed users to an album purchase page with the custom CTA button. Their marketing process involved adding QR Codes to posters and banner ads in various large cities. They even optimized this marketing campaign by comparing the metrics for different locations.
Cities & Cultures
Springfield City is a local government that wanted to share more of their history with tourists. They promoted city walking tours that led tourists to specific sites where the tourists could conveniently scan an MP3 QR Code and learn more about that area's particular story.
Event Management
Verge Event Management often markets and plans music-related events. They use MP3 QR Codes both as a teaser to sell their concert tickets by providing users with access to top songs, but they also use MP3 QR Codes during these events on tickets. The QR Codes on their tickets give users who liked the music the chance to follow the artists later and even directly purchase their music.
What are some best practices for using an MP3 QR Code?
Uploading and displaying sound files
When choosing which sound file to display (especially if you've got multiple), choose your best one, and then direct users to more with your website and the link on your CTA button. Keep in mind that larger sound files can slow downloading and scanning speeds, so it's better to choose a smaller file if possible.
Minimum size
QR Codes should never be displayed smaller than 2 x 2 cm (around 0.8 x 0.8 in) because they could become too small for both QR Code scanners and readers. Nonetheless, QR Codes can be scaled up from this point as much as you need—even as large as billboard ads! If you're wondering whether or not your QR Code is too small, then opt for a larger version so you can avoid QR Code scanning problems. For further information on printing QR Codes, take a look at this overview.
Logo
All of our QR Codes can be designed with your logo in the middle. We definitely recommend doing this, because it helps connect the QR Code to your brand. Furthermore, a logo from a trustworthy company ensures the user that the QR Code is safe to scan.
Colors
There are some particular methods for getting the most out of your custom color designs. We suggest always using a darker color for the foreground (the black and square pixels itself), a lighter color for the background, and maintaining the quiet zone to avoid any scanning issues. For a complete guide on custom QR Code design, we've got an overview here.
Printing formats
QR Code image files can be downloaded as JPG, PNG, EPS, or even SVG. This provides full-scale customization options for you, as well as enables size adjustability. Adding a QR Code to a design can be done with any photo editing tool.
FAQ
If you'd like to use QR Code Generator to convert your MP3 to a QR Code, take a look at the section above titled "How to make an MP3 QR Code?". The process involves uploading your sound file to display on a page connected to your particular QR Code.
No, because Youtube videos are not MP3 files. In this case, we recommend using a QR Code Video instead.
You can upload one sound file per MP3 QR Code. However, this doesn't detract from your marketing, because you can direct users to more of what you'd like to display through your website and the link connected to your custom CTA button.