Best Practices
5 Cool Ways To Use an Engraved QR Code on Materials
Over the lifespan of the QR Code, we've seen an explosion of innovation. They've become the shape-shifters of the decade. You'll discover these malleable little Einsteins on virtually any print and digital material you can find. And as they continue to evolve, a cornucopia of creative and marketing possibilities opens up beyond print, blending the world of tech and design in ways we never thought were possible until now.
Can you engrave a QR Code?
Of course! Making QR Codes isn't exclusive to printing on paper. Instead, we implore you to take creative risks by experimenting with etching or engraving a QR Code onto wood, metal, glass, acrylic, or even stone.
Why QR Code engravings are a total hit
These days, QR Codes are not only revered for their marketing and pragmaticality powers but also for their aesthetic appeal. Artists can craft QR Code art while at the same time market it with a plethora of QR Code types.

More, fashion designers or seamstresses can experiment with fabric by printing a QR Code on clothing. So, naturally, it only seems sensible that you can etch, engrave, or mold QR Codes onto other alternative materials.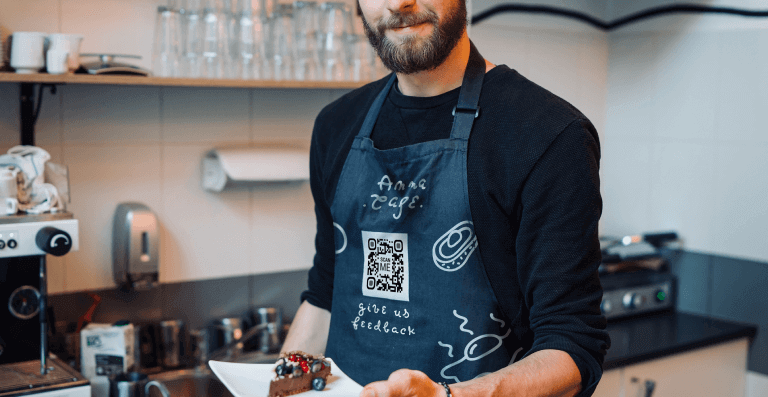 QR Code engravings on all-you-can-find materials
It does take a creative eye to visualize the potential of QR Codes. But don't let that hold you back: our QR Code design page and the ideas to follow will fill you up with a wellspring of creative input.
#1 A carpenter's project: Wood QR Codes
A craftsman knows how to turn ordinary items into extraordinary gems — this is exactly what can be done with Wood QR Codes. On the surface, they're just blocks of wood, but in fact, they're more than that: they're portals to a vast online world.
When you meld wood with QR Codes, it transforms into a powerful marketing tool. To top that off, using wood is a sustainable choice — not to mention long-lasting, biodegradable, renewable, recyclable, and reusable. Phew. That's a mouthful of benefits but unquestionably a victorious win for the environment and your business.
There's also a stylish component to what makes wood an interior decorator's favorite material. Having a preference for natural wooden tones will complement any space you're in, so wherever your establishment is, big or small, an earthy finish will make a difference.
Ideas on how to get crafty with Wood QR Codes
Restaurant owners can use wooden blocks to replace menus. Given that the QR Code menu has already claimed its spot in the dining industry, adding a wooden element to your restaurant is a wise business move.
As more restaurants pop up with a tech flair, introducing new, chic ways of displaying digital menus is one strategy to attract more customers to your restaurant. And if it fits in with your brand, why the hell not?
For your spanking new and improved wooden digital menu, show it off with our PDF QR Code solution. But if you're just looking for a new DIY (do it yourself) project, try your hand at creating an engraved QR Code made out of wood. Impress your house guests when they arrive with a WiFi QR Code and become known as a tech-savvy DIY master.
Perhaps it's the feeling of the coziness of gathering around a crackling fire that makes wooden blocks in the form of QR Codes so satisfying. You tell me. What does this piece of wood call to mind?
#2 The mighty Metal QR Code
If you're in the pursuit of finding a material that can handle any kind of heat, metal is the pick of the litter. It also happens to be one of those malleable materials that can be shaped into anything you want. This makes them a compatible match for QR Codes.
But still, engraving on metal is not everyone's forte — nothing that a QR Code laser engraving machine can't fix. These engraving machines are designed to be able to mark QR Codes on virtually any material despite its density or toughness, making QR Code metal engraving a breeze.
A pitch on how to use Metal QR Codes
Metal QR Code business cards are where elegance and innovation meet. Can you imagine the pride you'd feel handing over your personalized QR Code made out of metal? It doesn't get more sophisticated than that.
Plus, with a card made from metal, you never have to worry about it being tossed in the rubbish bin. Who'd want to toss out such a sleek item of value, anyway? Metal QR Code business cards slide effortlessly into a wallet or purse which allows your business prospects to find your card among their other cards.
Ideal for any business and networking event, these types of business cards can make a big impression on prospective clients. There's nothing like amalgamating metal with a tech-advanced marketing tool, that says that you mean business. So whether you have a work portfolio, resume, or business info you'd like to share, store all of that info on a tiny but dynamite QR Code Business Card.
But it gets even savvier than that — when you use the vCard QR Code, the person with whom you exchanged cards can save your contact info on their smartphones right there. Classy? We think so.
#3 QR Codes on glass album art
Year after year, brave music artists bare their souls into their next single or album. The next daunting step is promoting their albums. Did someone just order a tall glass of glass QR Codes? Coming right up!
Music artists in our contemporary context have a surplus of avenues to promote their music. And yes, what else would we be referring to other than QR Codes? We are long supporters of musicians of all kinds, which is why we've created QR Codes for musicians.
But that's not at all the end of the story. News just in: album covers have not gone extinct, they've just evolved — digitally. It may seem like album art is about to expire now that we're streaming music online, but that couldn't be further from the truth. Album art still matters.
The only difference is that we see album art digitally, well… for the most part. But one album art form that has stood the test of time is a classic: vinyl records. The trend has made such a comeback that even younger artists benefit from it: superstar singer Billie Eilish's latest album "Happier Than Ever" sold over 73,000 vinyl records in just the first week of release.
How QR Codes on glass albums tug on the heart
A melophile is a pretentious way of describing a person who loves music. The explosion of interest in vinyl records indicates that the melophiles of the world are ones yearning for a more intimate connection with their music — where you can see, feel, hear, and touch the vinyl record.
Album art is part of that story. But we have a better idea: we suggest bridging the best of both worlds: blending album art with a digital touch — with QR Codes. We like to call it glass album art.
Putting your album art on display, in a glass frame (like an art piece at an art gallery), at your concert, launch party, or gig, helps your fans connect visually and then audibly to your music so that everyone who listens to your song remembers it. And with a pairing of an MP3 QR Code on the display of your album cover, you'll get scans that direct your listeners to your song in seconds.
You could even consider selling your album art for your fans to take home and to listen on repeat. Think of it as an ode to a melophile. Take a look at it below.
#4 Acrylic QR Code stands
A durable and eco-friendly material, acrylic is widely sought after and used across industries from events to retail. Popular in the signage industry, acrylic signs have been used in many business establishments and praised for their modern style.
Transparent in color, acrylic is an inexpensive replacement for glass. So, if practicality and versatility are what you're looking for, this should be an easy business decision. The icing on the cake is that acrylic is fully customizable, making it a perfect candidate for QR Codes.
How to get in line with acrylic signs
Acrylic can be used as your blank canvas to create the kind of signage that turns heads — at your office, your retail store, or your stand. An acrylic QR Code sign is the perfect medium for any marketing campaign. So don't dim your light now.
Signage is super for creating more brand awareness for your company. And with QR Codes, you have the option of adding your logo — just so your brand is instantly recognizable. Aside from that, using an acrylic QR Code sign connects new customers to your online platforms — for your website, virtual shop, or social media channels.
Try the App QR Code or Social Media QR Code to fully capitalize on our solutions. Display your customized acrylic QR Code sign at your pop-up store, wedding venue or charity event, or even at your art gallery. Versatility is a close friend of both acrylics and QR Codes in equal measure.
# 5 A historian's engraved QR Code on stones
Stones carry the history of the earth within their makeup. As solid as they are, QR Codes can still withstand them — nothing that a QR Code engraver can't help with. Inspired by a German artist, bronze cobblestones can be seen across the streets of Berlin, commemorating those who lost their lives during the Holocaust. QR Cobble, based in Germany, takes memorial blocks to a whole new level by using an innovative stone-working technique to engrave QR Codes into paving stones.
You'll find them on the streets, the sidewalks, and the museums of Berlin. And among the pebbles and stones, passersby will stumble upon QR Codes that connect them to the past, so everyone understands the rich history of the location they're situated in, at that given moment.
20 such cobbles planted in the Holocaust Museum make it possible for visitors today to listen to a virtual concert performed back in 2014 on the memorial site. These innovative QR Codes are paving the way for virtual and natural worlds to collide, one stone at a time.
How engraved QR Code stones connect you to the past
Engraving QR Codes on stones is a subtle, and yet effective idea for museums, galleries, and memorial sites. Where there's limited space for displaying information, QR Codes fill in the gaps by providing the visitor with the context of the painter, sculpture, or historical event that took place.
That way, no information is left out, and the visitor can still access all the information, even after they've left the museum, gallery, or memorial site. Are you ready to weld the space between the natural and digital world? Solutions abound!
We suggest using the MP3 QR Code if the musical accompaniment has a better story to tell or a PDF QR Code for avid readers. While a Video QR Code would be the best choice for cinematic video content, the Dynamic URL QR Code is a winner for landing pages or websites.
There's always unexplored territory in QR Code land. Until one explorer discovers a goldmine and everyone follows suit. And we wholeheartedly support such expeditions so we can continue to partner with other visionaries on their quest of pushing the boundaries of what is possible with QR Codes.
Design, mold, or carve them into anything your imagination allows you to come up with. This is for the savvy business owner, the marketer, or the handy craftsman. It's time to get your hands dirty and explore innovation at its finest.