WiFi QR Code Generator
Why do I need a WiFi QR Code generator?
Before this, there was no other way to join a WiFi network without having to select one from a list and enter a password manually. Our generator now lets you create a QR Code that allows you to connect to a WiFi network just by pointing your camera at it or by using a QR Code scanner. And the best part? Our WiFi QR Code generator is completely free to use, and the generated QR Code will never expire (unless the settings on your router changed). With a WiFi QR Code, you can also share your WiFi easily with friends, family, and your customers if you run a business.
My WiFi network is hidden, can I still create a QR Code?
Absolutely. Just tick the "Hidden" checkbox next to the network name field in our WiFi QR Code generator. If your network is not hidden but you would like to activate this option, refer to the manual on your device or check out the guide on how to hide your network for most modern routers.
Which security protocol do I need for my WiFi? WPA/WPA2, WEP or None?
WPA/WPA2 is the most secure option and also the default setting for most WiFi access points. If you are not sure, always choose this option. None means your WiFi is unprotected and open to everyone.
How do I create a WiFi QR Code?
Enter the name of the WiFi network in the network name field. Make sure it matches the name on your router exactly.
If this is a hidden network, tick the 'Hidden' box next to the field.
Enter the WiFi password (case sensitive) and select the security protocol you've chosen for your network. You may leave the password field empty if it's not password-protected.
Then add a frame and change the colors of the QR Code to make it stand out.
Finally, download your free custom QR Code!


Create, manage, and track all your
QR Codes

.

Design beautiful QR Codes your way. Add your own color, logo, and frame.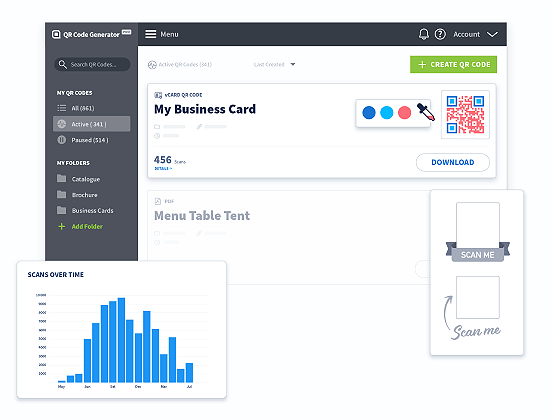 What information is stored in a WiFi QR Code?
Your QR Code reader will be able to scan and identify the WiFi QR Code if they're configured correctly in no particular order; WIFI:T:WPA;S:MyNetworkName;P:ThisIsMyPassword;;
| | | |
| --- | --- | --- |
| Parameter | Example | Description |
| T | WPA | Authentication type; can be WEP or WPA, or leave empty for no password. |
| S | MyNetworkName | Network SSID. Required. |
| P | ThisIsMyPassword | Password, ignored if T is left blank. |
| H | true | Optional. True if the network SSID is hidden. |
How do I join a WiFi network with a QR Code?
To test your newly-created Code or if you've encountered one, all you have to do is open the camera app on your smartphone and hold it over the Code. A notification should pop up prompting you to connect to the wireless network. If this didn't work, check your settings and make sure that the QR Code scanning feature is enabled. Still not working? Then all you have to do is download a third-party QR Code scanner from your smartphone's app store.
What are the benefits of sharing my WiFi with a QR Code?
Friends and family
When friends and family come and visit, it's difficult to walk each person through the settings of your WiFi. First, you have to tell them to select your network from a list, say the password out loud, and make sure that they're connected in a single try (which, for some reason, rarely happens). With a WiFi QR Code, you can simply show the Code and have them scan it to connect to the network.
Airbnbs or rentals
If you're running an Airbnb or any rental property, it's a good idea to use a WiFi QR Code to share the network. Your guests can simply scan the QR Code to connect to the network without having to type a password. This way, it'll enhance their stay and experience and will definitely leave a lasting impression.
Restaurants or cafes
Let's face it, most customers will ask for the WiFi password at your restaurant or cafe. But wouldn't it be better if it's just displayed as a QR Code on their tables, the wall, or even on receipts? That way your customers can just scan and connect without having to ask for the WiFi password every single time.
Government offices
Government offices and WiFi do not usually exist in the same sentence, so let's change that. The lines at these offices (we're looking at you, DMV) are usually extremely long. Why not soften the blow by letting people connect to your WiFi so they can browse the internet while waiting? With our WiFi QR Code, you can easily share your WiFi network on your waiting number ticket.
Hospitals or clinics
Waiting at the hospital or clinic can be stressful. The internet can be a wonderful way to keep your patients and their families distracted, especially when you're overrun and understaffed. By using a WiFi QR Code, you can easily share the WiFi network and have them scan it in the waiting room without them bothering any staff member.
Cities (tourism offices, public parks, meeting spots)
As a city, adding WiFi in public places makes it more inviting for tourists and locals to visit and hang out. They can easily connect to check for navigation, browse places of interest and post photos of your beautiful attractions on social media. Add WiFi QR Codes on signs, lamp posts, even on benches where people would most likely sit and relax so they can easily connect to the internet to browse for more things to see or visit in your city.
FAQ
While many believed the term stands for Wireless Fidelity, this is actually a misconception. WiFi is a completely made up name by a branding company for Wi-Fi products. And yes, there's a confusion between the spelling as well. Is it WiFi, or Wi-Fi? WiFi is just the spelling we're accustomed to, and Wi-Fi with the hyphen is the correct registered trademark. To put it plain and simple, WiFi transmits data or information over the air using radio waves with the help of a wireless router. To emit the radio waves, the router first receives data from the internet via your broadband and then converts it to radio waves with a frequency of either 2.4 gigahertz or 5.8 gigahertz.
Well, there are pros and cons to using both. Not as much information can be transmitted at 2.4 GHz. But this also means that it has a wider range before the signal degrades as it's not as high energy. While more data can be transmitted at 5.8GHz, it's harder for the signal to go as far because of the increased waves. But luckily, most wireless routers are capable of transmitting both frequencies at the same time. Please refer to the product manual on your device to set these up.
No. A QR Code that's created with the WiFi QR Code Generator will never expire as it is Static. Static QR Code means that once created, you won't be able to edit the content and track its scans. If you would like these additional features and more, sign up to create Dynamic QR Codes.
Yes. This is because the WiFi QR Code is Static and once generated, you won't be able to edit its content. So if you've changed your WiFi name or password, a new QR Code needs to be generated.
As long as you have a smartphone, absolutely! The best way to test this is to open the camera app, hold it over a WiFi QR Code where a notification will pop up asking to join a WiFi network. If not, simply install a third-party QR Code scanner from your app store. Read our guide here for iOS and Android devices.
We always recommend you to be wary of suspicious QR Codes. That said, if the WiFi QR Code is located at a friend's house, an office, a restaurant, a hotel, or anywhere official like at a government's office, go ahead and scan it!
A WiFi QR code provides the convenience of having a strong safe password without the hassle of typing it! So choose a strong password which typically contains:
at least 16 characters
upper- and lowercase characters
numbers
special characters (%, $, &, ...)
It's up to you. This article on whether or not you should hide your WiFi network is a good place to start before making a decision.