Use a Business QR Code to Display Your Business Info
What is a Business QR Code?
A Business QR Code is a QR Code solution that creates a succinct business page for your company. It functions as a landing page with a customizable CTA (call to action) button that directs users to a particular area of your own website, or whichever content you'd like users to view. The business page is automatically optimized for mobile and can be designed to match your brand's individual style.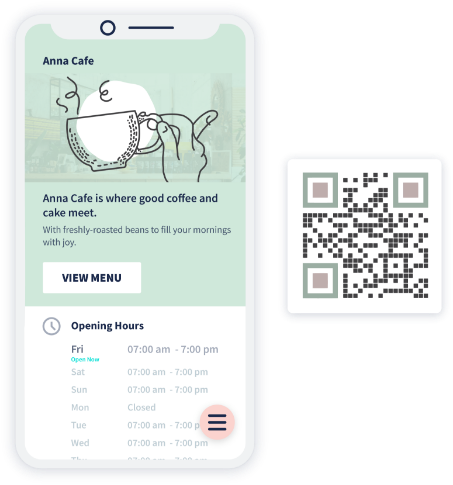 What information can I store/display on a Business Page QR Code?
A Business QR Code displays details including:
A headline and a short description of your business.
A featured image.
A customizable CTA button with a link of your choice (landing page, homepage, portfolio, etc.)
Your operating hours.
Your contact information (name, email, phone, and website).
Your social media links.
Your business location that's automatically connected to Google Maps.
A logo display to welcome the user while your business page is loading.
Amenities feature at your venue or building.
Why do I need a Business QR Code?
Add more info to your print business card
Business cards are not only extremely limited in space, but without a QR Code, your contact details and links still have to be separately and manually typed. A Business QR Code neatly summarizes your entire business concept into one page with all the right links and details, which make it much simpler for someone to find those links and contact you. They're great for networking events as well as work on any marketing materials - both print and digital.
Update & track your QR Codes
A Business QR Code is a type of QR Code referred to as Dynamic (as opposed to Static). Dynamic QR Codes have multiple benefits, one of which is scan metrics. If you create them using QR Code Generator software, you get live updates on QR Code scans by location (city and country), unique vs. total scans, operating device used, and time scanned. If you plan to use QR Codes for multi-channel marketing, particularly with print materials, you get a deeper understanding of how well your marketing efforts are working and where they can be improved. The other benefit to Dynamic QR Codes is that they can be updated once printed. Say you need to test out different links on your CTA button, then it's always possible later on without having to recreate your QR Code.
Customize your QR Code & business page for your brand
Because you can customize both the Business QR Code and the business page itself, you can convey your brand exactly as needed. QR Codes can be made to fit with any size of graphic design because you can choose specific image file types, adjust the size, add your logo or an image in the middle, change the brand colors, add custom frames, and update your CTA at the bottom.
Direct traffic to your website or landing page with a CTA
CTA buttons are the core of any well-designed landing page. So, the CTA button located below your business description is a fantastic way to encourage sales or another type of potential customer interaction. For example, if you'd like to promote a particular product during a sale, you can match the headline, summary and CTA button to that product, and then change it later as needed.
Automatically ready for mobile users
With a Business QR Code, you never have to worry about missing a user due to particular device issues. The business pages themselves are always mobile-friendly, as well as these QR Codes are great for reaching users across multiple devices and platforms. Because they direct traffic from desktop to mobile, Business QR Codes function perfectly for social media, email marketing, and also print materials.
How to create a Business QR Code?
Sign up to QR Code Generator PRO and get started with a 14-day free trial. You can upgrade at any time to continue using the QR Code if you decide the tool is right for you.
Once your account is activated, select Create QR Code in the dashboard then choose Business Page.
First, name your QR Code and then customize the page colors to match your personal style or company identity. You can also upload a featured image or a welcome screen to amplify your branding power.
Next, add a headline and short description to inform your audience what the page is about.
Customize your CTA button and add your desired link.
Then, add your company details like your opening hours, address, contact details, and social media links.
To personalize it further, select one of the ready-made QR Code frames and add your own custom text to urge your audience to scan the Code.
Add some finishing touches such as adding a logo in the center of your QR Code and changing the Code's color to suit you.
Finally, download and integrate it into the file design of your print collateral.
Can I see some use cases for a Business QR Code?
If you'd like to get inspired to use QR Codes in innovative and unique ways, here are a few examples from fictional brands to get your creativity flowing.
Real Estate Agencies
A real estate agency like The Home Finders uses Business QR Codes in all sorts of clever ways. They added them to their property displays to make it easier for passersby to schedule a viewing, on their shop front to expand on the limited space, as well as on marketing materials during viewing events so attendees don't need to maintain stacks of papers.
Finance & Insurance Companies
Global Worth Trust is a financial advising company that utilizes Business QR Codes to help with networking. As a regular attendee and speaker at different finance-related conferences, all their employees are equipped with Business QR Codes on their business cards, in which the CTA button encourages their contacts to schedule a free session to get started.
Photographers & Videographers
One of the best forms of marketing for Through the Lens Studio, a photography studio, happens during the events they do photography for. For all their events, they've created a brochure that summarizes their services to potential customers. This brochure has a Business QR Code that directs users to their portfolio with an option to book them for a future event.
Are there any Business QR Code best practices I should know about?
Size
QR Codes have a minimum size of 2 x 2 cm (0.8 x 0.8 in), but can be scaled to match with all types of digital and print materials. Make sure that it's large enough to be read by the user and the QR Code scanner, but also not so large that it takes over the marketing material. In addition, there are a few technical and design best practices for printing QR Codes that are covered in this article.
Logo
We highly recommend adding your logo to the QR Code and the loading screen for your business page, because it supports brand awareness. When they see your logo, users will feel more secure about scanning your QR Codes, as well as connect your brand to a particular product or service you promote.
Colors
Colors are a part of branding as well. Both your Business QR Code and business page can be styled with particular brand colors. Nonetheless, make sure that you always use a darker color for the foreground (the black and square pixels itself), a lighter color for the background, as well as maintain the quiet zone so there are no scanning issues.
Printing formats
QR Codes can be printed in JPG, PNG, EPS, and SVG image file formats to ensure that you get the most out of every design, no matter the medium you need to use it for. To add a Business QR Code to other print materials, you'll need to use whichever software you're creating your total design on and add the QR Code as an image.
FAQ
Where to place your Business QR Code depends on your company and what you'd like to promote. They often fit well on business cards and company marketing materials. The section above describes a few examples of how and where to use Business QR Codes. For more ideas, we've got a compilation of how different types of businesses can use QR Codes.
The size of your Business QR Code depends on where it will be placed. The recommended minimum QR Code size is 2 x 2 cm (0.8 x 0.8 in), but when in doubt, always go larger. You need to make sure that it's large enough both for the QR Code scanner and users themselves.