COVID-19
Why Contactless Payments With QR Codes Skyrocketed During the Coronavirus Pandemic
There is simply no better way to enable contactless payments than with QR Codes. Unlike NFC, there is no physical touch required and all customers need to scan them is a smartphone. During the coronavirus pandemic, many companies have realized how advantageous QR Codes are for contactless payments and have begun to implement them for cashless mobile payments on a global scale.
What do contactless payments have to do with QR Codes?
With the coronavirus pandemic still at large, social distancing and avoiding touching contaminated surfaces have never been more important. In order for businesses to continue generating sales, they need digital and contactless payments to make sure that customers stay safe and can make payments from a distance. And for this, QR Codes are exactly the right tool for the job.
How QR Codes work
Although QR Code technology was originally developed to improve product inventory management, they can be used for so much more. Their square shape is what enables them to be read both horizontally and vertically, meaning they can hold large amounts of information, be read with any smartphone, and quickly connect to any digital platform or website via a short URL. Furthermore, QR Codes not only direct users to payment platforms, but can also connect users with a company's digital content including videos, events, apps, social media links, images, and much more.
Using QR Codes for cashless mobile payments
QR Codes have unique and innovative features that make them particularly suitable for contactless payments via mobile. Unlike NFC technology, QR Codes don't require contact to transfer information. In fact, as long as the QR Code is large enough and has high enough image quality, there are no limitations to how far away someone can stand to scan a QR Code. QR Codes have been made as large as wheat fields, so we're absolutely sure you never have to worry about needing to be close to a QR Code to scan it. This is why many companies have begun using QR Codes for contactless payments that are safe for customers.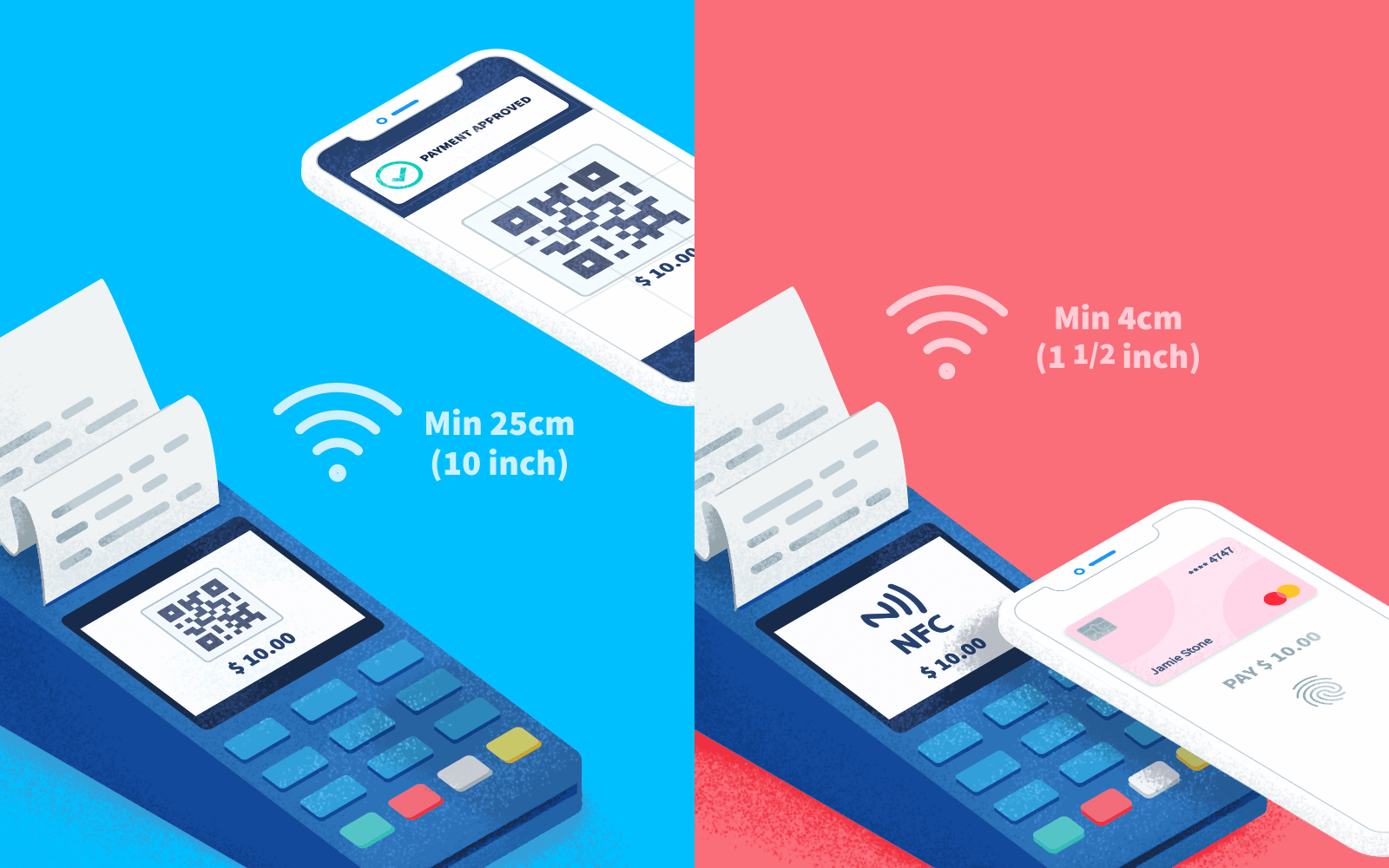 Why companies should use contactless payments
QR Code mobile payments are already the norm in countries like China, and they're beginning to take hold on a global scale. Not only can companies continue to receive payments with QR Codes during the coronavirus pandemic, but they also make contactless payments easier in general. Customers like them because they don't need to rely on cash and transactions are quick and convenient. This pandemic has shown how truly essential digital processes are for the coming future. The more digitized a company is, the more resistant they are to a crisis like the one we're currently experiencing.
The importance of digitized processes for customers
In this digital age, customers expect sales processes to be online. They want to make convenient purchases from global retailers without having to travel. They want to shop online from the comfort of their own home. They also want comprehensive information about products and services to be easily accessible and transparent across a brand's digital platforms. If a company doesn't have this, they will struggle to reach customers and generate sales over the long haul. This is why the need for digital and contactless payment technology is clear.
Smartphones make the process simple for users
Smartphones, in general, are what have enabled mobile and contactless payments to become so convenient. Through digital wallet apps like Apple Pay and Google Pay, users can connect their smartphone to their bank account and automatically pay with a simple QR Code scan. For businesses with physical stores, this is particularly useful because you can place QR Codes on something at the entrance or during checkout, and customers don't need to touch anything to make a payment. This process has already been in use by Amazon Go retail stores as seen in the below image.
Stay in business and get ahead of competitors
The concept of digitalization, in general, is the key factor for companies that are surviving and thriving through the coronavirus pandemic. While this situation is unfortunate, it should become a clear motivator for companies to implement digital processes, both for customers and employees. The companies that already had this in place beforehand will come out of the pandemic with fewer financial struggles than the companies that didn't.
Overall, contactless payments are a major portion of digitalization. When contactless payments are done with QR Codes, you can also digitize payments through any type of print advertising as well. This includes billboard ads, poster ads, print newspaper and magazine ads, product packaging, shop windows, and even vehicle ads. In the image above, the billboard ad promotes an online conference where participants can automatically register with an Event QR Code. Using QR Codes enables payments and accessible information for customers with no physical touch and automatic redirects to a company's digital content. This means that even during the coronavirus, print marketing, in general, can be transformed into digital sales and keep a company afloat.
5 examples of QR Codes used for contactless payments during the coronavirus pandemic
Many companies have realized how useful QR Codes can be to make their products safer for customers to pay for. But they also need them so they can continue generating the essential revenue they need to stay in business. Here are a few examples of companies and even governments that have begun implementing QR Code initiatives.
Petrol stations in India
In order to enable contactless payments with QR Codes, India's leading digital payment provider, Paytm, entered into a cooperation with Indian Oil Corporation Limited (IOCL). Their cooperation has now made it possible for customers to pay with QR Codes to refuel at any of their petrol stations across the country. In an effort to maintain safety regulations for employees and customers alike, delivery personnel wear masks and gloves and carry Paytm's All-in-One QR Code technology to accept contactless payments for when fuel is delivered to homes. Each customer who pays via QR Code will also receive an e-voice for the transaction. To incentivize customers to avoid cash payments, customers who use Paytm QR Code payments will receive rewards points for the IndianOil XTRAREWARDS loyalty program. The points can then be redeemed to cover future fuel transactions.
Taxi services in Tehran
A city that heavily relies on taxi services, Tehran needed a way to stop the spread of the coronavirus on physical banknotes. So, they decided to implement cashless payment via QR Codes for the taxi drivers. In order for customers to use this system, a customer needs to create a digital and rechargeable wallet to use for automatic QR Code mobile payments. Not only did this increase cashless payments by 30%, but it has also lessened related issues to taxi drivers not having enough change.
The Central Bank of Iran
In the same line of thinking as the taxi system, the Central Bank of Iran is currently implementing the infrastructure to make QR Code payments possible across the entire country. Their goal is to lessen cash payments to an absolute minimum to stop the spread of the coronavirus and also digitize the economy for the future. They plan to enable QR Code payments for delivery services, in-home services, store retailers, street vendors, and more.
HonkTAP parking lot pay stations across North America
HonkTAP is a payment system for parking lot fees with locations across North America. To do their part in lessening the spread of the coronavirus, they've implemented HonkMobile parking pay stations for free that allow customers to pay via QR Code by scanning their display sign. No third party app is required for the payment and the QR Code automatically directs users to their payment platform.
Universal QR Code payment system in Ghana
With the groundbreaking decision to make digital payments easier across the country, Ghana's Vice President, Dr. Mahamudu Bawumia, launched an initiative that's the first of its kind in Africa. Realizing the need for contactless payments during the coronavirus pandemic, Ghana has developed a universal QR Code payment system that enables merchants to receive payments from mobile wallets through QR Code transactions.

Though there had been past efforts to improve cashless payments across the country, many vendors were reluctant to accept electronic payments due to the associated fees and requirement for a point of sale device. QR Codes eliminate these issues because they can be scanned via smartphone on simple print displays at checkout and don't require any device or fee to use or operate. Bawumia hopes that this initiative will bring Ghana much closer to becoming a completely cashless economy in the future.