Best Practices
Take Conference Marketing to the Next Level With QR Codes
Planning on hosting a conference and need to implement an effective conference marketing strategy? Check out how QR Codes can help your conference before, during, and after the event in an all-in-one campaign.
The perks of business conferences
For many businesses, conference attendance is a regular part of the deal. But businesses can even go a step further and host their own conference or market their attendance at a conference independently from the host. In either case, it ensures that you receive much better returns on your time and financial investments for attending that conference.
A few reasons to do conference marketing include:
Showcase your company's goals separately in addition to the overall conference theme.
Improve brand awareness in connection with a conference.
Get new leads and partnerships because attendees know you'll be there to have meetings.
When you combine these perks with QR Codes, you've got the perfect recipe for success for conference marketing.
What makes QR Codes the perfect conference marketing tool?
If you're planning on implementing a conference marketing strategy, then you need the right tools to get you there. Conference marketing often involves print advertising and there's no better way to connect print advertisements with digital links than QR Codes. Furthermore, QR Codes also work for digital marketing due to short URLs, making them a great addition to any print and digital marketing campaigns. The following sections describe further how this works.
Track and optimize conference marketing campaigns
When you use QR Code Generator to create your QR Codes, you can choose Dynamic QR Code solutions that enable access to real-time scan data. This includes location by city and country, time scanned, operating device used, and unique vs. total scans. So, for any conference marketing campaigns you implement and use QR Codes to share your content, all the metrics you need to optimize your campaign are directly at your fingertips.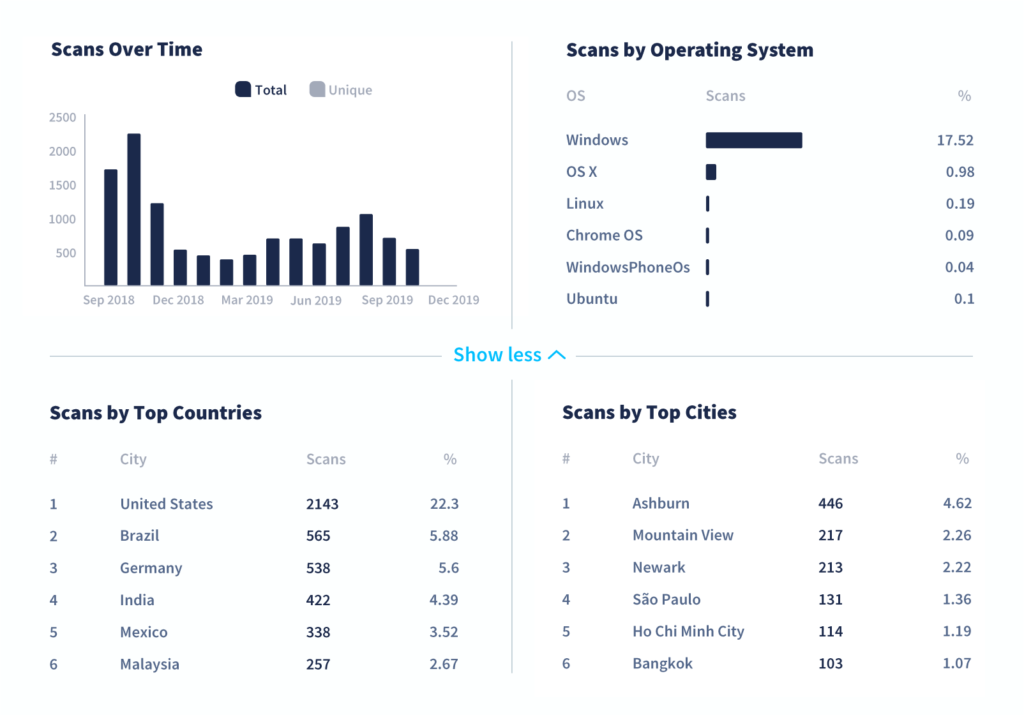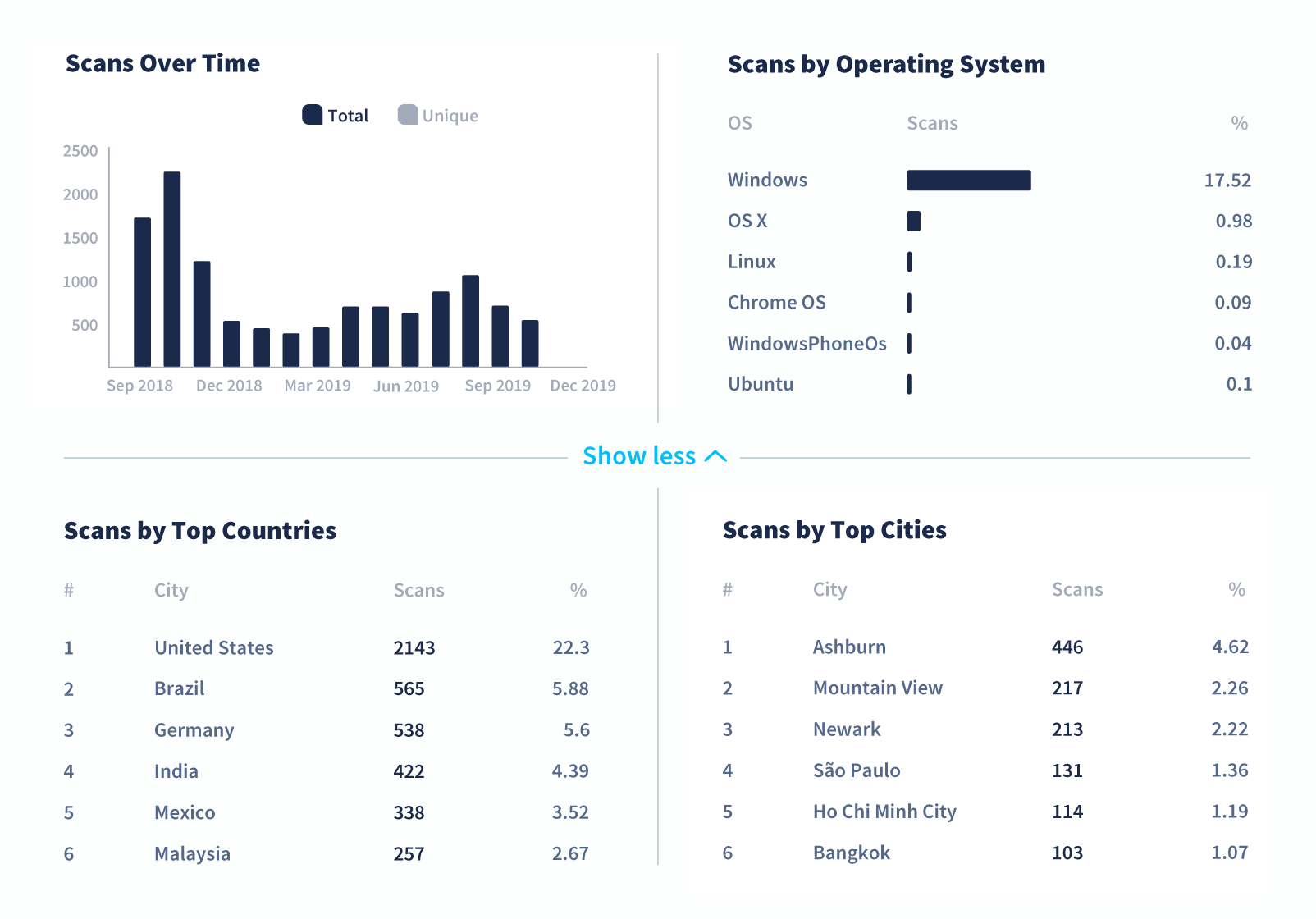 Pro tip: You can also integrate your QR Code campaigns with Google Analytics and track the entire customer journey from QR Code scan to conference registration.
Calculate print advertising ROI (return on investment)
QR Codes are breathing new life into print advertising. They have become so popular because, with a quick QR Code scan, anyone who reads a print ad can automatically be connected to a company's digital content. No more needing to look up links later on and no more guessing for marketers to calculate the true impact of a print ad. As a result, in the same way that marketers optimize digital campaigns, the same process is now doable with print.
Access QR Codes on digital platforms using short URLs
If you want to integrate QR Code campaigns with digital marketing, you can do so with a short URL. Every Dynamic QR Code made with QR Code Generator software automatically comes with a short URL, which you can even customize for an extra boost of branding. You might be familiar with short URLs on social media, so the premise is the same for QR Codes. Instead of long, slow, ugly links, QR Codes come with short URLs that connect users to the same content that they'd see if they scanned the QR Code. This way, you don't need to create additional content for mediums like social media or email marketing.
Comprehensive customization options
QR Code Generator PRO has enabled maximum customization options for QR Code designs. You can style your QR Code with a custom frame and editable CTA (call to action), your logo or image in the middle, different edge styles, and brand colors. Furthermore, the content connected to your QR Code also comes with a customizable landing page (except Dynamic URL Codes that automatically redirect to your link). Depending on the QR Code solution you use, your landing page should contain relevant information about your business and directs your audience to the channels you want to promote.
There's no doubt that each QR Code can be made to match brand graphic design requirements. You can add your own customization elements or choose different file types such as JPG, PNG, EPS, and SVG when you download your QR Code.
Pro tip: Use a Dynamic QR Code to edit your QR Code's content after you print it. This means you can avoid expensive reprinting costs should you make a mistake in the URLs or if you need to update the QR Code with new information.
Flexible sizes for every medium
QR Codes can be as large or as small as you need but should be a minimum of 2 x 2 cm (0.8 x 0.8 in); otherwise, they become difficult to scan. Scale them up as large as a billboard ad or keep them small for a brochure such as in the image below. In any case, make sure you keep in mind design best practices like maintaining the quiet zone and using an appropriate color contrast.
View the complete information about designing custom QR Codes.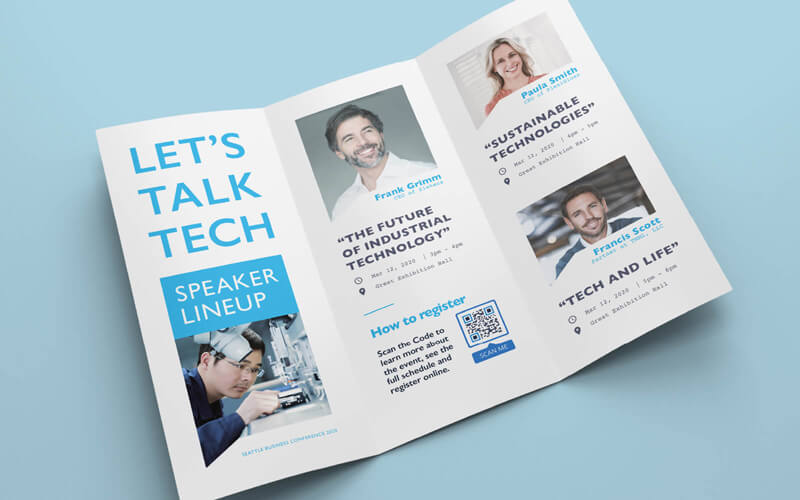 Using QR Codes for different stages of conference marketing
Now that you know the benefits QR Codes bring to conference marketing, we can dive into which QR Code solutions can be used for which stage you're in with your conference. Overall, QR Codes are extremely advantageous for event marketing in general but are particularly suitable for conferences and networking.
Before the conference
Without proper conference marketing, you can't expect so many attendees at your conference. But you've also got to consider the right marketing strategy so that your budget is used efficiently. With QR Codes as your marketing tool, you can integrate a strategy that includes both print ads and digital marketing.
There are a few ways to go about doing conference marketing with digital platforms. For example, you could create social media ads (like on Facebook or LinkedIn), share blog posts that promote the conference, and the advantages it brings (like particular speakers or events), and you can even use QR Codes for email marketing like in the image below. Through the combination of the short URL for mobile users and the QR Code itself for desktop users, you can be sure to reach both audiences.
In this case, an Event QR Code is likely the more suitable QR Code solution because it enables your guests to view all the conference details on a customizable display page, with a button that saves the conference's date to their calendars. For registration, you can include a CTA button that links guests to a registration page or booking software.
When it comes to print advertising, the premise works the same. Here, the print QR Code on the ad design is the focus, because your audience can scan it and view all the event details on a mobile-optimized page. We also suggest using an Event QR Code, the same as with the print newspaper ad as shown.
If an Event QR Code is not quite the solution you're looking for, you might also want to consider a Video QR Code (market a conference with video media), Website QR Code (direct your audience to a landing page or conference registration platform), or Coupon QR Code (discount conference registration) to boost your conference marketing efforts. In any case, testing out different marketing strategies is the best way to optimize your campaigns.
During the conference
Once you've finished marketing your conference, you've also got to make sure your attendees are satisfied with their experience. Here, QR Codes are extremely handy, too.
First off, one of the most popular ways of using QR Codes is for digital business cards. You can add a vCard Plus QR Code to your business card, which makes adding and sharing your contact information simple and fast. You're also not limited to the tiny space of a print business card because you can add a description of your job, all your contact details, and even a Google Maps location of your office on the QR Code display page.
The same idea also applies to conference ID badges. As the conference host, you could automatically create these for conference attendees to make their networking easier. This is particularly useful when you're hosting a conference and you want to calculate the number of potential customers or partnerships you find.
QR Codes can also be used to enhance the marketing your company does during a conference. In the image below, a Video QR Code is displayed on a print poster during a talk. You can use this concept to connect your audience with particular content related to your products and services.
Moreover, QR Codes can be added to marketing materials such as brochures, flyers, or even a table tent if you have a booth at a conference. For example, these QR Codes could connect your audience to your social media profiles, particular brand videos or images, or even a landing page on your website.
After the conference
If you plan to host any conferences or events in the future, as well as continue building relationships with contacts from the conference, it's a good idea to follow up. For this purpose, a Feedback QR Code fits perfectly. You can customize the feedback form for your need and receive automatic email updates whenever someone fills it out. Send it to new contacts via email or traditional post. You can also include instructions on how to stay in touch with you after the conference is finished.