Product
Why You Should Add QR Codes to Magazine Ads
Did you know there is a tool that provides real-time data to your magazine ad campaigns, clarifies how much revenue they generate, and matches all of your brand styles? This simple solution is known as QR Codes, and they come with massive advantages for any print marketing campaign, including print ads in magazines.
Doing marketing with magazine ads
A common part of print marketing is to use magazine ads. A tried and true traditional marketing method, there are a few reasons why magazine advertising has continued to work so well:
Narrows target audience's focus: Magazines have a readership interested in a particular niche and type of content that keeps them consistently coming back.
Targets specific locations: Magazines contain localized content based on where issues are circulated.
After effects: While TV commercials and online ads require continual payments to run, magazine ads can generate income long after they've been printed.
Are magazine ads still relevant in 2020?
Some experts believe that print marketing has become redundant due to digital methods and the decline of the publishing industry in the US. Despite this, print magazine readership has remained relatively consistent since 2008. In order to appease both digital and print readers, many brands have begun issuing their magazines in both versions. In terms of usage, print magazine ads still influence purchasing decisions:
24% of people used magazine ads to discover new podcasts in 2018.
17% of people consulted print magazines before purchasing particular products in 2018.
Nonetheless, while digital marketing methods are highly effective, you can still have extremely successful marketing campaigns that include both digital and print methods. The key to using the right type of ad for the right audience and encourage that audience to take a particular action that results in a purchase.
Why your magazine ad needs a QR Code
If you're interested in giving print ads a try or are wondering how you can improve your current magazine advertising strategy, there is a simple and unique tool that comes with big benefits: QR Codes. QR Codes can be customized to match all your print ad designs, include tracking data to optimize and analyze print ad ROI (return on investment), and can even be edited after printing. It doesn't get much better than that!
Custom QR Code designs that match all print ads
QR Code Generator software has brought custom QR Codes to a whole new level. Each QR Code can be styled based on custom frames, unique edges, specific brand colors, your logo or an image in the middle, as well as the CTA (call to action) text that explains the purpose of the QR Code.
Furthermore, QR Codes are scalable by size as well. While there are basic design requirements like keeping the quiet zone intact and using appropriate color contrast, they can be formatted to match the exact style your brand needs and customers recognize. This goes for all forms of print and digital marketing.
Editable & adjustable
When designing your QR Code, we highly recommend that you select a Dynamic QR Code. While QR Codes also come in Static versions, Dynamic QR Codes can be edited without changing the original appearance of the printed QR Code. This is a massive advantage for print ads because it means you don't need to reprint the ad to update the information linked to the QR Code. You can even update the QR Code solution itself (like swapping out a PDF for a video) whenever you need it.
Tangible print ad campaign ROI due to tracking data
Speaking of how incredibly awesome Dynamic QR Codes are, these QR Codes also come with the tracking data required to optimize campaigns. QR Code Generator software tracks QR Code scans based on location by city and country, time scanned, unique vs. total scans, and operating device used. As a result, you can analyze, monitor, and test print magazine ad campaigns and understand the exact amount of revenue they generate. Now the issue with guessing about the ROI of print marketing campaigns can be thrown out the window.
What's more, you can follow the entire customer journey from the QR Code scan to purchase by integrating your QR Code campaigns with Google Analytics. For an overview of how this works, take a look here.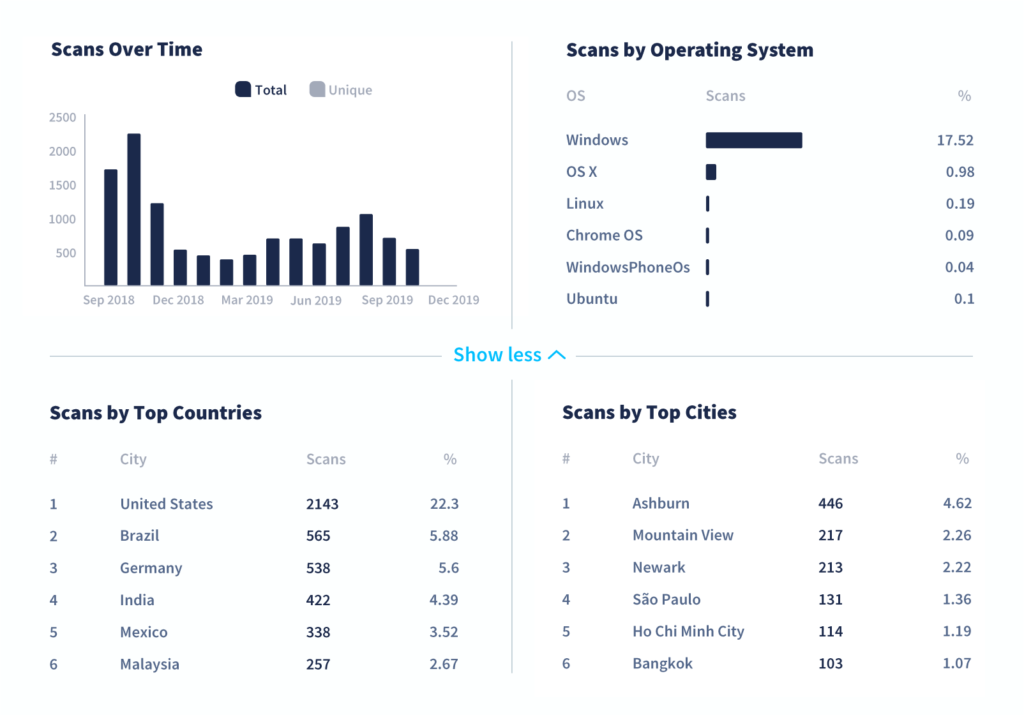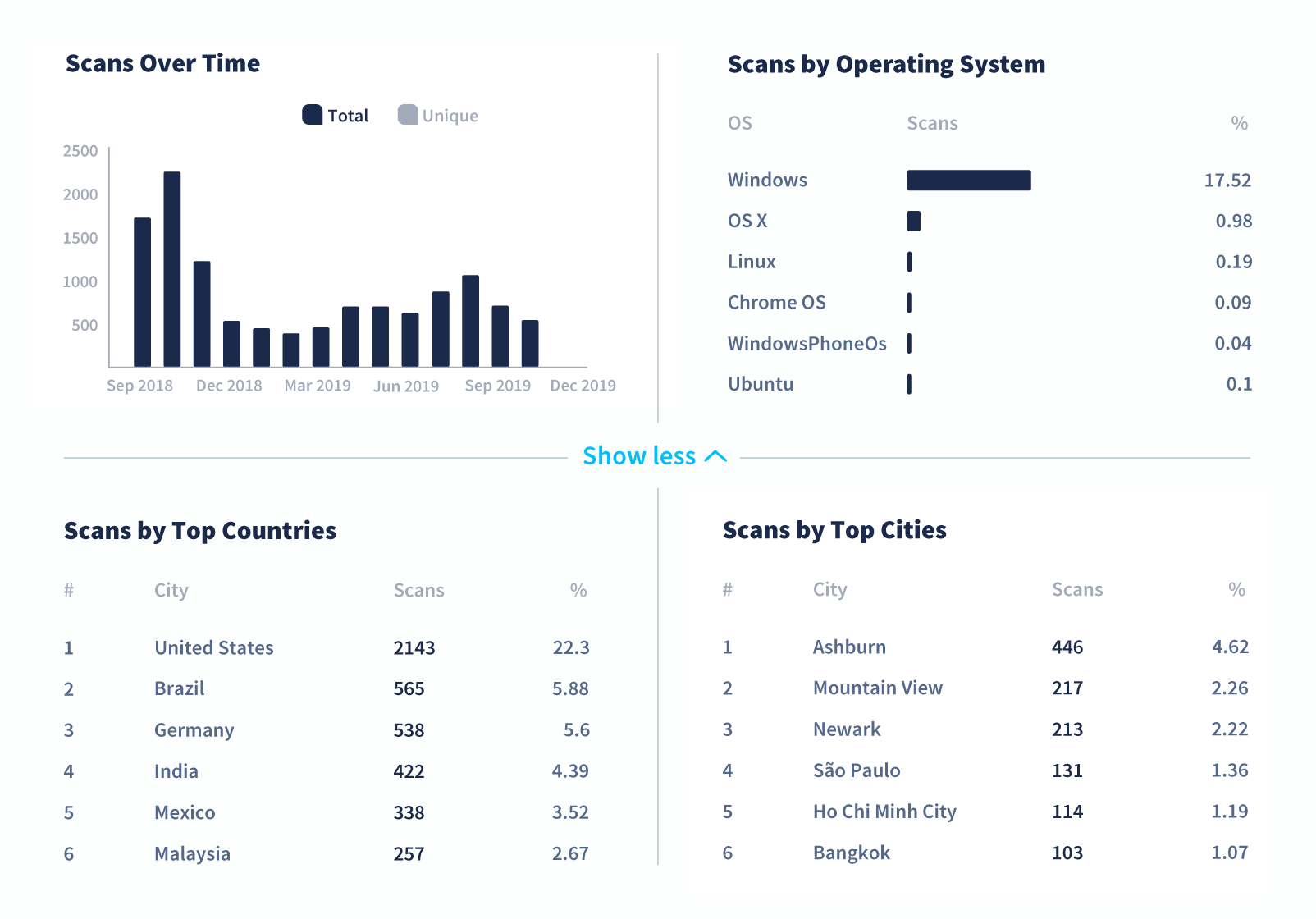 Pro tip: Use the same QR Code on both print and digital mediums to understand which combination of marketing methods reaches your target audience the most efficiently. That's how true campaign optimization is done!
Link to all sorts of digital materials
QR Code Generator has developed QR Code types for every kind of information possible. Want to spruce up your magazine ad with a video? Maybe you need more app downloads? Would you like to direct users to a particular landing page? All of this is possible and more with QR Codes.
Bring user from print to digital mediums
In addition to ROI guesstimations, another big issue that marketers face when using print marketing methods is to bring users from print to digital platforms. Often the goal of a print ad is to direct users to websites or encourage readers to make digital purchases. Without any way to connect the two, many readers have to try to search for the link, hope they can still find the proper information, and make a purchase after reading the print ad. Instead you can use QR Codes to streamline this process, because a reader can directly understand the purpose of the add through the QR Code CTA, scan the QR Code, and view the linked information immediately.
Magazine advertising examples with QR Codes
What would a print magazine ad campaign with a QR Code actually look like? We've got some creative business examples for different purposes to give you some inspiration.
Print magazine ads with a QR Code for app downloads
Nowadays, there truly is an app for everything. While this gives users tons of options, you've got to use tactical marketing strategies to convince a user to give them a try, because the app industry is so saturated. You can integrate print magazine ads into your marketing strategy by using an App QR Code. App Store QR Codes link users directly to the app store (or whichever downloading platform required) after they scan the QR Code. What's more, there's even space on the automatically mobile-optimized page where you can link to a video trailer for your app, your website, or other apps with customizable buttons.
Print magazine ads with a QR Code for audiobook downloads
The U.S. audiobook industry hit $1 billion in 2018 and is growing at a rate of 25% per year. Many popular authors have begun releasing audio versions of their book to give readers (or rather listeners in this case) an interactive experience, which has, in turn, skyrocketed sales. Even if you're a new author, you can boost initial sales with audiobooks. Combine a print magazine ad with an MP3 QR Code and users get direct access via mobile to your audiobook, a description of the particular recording, a link to your website or other work, and a download button to save the audiobook to their device.
Print magazine ads with a QR Code to promote a real estate agency
The real estate industry is a heavy user of print marketing methods. You can update your customers about new listings with print magazine ads, or even make it so new customers can book an appointment with you directly. This could be done either by using a Dynamic URL Code to direct users to make appointments on a landing page on your website, or by using a Business Page QR Code, in which you can display your mission statement, add opening hours and contact details, link to your social media accounts, and directly make bookings by adding a particular link.
Print magazine ads with a QR Code to promote a concert
QR Codes work great for promoting events, too! An Event QR Code would work perfectly for a magazine print ad for a concert. These Codes make getting concert tickets a breeze because users can view all the details for the concert like the time and location, easily purchase tickets through a direct link, and then automatically add the concert to their calendar. Add Event QR Codes to all your print marketing materials and you might soon have a sold-out concert.