Industry Trends
How QR Codes Aid With Marketing for Apps
Marketing for apps requires research and tactful decision-making to ensure that the app is successful. Tracking campaign metrics, focusing on the correct target audience, and creating app-related content are a major part, but did you know that App QR Codes are a fantastic way to increase app downloads? Take a look below for how this works.
What do QR Codes have to do with marketing for apps?
It can be a costly false assumption to think that having an app on the app store is enough to become profitable. In reality, the reason why some apps have been so successful is the marketing behind them. And not just general marketing, it needs to be well-informed marketing using a specific strategy.
One way to escalate an app marketing strategy is by using QR Codes. QR Codes were developed to easily link to other types of information after being scanned. Their square shape means they can hold mass amounts of data. Not only can this information be used in countless ways for marketing campaigns, but they are also completely customizable with QR Code Generator software. This makes QR Codes the perfect addition for mobile app marketing.
How can QR Codes enhance marketing for apps?
A big reason why QR Codes are particularly useful for app marketing campaigns is that it removes a step that a customer needs to download the app. Instead of the customer viewing the app store badge on a website and then having to search for the app themselves on their smartphone, adding an App QR Code means the user scans this App QR Code with their mobile phone and downloads the app directly. Easy peasy!
Tracking metrics and editability
App QR Codes, along with all other types of Dynamic QR Codes, all include important tracking information. QR Code Generator simplifies the process of measuring ROI (return on investment) for marketing campaigns that use QR Codes because you can view real-time metrics such as location by country and city, time scanned, the operating system of the device used, and total vs. unique scans.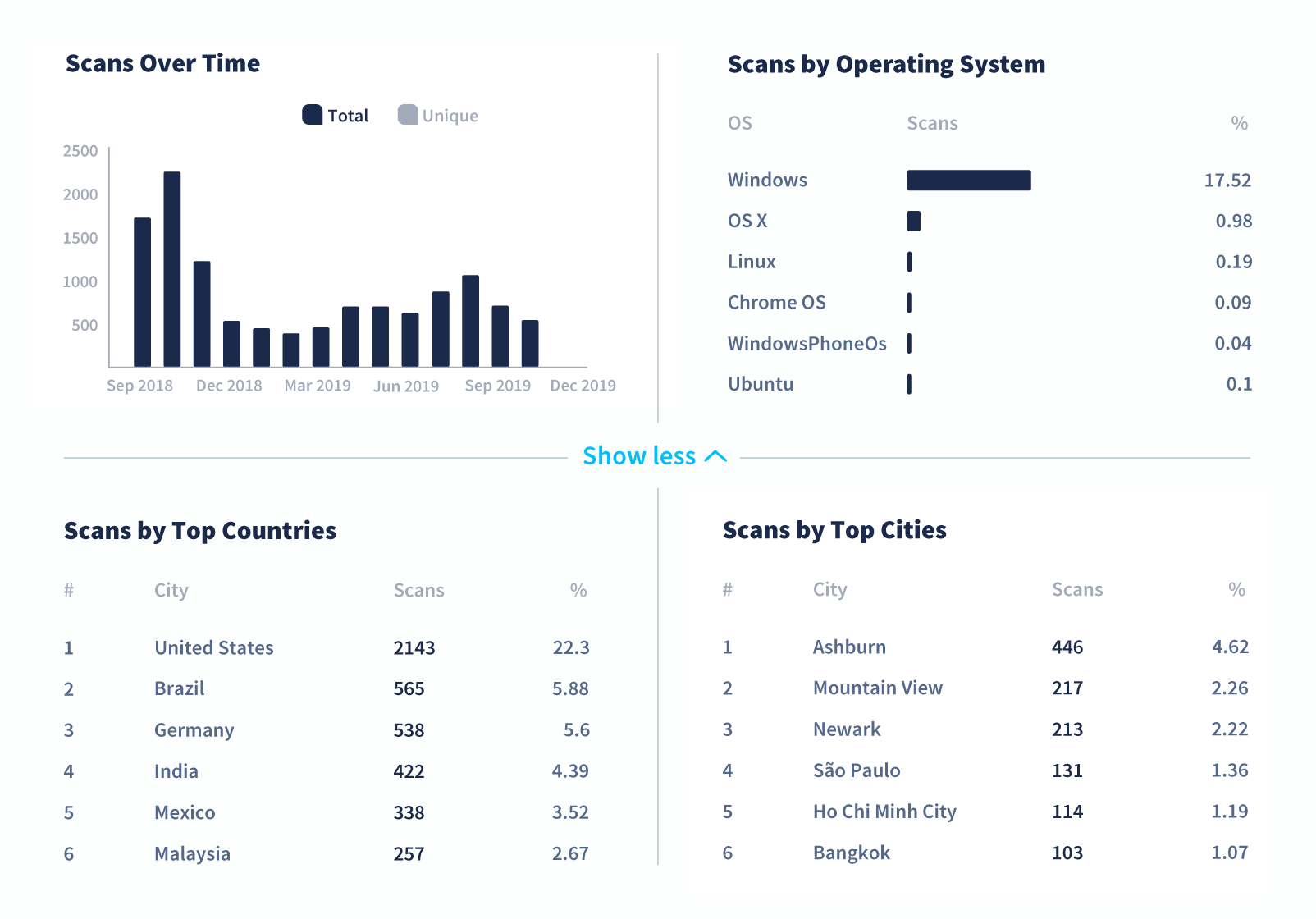 These metrics are extremely useful for marketing for apps because often apps are intended for global use or at least in multiple countries. Through a comparison of these metrics, you can understand campaign success rates for different locations and times, and then optimize further campaigns based on this data.
Medium versatility
Speaking of campaign comparisons, this isn't just limited to different locations, it also includes different mediums as well. App QR Codes can be used on mobile website pages, desktop landing pages, email campaigns, social media ads, and even on print materials. You can either compare the location scans of one QR Code or you can create multiple campaigns using different QR Codes separated by the type of medium.
Customized designs
No matter what medium you've chosen for your QR Code, there is a myriad of customization options. You can add your logo within the QR Code, as well as use different frames, edges, and colors.
Pro tip: When it comes to QR Code designs, there are a few major points to keep an eye on. For an overview of this, take a look here.
Clear-cut CTA (Call to Action)
An additional customization feature is the ability to include a CTA. The purpose of a CTA is to clarify the exact step that a customer should take to engage with you further. In the case of an app, a CTA with something like "Get the App" or "Scan and Download" are a great place to begin. Regardless of the medium, the CTA should include an active verb and be only a few words.
Choice of additional information
Mobile app marketing campaigns are often accompanied by a video trailer or images from the app. App QR Codes offer the possibility to direct users to a landing page which can display this information, or link to the app directly. Which type is more successful depends entirely on the campaign and may require some testing to find out.
The 3 stages of marketing for apps
Mobile app marketing often consists of three stages: pre-launch, acquisition, and retention. Marketing for apps actually begins even before the product is released. Furthermore, it's recommended to consider your target market and related marketing even during the app development, because this can affect how successful your app will be.
#1 Pre-launch
The purpose of the pre-launch stage is to build up "noise" before the app launches. Boosting awareness before the app is complete will increase the success of all subsequent marketing efforts. It builds tension before the big reveal in the same way as the saying, "drum roll, please". This stage of marketing should already have the brand values in mind and type of message you want to convey with your marketing efforts. It's a chance to connect with your target market early on and bring more product visibility.
The pre-launch stages include elements such as:
Determining a release date.
Conducting market research and creating user personas based on this.
Researching competitors.
Creating a website or other elements to showcase the app (images, video trailer).
Developing outreach such as a press kit.
Social media marketing.
Content marketing: blogs, email marketing, landing pages.
#2 Acquisition
The acquisition stage is the time to put your marketing efforts into full force. You want to get as many downloads as possible in the first week after launching. The more downloads you have, the higher it will rank on the app stores. As users are beginning to download, track where these downloads are coming from and use this to optimize your marketing strategy. At this point in time, it is recommended to begin paid marketing campaigns such as on social media and Google Ads.
Another tactic here is known as ASO (App Store Optimization), which involves the process of using keywords in your title and description to match with user search queries, resulting in further downloads. More than 65% of apps are discovered from an original search in Apple's App Store, so it's highly worth it to spend some time here. Furthermore, to have your app added to the Apple Store, it requires a pitch to the editorial team. Some tips on how to do this can be found here.
#3 Retention
Marketing efforts don't stop after the acquisition. Making sure those new customers remain can be just as important. Long-term customers have better profit margins: a 5% increase in customer retention correlates with at least a 25% increase in profit. Loyal customers often bring on new customers and also continue to make purchases of their own. Ways to increase customer retention for apps include:
In-app notifications.
Push notifications.
Gathering customer reviews.
Referral bonuses.
The offering of further purchase discounts (for example via email).
Top tips for mobile app marketing
Take research seriously
It's extremely worthwhile to spend a good deal of time doing research, both on your target markets and on your competitors. This helps you to distinguish your USP (unique selling point), or the aspects of your product that separate you from your competitors. Understanding this USP makes it easier to connect with your target market and create the content and brand messages that you want to convey during marketing campaigns.
Furthermore, target markets are often broken into groups (segmented) based on various factors such as location, age, gender, personal interests, buying habits, and more. This information is determined through research and provides essential data that is relevant throughout the entirety of marketing your app.
Use ASO
As mentioned above, ASO makes it easier for users to find your app when searching through the app store. These points include:
Title: use a keyword in connection with your app and make it short and clear.
Description: describe the function of your app using specific keywords and brand tones.
Icon: include an icon that reflects the style of your app.
Images: use app screenshots, a video trailer or other images to showcase your app.
Emphasize video content
Video content is one of the top types of content marketing professionals use. Fun fact: Marketers who use video grow revenue 49% faster than non-video users. A good portion of time spent online involves watching videos and customers tend to love them, especially on social media. You can promote video content by creating an app trailer or even have customers share videos of their app experience, which works particularly well for gaming apps.
Track KPIs
KPIs (key performance indicators) refer to the metrics used to understand the success of a marketing campaign so that you know how to make it more efficient. These metrics include:
App downloads: number of app downloads.
Daily active users (DAU): number of people who use the app on a daily basis.
Monthly active users (MAU): number of people who use the app on a monthly basis.
Stickiness rate: how likely a user will change from MAU to DAU.
Daily sessions per DAU: how often a person uses the app throughout a day.
Retention rate: percentage of users who come back to the app after the initial visit.
Churn ratio: percentage of users who no longer use the app.
Which of these is the most useful or accurate for determining campaign success depends entirely on the type of app and the marketing strategy you're using. Creating goals based on these metrics and monitoring them over time will give you a good idea of what works and what needs improvement.
Instagram and Angry Birds use QR Codes for mobile app marketing
Both designed by the UK based agency known as "Made by Stupid", these App QR Codes linked users directly with the app download function. If you're looking for a source of inspiration, then these examples show how brand styling can be conveyed perfectly through App QR Codes.