Use Rating QR Code to Identify Improvement Areas
What is a Rating QR Code?
A Rating QR Code is a solution that helps anyone looking to collect ratings for their products or services by connecting a QR Code to a customizable rating page. In seconds, your audience or customer can scan the QR Code and leave a rating about your product or service. Each time they leave a rating, you receive an email update directly. Furthermore, your Rating QR Code automatically comes with a customizable short URL that you can share on other platforms such as social media, email or text message.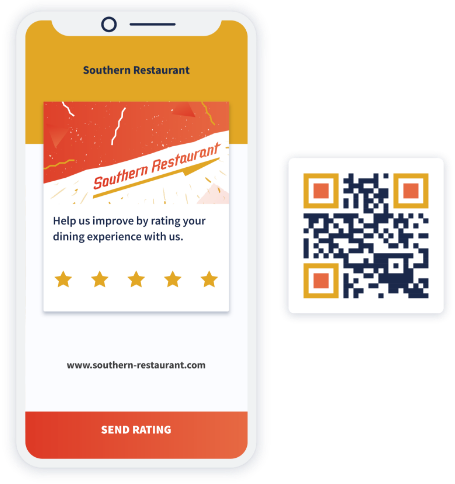 What information can I display with a Rating QR Code?
A Rating QR Code displays the following elements on a mobile-friendly page:
A featured image and customizable brand colors.
Your company name and website (or landing page).
A customizable question to generate ratings.
Options for customers to input ratings with like/dislike, stars, and smileys.
Option to add links to your social media profiles in the Thank You page.
How does a Rating QR Code help me collect ratings?
Easily connect customers with rating link
A Rating QR Code is a perfect solution to collect ratings because it displays all the information a customer needs to leave a rating for a particular product or service in an easy to read format. You will get an automatic email update each time someone leaves a rating, which you can then display, for example, on your own website. You can also use the same short URL generated from your Rating QR Code to collect ratings from your followers from other platforms like Facebook, Instagram, and Twitter.
Ideal for print marketing
The big advantage of using a Rating QR Code is that it streamlines the process from print to digital platforms. Without a QR Code, it's difficult for a customer to see a link on print material, search for that link later, then leave a rating. It's simply too inconvenient. A Rating QR Code solves this problem because users can just scan it, for example, on a product packaging, and then leave a rating for that product directly on their smartphone.
Customizable for any design
A Rating QR Code in no way detracts from your graphic design and brand style. Both your rating page and the Rating QR Code are entirely customizable to match your brand. You can use custom colors, images, a logo in your QR Code, and custom QR Code frames with a unique CTA (call to action). You can even download QR Codes in different file formats to do customization on your own.
Forever updatable & trackable
QR Codes from QR Code Generator have a unique benefit that is tough to find elsewhere. A Rating QR Code is a type of Dynamic QR Code, which is both trackable and editable. If you've accidentally made a mistake with your link, it's no problem. If you'd like to change from a Rating QR Code to a different solution, easy peasy. Both can be done at any time without changing the appearance of the original QR Code. Furthermore, Dynamic QR Codes enable you to view real-time QR Code scan metrics, including location by city and country, unique vs. total scans, time scanned, and operating device used. With this crucial information, you can even optimize your rating collection process—even for print marketing!
Optimized for any device
Ensuring that your content is readable on all devices is crucial for success. That's why the information displayed on your QR Code rating page is optimized for all devices, including desktop, tablets, and smartphones. You'll never lose out on getting a rating because someone can't view the content!
How to make a Rating QR Code?
Sign up to QR Code Generator PRO and get started with a 14-day free trial. You can upgrade at any time to continue using the QR Code if you decide the tool is right for you.
Once your account is activated, select Create QR Code in the dashboard then choose Rating.
Start by naming your QR Code, and then customize the page colors to match your personal style or company identity. You can also upload a featured image, your logo, or a welcome screen to amplify your branding power.
Next, add a question related to what you'd like to receive a rating for. You can also choose from different symbols to display your rating, including like/dislike, stars, and smileys.
Then, add your company name and email address. You have the option to add your website or a landing page to direct further traffic there.
As an additional option, you can add your social media profile links which will appear in the Thank You page after a rating is submitted.
To personalize it further, select one of the ready-made QR Code frames and add your own custom text to urge your audience to scan the Code.
Add some finishing touches such as adding a logo in the center of your QR Code and changing the Code's color to suit your brand.
Finally, download and integrate it into the file design of your print collateral.
Can I see some use cases for a Rating QR Code?
If you'd like to get inspired to use QR Codes in innovative and unique ways, here are a few examples from fictional brands to get your creativity flowing.
Restaurants
A restaurant like Southern Restaurant thrives on ratings. Because they know that ratings are one of the first things a potential customer checks before visiting, they decided to up their rating game by adding a Rating QR Code to their receipts. This gave all their current customers a chance to give a rating even after they'd left the restaurant.
Healthcare & Doctors
Maintaining good customer ratings are absolutely crucial for Dr. Andrew Webber's medical practice. To make sure that his patients remain satisfied, a Rating QR Code is added to all the take-home paperwork that patients receive. Patients can then leave a rating when they have time and don't need to look up or type any links.
Consumer Electronics
A Rating QR Code is a perfect addition to any product packaging for a consumer electronics company like Siekens Electronics. To reduce product returns and maintain customer satisfaction, all their electronics packaging contains a Rating QR Code. This gives them insight on which products customers like and which ones need improvement.
What are some best practices for using a Rating QR Code?
Displaying collected reviews
You have the option to select from three different types of ratings to display on your rating page: Like/dislike, stars, and smileys. Which is the best one to use depends a bit on your purpose. Like/dislike format could be useful if you're searching for just general yes/no feedback. Smileys might give a bit more insight into customer feedback as it provides three reactions; sad, neutral, and happy. The most common rating format is the five-star rating as it gives more freedom for customers without any effort. They can essentially provide their feedback that says really bad, bad, neutral, good, and great—all these represented in the 1-5 star ratings.
Minimum size
Generally speaking, QR Codes should be no smaller than 2 x 2 cm (around 0.8 x 0.8 in). If you don't know which size to use, test out a few and compare them. Nonetheless, it's good to opt for a larger version, because when they are too small, you risk QR Code scanning problems and making it difficult for users to read its purpose. QR Codes can be scaled up as large as you need it, so no worries about making them fit even on something as huge as a billboard ad!
Logo
We highly recommend taking advantage of the option to add your logo in the middle of your Rating QR Code. Logos help connect users with your brand, which also makes them feel safer about scanning your QR Code in general.
Colors
Custom QR Codes should always be styled to match your brand and graphic design to have the best results. There are a few details to keep in mind when selecting your colors: Always use a darker color for the foreground (the black and square pixels itself), a lighter color for the background, and maintain the quiet zone to avoid any scanning issues. For a complete guide on custom QR Code design, we've got an overview here.
Printing formats
QR Codes can be downloaded in four different image file formats: JPG, PNG, EPS, or even SVG. This enables you to adjust the size of the QR Code and image quality to match your design. A QR Code image can then be added to designs with any photo editing tool.
FAQ
No, a Rating QR Code can be used to display ratings on your own website with your own rating system. However, they are not automatically displayed. If you'd like to connect users with public review sites like Google or Trustpilot, you can do so with a Social Media QR Code.
This depends on how you ask the question displayed on your rating page. You can choose to describe one product, multiple products, or even your brand (but note that a customer can only leave one rating per QR Code). Nonetheless, it's better to focus on one product or service where your Rating QR Code will be placed to avoid any confusion.