Dynamic vCard QR Code Generator
What is Dynamic vCard QR Code and how does it work?
Think of vCard as an electronic business card or a "virtual contact card". Because of its versatility, a vCard can be converted into a QR Code. With a single scan, all of the contact information in the QR Code can be viewed and saved to a smartphone address book quickly. But did you know that there are two different kinds of vCard QR Codes?
Static vs. Dynamic vCard QR Code
While Static vCard QR Code can be created for free and without any cost, Dynamic vCard QR Code, also known as vCard Plus, requires a running subscription to work. This is because the contents of a Dynamic Code can be replaced or edited at any time, even after they're generated or printed. This feature is useful, especially when there are changes to your existing phone number, email, or if you've moved to a new address but would still like to use the same business cards. To edit the contact information, all you have to do is log in, edit where necessary, hit save, and continue using the already printed business cards.
What information can I store in a Dynamic vCard QR Code?
The information you can store in a Static vCard QR Code is limited to only the basics such as name, phone, and email. With a Dynamic vCard, you can extend the information in the included landing page and add your profile photo, a short bio, social media links, or even get directions to your address on Google Maps!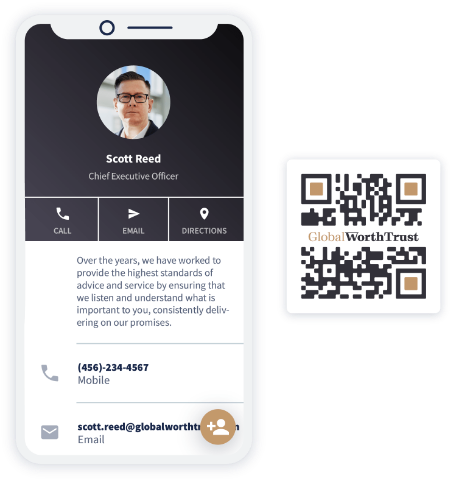 Why do I need a Dynamic vCard QR Code?
Fast and easy networking
When exchanging or saving contact details manually, the process typically involves opening a contact app on your phone, typing each field one by one (first and last name, multiple phone numbers, email, and address). But with a vCard QR Code, all you have to do is open your camera or QR Code reader app, scan the Code and save all the contact info with a tap.
Improved business card design
You can add a vCard QR Code on your business cards so you can focus on clutter-free design that only displays essential info such as your name, title, and primary contact detail. More detailed info, such as your social media or website links, profile photo, and address, can be accessed with a scan.
Virtually unlimited
If you're at an event, it's easy to get carried away with exchanging business cards with potential clients or business partners. When you're down to your last one, a vCard QR Code could come in handy. All you need to do is show them your "last" business card and scan the QR Code so your contacts can be saved immediately to their phones.
Versatile use
Dynamic vCard QR Code or vCard Plus comes with a handy short URL that allows you to use your vCard however you want. Attach it to email signatures, social media posts, or share the link via WhatsApp.
How to create a Dynamic vCard QR Code?
Sign up to QR Code Generator PRO. You get a 14-day free trial to test all features without a commitment.
To create a Dynamic vCard QR Code, select Create QR Code on the Dashboard and choose vCard Plus.
Then, upload a profile photo, add all the necessary details you'd like to display in the vCard. You can even add a welcome screen and a sharing button to make it easy for others to share your vCard.
Once you've added all the info you want, customize the look and feel of the vCard to match your personality or brand colors.
Then, personalize the QR Code so that it complements your business card design.
Finally, download the QR Code and then add it to your business card design. Be sure to do test scans before printing to avoid printing errors.
Any tips for designing and printing my vCard Plus QR Code?
Minimum size
We recommend a minimum size of 2 x 2 cm (0.8 x 0.8 in) for any QR Codes. This ensures that your QR Codes remain scannable, especially when you're about to print a large batch for business cards. Visit our guide before you print for more tips.
Logo
If you own a company, include a logo on your QR Code to increase brand awareness. Whenever a QR Code with your logo appears anywhere, your audience or customers will not hesitate to scan it and make them feel secure about the legitimacy of the QR Code with your brand attached.
Colors
QR Codes are the perfect place to splash some colors that match your personality or brand. They don't have to be black and white anymore, so you can experiment with complementing colors. One important thing to note: Always use a darker color for the foreground (the black and square pixels itself) and a lighter color for the background. Visit our QR Code design guide for more tips.
Printing formats
Our generator makes sure that your QR Codes stay in the highest possible quality no matter what. You have the option to choose between JPG, PNG, EPS, or even SVG file formats. It's easy to integrate the QR Code to your business card design using any photo editing tool.
Can I see some Dynamic vCard QR Code use cases?
If you'd like to get inspired to use QR Codes in innovative and unique ways, here are a few examples from fictional brands to get your creativity flowing.
For nonprofit organizations
Janet is a volunteer at Save the Bees Foundation and uses a Dynamic vCard QR Code in her business cards. She makes it easy to connect with her on various social channels by listing them all in her vCard and updating them when necessary.
For software and game developers
Robert is a senior programmer at eGo Gaming Studios. By adding Dynamic vCard QR Code on his business cards, he never runs out of business cards at gaming conventions, where he meets hundreds of other gamers and developers.
For hotels and resorts
It is essential for the Grand Hotel Suites & Resorts to use Dynamic vCard QR Code on their hotel key cards. This unconventional use of vCard Plus is due to guests' feedback as they're having difficulty remembering the contact details and location.
For personal use
Travel worry-free when you add a Dynamic vCard QR Code on your backpack or in your wallet that lists personal medical details. This is especially useful in emergencies so that doctors could quickly identify existing illnesses, allergies to any medication, and even your blood type.
FAQ
A Static vCard QR Code can only store limited information and cannot be edited after it's generated. A Dynamic vCard QR Code stores more information, and the data inside can be modified at any time. A vCard Plus QR Code is the product name of Dynamic vCard.
If you've created a Dynamic vCard or vCard Plus QR Code, all you have to do is log in to your account to change your info. Unless your business card design changes as well, you can keep using the same business cards for as long as you want without reprinting a new QR Code.
The best way to test this is to open the camera app on your device, hold it over any QR Code and see if a notification pops up. If not, check if your device has the "QR Code scanning" option turned on. If it still doesn't work, all you have to do is download a third-party QR Code scanner or reader from your app store.