Get Instant Reviews and Feedback with Yelp QR Codes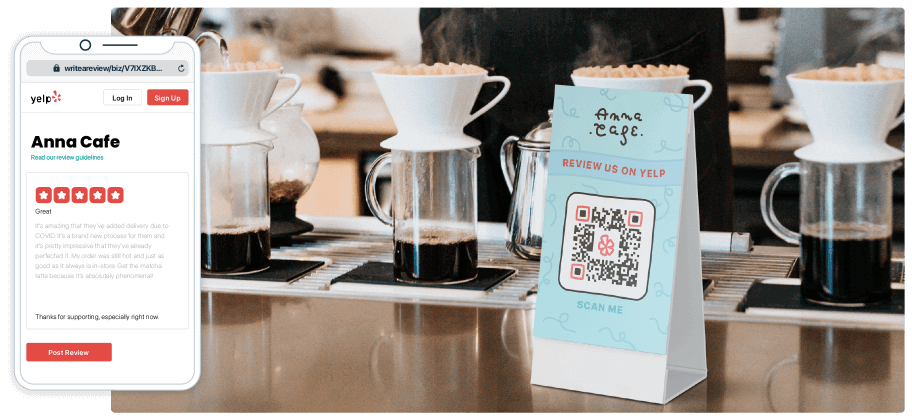 What is a Yelp QR Code?
A Yelp QR Code allows customers to connect instantly with the Yelp review form for your business or service. When the QR Code is scanned, customers are directed to this form, which they can use to rate their experiences and write a review.
If you're a business owner, you'll know how essential online reviews are. Reviews impact how you're ranked on Yelp, affecting where potential customers might see you in search results. And it's not just for foodies: Yelp reviews represent a huge spectrum of businesses, including everything from retailers to home repairs and maintenance services. Customers look to these reviews to learn more about a business, which can be a part of how you generate brand awareness, too.
For those blossoming businesses looking to get a lift in Yelp's listings, using a QR Code for reviews could make your life a little easier. After all, there's one obstacle standing between you and this sought-after feedback: incentivizing customers to fill them out. Luckily, a Yelp QR Code helps to solve this problem.
After scanning the QR Code for a Yelp review, customers are automatically redirected to the form — there's no need for them to search for your business online or type in a URL. Wondering how to make flyers with QR Codes, or how to incorporate them into your menu design? We'll explore this topic in more depth for you later.


Create, manage, and track all your
QR Codes

.

Design beautiful QR Codes your way. Add your own color, logo, and frame.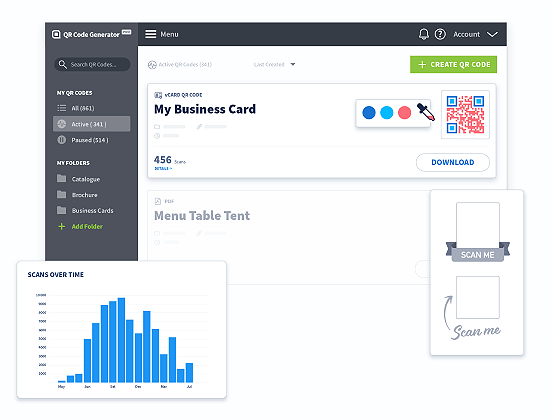 Create a QR Code for Yelp reviews in two easy steps:
Go to your Yelp listing and select "Write a review." This opens your review form link.
Copy and paste this link into the QR Code Generator above to generate your QR Code.
Why should I create a Yelp QR Code with QR Code Generator?
Yelp is one of the most popular review sites in existence. When a Yelp user searches for something, the search results they see are based on the star ratings left by other users.
Positive reviews yield better rankings in Yelp's internal search results. The more positive reviews you have, the higher you'll appear. The power of Yelp reviews is well-known in the hospitality industry: bad reviews are likely to deter customers, but if you get a rating of 4.5 stars? Your restaurant might have just become the hottest place in town.
The upshot of this? Yelp reviews matter — and getting good reviews is good for business. To achieve your best positioning on the platform, you'll want to collect as many Yelp reviews as possible from happy customers.
By using our Yelp QR Code generator, you'll be well on your way to reaching the summit of Yelp's rating system, all thanks to reviews from contented customers and clientele. Here are five reasons why creating a Yelp review QR Code might be the way forward for your business.
1.

It makes it easier for customers to leave reviews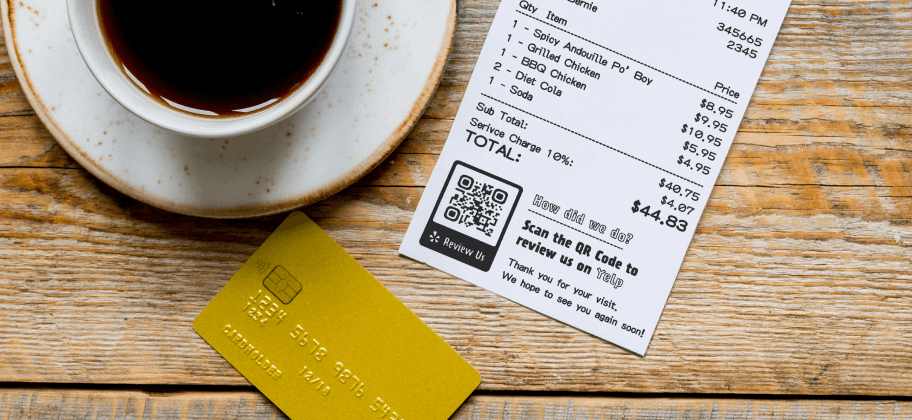 Writing a Yelp review online is simple — users find your business page, write a review, and that's it! As much as you might want customers to enthuse about a delicious meal or attentive service, however, not every customer is going to do their homework.
A Yelp QR Code can help you nudge customers in the right direction. Let's say you would like to create a small display sign with your Yelp review form link at the cashier to encourage customers to leave a review when they leave. Your design is eye-catching and on-brand, but in practice, the link for your review page looks something like this:
https://
www.yelp.com/writeareview
/biz/V7lXZKBDzScDeGB8JmnzSA?return_url=%2Fbiz%2FV7lXZKBDzScDeGB8JmnzSA&source=biz_details_war_button
This is the Yelp review form link one for New York's most famous delis — and unlike Katz's, it's not exactly inspiring.
With a QR Code, your customers never need to type in any long and complex links. Scanning the QR Code automatically directs them to the Yelp review form link, and their review can be submitted within seconds.
2.

Turn printed materials into Yelp QR Codes
No matter the type or size of print medium you would like to use for your Yelp QR Code, you have complete flexibility at your fingertips. There is no limit to how big you make your Code, as long as you pay attention to the QR Code size and use good-quality printing.
PRO tip: Dynamic QR Codes should be a minimum size of 2 x 2 cm (0.8 x 0.8 in) and 3 x 3 cm (1.2 x 1.2 in) if Static. Try using your Yelp QR Code on everything from a business card to a large-scale poster — or use a mixture of promotional materials, and see which ones get the best results.
3.

Get more from your Yelp business listing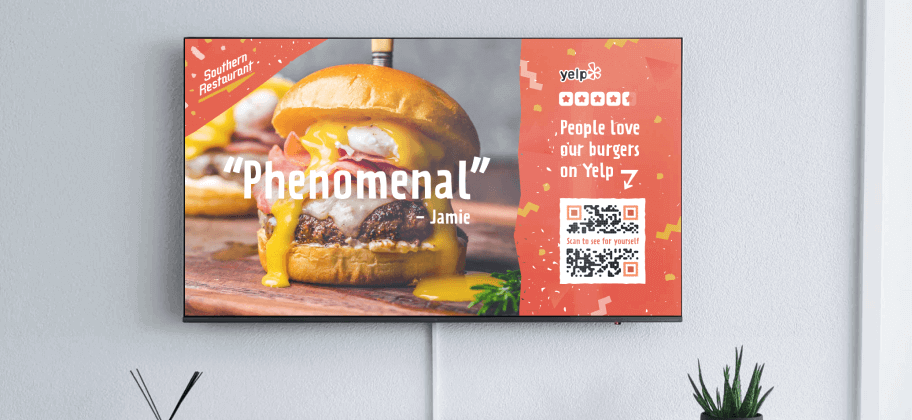 Got five-star Yelp reviews? That's something to shout about! Use them to impress potential customers and link directly to your Yelp business listing instead of your review form. Just use our Yelp QR Code generator to link your business page's URL with a QR Code instead of the review form.
4.

Match your QR Code to your business's design or colors
When using the QR Code Generator above to create your Yelp Review QR Code, you can style your QR Code to match the rest of your business's look. Put your logo in the middle, add a splash of color, write a snappy CTA, and make it stand out with a frame.
Big and bold QR Code styles are more likely to attract scans from your customers — so be creative!
5.

Use data to learn more about your customers
Using Dynamic URL QR Codes for your Yelp review form link gives you a few added benefits.
For example, you realized the QR Code on your new menu features the wrong link? No problem! It's still possible to edit the URL you used for your Yelp review QR Code, even after your menu has been printed.
Secondly, you can leverage the data from your QR Code to learn more about your customers' habits. If you plan to collect reviews over different time periods, or you want to test whether flyers, menus, or receipts will give you better results, QR Code tracking gives you access to valuable metrics.
One more option to consider is the social media QR code. You can add Yelp as one of your social profiles and create a single QR Code that will lead the user to a page with all your social media networks — combined. That way, you have the possibility to offer multiple channels, depending on the preference of your audience.
How to make a QR Code for Yelp reviews:
You can create a Yelp review QR Code in seconds with the following steps:
Select the URL tab in the generator above. If you would like to create a trackable QR Code, please sign up with QR Code Generator PRO to create a Dynamic URL instead.
Copy and paste your Yelp review form link into the URL field (to find this, click on "Write a Review" on your Yelp listing).
Your QR Code will then be generated automatically. Do a scan test to see if it's working correctly, as you won't be able to edit a Static QR Code after it's created.
Customize your QR Code with a frame and color.
Download the QR Code and add it to the medium or printed materials of your choice.


QR Codes for
Businesses
Browse through our recommendations to see QR Codes in action. Learn how you can boost your business marketing with this powerful tool.
Can I see how a Yelp QR Code is used?
Yelp affects a whole host of businesses and services. To understand why you might want to create a Code in this instance, we have taken a deep dive into each industry and how Yelp QR Codes are relevant for them.
Restaurants
If there's one industry where Yelp reviews can be a deal-breaker, it's the restaurant industry.
Luckily, there are many opportunities for restauranteurs to encourage their guests to leave a review: try putting QR Codes on tables and menus — if you have given service that deserves to shine, an easily accessible QR Code is a customer's cue to tell others about their experiences.
Tourism
Even in the tourism industry, Yelp can still hold sway over potential clients.
Use a QR Code flyer design, add a Yelp review QR Code into its design, and distribute them to happy travelers and tourists to either get on-the-spot reviews or to promote your tours and activities.
Museums & Galleries
Few city trips are complete without a visit to a museum or art gallery — and a Yelp review QR Code can help your institution crack your city's top ten listings on Yelp.
Garner reviews by using a digital QR Code on screens and signage in your institution's gift shops or exit. After a day of taking in your exhibitions, you'll inspire visitors to tell others what they think.
Wellness
In the wellness industry, the luxury look and feel of your spa or gym can play as important a part in enticing new customers and clients as reviews.
When promoting your wellness retreat, incorporate a digital marketing strategy with QR Codes alongside a Yelp QR code linking to your business page. That way, customers can be inspired both by your indulgent imagery and by the reviews previous customers have left on your Yelp page.
Home Repairs & Maintenance
Yelp's community looks to the platform for advice on pretty much any service — and this includes home repairs and maintenance businesses.
Prompt clients and customers to leave reviews about your business by incorporating an invoice or letter QR Code on correspondence. Every Yelp review helps!
Healthcare & Doctors
Linking to the Yelp business page for your healthcare practice is a quick and effective way of letting patients access your opening hours, address, and other information.
It's easy to promote, with QR Codes for business cards being the ideal solution. Print your Yelp QR code onto the cards you leave at reception — customers can take it and use it for the next time they need to schedule an appointment.
Are there any Yelp QR Code best practices?
Whether to score as many five-star reviews as you can for giving great service or simply to promote your business, you'll want to get as much out of your Yelp QR code as you can.
To get you off on the right foot, our best practices guide will ensure your Yelp QR Code achieves its full potential.
Double-check that your Yelp link is correct
When copying and pasting your Yelp link into our Yelp QR Code Generator above, it pays to make sure everything is in perfect working order. Ask yourself two things: do I have the correct link, and have I checked that it works? If the answer to both of these questions is yes, then you're ready to generate your QR Code!
Respond to all Yelp reviews
If any publicity is good publicity, then be prepared to put a positive spin on any reviews you receive — good or bad.
An occasional bad review can be unavoidable, but it's how you choose to respond to these reviews that matters. After all, Yelp is a public platform, and anyone who scans your Yelp QR code and visits your business' listing can read everything other customers have said. Polite, considered responses to both positive and negative reviews leave customers with an impression of what to expect from their visit — view it as an opportunity to promote your professionalism.


More than just
black and white
Show off your company logo and brand colors on your QR Codes and attract more scans with call-to-action frames. No design knowledge needed. Promise.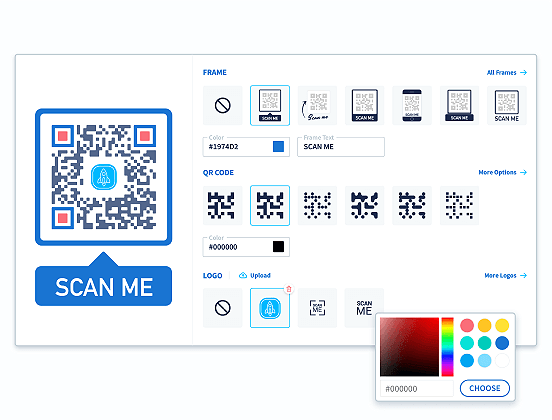 Optimize your Yelp profile to increase rankings
Take ownership of your Yelp listing! Alongside using your QR Code to gather more Yelp reviews, there are some small changes you can make to ensure other users find your listing.
Include as many details about your business as you can, so future customers can feel better informed about their visit. If your QR Code links to your Yelp listing, you'll want customers to get a great and inspiring overview of your business.
Place your Yelp QR Code in easily accessible areas
Visibility is everything. Put your Yelp review QR Code everywhere you think is a crucial communication touchpoint for customers — this means menus and receipts, displays as they check out, posters in bathroom facilities, and more.
FAQ
Unfortunately, it's not possible to customize your Yelp profile link, as the URLs are determined by your business name and location. If you would like to customize your link, you can use the short link QR Code option available with Dynamic Codes.
This depends on the kind of QR Code you choose. If you opt for any of the free-to-use static QR Codes from our Yelp QR Code Generator, your Code will be scannable and usable forever. However, if you need to change any of your details, you won't be able to edit this QR Code.

By signing up for QR Code Generator PRO, you can create an editable, trackable Dynamic URL QR Code, which is active as long as you're a subscriber. If you would like to try it out, the first 14 days are free!