QR Codes 101: A Beginner's Guide

A bit like the Huns in Mulan, QR Codes are popping out of the snow like daisies. You can now find them enhancing your favorite product packaging, or optimizing the effectiveness of your business cards and resumes. You are intrigued by the potential of these Codes, and we have answers.
What is a QR Code and how does it work?
The quick response, or QR, Code is a two-dimensional version of the Barcode able to convey a wide variety of information almost instantly with the scan of a mobile device.
Able to store up to 7089 digits or 4296 characters, including punctuation marks and special characters, the Code can equally encode words and phrases such as internet addresses. One thing to always keep in mind, especially when it comes to designing the Static QR Codes aesthetic is that the more data is added, the more the size increases and its structure becomes more complex.
Even when damaged, the QR Code's structure data keys include duplications. It is thanks to these redundancies that allow up to 30% of the Code structure to take damage without affecting its readability on scanners.
The QR Code: A brief history
In 1994, DENSO WAVE, a subsidiary manufacturing company, required a better, faster, stronger technology to the Barcode to process higher amounts of characters and to aid them in tracking vehicles and parts. Masahiro Hara with a team of two, undertook the task of developing what we now know and recognize as the QR Code.
Some of the most challenging problems for Hara and his team were figuring out a way to make 2D codes read as fast as possible, while preventing false recognition once the shape of the position detection pattern was added. It needed to be unique, which meant the development team spent the better part of a year doing a survey of the white to black areas' ratio after reducing them to patterns on printed material. The results? They identified the ideal ratio as 1:1:3:1:1.
By identifying this number, they were able to determine the black and white areas in the position detection pattern which enabled the Code to be detected regardless of the scanning angle. In short, this unique ratio simply meant you could scan it from up, down, left or right.
Though the initially targeted field for QR Code use was the manufacturing industry, with the rise of smartphone use and the fact that it remained without a patent meant it became an open-source technology, available to anyone and everyone.
You can now find QR Codes stylishly delivering great amounts of information and redefining the print to digital marketing scene.
We know you thirst for more knowledge, so to find out about the different kinds of Codes, like the Micro QR Code for instance, check out our blog.
How to scan a QR Code?
Nowadays, the newer versions of smartphones have an integrated QR Code reader in the phone camera such as Bixby Vision for Samsung and the iOS 11 operating system for Apple. But no worries. If your phone does not have a QR Code reader, there are a plethora of options in the app stores that are easy to download and use with just the touch of a button. We prepared a guide for Android and iOS to make it easier as well.
The anatomy of a QR Code
It's the 90s and you have just ejected your video cassette, leaving the square TV screen in a state of static white noise. Visually, that is what comes to mind when some people look at the QR Code. A complex matrix of black and white squares. Though looking like a pixelated image, each one of those squares is actually a marker serving a greater function in the information-sharing capabilities of the Code.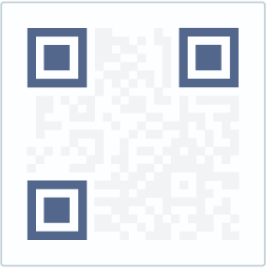 Positioning detection markers
Located at three corners of each code, it allows a scanner to accurately recognize the Code and read it at high speed, while indicating the direction in which the Code is printed. They essentially help quickly identify the presence of a QR Code in an image and it's orientation.
Alignment markings
Smaller than the position detection markers, they help straighten out QR Codes drawn on a curved surface. And, the more information a Code stores, the larger it is and the more alignment patterns it requires.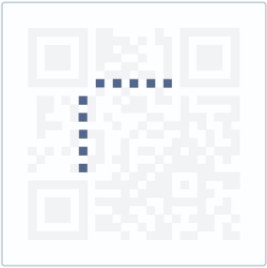 Timing pattern
Alternating black/white modules on the QR Code with the idea of accurately helping configure the data grid. Using these lines, the scanner determines how large the data matrix is.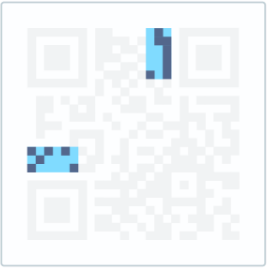 Version information
With currently 40 different QR Code versions, these markers specify the one that is being used. The most common ones are versions 1 to 7.
Format information
The format patterns contain information about the error tolerance and the data mask pattern and make it easier to scan the Code.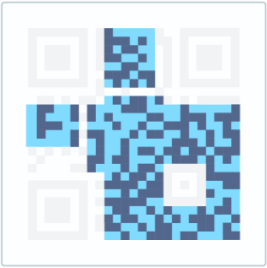 Data and error correction keys
The error correction mechanism inherent in the QR Code structure is where all your data is contained, also sharing the space with the error correction blocks that allow up to 30% of the Code to be damaged.
Quiet zone
This is similar to the importance of white space in design, that is it offers structure and improves comprehension. For whom or what you may ask? For the scanning program. In order to distinguish the QR Code from its surroundings, the quiet zone is vital.
What is a Static and Dynamic QR Code?
Static QR Code
A Static QR Code contains information that is fixed and uneditable once the Code has been generated. They are great for personal use and for QR Code API, a key to creating large batches of Codes for employee IDs, event badges, technical product documentation, and much more.
On the other hand, and because of their fixed nature, they are not ideal for businesses or marketing campaigns as Static Codes do not track metrics or allow for editing post creation.
| Static QR Code Type | Description |
| --- | --- |
| WiFi | Make it easier for your friends and family to connect to your home network, or for guests to access your business WiFi with a simple scan of this QR Code. |
| Bitcoin | By turning your Bitcoin or other crypto address into a QR Code, you will smooth out your cryptocurrency transactions, with the option of adding a label indicating the receiver and amount requested. |
| Plain Text | Display up to 300 characters and the chance to offer your customers any message in any language, regardless of internet access. |
| vCard | If you have printed business cards, share your email address, phone number, website URL and your company details instantly with a simple scan of a vCard Code. |
| Email | You can provide customers with a convenient way to contact you with this Code. A pre-filled message can be sent with the simple tap of a button, with customers having the option of also editing before sending it. |
See more qr code types
Dynamic QR Code
On the other hand, Dynamic QR Codes allow you to update, edit and change the type of the QR Code however many times you need, which makes them the best fit for business and marketing purposes.
As we mentioned earlier when explaining the QR Code basics, the more information you input into a Static QR Code, the bigger and more complex the structure becomes. For a Dynamic Code, however, the content you present to scanners is not directly contained in the Code, but instead has a short redirection URL assigned to it. That means the code remains small and is easier to integrate into your print material and packaging design.
Capturing and measuring your advertising statistics each time a Dynamic Code is scanned is, perhaps, the best feature for optimizing marketing campaigns. You can have access to when, where, and with what device a scan took place. You can add campaign info like medium, start and end date, print run and you can even reset scans and download results as a CSV report.
| Dynamic QR Code Type | Description |
| --- | --- |
| App Store | Linking to multiple app stores with just one scan, it makes the promotion and download of your mobile apps much more efficient by reaching a wider target audience, regardless of the scanner's cellular operating system. |
| PDF | Digital magazines, brochures, eBooks, with this Code you can simultaneously boost your marketing, save on printing costs, and offer customers the chance to save and share documents all from the palm of their hand. |
| Social Media | Share all of your social media platforms on a mobile-friendly landing page. Whether it's Twitter, Snapchat, YouTube or Instagram, your audience can choose which platform to follow you on. |
| Coupon | Remove the hassle of couponing for your customers with this Code. With one scan, they can save your promotion to their mobile devices, share it on social media or by email, and redeem it with ease at your nearest location or online store. |
| Business Page | Let your audience get to know you a little better at their own convenience. If you don't have a website, then this QR Code is the perfect, mobile-friendly platform to let customers know your mission statement, how to reach you, your physical store locations, opening hours and how to find you with Google Maps. |
See more qr code types
Common uses of QR Codes
Boost app downloads
Chick-fil-A saw a 14% boost in downloads of their mobile app by advertising it on digital signage with a QR Code. By linking to multiple app stores, the App Store QR Code makes it easy for customers to download your app by linking to Apple App Store, Google Play Store or Amazon Appstore. From the mobile-friendly page, you can also include a link to a video trailer or website with a personalized button.
Redeeming coupons made easy
It's the holiday season and you have a big sale to promote. The Coupon QR Code is perfect to help you optimize your coupon campaign by allowing customers to simply scan and instantly save or use your coupon. They can email it to themselves and share it with friends on social media or anywhere online. By saving it to their phone, customers never forget to bring their coupons to be redeemed.
Get more followers

If you want to make sure people are up to date on their favorite platforms with all your latest news, add a Social Media QR Code to your storefront window or flyers. With just one scan, they can directly connect to either your Twitter or Instagram.
Give voice to your customers

There is often no easy way to receive feedback from customers, and even when they do give it, businesses are often left with a pile of forms to sort through and organize. But that is no longer necessary. With the Feedback QR Code, you now have a convenient way to collect customer reviews and information directly to your chosen email address. Divided into categories and subcategories, you can easily update the information any time based on the product or service you want to hear the most about.
Amplify your events

With the Event QR Code, you can help your event marketing efforts succeed in generating more attendees. By offering additional information with the Code, you ensure potential leads can save your event dates on their favorite mobile calendar, link to Google Maps for directions, and register or purchase tickets in advance in order to simplify planning.
FAQ
The QR Code has evolved over the last few years. It is no longer constrained to character, numbers, and kanji. With a customizable, mobile-friendly landing page, for instance, you no longer need to link to a website in order to provide your audience with information. Additionally, it can store a gallery of pictures, video playlist, sound demo, PDF, information on how to reach you or your business, and so much more. This truly makes it a one-stop QR Code solution for marketers and businesses.
Once you already have an idea of the kind of information you want to share with your target audience, go to QR Code Generator and select the appropriate type of Code, input the necessary information, and design your QR Code to fit your brand image or your own personal taste. Easy-peasy. Or sign up to QR Code Generator PRO where you can unlock a plethora of Dynamic QR Codes and features, free to try for 14 days!
As bridges between the online and offline world, QR Codes can help you connect with your audiences by providing more information about what your company stands for, where you source materials for products, or the many services you can provide. Additionally, the metric tracking feature helps you understand better the strengths and weaknesses of your campaigns, learn more about where and who your audience is, and improve how you deliver content on your website, social media platforms, and through your print marketing.