Best Practices
Elevate Your Social Media Marketing Strategy With QR Codes
Having a well-designed social media marketing strategy is an absolute must because it's one of the best ways to communicate directly with your customers and build brand awareness. After you've developed your strategy, all you need is the supporting tools to get it started. Here is precisely where QR Codes can help!
Why is having a good social media marketing strategy so valuable?
With today's technology, it has never been easier to communicate both with customers and potential customers on an extremely personal level. As of this year, there are nearly 4 billion social media users, a 9 percent increase since last year. That's basically half the planet. What's more, these users also spend an average of 3 hours per day on social media platforms.
Social media is essentially a marketing platform, whether that be for personal marketing, or for brands. In either case, people are using it voluntarily and often, and those are key factors for marketers. Social media marketing is a marketing method that users have not only come to expect, they also enjoy the process at an ever-increasing rate. So, when you combine this demand from users with the wide potential for personalized communication and add the fact that 3 out of 4 marketers see social media as very effective for their business, using social media is absolutely crucial for every single business today.
Why QR Codes perfectly complement a social media marketing strategy
What tools can you use to create and implement an effective social media marketing strategy? Well, you should definitely take a look at QR Codes. QR Codes streamline desktop to mobile, can be adapted to any brand, and even come with trackable campaigns!
Easily connect desktop to mobile
Even though a lot of social media use stems from mobile, desktop is also a common way to view social media channels. QR Codes are highly useful in this regard because they conveniently connect the two devices. This feature is particularly valuable for marketers that would like to direct traffic to mobile platforms and apps, especially because QR Code content is always mobile-ready.
Trackable campaigns
Did you know that QR Code campaigns are also trackable? When you sign up for QR Code Generator and choose a type of Dynamic QR Code, you get access to comprehensive tracking metrics. This includes data on QR Codes scans by location (city and country), time scanned across different time periods, operating device used, and unique vs. total scans. Furthermore, the tracking process is also integrable with Google Analytics, meaning that you can track the entire customer journey from the initial QR Code scan through to a purchase.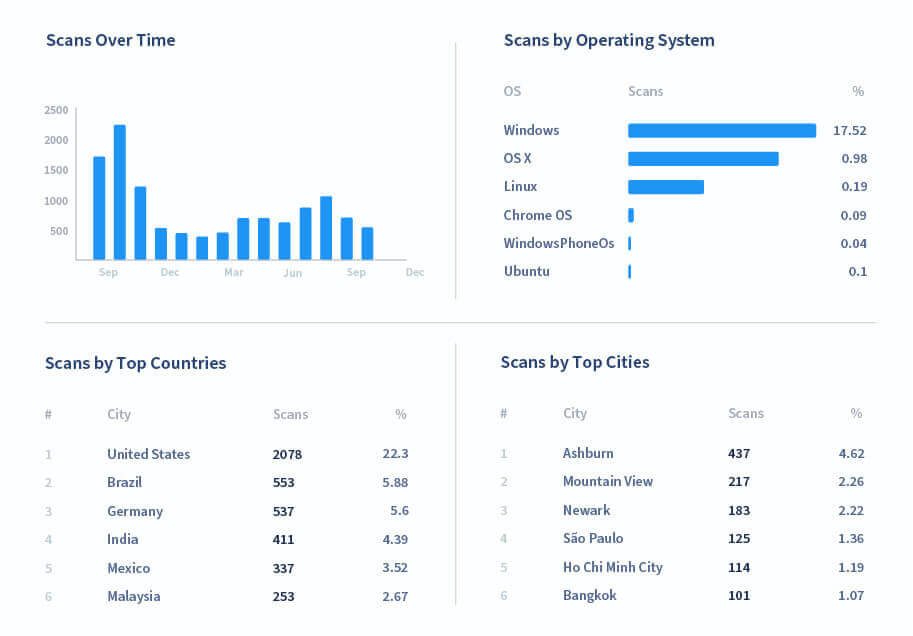 Editable and updatable content
The other huge benefit of using Dynamic QR Codes is that they can be updated even after they're created. So, if you need to change a link, edit any of your QR Code's landing page content, or even change your type of QR Code, this is entirely possible 24/7. You don't need to reprint your QR Code file, because it stays the same even after the internal content is changed.
Useful for digital and print advertising
When you combine the editability of Dynamic QR Codes with how easily they connect print materials with digital platforms, that's an easy recipe for success for any print advertising campaign. The key problem that QR Codes solve is the guessing game – both for customers and marketers. When someone reads a billboard ad without a QR Code and would like to follow up on it by making a purchase, there is no convenient way of doing so. They'd need to look up the link on their phone or try to save it and do it later via desktop. For marketers, this also has the downside that they can't connect print ads with particular purchases, meaning that their ROI (return on investment) for that campaign is largely just a big guess. Remove all the hassle by adding QR Codes to print materials and your customers will thank you because the process is so much more simple.
In the case that you'd like to use QR Codes for digital marketing, or use a combination of print and digital, this is no problem either due to short URLs. A short URL is basically a tidier version of your link or connected content that not only loads faster, it's also more secure, and looks good on social media posts because it cleans up long links.
Branded customization
You'll also have no problem adapting QR Codes to particular brand styles. QR Codes come with full-scale customization for both their display page content and their external appearance. Except for Website URL QR Codes, the content you connect to QR Codes (videos, social media profiles, images, etc.) is shown on a QR Code display page. Once a user scans your QR Code, they are directed to this page, and then they have additional options to visit your website or a landing page with a customizable CTA (call to action) button. Other elements like headlines and colors are also customizable.
When you design your QR Code's external appearance, this too is fully customizable. QR Codes can be designed with unique edges, custom frames with a CTA to encourage scans, brand colors, and a logo or image in the middle. You can also print them in different image file types if you'd like to add them to other graphic designs or edit them further on your own.
QR Codes that promote social media channels
There are two ways to do social media marketing: Either you promote your profile links on other platforms, or you create your own content on those channels. We'll start first with the QR Codes that can be used to promote social media profiles.
Social Media QR Code
A Social Media QR Code shows all your social media profiles on one mobile-optimized display page. And this is not just for Facebook and Instagram, our Social Media QR Codes connect to twenty of the most popular social media channels across the globe. This is an easy way to promote your social media channels in one place. These QR Codes work particularly well for something like product packaging to take advantage of an additional opportunity for social media marketing.
Facebook QR Code
There is also a QR Code particularly for Facebook, known as a Facebook QR Code. This type of QR Code enables automatic links for your Facebook profile with even having to visit the actual page. Nevertheless, you can still add the option to visit your Facebook page underneath the like button. In the below example, a Facebook QR Code is used on a brochure to encourage page likes and promote a particular music event.
Twitter QR Code
A Twitter QR Code converts a tweet into a QR Code. This includes the text you've written, hashtags, Twitter mentions, a URL, or any combination of these that you'd like to share. These QR Codes can be used to promote your Twitter profile because this link will be included in the Twitter QR Codes. This works great on something like a flyer because you can use it to promote a brand so people can stay in touch with updates via Twitter.
QR Codes for social media advertising and posts
You can also use QR Codes directly on your social media posts, whether that's on your own feed organically or for paid social media ads. Here are a few of the most popular types of QR Codes for your own social media channels.
Dynamic URL QR Code
Once scanned, a Dynamic URL QR Code redirects users to whichever website or landing page you've connected it to. In this case, there is no landing page. However, this type of QR Code is extremely useful if your goal is to drive purchases from a particular landing page through social media. It's particularly useful for a platform like Instagram where you can't post links directly in the post's caption. Users have to visit the bio section for links instead, which often results in confusion when those don't match.
App Store QR Code
An App Store QR Code displays your app in each relevant app store on one easy to view page. This QR Code is particularly useful if you have QR Code campaigns that will be used across multiple channels to promote the same app. For example, you could promote your app with an App Store QR Code on a print poster, landing page, and on social media posts and then compare the ROI for different channels.
Coupon QR Code
A Coupon QR Code is another useful QR Code for social media marketing. It works by converting coupons into digital formats that are retrievable from whichever platform you've created them on. In the example below, the QR Code's short URL is shown on a Facebook post, which has been integrated with multi-channel marketing for the same QR Code campaign.
Event QR Code
Event QR Codes are a really handy type of QR Code because they automate event registration and ticketing via mobile. You can add them to any type of social media platform so that users can sign up for an event on the phone after they've viewed your content via desktop. This might be useful, for example, if you've combined your Event QR Code campaign with email marketing.