Best Practices
Chalk Up! Here Are 5 Brilliant Ways to Include QR Codes in Indoor Climbing
The climbing scene is aggressively expanding, showing no signs of slowing down. With the inception of lead climbing, speed climbing, and bouldering as three separate disciplines in their own right, the indoor climbing scene is seeing a boom, with cities worldwide being home to sometimes more than one climbing gym.
With the advent of climbing and its skyrocketing popularity since it became part of the 2020 Olympics, technological innovation has taken a firm grip on the training side. Many gyms are trying to find ways to bridge this divide between the physical aspect of the sport and the digital resources available to it. This is where QR Codes in indoor climbing comes into play, with its myriad of QR Code types. From linking to a playlist of climbing videos using the Video QR Code to creating QR Code labels, the possibilities are many, and the opportunities for engaging connections are abundant.
What is indoor climbing?
Indoor climbing is an industry that rose from the outdoor, originally as a way for climbers to practice moves in a safe, more controlled environment.
The origin of climbing as a sport is convoluted. Different styles, movements, and histories arose on different continents and different countries, so to say that it's hard to squeeze over a century's worth of legendary ascents and historical firsts into a few paragraphs is an understatement.
There are, however, certain key historical points that paved the way for modern-day indoor rock climbing in many Western countries.
#1 It all began with mountaineering
To get into the topic of climbing and the rise of an industry, we'd first need to pay homage to the original rock shakers; mountaineers. Born out of the long-standing practice of mountaineering, rock climbing was used as practice for those intrepid souls seeking to climb more technical areas of rock to reach a greater amount of summits. 1786, the year when Mont Blanc first ascended, is considered to mark the beginning of modern mountaineering. It wasn't until the 1880s that rock climbing stepped out of the shadow of "practice" and inched its way into a sport in its own right.
#2 The rise of rock climbing as a sport
The decade between 1854 and 1865 saw the recording of many first ascents of major peaks in the Alps and marks the Golden Age of Alpinism. Rock climbing saw a similar age of intrepid adventurers in the USA, racing to crimp their way up to first ascents in Tahquitz, Suicide Rocks, and later Yosemite to name a few areas; bringing to prominence a group of California rock climbers who became famously known as The Stonemasters.
Imagine Woodstock, but climbing.
It went beyond a counter-culture response to what they would call the "uptight climbing" that preceded it, beyond Dogtown and the Z-Boys of the Cali surfing and skating scene, it was a revolutionary movement that aimed to climb a rock as naturally as possible. To showcase strength, grace, fluidity, and fearlessness in the face of pushing past one's boundaries.
If you slipped or missed a hold, the consequences were stark. You might either end up severely injured, close to death, or dead. This movement rippled through other continents, shaking up the sport and bringing forth new, dauntless styles of climbing like free soloing.
To this day, climbers like Lynn Hill, who was the first person to free climb the once considered impossible to ascend route, The Nose in Yosemite, set the bar high.
#3 From rock to indoor climbing walls
Away from sunny weather and nights under clear blue skies, rock climbers living beneath perpetual rainy clouds required a place to practice. The first artificial climbing wall for the purpose of practicing the sport is attributed to U.K.-based Don Robinson in 1964. However, smaller, concrete walls with protruding medium-sized rocks in Shurman Rock, Seattle were given the title of first artificial climbing structure for the purpose of practicing climbing moves back in 1939.
In 1987, climber Gary Rall would visit Sheffield, U.K., and its local indoor practice route that people would use to stay fit between outdoor trips. This vacation would inspire him to open Portland Rock Gym in 1988 back home in the U.S.A., kickstarting innovation in training for climbing. However, much earlier than this, the first climbing hall in Europe was believed to have first been established in Bolzano, Italy in 1974 by Erich Abram, not constructed from concrete or bricks, but made from real Dolomiti rock brought over from Val Gardena valley.
Though outdoor and indoor climbing developed variedly depending on the area, one cannot forget Les Bleausards, the climbers from Fontainebleau, France, who were practicing outdoors on boulders as early as the 1900s, it has all led to the continuous rise of the climbing industry.
It is estimated that climbing gyms in the U.S. will grow by 3.27 billion dollars, driven by the increased popularity of the sport worldwide; notably by its addition to the Olympics in 2020. New climbing gyms are popping up like mushrooms on dewy forest floors, with cities like Denver offering up to eight different facilities.
Though we are still seeing the continued race towards outdoor first-time ascents, which are dwindling in number every year as more and more climbers top them out, official competitions like the ones held by the IFSC (International Federation of Sports Climbing) and the Olympics are not hosted on outdoor rocks. These are held on artificial walls, which provide an environment to construct routes not found in crags and topos. Not more challenging, just demanding a different, more dynamic style of climbing. Meaning the next push past the physical and technical boundaries of what's possible in climbing is being challenged and redefined by athletes indoors.
Technology in the indoor climbing industry
With their plywood walls and bolted-in wood or plastic hand and footholds, climbing gyms and bouldering gyms today are a far cry from the first artificial walls made of concrete or bricks. Walls and gear that target more specific training, like hangboards or fingerboards (to increase finger strength) and campusboads (to build explosive and contact strength), were developed by climbers training for specific routes and are now a staple in most climbing gyms.
Over the years, the intersection of technology with indoor climbing has brought forth Standardized Interactive Climbing Training Boards like the Moon, Kilter, or Tension boards. These have allowed climbing gyms of all sizes to create more boulders and routes using less space. They are adjustable LED walls that use smartphone apps to access a global network of user-generated problems which light up on the wall. You know, climbing technology; futuristic stuff.
The modern-day gym climber has an array of tools at their disposal, from countless rock climbing apps like the Vertical-Life app which offers guides for indoor and outdoor climbing, as well as a comprehensive place to log achievements, to VR goggles that simulate the experience of climbing challenging routes.
But what if your climbing career didn't start years prior? What if this is your first year in the world of rocks and plastic holds? Indoor rock climbing for beginners is already an unnerving experience, so how can gyms be more of a connection hub between the physical realm and the vast expanse of the digital world?
QR Codes in indoor climbing: 5 ways to belay into the digital
Well, yeah. What else did you think we were going to suggest? As far as bridging gaps go, the QR Code, which looks like it came straight out of your grandparent's static-y television, is your best bet.
Why are QR Codes in indoor climbing gyms a good idea?
QR Codes are primarily used to create interactive, multi-media touchpoints in the non-digital world by connecting to a host of online platforms and resources. It can help create a more frictionless service design and smoothes information sharing and community building.
To showcase just how brilliant the addition of QR Codes can be in the climbing world, we have compiled a list of ways in which you can feature these little digital portals on your boulder problems, at your next rockstar competition, or simply on a table tent at the welcome desk.
#1 "What's the Wifi password?"
Maybe before we get into the cool apps and videos you can link to, it's important to cover the wifi of it all.
So your climbing gym provides wifi for its guests, excellent! But if you want to avoid an endless chorus of "what's the wifi password" at a front desk that is already bustling with coffee orders, shoe rental requests, and check-ins, you might want to consider simply posting the necessary information on a poster notice.
However, you still don't want guests clogging any passageway as they search for your wifi network on their smartphone and then type in the password. And honestly, they probably also just want to get to climbing sooner rather than later.
So here's a solution: the Wifi QR Code. Print it on a poster, stick it on a wall, and add a CTA announcing what it is. Then, all your customers have left to do is scan the Code with their smartphone, and tap a button to join your wifi network. Easy as reaching for a hold and realizing it's a nice, comfy jug.
#2 Connect with your local climbing community
Social media platforms like Facebook, Reddit, and Instagram have become communication channels for climbers to share questions, beta, climbing videos, or resources on topos and crags.
Instagram accounts like name handle boulder.and.wiser and daddyxclimbs, share a myriad of climbing content from funny memes about not taking rest days between training, to pointing out problematic behavior at climbing gyms. Others like name handle betaroutesetting use it to share routesetting projects, and athletes like Fanny Gilbert from the french climbing team post their training journeys, challenges, and competitions. It's a chance for people to find community, like how name handle queerclimb provides information on meet-ups, workshops, and courses for LGBTQ+ climbers in and around Berlin.
And climbing gyms are no strangers to hosting their own socials to keep local climbers up to date on upcoming events, special holiday discounts, or when routesetters are taking down projects to put up new routes. And the Social Media QR Code makes connecting your in-gym customer base to your online platforms super easy. Once scanned, it leads mobile users to a microsite that lists all the socials you want to promote, be it your Instagram account or YouTube channel.
#3 The routesetter's intended beta
Tale as old as time, tune as old as song, the routesetter's intended beta.
The rise of the indoor climbing industry brought with it a multitude of jobs: desk staff, coaches, and indoor climbing holds manufacturers, to name a few. But there is none more infamous than the routesetter at the front lines of it all.
Routesetting is the marriage of art and technical craft. They design artificial climbing wall routes using the plywood walls as their canvas, the bolt-on or screw-on holds as their medium, and iron bolts and an impact driver to hold it all in place.
When creating routes, each setter has an intended beta in mind —essentially how the route is meant to be climbed. And though many climbers like to figure it out on their own or crack a different way to climb it, a practice known as "breaking beta," it's always handy to provide climbers with a way to access the intended beta.
So how do you share it without revealing it to everyone? How do you make it available on the spot while keeping it secret? The Video QR Code. Printed on the labels marking the starting holds of a climb, people having trouble figuring out the moves to top it, or people simply wanting to find out the routesetter's beta can scan it with their smartphone and view the video on the spot.
You can store a whole library of videos in this QR Code, so you only need to generate one Dynamic QR Code and update it regularly so people can see how different routes within the gym are climbed.
As QR Codes in indoor climbing gyms go, this one really helps bridge the communication gap between routesetter and climbers.
#4 Is there an app for that? Share it!
A lot of the technology in the indoor climbing industry we previously mentioned goes hand in hand with a respective app. The MoonBoard and KilterBoard, for instance, have apps that activate the LED light routes you wish to climb or, in the case of the Spray Wall, show you a color-coded illustration of the route on your mobile device.
But if someone is new to the climbing scene, they might not have it on their phone. They might even look at these boards and wonder what they're even for. Your gym can clarify that with the help of a well-crafted description and an App QR Code.
Use a sticker or a poster to explain what the wall is, and direct climbers to scan the QR Code to access the corresponding app.
With QR Codes in indoor climbing, you're literally sticking the app on the wall. Very digital portal.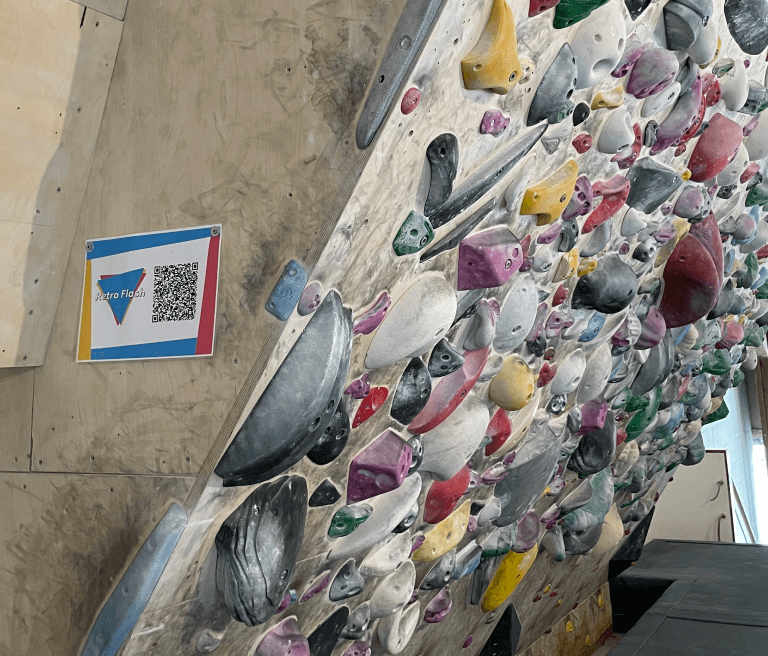 #5 Access to cool mobile training guides
Hangboards, fingerboards, and campusboards come with guidelines, rules, and training techniques to improve strength and avoid injury. For the gym climber who wishes to build on their existing technique, it's a huge plus to have a fitness training guidebook on hand.
Unfortunately, printing out a stack of them is not cost-effective, and just having one as a singular touchpoint for the entire gym is a recipe for inaccessibility. Good thing QR Codes in indoor climbing gyms have QR Code solutions to assist.
Like the PDF QR Code, a literal portable document file holder for digital content. This way, gym climbers can scan, save, and access the fitness training guidebook at their fingertips and at their own leisure.
Final thoughts
Though some might think that outdoor and indoor climbing go hand in hand, it's not always the case. The indoor climbing industry started as a way to mimic outdoor climbing moves in order for climbers to practice and prepare for their projects, yes. But nowadays, routesetters in climbing gyms are crafting moves beyond what mother nature and erosion intended on the outdoor scene.
By joining forces with the tech world, the sport of climbing is bringing a new era of digital innovation to their walls, and QR Codes in indoor climbing gyms are an easy way for bouldering and climbing gyms to heel hook onto this movement.