Industry Trends
How QR Codes Play a Role in Helping Tourism in Scotland
Many tourism businesses have recognized the importance of integrating technology with their current processes to improve safety mechanisms and on-site social distancing. In an effort to spread awareness of how this is possible for different types of tourism businesses, Scotland created the "Tourism Toolkit" which provides examples of suitable technologies that aid the Scottish tourism industry during COVID-19 and beyond.
What standards do Scottish tourism businesses need to adhere to due to coronavirus?
As coronavirus dies down in a post-COVID-19 Scotland, the tourism industry has slowly begun welcoming visitors again. In an effort to reduce the risk of the virus spreading, tourism businesses have focused on implementing safety measures such as:
Online pre-booking options to reduce capacity.
Recognition from a public authority that the business adheres to coronavirus regulations (a charter mark).
Adjusting the opening hours to reduce staff and visitor commute times during rush hours.
Social distancing measures within the area and monitoring from staff.
Allowing visitors to bring their own food/drinks and have picnics.
Developing sanitation and social distancing measures for cafes and public restrooms.
Removing interactive touch screens.
Offering audio guides that are sanitized between uses.
Encouraging visitors to use mobile devices instead of touching.
Moving elements of the attractions outside when possible.
Requiring staff to wear masks or visors.
Add hand sanitizer and cleaning stations around the attraction.
Why was the Scottish Tourism Toolkit created?
A group of Scottish tourism industry experts from the DLP (Destination Leaders Programme) volunteered to launch a comprehensive "Tourism Toolkit" that outlines helpful techniques tourism businesses can use to adapt their offerings for COVID-19. Their goal is to help keep visitors safe and improve the visitor experience by integrating interactive technologies. The Tourism Toolkit also helps tourism businesses recover from financial losses and provides use cases for short, medium, and long-term solutions depending on different budgets. First released in June 2020, the DLP plans to provide further updates and ideas as the situation surrounding COVID-19 changes.
Should you wish to arrange a webinar with one of the DLP teams, please contact them directly:
Karin Gidlund: karingidlund@hotmail.com
Thayanne Scardini: tscardini@hotmail.com
Jemma Reid: JR@eventsandsales.co.uk
Technologies used in the Scottish Tourism Toolkit
The Tourism Toolkit focuses on technologies that reduce the touching of public surfaces and enable social distancing measures, while also providing a unique interactive visitor experience. Their core technological recommendations include:
Online booking and ticketing options.
Virtual tours.
Apps, handsets, and audio-guides.
Technology solutions to monitor visitor flow.
Livestreaming.
Podcasts.
QR Codes.
…and much more.
QR Code case studies from the Scottish Tourism Toolkit
Here are a few case studies that clarify how QR Code technology has been integrated into particular Scottish tourism businesses. Download the full list of case studies.
Outer Hebrides Tourism
Outer Hebrides Tourism spans across a group of six chain islands. Their visitors are usually of an older demographic who tend to visit one main island most often. So, their goal was to create interest among the younger generation, to get visitors to stay for longer time periods, and to spread visitors across multiple islands to reduce capacity. In order to do so they implemented four main technologies:
A splash mash that highlighted points of interest around the island
Social media marketing to grow awareness with visual imagery
An app that uses a visitor's GPS location to activate a tour with relevant audio recordings for that area, as well as other information such as the website, bookings, donations, and opening hours. Each tour also comes with a QR Code that is scannable from another mobile so that other visitors can instantly access the same content.
By using the above technology, Outer Hebrides Tourism reduced congregations around physical signage and enabled visitors to use their own smartphones to explore the island and learn more information around the local area.
Pitlochry Dam Visitor Centre
The Pitlochry Dam Visitor Centre was built to showcase how hydroelectric power has helped Scotland. In order to enrich their visitor center experience and reduce physical touch to public surfaces, they created a progressive web app (an app that functions via a website without a download). They had a wide variety of unused video content that fit perfectly within such an app, which was used to create a "virtual walkthrough" of the center to encourage visitors to come in person. To access the web app, users can scan the QR Code via mobile from the image below, which then automatically sends them to the link.
Downtown City Maps
Downtown City Maps (DTCM) is responsible for publishing printed city maps and other guides across Glasgow and Loch Lomond. They recently decided to integrate Augmented Reality (AR) with QR Codes to bridge the gap between print and digital in a manner that made rich digital content easily accessible. Through this inventive technology combination, visitors get automatic access to videos, image slide shows, audio recordings, online location maps, contact information, instant online booking platforms, and more after scanning the QR Code via mobile. This no-touch process has made their tourism content safely accessible throughout the coronavirus pandemic.
Rock and Roll Hall of Fame
The Rock and Roll Hall of Fame in Cleveland, Ohio was already on track to digitize their processes, but the COVID-19 crises provided motivation to take additional steps to create a 100% digital environment. This involved four major supporting technologies:
Collections and digital asset management systems that created a digital library for all museum collections.
Pre-booking online ticketing and removal of the traditional paper-based ticketing process.
Interactive exhibit content that's accessible via the ticket confirmation email, which has replaced touch screen exhibits.
Museum entrance based on the no-touch scanning of QR Codes on mobile tickets.
Although this example comes from the US, it provides an ideal example of how a museum in Scotland (or anywhere in the world) can keep visitors safe and even improve their work processes through digital technologies. Staff and visitors alike have provided overwhelmingly positive feedback.
Cinque Terre
Cinque Terre is a group of five villages and national parks on the northwestern coast of Italy. As a highly popular UNESCO World Heritage Site, they have had issues with "over-tourism" and needed methods for managing visitor numbers. This led to the concept of the "Cinque Terre Card," a card that can be purchased online at a limited amount per day. These cards also provide access to the park's facilities such as public restrooms and WiFi.
They then developed an app for Cinque Terre Card holders, which provides an overview of tourist flows so that visitors could know when to visit outside of peak hours. Both technologies are supported by a geodatabase system that connects to the regional hiking network, which is also used for the area's management and staff communication. The app itself is also facilitated by a signaling system with QR Codes. Although located in Italy, it still a good example of how technology can be implemented to reduce and manage visitor flows in large and busy areas like a national park.
Why the Scottish Tourism Toolkit includes QR Codes
Many of the case studies gathered by the DLP involve the use of QR Codes because they have become highly useful during the coronavirus pandemic for social distancing and reducing the necessity to touch public surfaces. Here we give a quick overview of the technical details for how this works.
No-touch scanning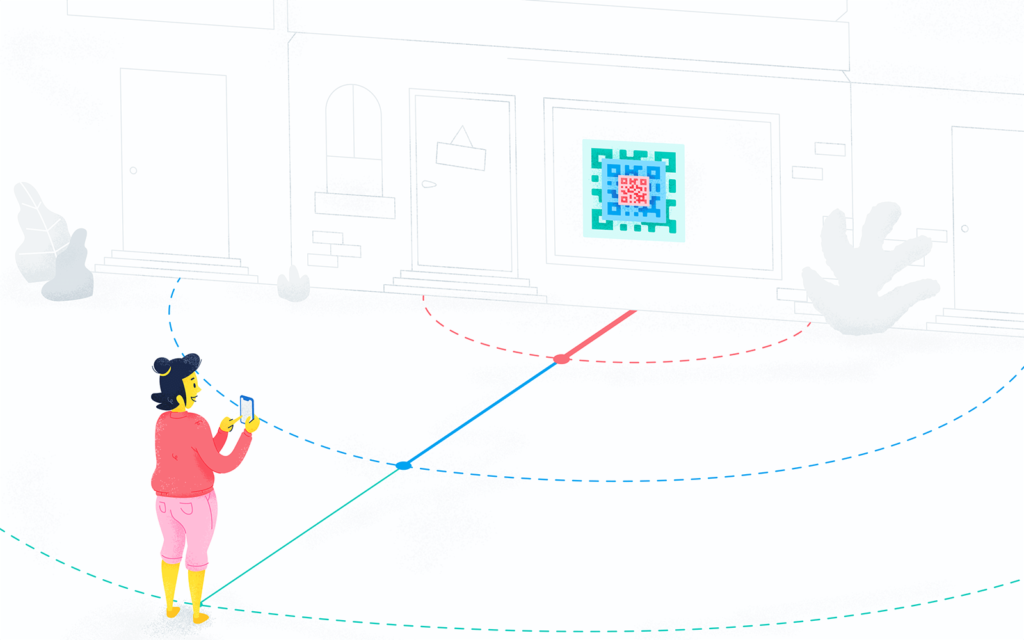 The major advantage of QR Codes is that they create a no-touch bridge between print and digital. This means that when you add a QR Code's image to print material, anyone can access the information connected to that QR Code simply by scanning it with their own mobile phone. Furthermore, QR Codes also have no minimum scan distance, meaning that users can be located far away, but still conveniently scan the QR Code. You only need to keep in mind that the QR Code should be large enough to account for this distance and have high enough image quality.
Flexible types
There are many different types of QR Codes that can be integrated into tourism businesses for every use you might need. You can use them for links, to share videos, images, and sound files, connect users to app stores for automatic app downloads, download, and share PDFs, view and follow social media profile links, and much more. Plus, when you use Dynamic QR Codes you also get access to scan tracking data and you can edit your connected content later on without needing to create a new QR Code.
Easy customization
QR Codes are fully customizable for all types of surfaces or items that you add them to. You can style them with specific colors, a custom frame and editable CTA (call to action) like "Scan Me", different edges, and even your logo in the middle. After designing, you have the option to download them into four different image file formats (JPG, PNG, EPS, SVG), which can then be used to add them to your complete graphic design with any photo editing tool.
When creating your QR Code make sure to keep in mind to use the appropriate color contrast and maintain the quiet zone. View a more comprehensive overview of QR Code design best practices.