COVID-19
How Are QR Codes Used for Social Distancing?
It's now common knowledge that social distancing helps with deterring the spread of the coronavirus (COVID-19), but we haven't heard so much about tools that make social distancing easier. In such difficult times, it's a good idea for individuals to stay in touch with friends and family, and for brands to stay connected with their customers. If you're searching for a way to share information without any physical contact, QR Codes are here to help.
What is social distancing and how does it relate to COVID-19?
You've likely been bombarded with information about the coronavirus and the importance of social distancing these past weeks, but it's because it's a highly preventative measure against coronavirus. Because the coronavirus spreads from surfaces that are contaminated and via respiratory droplets from an infected person, social distancing is one of the best ways we can stop the virus from spreading. The World Health Organization (WHO) recommends that people should keep at least 1 meter (3 feet) of distance between themselves and other people at all possible times, particularly when someone is coughing or sneezing. Furthermore, people should refrain from touching their face (eyes, nose, and mouth) to avoid moving the virus from the skin on your hands to within the body.
Nevertheless, even though many of us are quarantined and are spending a lot of time at home and businesses are closed, that doesn't mean that the world stops. In fact, now more than ever is the time for governments and brands alike to make sure that people are informed about proper health regulations, and what affect the Coronavirus has on how a company provides its products or services.
How are QR Codes used to encourage social distancing?
This immediate shutdown doesn't mean that companies should cease all communication with customers. There are ways to continue generating revenue, keep your customer communications alive, and to improve your online presence. To make that process easier, QR Codes are helping us to fight back against COVID-19 by making the process contactless and digital.
An information transfer without physical contact
QR Codes were originally developed to make the storage and transfer of digital information more convenient, as well as make it easier for readers to access digital content from print materials. Many newer models of Android and iPhone can automatically scan QR Codes without a third-party app, so as long as you have a smartphone, reading a QR Code's content is possible in mere seconds – and that with absolutely no physical contact!
Use them on print materials for contactless QR Code scans
QR Codes can be scaled up as large as you need and down as small as 2 x 2cm (0.8 x 0.8in), so you can use them on smaller print materials like business cards, large billboards to be scanned from far away, and even on digital channels to conveniently share information just like Japan Safe Travel has done for their coronavirus updates.
Flexible types of QR Codes adapt to the content you need to share
Whether your need to share a PDF press release, relevant health, and safety videos, or direct readers to a helpful link, there are many types of QR Codes that can be adapted to your individual needs. When designing your QR Code, you can add a logo in the middle and brand colors to the style so that readers know that the QR Code content comes from an authentic and trustworthy source.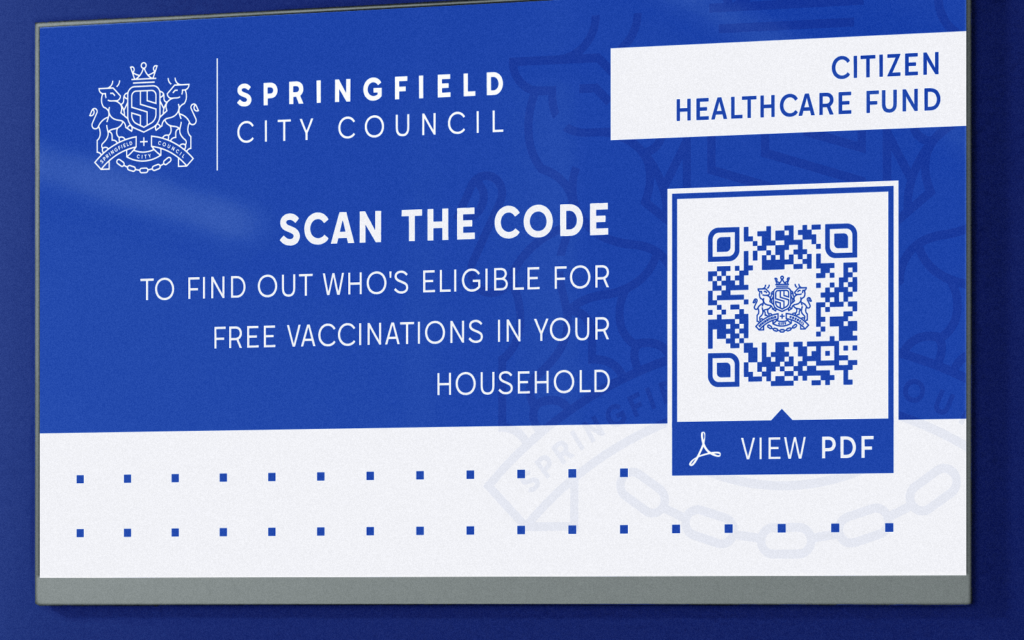 Convenient communication
QR Codes also simplify contactless information sharing. You can send emails, text messages, share PDF, video, and sound files using QR Codes. You can also connect readers with social media channels where they can communicate with a particular company or government organization easily in case they need help. The key point is that the whole process is digital, which makes it accessible for any user, anywhere, and anytime.
Who can use QR Codes to share information without physical touch?
All sorts of companies and organizations can make use of QR Codes to conveniently connect people with information without either party needing to interact with each other physically. All it takes is a quick, contactless QR Code scan.
Government Entities
Government entities can use QR Codes to help keep citizens informed. They can add QR Codes to the office windows to share press releases with important information, connect users with the right contacts or resources to get help with a Website URL Code, and even collect feedback from citizens, such as about their health concerns or their well-being.
Restaurants
Restaurants have undoubtedly been hit hard by the COVID-19 epidemic. Many restaurants have begun implementing delivery options for customers so they can remain in business. For restaurants that didn't have that in place beforehand, they'll need to inform their customers about how they can order. Some options for doing this include social media marketing and using an App Store QR Code to direct users to a particular delivery service to order via mobile. Restaurants can also consider making their menu accessible with a PDF version or a Website URL Code connected to their website displayed on signs nearby and on their entrance window.
Healthcare & Doctors
With a crisis like COVID-19, ensuring proper patient care for hospitals and doctors is extremely important. Patients can stay informed about proper hygiene suggestions and coronavirus updates with QR Codes added to brochures and posters around the hospital that link to resourceful websites, which is extremely useful because patients don't need to touch any public surfaces to view the content.
Medical practices could also use Feedback QR Codes to collect feedback from patients via email and also add those to any paperwork taken home from the hospital. Furthermore, QR Codes are also being used to identify patients in hospitals and to send medical identification alerts, like with the Turkish healthcare system.
Education
Another unfortunate consequence of the coronavirus is that schools have been shut down on a global scale for the time being. In an effort to keep students engaged, many schools have made the transition to online classes. When sharing learning material with students QR Codes are a great way to do so, because then the information is there via mobile. Particularly for younger students or students who are not yet fluent in how to use a desktop, scanning a QR Code can be an easier way for them to access things like quiz solutions or video tutorials. Teachers can also get feedback on a student's progress and how they're handling online school with Feedback QR Codes sent via email.
Gyms & Wellness Studios
In-person service businesses like a gym or salon have taken a hard hit during the coronavirus epidemic. However, such businesses can use this as an opportunity to build up their digital presence and brand awareness. For example, a gym with their paid packages for online exercise videos could promote them digitally on a landing page, on their shop window, and local billboard ads.
To give another example, a salon could promote video tutorials for skincare on social media channels with a Social Media QR Code on poster ads and display signs. Even with limitations to core services, you can use QR Codes to connect customers with your digital content to continue communicating with your customers and then incentivize them to come back later when normal business life resumes.
Tourism
The coronavirus epidemic has undoubtedly heavily impacted the tourism industry on a global scale. Despite that major cutbacks have to be made, it's important to continue keeping your brand awareness alive. One example to help the tourism industry to bounce back is to use discounts on future travel. You can use a Coupon QR Code and promote it digitally and with print advertising like a magazine ad so that potential customers keep an eye out for great deals. People will most certainly begin traveling again after the epidemic is over and you can already have customers ready to go if you incentivize them with a discount.