Product
How Are QR Codes Generated & Other Amazing Facts
How are QR Codes generated? What was the biggest QR Code ever made? And what exactly is a QR Code tattoo? The development of QR Codes has not only transformed product inventory management, but it also revolutionized mobile payments, marketing, as well as for personal use.
How are QR Codes generated?
QR Codes are generated using a square shape that involves 7 basic elements. These elements form pixels that create a puzzle-like format that holds particular information about aspects like print direction, timing, error tolerance, and the quiet zone for whatever content you've linked to the QR Code.
To generate a QR Code, you can use a web-based tool such as QR Code Generator PRO to convert different types of content into a QR Code, including images, videos, digital business cards, PDFs, events, social media links, website pages, and much more. Your QR Code also comes with an automatically generated short URL, so that anyone can access this content by either scanning the QR Code via mobile or typing or clicking on the short URL (usually via desktop).
How do QR Codes retrieve information so quickly?
Their square shape is what enables QR Codes to be read and retrieve information quickly because it uses 2-D scanning. 2-D scanning means that QR Codes can be read both horizontally and vertically (as opposed to Barcodes that are only 1-D). When used in combination with a short URL (which are used to shorten and speed link loading times), the process for scanning a QR Code with a smartphone and viewing the linked information occurs with ease.
Furthermore, QR Codes heavily improve on Barcode technology for exactly this reason. Their clever design gives them an error margin of 7-30% (meaning nearly a third of the QR Code can be damaged and still work), they can hold 100 times more information, and the types of information they can connect to is much more versatile.
How are QR Codes read?
Scanning and reading QR Codes has become simple, because of smartphones. There are different ways of reading QR Codes depending on your type of device (like smartphone or tablet), and your operating system (iOS or Android). In many cases, it's possible to scan QR Codes directly with your phone's camera.
For an overview on scanning QR Codes with different devices, we've got two comprehensive guides:
How to scan QR Codes with Android
Who uses QR Codes the most?
Speaking of China, they're actually the country that's most well-known for heavy QR Code use – as much as 93% of the population uses them on a regular basis. This is largely because QR Codes have become one of the most common forms of payment, even among friends for personal use.
In terms of QR Code use on a global scale, the infographic below highlights their growing popularity.
In terms of age, the age group with this highest amount of QR Code scans globally is 35-44 years old, with 45-54 years old next on the chart. Furthermore, men tend to use QR Codes more often than women.
Are all QR Codes black and white?
Custom QR Code designs have advanced much further than the original black and white versions. The ability to add color to them is actually what makes them adapt perfectly to any type of graphic design. QR Codes designed with QR Code Generator PRO can be styled with brand colors, a logo or image in the middle, custom frames with a unique CTA (call to action), and particular edges. What's more, you can download QR Code designs into 4 different image file formats (JPG, PNG, SVG, and EPS), making them flexible to meet all your design requirements.
Can QR Codes be edited or tracked?
There are two types of QR Codes: Dynamic and Static. Static QR Codes are more suitable for one-time use because they can't be edited or tracked, whereas Dynamic QR Codes can. When you create Dynamic QR Codes with QR Code Generator, you can track scan metrics for your QR Code campaigns, including location by city and country, unique vs. total scans, time scanned, and even operating device used.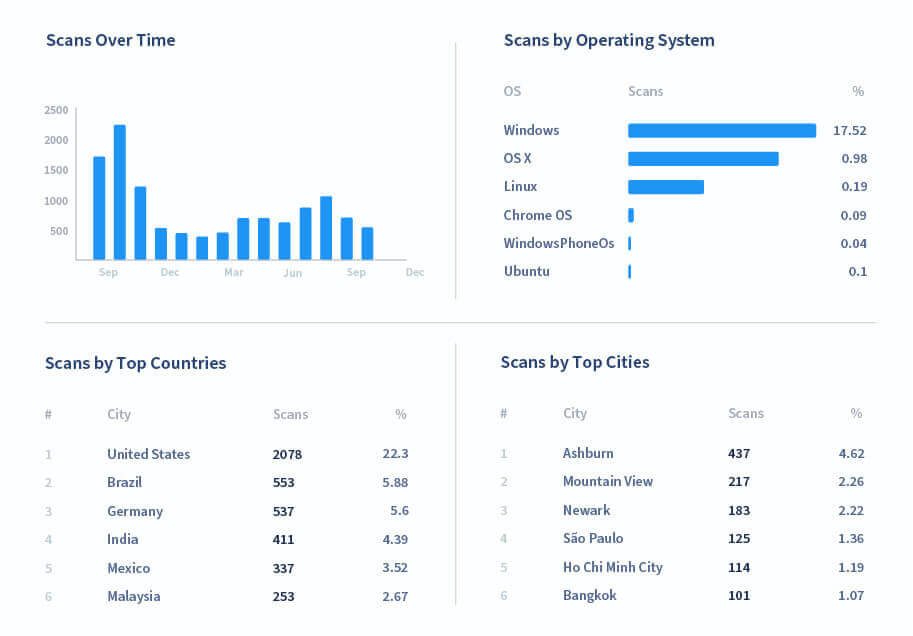 Furthermore, the content connected to Dynamic QR Codes is completely editable. This means if you need to update a link, or even change your type of QR Code, you don't need to design or reprint a new QR Code to do so. Simply log in, make the edits, and hit save for the changes to be reflected immediately.
Where are QR Codes used?
QR Codes have both personal and business advantages. Because so many people now have smartphones, marketers are using QR Codes in marketing campaigns to make marketing content easier to access. QR Codes are particularly useful for print marketing because they conveniently connect users with digital links on print materials. To give you an idea of how this works, we've got a few examples below based on fictional brands.
QR Codes in a print marketing campaign
A real estate agency like The Home Finders regularly uses print magazine ads to promote their properties. They used a Business Page QR Code so that users could access their appointment booking links directly via their smartphone. This is extremely convenient because users scan their QR Code, view images from the property on a mobile-friendly display page, and have a direct CTA button to book a viewing appointment.
QR Codes in a digital marketing campaign
Elle Boutique is a fashion retailer that recently launched a mobile shopping app. They promoted their app with a landing page on their website and used an App Store QR Code on the page design to make it easier for smartphone users to conveniently access the download links from the relevant app store.
QR Codes in an integrated digital and print marketing campaign
Lionspring Publishing House wanted to promote the book from a popular author with a book signing event. They used Event QR Codes on both print and digital marketing and tracked the entire campaign to get a clear understanding of their ROI (return on investment). Their print mediums included table tents in stores, flyers, and poster ads. Their digital mediums included email marketing and social media posts. Their multi-channel QR Code campaign was highly successful because users could sign up for the event, purchase a ticket, and add the event to their calendars automatically. Furthermore, this caught the interest of users from all angles – no matter the device or marketing method.
Is it advised to get a QR Code tattoo?
Hilariously enough, there is such a thing as a QR Code tattoo. If you're planning on getting one, please make sure you hire an expert who can handle it. If the QR Code isn't drawn properly, there could be problems scanning it. For this same reason, it's also recommended to get the QR Code tattoo on a flat surface of the body and to have high color contrast if you plan on having other designs around it.
PRO TIP: Use a Dynamic QR Code instead of a Static one if you're planning to have a QR Code tattoo. This is because Dynamic QR Codes can be updated and edited after they're created, while Static QR Codes can't. This makes your QR Code tattoo slightly less permanent if you ever want to change what it connects to without having to remove or get an entirely new tattoo.
What was the largest QR Code ever created?
According to the Guinness Book of World Records, the largest QR Code ever recorded is 36,100 square meters, located in Cangzhou, China. The QR Code is a wheat field that spanned 190 meters in each direction. Apparently the creator, Xu He, didn't quite consider that you'd need to be in a plane to actually scan it.