Industry Trends
Webinar Marketing: Your Complete Step-By-Step Strategy With QR Codes
Why have webinars become so popular? With increasing demands for digitalization, webinars have become a popular form of lead generation, because they build brand trust and are easy for wider audiences to access. So, if your goal is to create a fierce webinar marketing strategy, here is why you should use QR Codes to get you there.
What is the point of webinar marketing?
Webinar marketing is the process of using a sort of online seminar to explain a particular topic to an audience. They can be both live and recorded depending on your strategy. Webinars are largely used as a form of lead generation, meaning that users register for the webinar, subscribe to a company's email marketing list, and then are guided into a sales funnel to be converted into customers (or at least that's the goal).
This strategy has been proven highly effective. Webinars cater to wider audiences who want to learn about a particular topic and then gain trust for that brand as a result of that webinar. Around 20 and 40% of webinar attendees become qualified leads, in which 2 and 5% of those convert on average. Webinar success is a numbers game. The more webinars you do, the more leads you get, and the higher the chance becomes to turn those leads into customers.
Why your webinar marketing campaign should include QR Codes
Webinars focus solely on online audiences, that's what makes them webinars. To get the leads you're looking for to attend your webinar, you need to develop an effective webinar marketing strategy that directs traffic to the webinar registration landing page, and encourages people to sign. How can you do that? With QR Codes!
Trackable on print ads
QR Codes have opened up many new possibilities for the print advertising world because they're the key element to connecting print to digital. If you take a magazine ad, for example, likely the goal is to drive particular purchases or related actions from that ad. Without a QR Code, this means that readers need to look up this link separately, which is inconvenient and probably results in a lost customer because that process takes too long. When you use QR Codes, access to that link becomes much more simple so that purchases can be made via smartphone directly.
Transparent ROI calculations with tracking metrics
Using QR Codes also makes all print advertising trackable, because you can view exactly which purchases originate from a particular QR Code scan. Integrating QR Code campaigns with Google Analytics makes the entire sales and marketing process clear because you can follow the entire customer journey, and even compare different campaigns and optimize them. You also have the ability to view crucial QR Code scanning metrics, including time scanned, location scanned by city and country, operating device used, and unique vs. total scans. These tracking metrics are precisely what makes print advertising ROI (return on investment) calculable, breathing new life into the print advertising industry as a whole.
Multi-channel marketing
QR Codes don't only work for print ads, they also work for digital platforms due to their short URLs. A short URL is basically a condensed version of your link or content connected to your QR Code that you can place on things like email campaigns and social media posts. When you use the combination of short URLs and a QR Code image, this gives users the option to view your content on the platform that is most convenient for them,i.e. desktop or mobile. As a result, marketers can use this tactic for multi-channel marketing as well. Maybe you want to compare ROI between different channels or print vs digital ROI. In either case, QR Codes are the right tool for the job.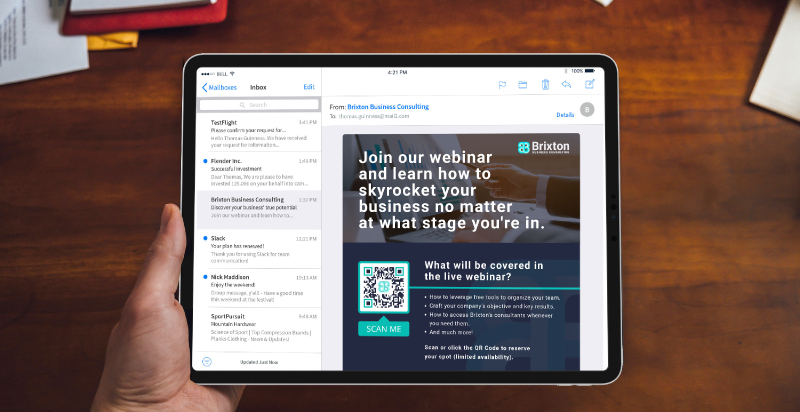 Perfect brand sync
You never have to worry about QR Codes detracting from graphic design, because they can be fully customized to fit any design. This includes both the QR Code image and the content you use on your display page (with the exception of a Dynamic URL QR Code that automatically directs users to your link). QR Code images can be styled with brand colors, unique edges, custom frames with a CTA (call to action), and your logo in the middle, as well as downloaded into different image file formats (PNG, JPG, EPS, SVG) to make adding them to graphic designs easier. Your display page can be given similar elements including brand colors, a CTA button, headlines, your logo as a loading image, contact info, and more.
Always editable
When you choose a Dynamic QR Code, you've also got the option to edit your QR Code content later as well as even change your type of QR Code (such as using video instead of images). Both can be done anytime you need without needing to redesign your QR Code image. All the content changes take place automatically, saving time and money on reprinting, as well as any concerns for accidental link mishaps.
How to create a webinar marketing strategy with QR Codes
Now the time has come to create your formidable webinar marketing strategy. Here we'll give an overview of the steps you need to take and which areas you can use QR Codes to strengthen your campaign results.
#1 Decide on a topic
The best webinar topics typically involve a "how-to guide" for a beginner audience. In order to build email subscribers, discussing topics that a wider audience will understand tends to have better results. If you make it too complicated, your audience will be narrowed, which can decrease your campaign results. Webinars are considered to be at the top of the sales funnel in lead generation, meaning that they are used to bring awareness to a brand, not necessarily encourage conversions automatically. Rather, you convert this audience into customers later on through email marketing campaigns as a follow up after your webinar. Overall, the webinar topic needs to match your audience's expectations, cover a wide enough area so that more people are interested, and match the topics that might interest your target audience.
#2 Set up supporting tools
Once you've decided on your topic, you need suitable tools to promote your webinar and integrate any email subscribers with email marketing campaigns. In this case, using a CRM (customer relationship manager) makes things easier, because it automates everything. The elements you need to create within the CRM for webinar marketing are:
A webinar registration landing page with the event details
Your webinar content
A tool to host your webinar (WebinarJam is a popular choice)
Email campaigns that confirm attendee registration and any related follow-up emails
Ads to promote the webinar
#3 Plan your webinar event
Once you've finalized your webinar content and related landing page, you can begin to design your QR Code to promote it. In this case, an Event QR Code is likely the most suitable QR Code for webinar marketing. Event QR Codes display all relevant details about your webinar on a mobile-optimized display page, enable automatic webinar registration for users, and have the option to add the webinar to digital calendars.
#4 Promote your webinar
After adding your content to the QR Code landing page, you can design your QR Code image and use it on images for ads. What types of ads you use to promote your webinar depends on your audience, location targets, and what you'd like to promote. For example, many webinars are promoted via social media, especially Facebook because it has the widest audience, but you can also do so with email marketing or even print ads like billboards and posters.
#5 Follow up with viewers afterward
Following up after your webinar is a super important element of ensuring that your audience engages with your email campaigns afterward (how you convert them into customers). Here you can use a Feedback QR Code that creates a custom feedback form that sends automatic email updates when someone fills it out (like with the photography webinar in the below image). For other email marketing follow up campaigns, you might also consider using a Social Media QR Code to promote your social media profiles or a Coupon QR Code to incentivize purchases.