Best Practices
Calculating Print Marketing ROI With QR Codes
What is marketing ROI and why does it matter so much? Without clear numbers, it's hard to track whether or not your marketing budget is being used efficiently, especially on print. But with QR Codes, calculating your print marketing ROI becomes a breeze.
What is ROI?
ROI, otherwise known as return on investment, describes the process of calculating the amount earned compared with the amount spent. ROI applies to any business situation where there is a financial investment based on expected particular results. Consequently, ROI is often the main determining factor for how companies understand the best ways to spend their money, on which types of products, and how often.
What is ROI marketing and why does it matter?
Marketing ROI applies to ROI calculated specifically for marketing budgets. For example, what amount of conversions occurred as a result of a particular Facebook ad, or how much profit did a company get after developing a new landing page. In the same manner as described above, marketing ROI helps marketers and companies understand how and where they should spend their marketing budgets for maximum efficiency.
Oftentimes marketing ROI involves an ROI formula. HubSpot gives a great example of how this could look:
Your own marketing ROI formula depends on many factors (software costs, cost to implement a campaign, ad spend, particular goals, etc.) and should be adapted into the formula for an accurate calculation of your ROI. In any case, marketing ROI is extremely valuable in helping companies to decide how to determine their marketing strategies.
How do QR Codes simplify ROI calculations?
The benefits of QR Codes as a marketing tool are virtually limitless. So, we're here to explain yet another: Marketing ROI calculation. And this is not just for digital marketing, but QR Codes even make print advertising ROI calculable. What was once a gigantic guessing game for the print advertising industry has now become a clearly transparent and trackable system with metrics—all because of QR Codes.
QR Code campaign tracking
No matter whether you decide to add QR Codes on print materials, digital platforms, or both, the process is entirely trackable due to QR Code tracking. QR Code Generator has developed a wide variety of QR Code types known as Dynamic QR Codes. When you use our software to design your Dynamic QR Codes, you also get access to their campaign tracking data, meaning you can monitor scan locations (city and country), unique vs. total scans, operating device used, and time scanned.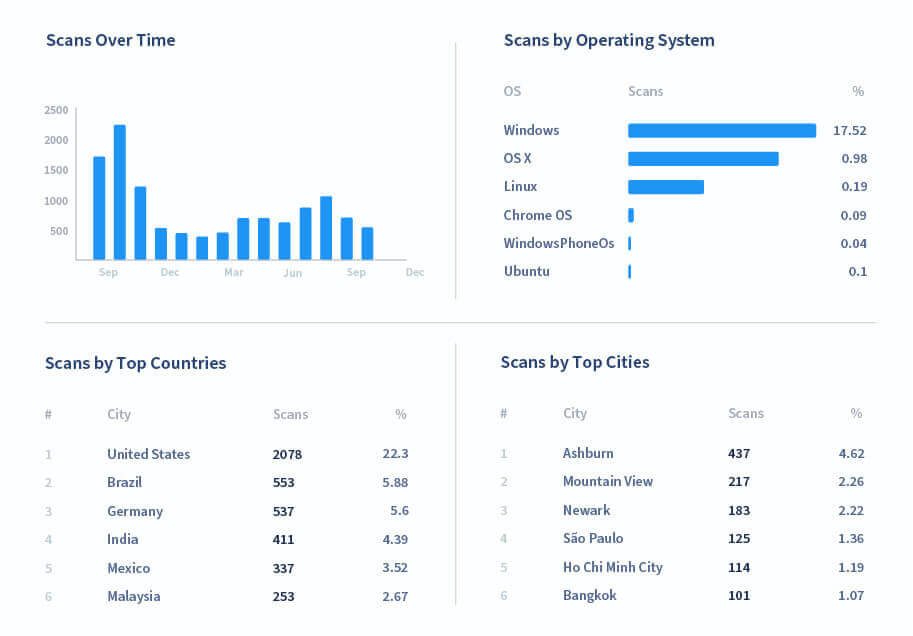 Furthermore, you can even integrate QR Code campaigns with Google Analytics so you can clearly view the entire customer journey from QR Code scan to purchase. This is the exact data you need to calculate marketing ROI—even for print advertising!
QR Codes even make print advertising ROI transparent
While QR Codes were invented to improve inventory management systems (and are still used to do so), the premise behind how they are used also functions the same in marketing. On a daily basis, we can easily understand how heavily print advertising is still being used. It's on billboards, on shop windows, and even on flyers that someone hands out. But the major disadvantage of using print materials without QR Codes is that there's no way to connect readers with digital information.
Sure, you can create a giant billboard just for branding, but how can you actually calculate what effect that has on your financial returns? With QR Codes, you no longer need to guess at which billboard brought in x amount of sales or how many flyers you need to hand out to get people to buy something online. Put a QR Code on your print ads (like the above image), and not only will users thank you for making your digital content accessible, but you can also track what each of these users did because of your advertising efforts. This is precisely the process we as marketers need to calculate marketing ROI.
Segment QR Code campaigns
Need to compare different QR Code campaigns or time or type of platform used? No problem! With QR Code Generator, you can add individual campaign information to segment your QR Code campaigns. You can use this feature to compare campaign success over different time periods, different locations, and even different types of QR Codes. Then, use this process to create benchmarks (marketing goals), and try to improve on them through the process of campaign optimization. So not only can you calculate marketing ROI with QR Codes, you can also optimize it!
Make changes and updates whenever you need
Found a mistake in your QR Code's content or need to swap out a link? That's another massive benefit to using Dynamic QR Codes, because you can edit them whenever you need without having to redesign the original QR Code. That's right! The external appearance remains the same, but you can fully edit anything about your displayed content. What's more, you can even change your type of QR Code (such as using a video instead of images) with just a few swift clicks.
How to do marketing ROI calculations with QR Codes
Ready to calculate your marketing ROI with a QR Code campaign? Here are the steps you need to take.
#1 Determine the required goals for your marketing ROI formula
First and foremost, you need to set clear goals. A goal could be, for example, 1000 leads from an ebook landing page, or 1000 sales from a Facebook ad. If you're unsure about specific goals because you have no prior campaigns to base your numbers on, make your best guess. The key factor is that you have a calculable goal that you can put into the marketing ROI formula.
#2 Choose your mediums
Once you've set your goals, you need to determine how you will market your products or services. The right marketing channels heavily depend on your audience and what you're trying to promote. Deciding this may also take some guesswork in the beginning, but understanding marketing ROI will help you improve this for any subsequent campaigns.
On an important note, QR Codes can be made as large as billboards and as small labels. So, there's no doubt about whether or not your QR Code can be adjusted to fit any and all design requirements for all types of marketing channels. Just make sure they're at least 2 x 2cm (0.8 x 0.8in), otherwise, you can run into scanning problems.
#3 Set a budget
After you've decided how you'll market your product or service, now you need to determine how much to invest in that marketing method. This again takes some guesswork if you're starting from scratch, but can become much more clear after your first campaign's marketing ROI is calculated. If you have a lower budget, it's best to focus on one or two of the channels that are the most suitable for your particular audience.
#4 Implement your QR Code campaign
Now all you've got to do is design your QR Code and activate it to begin your campaign. You may want to consider comparing multiple types of QR Codes, different locations, and design variations to make sure you maximize your results. The more data you have, the clearer your decision-making process will be for any further strategic decisions.
A real estate agency uses QR Codes to test billboard ad locations
#5 Monitor QR Code scans
Once your campaign has begun, you can view QR Code scan metrics in your QR Code Generator account. Remember to segment them based on different campaigns if necessary, because this is how you determine which mediums give you the best results. How long you need to monitor your campaigns depends on your marketing goals. For example, if your QR Code campaign is for an event, you only need to monitor scan data up to that event. But if you have an ongoing campaign, it's highly recommended to monitor your scan data consistently.
#6 Calculate your current marketing ROI
Now here come the numbers. For a quick reminder, here is a starter marketing ROI formula:
In order to calculate your ROI, you'll need the number of leads, sales, or event attendees, etc. (this was determined in your goals in step one), multiplied by the financial investment required for them to make a purchase, multiplied by the average sales price. Then, subtract this figure from your costs, ad spends, or marketing budget divided by the costs again. Finally, multiply this number by 100 and you'll get your marketing ROI in a percentage.
#7 Set benchmarks and optimize
Whether your marketing ROI percentage was good or bad depends entirely on your goals and what you need to get there. In any case, the goal should be that your income is higher than your investment, otherwise, you'll soon be out of business! If your marketing ROI needs some improvement, use this formula and your QR Code scan data to see where you can make improvements on your next campaign. Set benchmarks based on that data and try to consistently exceed those in the future through campaign optimization.