Best Practices
3 Pioneering Ways QR Codes for Senior Citizens Can Improve Service Design
Who says tech is just for the youth? Greater longevity is redefining the way we shape the story of old age, while pushing businesses and governments to adapt the way goods and services are packaged for the vox populi. In that same vein, the narrative that new technologies are solely for younger generations is only true if you ignore how modern home tech can enable increased access to healthcare and well-being for older adults.

So as life expectancy gradually shifts, so should how we shape technology for the elderly —as well as rethink how service and UX design can better fit the lifestyle of older consumers. And with QR Code on marketing materials revolutionizing information sharing platforms on and off-line, a variety of QR Code types may be one of the easiest ways to pioneer helpful technology and future service designs for the elderly.
Why QR Codes for Senior Citizens?
The advent of QR Code solutions translates into providing easier access to products and services in more understandable formats. Instructions can now be videos instead of long manuals with small font sizes, putting QR Codes at the forefront of the battle against ageism.
They can be described as the customizable storage units of digital content on print materials, existing at the intersection of online and offline platforms. They allow instant access to more information in a clearer manner and redefine how we interact with everyday life.
For older adults who are faced with cognitive declines like impaired hearing or vision, bringing the advantages of the digital world to the physical one can make a huge difference in accessing a higher quality of life. And with the variety of QR Code solution pages to boot, they can make a small but powerful impact when it comes to information sharing.
Smartphones are becoming the tech for seniors
The use of smartphones and broadband among adults above the age of 65 is trending up in the last few years; growing from 53% to 61% for smartphones, and jumping up to 64% for broadband users.
This upward trend can be attributed to senior citizens wanting to remain connected with their families and friends either through video calls, text messaging apps, or social media platforms.
So it makes sense for businesses, organizations, and government facilities to not only provide products and services on digital platforms but to also ensure the connective bridge between traditional and online is accessible and user-friendly to a wide variety of audiences; and the QR Code is here to adapt to all.
Ways QR Codes are already being used as senior gadgets
You may have already spotted use cases of QR Codes for senior citizens as bracelets, badges, or stickers. Their primary function? The QR Code bracelet, for instance, is helping sufferers of cognitive disorders such as Alzheimer's or Dementia stay safe and find their way home. Their convenient small size and design versatility make them ideal to be used as ID QR Code stickers or a locator as a clever badge QR Code.
A perfect example of this is the initiative that took place in Iruma, Japan back in 2016. The local government provided families with relatives who suffered from cognitive disorders, and who were at a higher risk of wandering or getting lost, with waterproof QR Code stickers. Small enough to be stuck on a fingernail or key holder, people who spotted a disoriented senior citizen could scan the code with their mobile device and access the wearer's registration number, hometown, and local city hall's telephone number.
These initiatives are brilliant, but they only scratch the surface of what is possible when it comes to using QR Codes as a tech for seniors.
3 Ingenious QR Code solutions for senior citizens
Research programs like the MIT Agelab are pushing for innovative solutions across business markets to establish consumer-centered systems that cater to an aging population.
Artificial intelligence and automation are forming fantastic opportunities to understand and empathize with the challenges that come with longevity —and increasing the potential to exercise agency over technology to make it work for our quality of life both today and tomorrow.
Not sure where to start? If you want to explore practical solutions for redesigning products and service provisions to catalyze change for the elderly and enable them to stay proactive throughout their life, here are some simple but effective ways QR Codes can help.
#1 Create visually-friendly instructions
As we age, our visual function begins to decrease. This means having to read through page after page of small printed instruction manuals or guides is not always easy as pie.
Videos open up a world of possibilities when it comes to formatting content delivery in a clearer and more precise way. It can either be a first-person narration, featuring a person talking the viewer through different steps, or you can get creative with illustrations and voice-over. But you can't literally print a video on consumer packaged goods.
Or can you?
Whether it's for assembling furniture, learning how to use a new electronic device, or sharing a new recipe, you can use the QR Code Video on product packaging instead of printed text to give detailed instructions that can easily be followed with a visual and auditory component.
This particular solution converts Youtube videos into a QR Code, allowing you to upload one or multiple videos, which are then displayed and accessed on a mobile-friendly summary page.
#2 Help patients set reminders
Exploring different ways in which new technologies and health awareness can intersect to equip caregivers and older adults with better services is an ongoing journey.
The Event QR Code is commonly used by businesses for marketing events such as concerts or conventions. But adding a touch of ingenuity to this QR Code solution can help those who need medical care set reminders for appointments or schedule medication.
If applied, this QR Code can help senior citizens set automatic reminders on their preferred calendar for important medical events; like their next treatment appointment or flu shot.
#3 Connect senior citizens to more information
When it comes to medical information like learning about the potential side effects of a certain medication, after-care following a procedure, or just providing older adults with proper daily mobility exercises, it's important to shorten the search and browse steps as much as possible.
Sure, this information can either be easily searched on the web or handed out at the doctor's office on a printed sheet of paper. But the first option sends people on a hunt through the vast noise of the internet, while the second is more often than not formatted in blocks of text with some illustrations. Both options can be a bit overwhelming for some older individuals either getting acquainted with the internet or coping with certain cognitive impairments.
The PDF QR Code is the best of both worlds. Instead of printing and handing out sheets of paper, simply share a small flyer with the QR Code and scanning instructions. Once scanned, patients can access the necessary information on the mobile device of their choice, whether that be a smartphone or a tablet.
This solution turns your PDF to QR Code. And once patients have the PDF, they can brighten the screen, zoom in, and make the text bigger. In essence, adapt the information to their needs.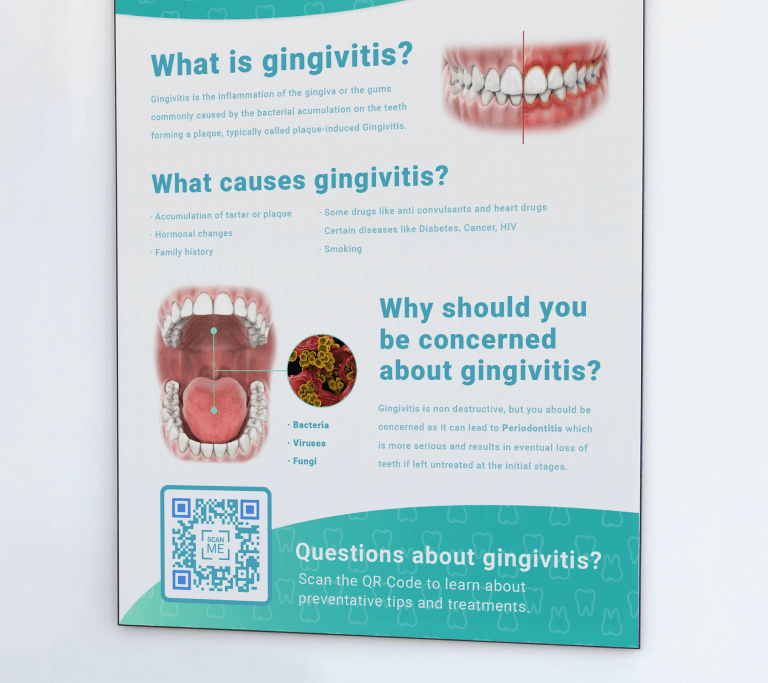 3 simple practices to make QR Codes the tech for the elderly
As the popularity of QR Codes continues to grow, are you wondering how to easily explain QR Code tech? It's important to keep in mind good design practices to make them as easy to reach as possible for everyone. Below are three simple ways to keep QR Codes for senior citizens design-friendly.
#1 Embrace the CTA as a guide
Don't shy away from instructing people on what to do when they see your QR Code. You can even go beyond the call-to-action (CTA) and add straightforward instructions that guide first-time scanners through the process, like "open camera app" and "point back-facing camera at the QR Code." If you need some inspo on guides for scanning Codes with Android or iOS phones, check out our QR Code guide.
#2 Be mindful of color and contrast
As we age, our color sense goes on the more opaque side of things. This is why when it comes to designing your QR Codes, distinguishable colors trump vague shades of ephemeral. High contrast and bright colors create the perfect conditions for your QR Code to be easier to scan, and to be noticeable —no matter where your consumers' eyes are at in their life journey.
#3 Simple and clean
Last but not least, keep the information straightforward and avoid overloading the content you're linking to with too much data. You want to make sure you empower scanners, not confuse them. If you're offering instructions, your QR Code should link to clear guidelines whether in the form of a video or audio file.
Final thoughts
You don't need to reinvent the wheel to improve service design and create new products for senior citizens.
As far as technology for the elderly goes, the way QR Codes generate opportunities to bring the advantages of the digital world to the everyday, physical life of consumers is a brilliant opportunity to rethink how we provide products and services to the general public. It allows us to go beyond asking ourselves the dead end: "is this accessible to everyone?" and instead ask: "in what way can I make this easier, better, more convenient for all?"
With well-designed and accessible QR Codes for senior citizens, you can create an abundance of helpful opportunities for a balanced quality of life for all.