COVID-19
How the Airline Industry Can Use QR Codes to Return to the Skies
Despite the unfortunate fact that the airline industry is at a near standstill due to the coronavirus pandemic, there are methods that airlines and other travel-related companies can use to inform and continue to communicate with customers safely. QR Codes work perfectly because they enable contactless transactions and information transfers in a variety of ways.
How has the airline industry been affected by the coronavirus pandemic?
The airline industry is facing one of the toughest challenges of all industries affected by the coronavirus pandemic. An industry with experienced consistent growth since the 2009 recession, many airlines, and travel-related companies expected only a bright future ahead. Unfortunately, the coronavirus has created a drastically different picture as of late, with the airline industry suffering major financial losses worldwide.
Despite the severity of these figures, travel and airline businesses are trying to fight these losses by continuing customer communication through digital channels (email marketing and video in particular) and allowing customers to rebook their travel plans in the future with redeemable travel vouchers.
What makes QR Codes so useful for the airline industry during coronavirus?
Now is absolutely not the time for any brand, no matter the industry, to go silent. Even though marketing budgets have been cut across the board, companies still need to communicate with their audience about how their products and services are affected by COVID-19 and what changes they're implementing to ensure that customers feel safe. The safety element is one of the most important factors to communicate because that will help customers continue trusting brands in the future. So, a great way to continue promoting your brand while also keeping customers safe is to use QR Codes.
Contactless coronavirus detection and health management
Why are QR Codes so useful for the coronavirus in particular? Because QR Codes can be scanned from far away distances and don't require any physical contact, they've been heavily used for coronavirus detection and health management. Besides creating a QR Code based tracking system to contain the spread of the coronavirus in China, QR Codes have been used for contactless public building access and airport facility use.
Furthermore, QR Codes have also been used to enable passengers to check if they have possibly come into contact with an infected person over the last month on flights and trains.
Conveniently connect print to digital
Another aspect of QR Code technology that makes them useful is their ability to connect print materials with digital platforms and content. Although they were originally developed to improve on Barcodes used for inventory management systems, people soon realized that they could be used for a lot more because they are easy to use. Due to their square shape, QR Codes can be read horizontally and vertically, which is why anyone with a smartphone can scan them and view the connected information in just a few seconds.
To highlight a really clever use for this at Frank Airport, QR Codes were placed on shoppable walls so that customers could scan the QR Code to learn about particular products and then make a purchase in a virtual shopping basket. The purchased items are then delivered to a pickup station nearby in under 15 minutes.
Flexible types of QR Codes for a wide range of uses
QR Codes have come a long way from their original black and white versions that only directed users to websites (although this still exists with a Dynamic URL Code). Many types of QR Codes can be used for all sorts of purposes, including sharing images, videos, sound files, automatic event registration, digital coupons, and even bitcoin transactions. So, no matter the information that a business or organization wants to communicate, there is a QR Code for everything.
Other examples of how the airline industry and airports can use QR Codes
There are countless ways that the airline industry and airports can harness the power of QR Codes, many of which have already been implemented. Using QR Codes helps with social distancing during coronavirus and makes airport processes more efficient and convenient for customers, which helps prepare them for the increasing demands for digitalization.
Share important information
QR Codes have been widely used across the healthcare industry to help patients and staff avoid touching potentially contaminated surfaces, and airports can use the same concept. In the image below, a print poster in China enables access to information about the coronavirus and related safety measures by scanning the QR Code.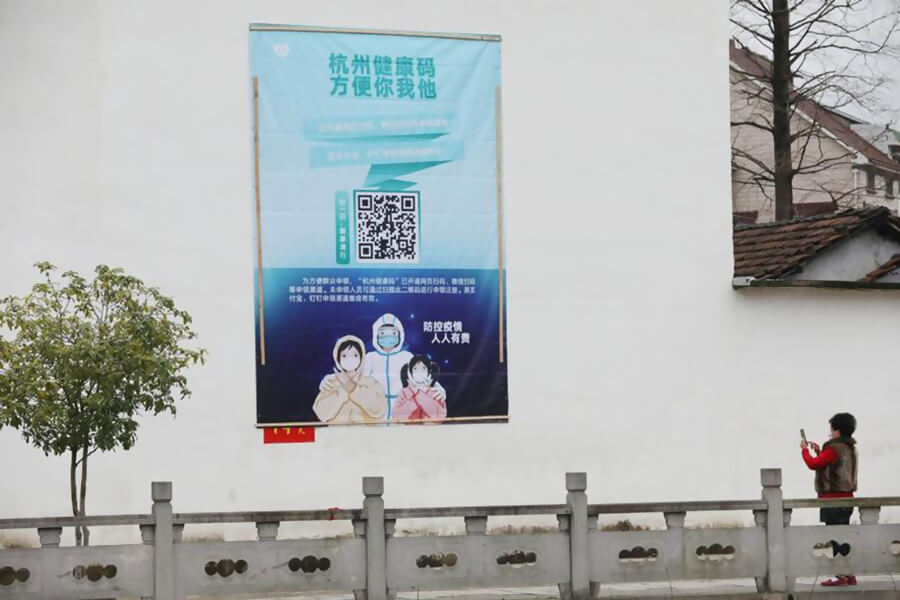 Even after the coronavirus is over, this tactic could be useful because airports and airlines are public areas that many people use daily. To stop the spread of germs in general, passengers can scan the QR Code to avoid touching a public surface.
Airport and airplane WiFi access
More and more airports are beginning to offer public wifi access. But it's often a common problem that passengers have trouble accessing it due to slow loading times and page errors. Airports can make this process a lot easier if they created posters with QR Codes at the airport. Then passengers can scan it and automatically connect. On that note, a similar method would be useful for wifi access on airplanes. Instead of using a super slowing loading page, use a WiFi QR Code to enable automatic access.
Digital marketing and online shopping
QR Codes work just as well on digital marketing platforms, which the airline industry can definitely be taking advantage of right now. To give a few examples, you can provide customer information about your airline with QR Codes on social media, like Japan Safe Travel did for Twitter. Furthermore, mobile travel and booking apps are on the rise, and airlines can use this opportunity with so many users on social media to start directing more traffic there.
A third example would be to add QR Codes to in-flight magazines to direct users to online shopping platforms. This gives passengers another opportunity to make travel purchases or any type of product purchase during the flight by simply scanning a QR Code.
Parking with QR Codes
QR Codes can also be used for convenient airport parking, such as the Nuremberg Airport in Germany. Instead of paying with cash or fumbling with a receipt machine, users can enter and leave airport parking areas and make payments automatically with QR Codes.
Contactless mobile payments at airport shops
Airport shops can use QR Codes to make purchases more efficient as well. Similar to many airports, the image below shows how Munich Airport in Germany has enabled a "tap and pay" system so customers can pay for their items via mobile by scanning a QR Code next to the product they'd like to purchase. This helps cut down on long wait times to make purchases to lessen staff stress and ensures that passengers make it on time to their flights.
Paperless boarding passes and check-ins
Already in place by many airports worldwide, QR Codes are the most popular technology for paperless boarding passes and check-in, otherwise known as electronic tickets. Many airline apps enable passengers to check-in for their flights and then create a QR Code to use at the airport. This decreases the need to wait in long check-in lines and also speeds up the security process.
Similarly, those same QR Codes used to check-in can also allow access to particular airport lounges. If a passenger purchased a travel package that includes lounge access, then the QR Code generated for their check-in can also be used to enter the airport lounge. This saves on paper and makes it easier for staff to understand who is allowed to enter the lounge.