Use SMS QR Code Generator for free
What is SMS QR Code generator?
SMS stands for 'short message service' and is used for text messaging as a form of communication between mobile devices. With the SMS QR Code generator, it allows you to create a QR Code that sends an SMS to a target phone number complete with a pre-filled text message.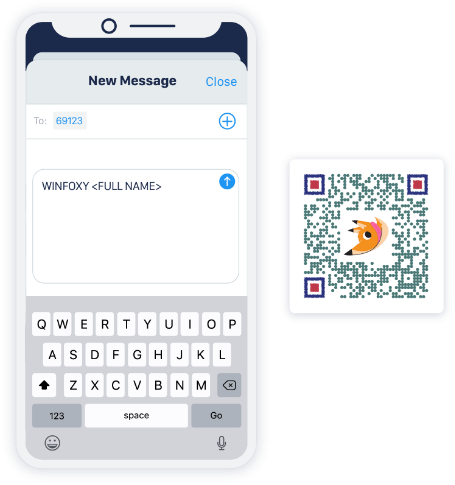 How does it work?
The technical aspect behind an SMS QR Code is pretty simple. The standard format is SMSTO:number:text message. The first two colons are used as separators, so any other colons after that will appear as normal.
| | | |
| --- | --- | --- |
| Description | Content Format | QR Code Example |
| A phone number without a text message. Your audience can manually type the message after scanning. | SMSTO:40404: | |
| A phone number with a pre-defined text message. | SMSTO:40404:Hi, I would like to RSVP for 2 guests please, thank you. | |
| Just the text message without a phone number. The phone number can be added after scanning. | SMSTO::Win $100 for every sign-up. Forward this SMS to friends and family to increase your chances! | |
Can I write a long text message?
You can write up to 160 characters for the SMS QR Code to work correctly. To show you an example of what a 160-character SMS looks like, you're currently reading it.
Why do I need an SMS QR Code?
Improves customer communication
Customers love to connect with you to provide feedback and suggestions to your product or service. By adding an SMS QR Code to packaging or any promotional materials, customers are more likely to start a conversation with just a scan.
Increases security with authentication and verification
SMS QR Code can easily be used to authenticate or verify something. For example, once a purchase is made, the buyer scans the Code to send an SMS that registers the product. The SMS is used to verify that they are indeed the owner of the product, and the timestamp recorded will be used to validate the start of the warranty.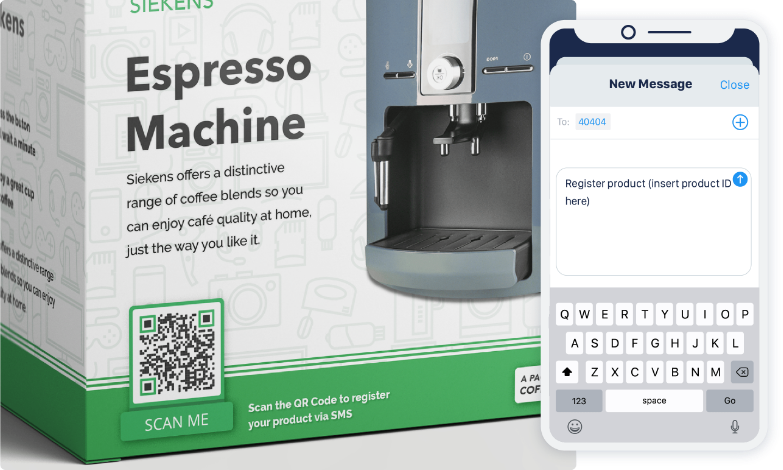 Costs nothing to implement
Once the QR Code is created, it's yours to keep. This free QR Code can be used for commercial or non-commercial use.
Works without an Internet connection
Once scanned, the SMS QR Code automatically detects the SMS client on the phone and opens the default one to send the text message. It doesn't require any Internet connection whatsoever, as long as the user's phone can scan QR Codes in the first place.
How to use SMS QR Code generator?
To create an SMS QR Code, select the SMS tab in the generator.
Then, enter the target phone number that will be used to receive the text message. This can be either a standard phone number or a short code.
Next, add a pre-populated text message to make it easier for your audience or customer to send the message with minimal typing. See use cases below for inspiration.
Select 'Generate QR Code' and scan it to test if it works. This step is important to avoid costly reprints.
If everything's fine, customize the look and feel of the QR Code to match your brand colors. You can also add a call-to-action frame to encourage scans and add a logo to increase brand recognition.
Finally, download the QR Code and then add it to your marketing material.
Any tips I should know before using SMS QR Code generator?
Using phone number vs short code
A standard phone number is inexpensive to maintain, and it works out of the box immediately after purchasing a SIM card. It also allows two-way communications with your customers. Using a short code, however, is expensive and takes time to set up. It's more suitable for big companies or brands that want to strengthen their recognition with vanity numbers. For example, the most popular short code is Twitter's '40404'.
Minimum size
We recommend a minimum size of 2 x 2 cm (0.8 x 0.8 in) for any QR Codes. This ensures that your QR Codes remain scannable, especially when you're about to print a large batch on your product packaging or promo materials. Visit our guide before you print for more tips.
Logo
Including a logo on your QR Code is the smartest and cost-effective way to increase brand awareness. Whenever a QR Code with your logo appears anywhere, your audience or customers will not hesitate to scan it as it makes them feel secure about the legitimacy of the QR Code.
Colors
QR Codes are the perfect place to splash some colors that match your brand. They don't have to be black and white anymore, so you can experiment with complementing colors. One important thing to note: Always use a darker color for the foreground (the black and square pixels itself) and a lighter color for the background. Visit our QR Code design guide for more tips.
Printing formats
Our generator makes sure that your QR Codes stay in the highest possible quality no matter what. You have the option to choose between JPG, PNG, EPS, or even SVG file formats. It's easy to integrate the QR Code file with your packaging designs using any photo editing tool.
Can I see some SMS QR Code use cases?
Get inspired with these creative QR Code ideas that you can easily duplicate for your own use.
For nonprofit organizations
People love to donate, but sometimes they just need more ways to do so. Not everyone has a credit card or online banking set up, so this makes it tough for those who would still like to donate. Save the Bees Foundation printed SMS QR Codes on their flyers that deduct the donation amount from the user's phone's credit or billed in their monthly invoice.
For restaurants
There are many ways you can incorporate an SMS QR Code for your restaurant. Southern Restaurant added it to their receipts and on table tents so customers can text their feedback. If you offer food delivery, you can also print it on your takeaway menus to make it easy for your customers to order via a text message.
For event management
Need RSVPs from guests fast? That is precisely what Verge Event Management did with SMS QR Code. They created one with a pre-filled text that simply says "Confirm RSVP for two" on all their invitation cards to guests so they can just scan and send!
For personal use
Where do we begin? Use SMS QR Code to vote on the next family vacation, venue for gathering with friends, and much more. An example of this could be "I vote for Italy/Spain/France for our next vacation (delete two and click send)". You can also add it to greeting or birthday cards for a fun little twist!
FAQ
Yes, you can! Simply utilize our QR Code API to generate SMS QR Codes in large batches directly in your system. It's perfect for manufacturing companies that want to print QR Codes in their packaging.
No, and it also doesn't cost anything to create. Once generated, it's yours forever.
SMS QR Code is a form of Static Code, and all Static Codes are not editable after they're generated. So, yes, if you changed your phone number, you will need to generate a new QR Code to replace the old one.
The best way to test this is to open the camera app on your device, hold it over any QR Code, and see if a notification pops up. If not, check if your device has the "QR Code scanning" option turned on. If it still doesn't work, all you have to do is download a third-party QR Code scanner or reader from your app store.