Improve Your Review Ratings on Google Business with the Help of QR Codes
What is a Google Review QR Code?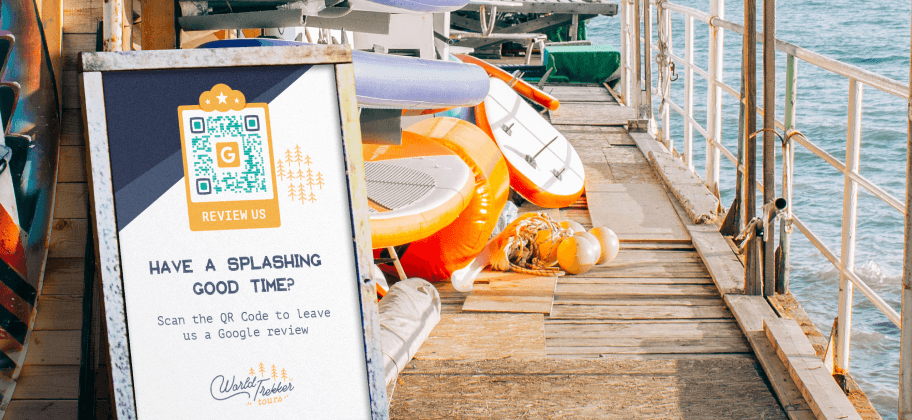 A Google Review QR Code connects the URL for a Google Business account's review page to a QR Code. Anyone who scans the QR code is redirected to the URL for that specific Google My Business account, where they can leave a review about a company or service.
As a business owner or marketer, you'll know the influence online reviews have on potential customers – and Google reviews are no exception. A smart and simple solution for getting on-the-spot feedback from your Google My Business page, using a QR Code for Google reviews — also known as a Google Business QR Code — can help you see an uptick in the number of reviews you receive.
When you're creating QR Code marketing campaigns for your business, it pays to consider a QR Code for Google reviews as part of it. That way, you can ensure that customers have every opportunity to tell you what they think about your great business or service and give your ratings a boost with their praise and feedback. Best of all, it simplifies the process for them: with a QR Code for Google Business, your customers can now leave reviews by scanning your QR Code format of choice either online or from the print marketing materials you use for advertising.


Create, manage, and track all your
QR Codes

.

Design beautiful QR Codes your way. Add your own color, logo, and frame.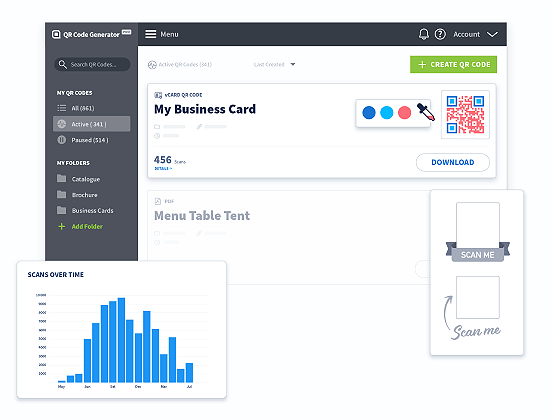 How do I get a QR Code for Google reviews?
Start by creating your Google review link. Then, copy and paste that link into the QR Code generator to automatically generate your Google review QR Code. When this QR Code is scanned, it directs customers to a blank form where they can leave feedback.
Why should I create a Google Business QR Code with QR Code Generator?
Reviews matter. According to survey data collected by Brightlocal, a whopping 82% of consumers read reviews for local businesses, and review signals make up 15% of Google local pack ranking factors — hefty figures for any business owner to consider. The takeaway from this? Help your customers make that decision to choose you! Tapping into Google My Business reviews can give your brand or company a boost in your local rankings, and increased rankings and more reviews make a simple but effective combination for drumming up business.
Ready to get as many Google reviews as you can, and give your local community what it needs? Great! There's one crucial thing to keep in mind, however: Customers can only leave reviews if they have easy access to your Google review link. But how? Nobody likes typing in fiddly, long-winded URLs — it's impractical, especially if your customers are using a smartphone to search for a particular business or service.
This is where QR Codes come in: With the Google review QR Code, you can easily convert your Google review link into a QR Code. Whether they've scanned your Google review QR Code from a print or digital source, customers can scan and access your Google My Business account easily and instantly. This streamlines the whole review process — and do not forget: more reviews mean more opportunities for you to grow your business.
Give customers quick access to leave Google reviews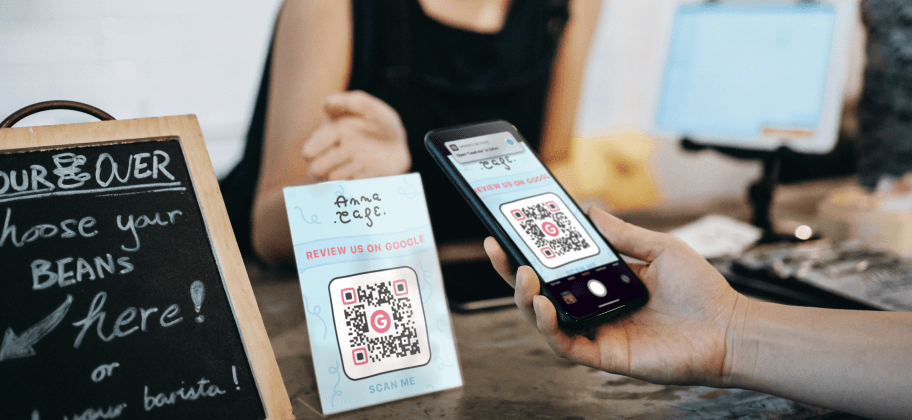 Consider this scenario: A satisfied customer loves your product or service so much that they want to rave about it in a review. Unfortunately, it was not as easy as they had hoped. They tried searching for the right page to review, but after stumbling across other, similar names to no avail, they simply give up — and the moment has passed for them to write what would have been a glittering review. Missed opportunities such as these are such a shame — especially when the solution was an easy fix!
Using a Google Business QR Code prevents precisely this issue — you can now give your customers direct access to your Google review link with just a scan. No more typing in links manually, no more ending up at competitor's pages. And, most importantly, no more missed opportunities for your business. It's also simple to put into practice: a QR Code for Google reviews on the back of a business card can give your customers that spur-of-the-moment incentive to spread the word.
Utilize both print and digital mediums
Endlessly versatile and customer-friendly, QR Codes work both on print and digital mediums. If you create your Google Business QR Code as a Dynamic URL QR Code version, your QR Code automatically comes with a short URL for use on your website or social media posts. With such easy access and more opportunities to leave reviews, it streamlines and boosts your entire review collection process.
Be proactive: increase your local rankings in Google search results
Google itself has stated that reviews affect local search rankings. As a business, this underlines the importance of collecting as many reviews as possible from customers. Taking a proactive approach is recommended: responding to all your reviews — both positive and negative! — affects your local search rankings as well. With a Google review QR Code, you have a powerful and easy way to improve your business.
Update your link and track QR Code scans
How do you generate a QR Code for Google reviews? There are two ways for you to create your perfect Google review QR Code. Use our free generator above for a Static QR Code, which is untrackable and uneditable, or sign up with QR Code Generator PRO so you can use a Dynamic URL QR Code, which makes your Google Business QR Code trackable and editable even after print.
QR Code tracking means you get access to real-time updates on scans by location (city and country), unique vs. total scans, operating device used, and time scanned. With this information, you have the precise data to determine which mediums bring in the most reviews.
Besides, having the option to edit your link later is super helpful if you need to change it in the future. When you convert your Google review link into a Dynamic QR Code, this automatically comes with a QR Code short URL (a clean, easily viewable version of a longer link). If there's a typo in the URL or the link was changed for whatever reason, you do not have to worry about reprinting a new QR Code as you can simply log in and update it.
Customization options to match your design requirements
We know how important it is that your brand stands out loud and proud. By signing up, you unlock more QR Code customization options for your Google My Business QR Code. Add your logo in the middle, use custom frames and a call-to-action (CTA), style your pixels and edges, and even use your exact brand colors. With the option to also scale your QR Code size up or down as you need, your QR Codes now fit perfectly on any design.
How to generate a QR Code for Google reviews:
You can create a Google Business QR Code in seconds with the following steps:
Create your Google My Business review link (short name & URL) following these instructions.
Select the URL tab in the generator above. If you would like to create a trackable QR Code, please sign up to create a Dynamic URL instead.
Copy and paste your Google My Business review link into the URL field.
Your QR Code will then be generated automatically. Do a scan test to see if it's working correctly, as you will not be able to edit a Static QR Code after it's created.
Customize your QR Code with a frame and color.
Download the QR Code and add it to the design of your choice. Pro tip: make sure your customized details work with your design — scan and test your QR Code before printing it.


QR Codes for
Businesses
Browse through our recommendations to see QR Codes in action. Learn how you can boost your business marketing with this powerful tool.
Can I see how a Google Business QR Code is used?
Many types of businesses benefit from streamlining customers' access to Google My Business review links. Here are five industry-specific ideas to clarify how this works with a Google Business QR Code.
1.

Restaurants
Google reviews are an absolute must for restaurants. They are indeed one of the most local businesses of all. To boost your restaurant reviews, you could add a Google Business QR Code to restaurant table tents so customers can leave reviews directly after their meals. If you offer a delivery or take-out option, you can also use QR Codes on food packaging (it's possible for you to use the restaurant QR Code!) for a double whammy review booster.
2.

Consumer Electronics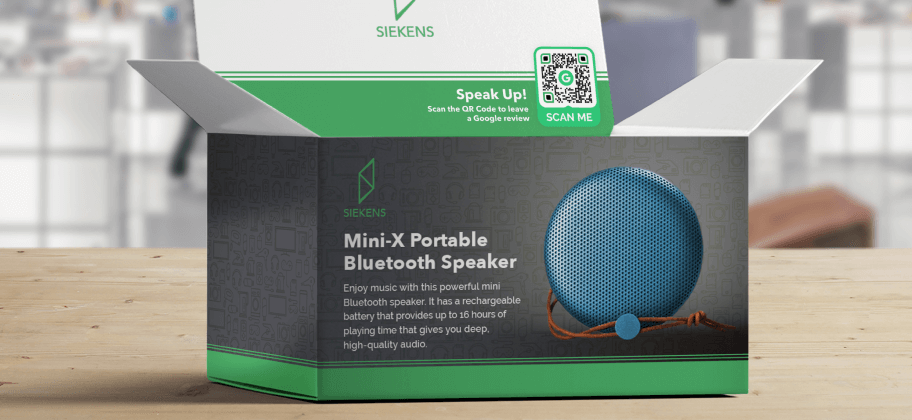 The consumer electronics industry thrives off of reviews (consider Amazon as a prime example). Whether customers purchase your products online or offline, adding a Google Business QR Code to your product packaging is the fastest way to collect more reviews. Plus, happy customers are more likely to submit reviews and talk about your product online, so a product QR Code will make this process seamless.
3.

Wellness
Reviews are everything in an industry like wellness, especially since your customers come to you for a relaxing and satisfying experience. To boost review collection from happy customers, you can use a Google Business QR Code in plenty of locations that will get scans. For example, you could create a QR Code display at the reception area, so that customers can leave reviews after paying. If they're in a rush, you can create a QR Code business card that they can take home to scan and leave a review on their own time.
4.

Finance & Insurance Companies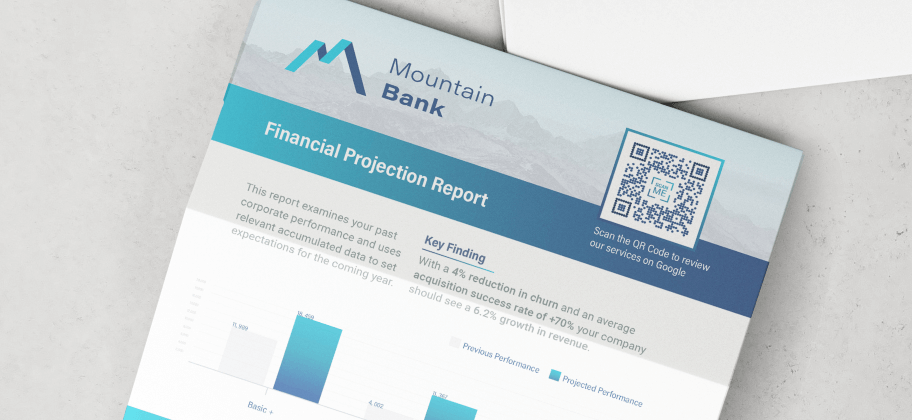 An excellent way for finance and insurance companies to stand out from a sea of competitors is honest customer reviews. Public customer reviews like those on Google My Business profiles are a statement of trust, so the more you have, the more potential customers will feel comfortable working with you. To collect more reviews, print customer documents linking to your Google My Business account: this could be an invoice, a report, or a letterhead with QR Code. These can easily be scanned, so customers can leave a review.
5.

Hotels & Resorts
The hospitality industry, as a whole, functions heavily on online reviews. It's an absolute must for hotels and resorts to collect as many Google reviews as possible. In this case, you could add a Google Business QR Code on table displays that customers can scan at check out or in their rooms, so they can access your Google review link and leave a review at any point during their stay.
Are there any Google Business QR Code best practices?
When Google reviews are so important, you'll want your Google Business QR Codes to work to their full potential! Fortunately, we have some top tips to keep you ahead of the pack, whether you're a newbie who's "wondering how do I get a QR Scan code for my business?" or you already know your dynamic codes from your static codes.
1.

Customize your Google My Business short URL for your brand

One of the best ways to ensure customers that your link is safe to visit and leave a review is to customize it for your brand. For example, your Google review short URL should look like this:
If you have a longer brand name, you might consider using an abbreviated version so that your short URL doesn't become too long.
2.

Respond to both positive and negative comments

Straight from the mouth of Google, responding to customer reviews increases your chances of ranking on local search results. But it's not just about responding, it's also about giving your customers the feeling that they're heard and appreciated — no matter whether the review is positive or negative. So, take the time to show some extra love to customers who leave positive reviews and try to resolve issues with customers who leave negative ones. Google and your customers will thank you!


More than just
black and white
Show off your company logo and brand colors on your QR Codes and attract more scans with call-to-action frames. No design knowledge needed. Promise.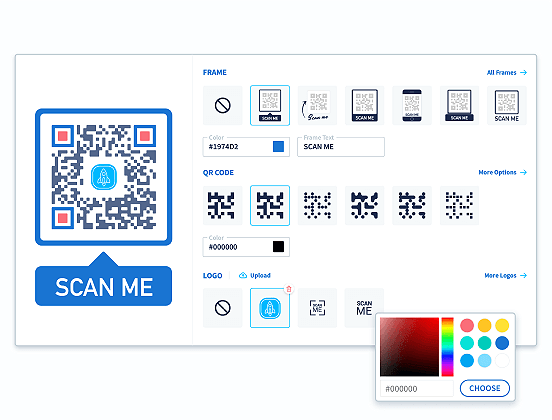 3.

Optimize your Google My Business profile

Google My Business has a whole world of functionalities that you can use to maximize business growth. Take a look at this article to learn more about optimizing your Google My Business profile to collect more reviews and much more.
4.

Make your QR Code easy for customers to find

At the end of the day, using a QR Code for reviews will help you make the most of your listing on Google My Business. So it's worthwhile to consider how to share your Google My Business QR Code in the most effortless manner for customers to find. You can take a look at the industry examples above to give you a few ideas. Overall, it should feel like a convenient and voluntary process on behalf of the customers as opposed to forced.
5.

Use the appropriate QR Code size

QR Codes are fully scalable in size depending on the medium you'll print them on. While the minimum QR Code size is 2 x 2 cm (0.8 x 0.8 in) for Dynamic QR Codes and 3 x 3 cm (1.2 x 1.2 in) for Static QR Codes, there's no limit to how big your QR Code can be. Our best tip here is to consider the size of the medium it's printed on and the scan distance. For more information on how to calculate this, visit our QR Code size guide.
6.

Align your QR Code style elements with your brand

Make your Google Business QR Code extra snazzy with custom elements that reflect your brand and increase the likelihood that customers scan it and leave a Google review. We especially recommend adding your logo and a frame so that customers trust the source, and it makes your QR Code style stand out on your graphic designs.
FAQ
If you have a Google My Business account already, visit this link for instructions on how to create your Google review link. Like Google, we highly recommend customizing the URL to match your brand so that customers know it belongs to your business.
As the name suggests, a short URL is a shortened, clean, and often speedier version of longer links. A link and a short URL always send users to the same website page, but a short URL is much easier to view and understand the source. If you generate a QR Code for Google reviews using QR Code Generator PRO, you'll get a short URL to use alongside your QR Code.
Because customers have many similar businesses to choose from, online reviews are a hugely important part of standing out from competitors and influencing customers that you're the right choice to spend their money on. In regards to Google My Business, this is a profile you create that appears on search results related to your business. So when you have more reviews, that increases the chances of your business being listed higher up on the page and entices new customers to visit or purchase from your business.