Bitcoin QR Code Generator
What is Bitcoin?
Bitcoin is the first decentralized digital money created by a mysterious figure (or figures) hiding behind the pseudonym, Satoshi Nakamoto in 2009. Bitcoin is powered by its users with no central authority—no banks, no government, no middlemen. Simply put, Bitcoin is cash for the internet, or also known as "cryptocurrency". Although Bitcoin is by far the most well-known digital currency, there are now hundreds of new cryptocurrencies with their own infrastructure. See the types we support here.
How does Bitcoin or cryptocurrency work?
For those who aren't familiar with blockchain, Bitcoin is really just a list. John sent 1 Bitcoin to Jane, who sent 1 Bitcoin to Alex, etc. By tallying these transactions up, you can trace the history of each transaction to prevent people from spending Bitcoins they do not own. To learn more in-depth about how this works technically, the original paper is available online.
Why do I need a Bitcoin QR Code generator?
QR Code makes transactions easier for cryptocurrency users. In order to send or receive crypto payments, you will need a Bitcoin address. This address is made up of 34 characters, but unique to every user.
For example, 15N3yGu3UFHeyUNdzQ5sS3aRFRzu5Ae7EZ sent 0.01718427 Bitcoin to 1JHG2qjdk5Khiq7X5xQrr1wfigepJEK3t on October 29, 2019, between 12:10 and 12:20 p.m. The long strings of numbers and letters are addresses of two cryptocurrency users.
As you can see, you would need to type out the address for every single transaction, and that is just inconvenient. With our Bitcoin QR Code generator, the Bitcoin address can be turned into a QR Code, and the user simply needs to scan the QR Code with their smartphone to initiate a transaction. You can also add a label to indicate who is the receiver of the Bitcoin funds, as well as the amount you're requesting.
In simple terms, to send crypto via a QR Code:
The recipient/seller needs to display the QR Code of the address they want a specific cryptocurrency sent to. The sender/buyer needs to scan the recipient's QR Code.
Where can I get a Bitcoin address?
Where to get it depends on the type of cryptocurrency wallet you have. If you don't have one yet, this article compares all the best cryptocurrency wallets currently available. Trouble choosing one? The good folks at Bitcoin.org prepared a simple quiz to help you choose a wallet!
How to make a QR Code for Bitcoin?
Enter your Bitcoin or crypto address in the address field. Make sure it has all 34 characters.
Specify the amount you'd like to receive.
Then add a frame and change the colors of the QR Code to make it stand out.
Finally, download your free custom QR Code!


Create, manage, and track all your
QR Codes

.

Design beautiful QR Codes your way. Add your own color, logo, and frame.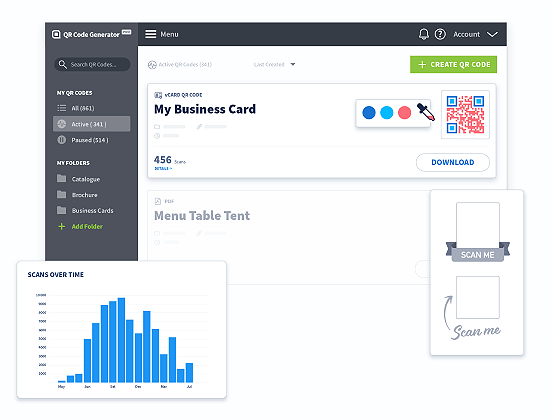 What are the types of cryptocurrencies supported?
Our Bitcoin QR Code generator currently supports these major cryptocurrencies:
Your cryptocurrency is not listed? Email us!
Can I see some use cases for Bitcoin QR Codes?
Glad you asked! There's been plenty of real-world use cases where Bitcoin QR Codes are proven useful.
If you're an artist and are looking for ways to get a donation, adding a Bitcoin QR Code on your artwork is a surefire way to get the ball rolling. A French street artist, Pascal "PBOY" Boyart, earned almost $4,000 in cryptocurrency after his street painting with a Bitcoin QR Code embedded went viral in 2018.
If you own a car dealership, you can add a "Pay with Bitcoin" sign to request payment with cryptocurrency. Think this is a stretch? You can already buy a car with Bitcoin and even Tesla's competitor has already begun accepting Bitcoin as payment.
If you need to send/request crypto payments among friends, perhaps having a permanent QR Code etched on a keychain would work just as fine. Say you're splitting uber rides or restaurant meals and have nothing to pay with but Bitcoin: a simple scan of your Bitcoin QR Code keychain would do the trick.
I'm still skeptical. Can I trust a Bitcoin QR Code generator?
We're completely aware that 4 out of the first 5 results of Bitcoin QR Code generator presented when querying Google were scams. Luckily Tal Be'ery, co-founder of ZenGo wrote an article on identifying scams and malicious Bitcoin QR Code generators. His checklist includes:
Verify the Bitcoin address after generating the QR Code. This is an important step so you can not only make sure that the QR Code works, but also to check if the Bitcoin address you entered is still the same one that is in the QR Code.
Use a threat intelligence service as a browser add-on (e.g. MetaCert's Cryptonite) and wallet that alerts on scammy sites and addresses.
And to be extra sure, always use a trusted QR Code provider. Our company is one of the market leaders in QR Codes and has been in the market for 10 years. We're fully sustainable and are not backed by any VCs, which means we're completely independent of monopoly; a value that is shared within the crypto community. Plus, we have over 10,000,000 users worldwide and counting!
FAQ
No. A QR Code that's created with the Bitcoin QR Code Generator will never expire as it is static. Static QR Code means that once created, you won't be able to edit the content and track its scans. If you would like these additional features and more, sign up to create Dynamic QR Codes.
QR Codes store your Bitcoin or cryptocurrency address that's made up of 34 characters, including other information such as the amount and a message thanks to the URI scheme for Bitcoin. This makes it easier for a machine; in this case, a smartphone, to scan the QR Code to get the stored information to initiate a transaction. As a buyer, you can scan a Bitcoin QR Code to make a payment and as a seller, you can create one to receive a payment.
You can create your very own QR Code with the Bitcoin QR Code Generator here. Simply enter the address you'd like the crypto sent to, as well as the amount and a message.
You need to open a crypto wallet app that has a balance of the cryptocurrency being requested, enter the amount you want to send, select the QR option, scan the recipient's QR Code to get their address, verify everything is correct (the amount being sent AND the address), and then confirm the transaction.