Create a 2D Barcode for Your Product Packaging
What is a 2D Barcode?
A 2D Barcode adds a Global Trade Item Number (GTIN) to a QR Code, allowing it to function like a barcode. It is GS1-compliant and also enables companies to add a website URL to the QR Code that directs users to web content when scanned.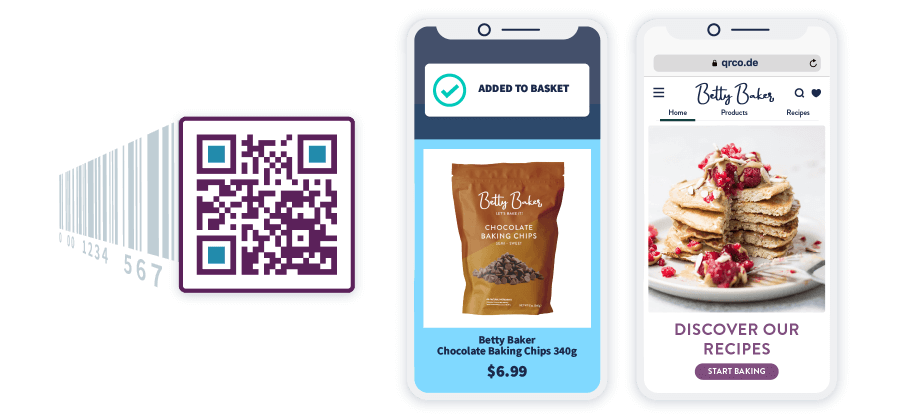 How does a 2D Barcode work?
Simply input the unique GTIN assigned to your item when using our 2D Barcode generator. A square of this size fits perfectly on consumer packaged goods and product labels, which are set to replace all traditional (1D Barcodes) by 2027. This means that when the Code is scanned at the point of sale, it will retrieve the product's price.
But this 2D Barcode also has a secondary function: It allows you to include a URL for consumers. This QR Code solution is dynamic, meaning you can alter or update the destination link at any time—even after it's been created. This feature enables you to attach web content that consumers can access through scanning, allowing them to gather more insights about the brand or product before making a purchasing decision.


Make your
product packaging

work for you.

Connect your customers to your products like never before with 2D Barcodes.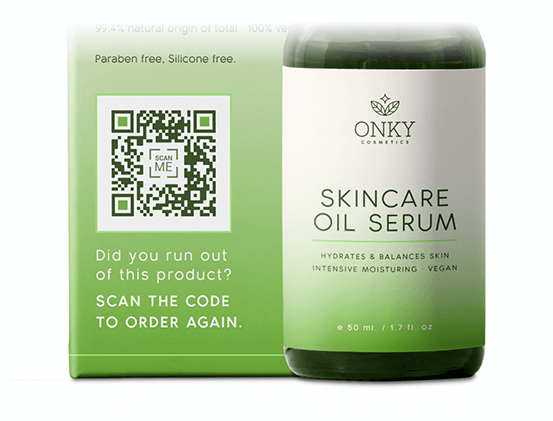 Why should I use a 2D Barcode?
Suppliers, retailers, and consumers alike can quickly access relevant product information with this solution. In short, it allows you to condense unique product information, benefitting the supply chain, the cashier in a retail store, and the consumer.
Tap into opportunities beyond the point of sale
Companies can help customers make informed purchasing decisions by linking their 2D Barcodes to information they would not typically have access to, like details about sourcing and ingredients. This invites customers to not only buy a product but interact with it in a way that has not been possible until now.
Establish a lasting connection with customers
The customer journey often ends after a product or service is purchased, but 2D Barcodes allow that journey to continue well past the initial purchase. Cultivate trust and foster brand loyalty by sharing information about supply chain practices, how-tos, and product insights like care and recycling details for items that are uniquely disposed of—all through 2D Barcodes.
So whether you want to share a promotional landing page, a survey, or a signup link to an email subscription, a 2D Barcode is the gateway to accessing more of your content.
Collect real-time scan tracking data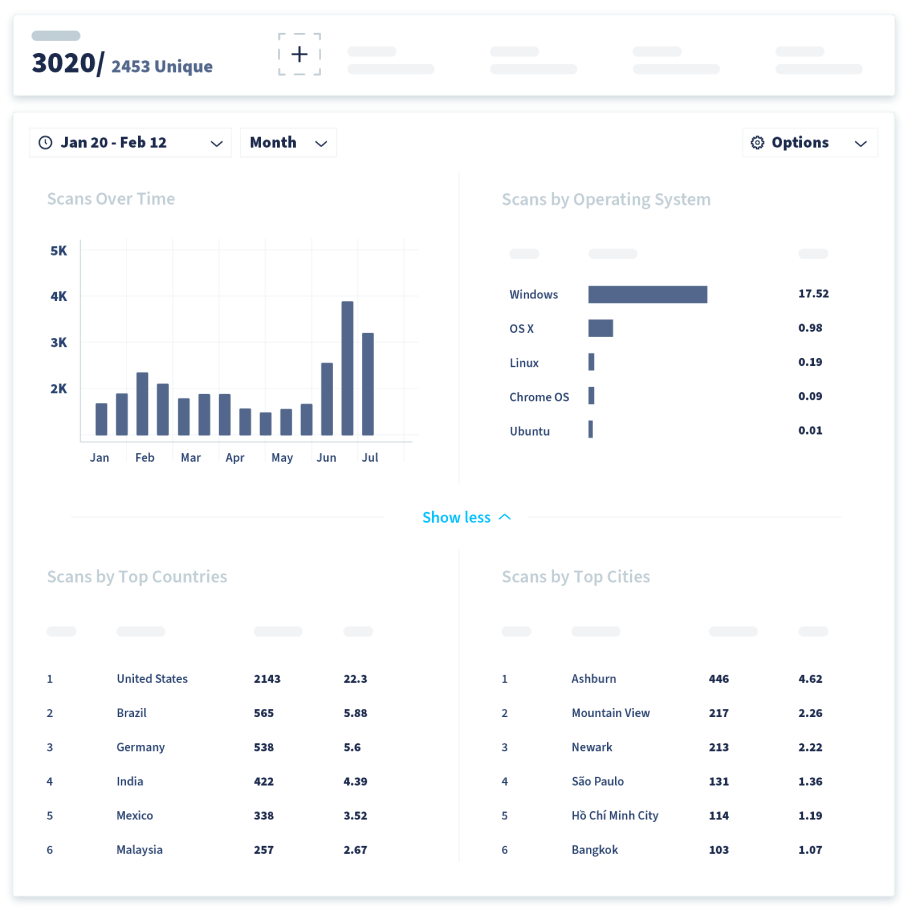 Use localized customer data to accurately identify geographic market opportunities, giving your campaigns and product placement the highest chances for success. Thanks to our QR Code tracking, you can follow each scan's location—right down to the country and city. You'll also obtain real-time scan counts and even gain insights into the digital devices used for scanning.
Dive deep into the data to target repeat purchases with loyalty incentives such as coupons, discounts, and promotions.
How do I create a 2D Barcode?
Ready to turn your GTIN into a scannable QR Code? Get your GTIN ready and learn how to do it in just a few simple steps:
Sign up for QR Code Generator PRO and get started with a free 14-day trial.
Once your account is activated, select Create QR Code on the Dashboard.
Select 2D Barcode under Dynamic Codes.
Name your Code, enter the product's GTIN, and provide the desired link in the Destination URL field.
You can now customize the appearance of the 2D Barcode by adding colors, patterns, frames, and more. You can even upload your company logo to amplify your brand identity.
Create your QR Code and test it by scanning it on different devices to see if everything works.
Finally, download it and add it to the design of your product packaging or label.
How are 2D Barcodes used?
2D Barcodes can make a massive difference in the retail and consumer packaged goods industries, and beyond. Below you'll find some fictional examples to get your creative juices flowing!
Retail clothing labels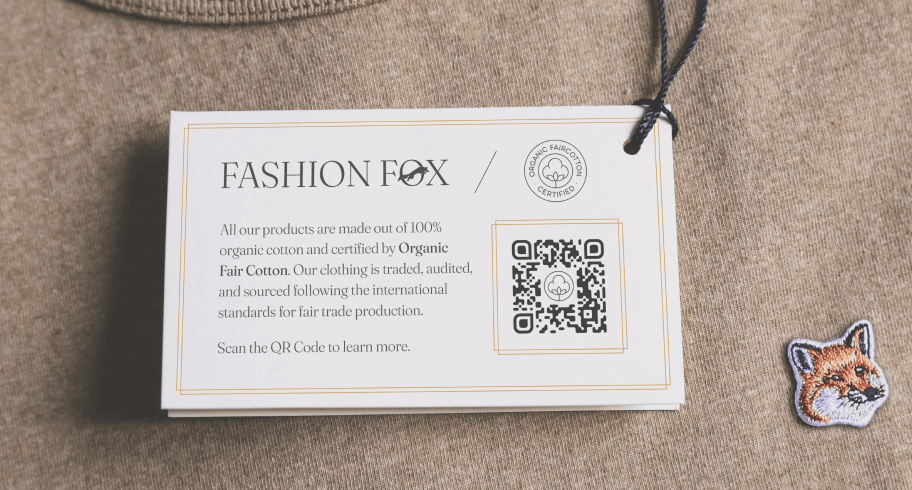 The clothing brand Fashion Fox was looking to promote brand transparency. Being a proudly sustainable apparel brand, their focus is showcasing their dedication to ethical practices. They consider it important to communicate to potential customers that they craft all of their products exclusively from organic cotton. The aim is to encourage customer purchases based on trust in their brand and alignment with their core values.
They added 2D Barcodes to their product labels, allowing customers to learn about their organic cotton certification by scanning them. This way, when customers check out the products, they can make purchases that align with their values, which helps form brand loyalty. Of course, these QR Codes on clothing also act as barcodes for employees to complete sales!
Food product stickers
Bilberries' Hillside Farm, an agricultural business, vends its farm-fresh produce at a local grocery store. They wanted labels for two purposes: simplifying pricing at checkout and providing easy access to product information through scanning.
That's why they used our 2D barcoding QR Code Generator—to make labels that are both GS1-compliant and budget-friendly. They decided to give it a go with one of their batches, placing QR Code stickers on fresh produce.
When customers scan the square, they get to see how the farmers grow their products and learn a thing or two about growing fruits and veggies from scratch. At the checkout, cashiers can scan the same Code without hassle.
Consumer packaged goods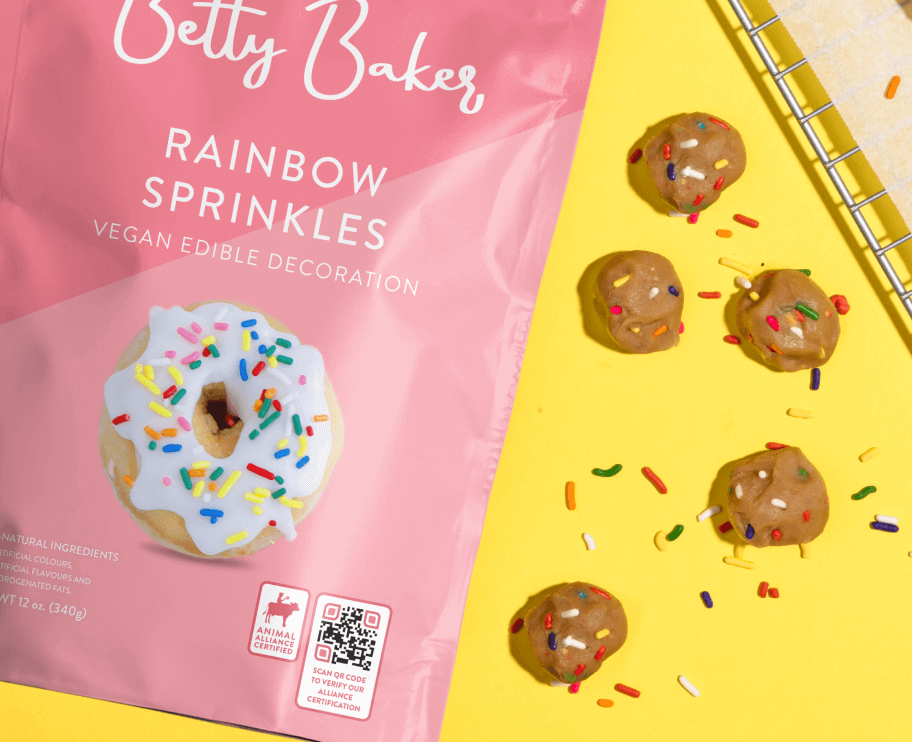 Betty Baker, a brand specializing in baking mixes, set out to elevate their product packaging by making it smarter. Their strategy was simple: enrich the product packaging experience by integrating a compatible product QR Code solution to share educational content.
The overarching goal was to seamlessly prompt customers to whip out their smartphones, instantly accessing vital information about the brand and product—all thanks to the QR Code Generator!
This nifty implementation allows customers to dive into Betty Baker's website, where a treasure trove of nutritional insights and product recipes awaits. As if that wasn't enticing enough, those who stick around on the website are treated to a friendly pop-up inviting them to subscribe to the email list. In return, they unlock a reservoir of exclusive recipes and captivating content. The icing on the cake? A healthy boost in online traffic to Betty Baker's website!
What are the best practices for 2D Barcodes?
Select the correct size
Although they have relatively high correction levels, it's still important to ensure your Code remains visible to the naked eye and is easily scannable, preventing any potential hiccups. For this reason, we recommend printing them at a minimum size of 2 x 2 cm (approximately 0.8 x 0.8 in) for optimal visibility and scannability. This is especially important for labels, stickers, and product packaging.
Add brand elements
Our platform lets you add brand elements so you can stay unified across all channels of communication. By uploading your company logo to the center of your patterned square, you help your customers with brand recall. Along with that, you can copy exact hex color codes so your square pattern and frame match your core brand colors, too.
Prompt scans
Just as you'd prompt users to click on a link with a call-to-action (CTA), you can encourage more scans with a QR Code call-to-action. Not sure how? In the customization stage, simply change the Code frame text to a catchy CTA.
Copy information accurately
While you have the flexibility to change the destination URL once you create the 2D Barcode, you won't be able to edit the GTIN. So be sure to copy the correct GTIN to avoid having to start from scratch.
FAQ
A 2D Barcode created by our generator can be read by point of sale (POS) systems, smartphones, tablets, or any digital device that is capable of reading QR Codes. Almost all modern iOS and Android devices have a built-in scanner that can be used to scan 2D Codes using the device's camera. Alternatively, users with older models may need to download a third-party app to scan.
GS1 is a not-for-profit information standards organization. With over 300,000 members in GS1 US, their standards are the most widely used supply chain standards in the world. GS1 collaborates with businesses and industries to encourage the adoption and use of GS1-standard Barcodes.
GS1 standards create a common foundation for businesses by uniquely identifying, accurately capturing, and automatically sharing vital information about products, locations, assets, and more. The standards also help support many regulatory compliance requirements for a number of industries, including healthcare and the food industry.

Learn more about GS1
Yes. All of our 2D Barcodes created with this solution are GS1-compliant.
A GTIN is a globally recognized identifier for your product that enables it to be looked up in a database. In order to be GS1-compliant, it is required for the GTIN to be present in the 2D Barcode. Once you have your product's unique ID, you can create a 2D Barcode with us.
QR Code Generator doesn't create or assign GTINs. To obtain a GTIN for your product, you need to acquire one from GS1.

Get a GTIN from GS1
GS1, the organization that develops global standards for barcodes, plans to phase out traditional 1D Barcodes and replace them with 2D Barcodes by 2027. In order to continue providing you with the latest in QR Code and barcode technology, we developed our own GS1-complaint 2D Barcodes.