Meet Dr. Andrew Webber
Dr. Andrew Webber isn't actually the owner of a real doctor's practice but it could be your doctor's office, clinic or healthcare center. Incorporating QR Codes into your healthcare facility means you get to focus on taking care of your patients even more. Ready to take your healthcare center to the next level? Check out these creative ways to use QR Codes and learn how you can do the same.
vCard Plus QR Code
Bridge the communication gap
Business cards are often discarded as soon as they are handed out. With the vCard Plus QR Code, you could make the access to your business information a lot easier for your patients. A quick scan allows them to save your phone number, email and business address as well as the links to your social media profiles easily. Plus, you can always update the information in the QR Code without ever reprinting it.
Create now
Learn more
Business Page QR Code
Share info without a website
Maintaining your own website takes time and effort. With the Business Page QR Code you don't need your own homepage to offer your patients all relevant information about your clinic in one place. Place a Business QR Code on the outside of your building and easily share your opening hours, phone number, email address or additional website links. With one scan, patients get all the information they need while you can focus on your daily business.
Create now
Learn more


Create, manage, and track all your
QR Codes

.

Design beautiful QR Codes your way. Add your own color, logo, and frame.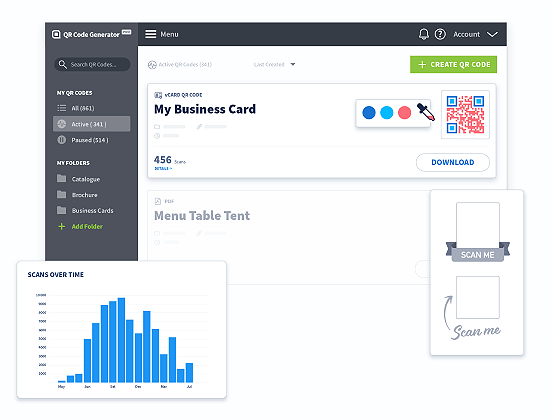 Feedback QR Code
Improve your services
Collecting feedback about your services often gets overlooked in the daily hassle of your clinic. Let your patients take your feedback survey in their own time by including a Feedback QR Code on your forms or business cards. After its completion it gets directly submitted to your preferred email address so you can view the suggestions to improve your services. You can also easily edit the form any time if you want to adjust the topics on your questionnaire to get more detailed feedback on your treatments, staff or facility.
Create now
Learn more
PDF QR Code
Help patients come prepared
Avoid patients showing up to their appointments unprepared by including a PDF QR Code on appointment cards or signs at the welcome desk. Share information to help patients prepare necessary documents for their appointment or how to behave after a treatment. Easily update the information when needed without reprinting a new QR Code.
Create now
Learn more
Video QR Code
Provide educational videos
Patients often forget to ask questions about their upcoming procedure. To address the issue, place a Video QR Code on brochures so different procedures or health concerns can be explained in a visually appealing way. Your patients only need to scan your QR Code once to get access to not just one, but the entire video playlist. If one of your videos needs an update, you can easily exchange it as well as add new videos anytime.
Create now
Learn more
Join over 10,000,000
worldwide

users
QR Code Generator
PRO
Your all-in-one QR Code marketing platform
Now you can fully customize your QR Codes by using your brand colors, add company logo, get scan statistics, and even edit the content after print.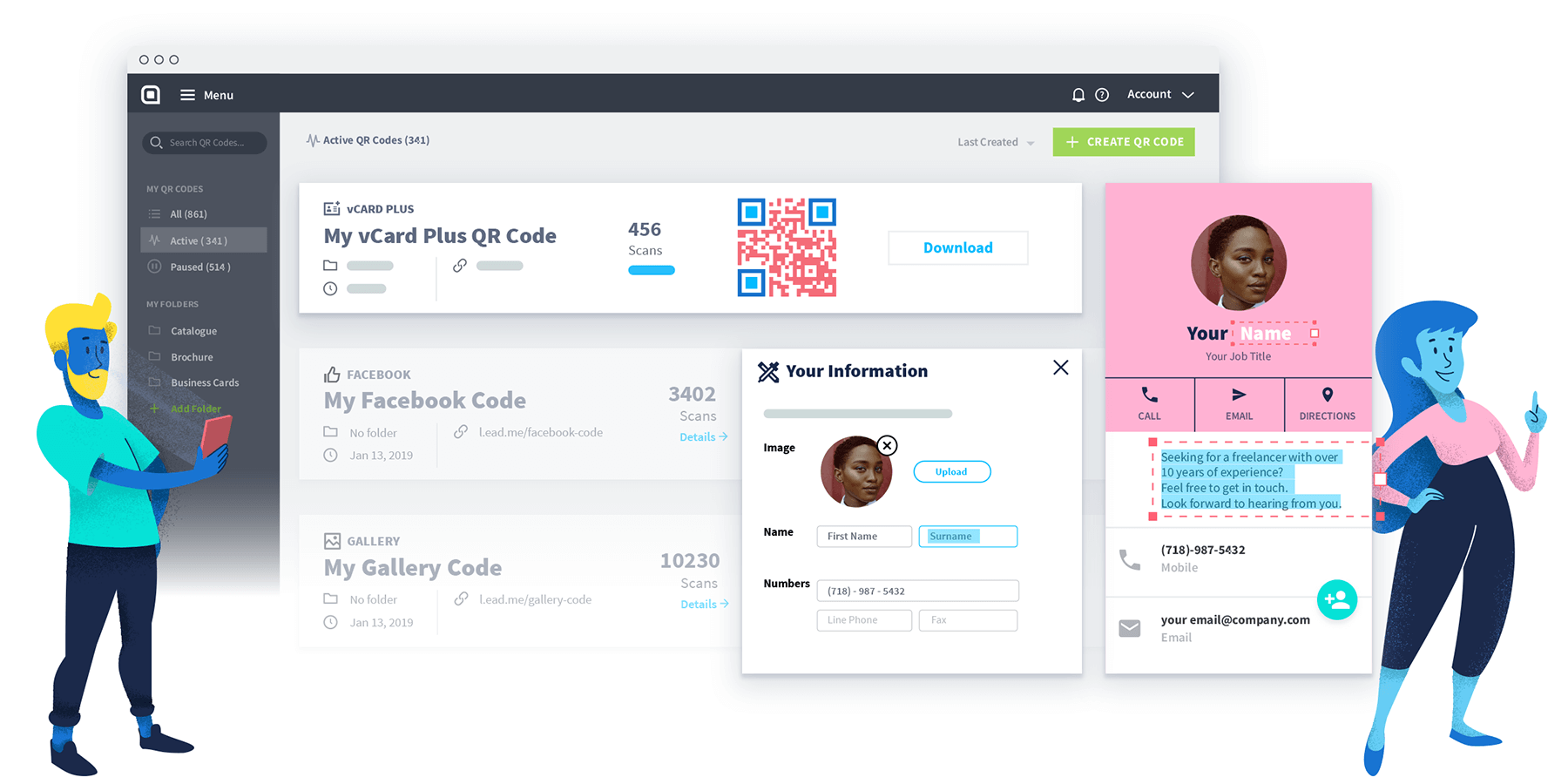 Plus other benefits you'll enjoy across QR Code Generator PRO
Worry-free, mistake-proof
Integrate QR Codes in the early planning stage and only add the contents when you're ready to go live, even after print.
Perfect resolution, every time
Your QR Codes stay in high-resolution no matter what they're printed on. Download in JPG, PNG, SVG, or EPS.
Stay organized effortlessly
Label your QR Codes and create folders to keep them nice and tidy so you can focus on performance.
Collaborate securely online
Add team members to your account and take full control over what they can see or do — complete with their own logins.
Make a great first impression
Customize the short URL or stand out from your competitors and use your own domain to foster brand loyalty.
Stay on top of everything
Add campaign info so you know when the campaign starts, which medium it's on, and how many copies printed.