Customer success stories
Meet Downtown CityMaps
Improving tourism touchpoints in Scotland with zero-touch QR Codes
3.5 min
Increase in dwell time compared to print collaterals
10,000x
Five-figure savings from print and distribution costs
50%
More venues are covered quickly by going digital
Say hello to Downtown City Maps
Downtown CityMaps was established in 2004 and is a recognized and trusted provider of tourist information publications. Each year they design, print, and distribute tourist information maps and guides for hotels, transport hubs, and venues around Glasgow, Edinburgh, Loch Lomond, and other areas of Scotland.
"COVID-19 presented us with both a serious challenge but also a major opportunity. Our traditional distribution outlets quickly removed touchpoints when they re-opened immediately after the lockdown. We saw this coming, so we knew that we had to find a new and innovative way to adapt. Dynamic QR Codes from QR Code Generator PRO have enabled us to do just that and position ourselves for the New Normal and also for the Climate Change Revolution that is coming."
Frank Willoughby, Owner of Downtown CityMaps
The closure of tourism touchpoints
The COVID-19 lockdown forced the closure of traditional outlets for tourist information collaterals in Scotland and many tourist attractions worldwide. Downtown CityMaps contacted their distribution partners during the lockdown to determine what measures they should take to ensure tourists felt reassured when they returned. The consensus? Reduction or elimination of tourism touchpoints was the common thread among everyone they spoke with. But instead of removing them completely, Downtown CityMaps quickly found an innovative solution to reconnect their tourist information collaterals with travelers and keep these touchpoints clean and sanitized.
Zero-touch QR Codes to the rescue
With QR Code Generator PRO, they immediately digitized their tourist publications, which enabled them to add interactive, multimedia content such as direct booking links, video feeds, and access to their client's digital assets. They positioned their publications onto a world-leading online publishing platform with dedicated links to sector-specific Dynamic QR Codes. This enables each publication to be accessed on the tourists' own devices in a zero-touch, COVID-proof way.
Promising results at the onset
Even when COVID-19 restrictions were still in place, the early result showed high QR Code scans and dwell time on their tourist publications. "Visitor footfall is currently low due to travel and hospitality restrictions, but we have already seen steady adoption of touch-free information access and scans. Our average dwell time per publication is currently more than 3.5 minutes, which is very high for digital content," Willoughby explains.
New information, same QR Codes
Downtown CityMaps created a series of QR Code download points within their existing distribution outlets in hotels, transport hubs, high street outlets, and venues where tourists or locals can scan them and access the information on their own devices. But what happens when the information changes? Thanks to Dynamic QR Codes, new information is continuously updated on the fly, which means all they have to do is log in, add the latest content, and save while the QR Codes remain untouched in each location.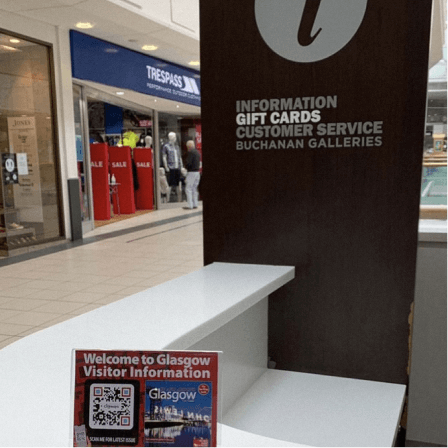 Going green for good
Another benefit to using QR Codes is that they're environmentally friendly. Downtown CityMaps moved away from printing their tourist magazines and opted for digital publishing and developing their QR Code network throughout Glasgow, Edinburgh, and Loch Lomond (with other locations such as Argyll, Dundee, and Aberdeen to name a few.) This allowed them to save a significant five-figure amount that would have been spent on print and distribution. It also meant saving on location visits and sales travels.
"Frank Willoughby, the owner of Downtown CityMaps, adds, "Glasgow is the host city for COP26, the global climate change conference that focuses the eyes of the world on Scotland. In the tourism information delivery sector, those who produce the material, promote what they do, and want to demonstrate their green credentials now need to embrace a carbon-free, zero delivery mile world if they wish to make a difference. Downtown CityMaps is making this possible for attractions, tours, hospitality, and entertainment sectors by providing a platform for digital delivery of this information directly onto users' own devices in traditional tourist locations such as hotels, transport hubs, and venues, simply and easily by a single QR code scan."
Frank Willoughby, Owner of Downtown CityMaps