Product
Upload Videos and Other Rich Media to QR Codes
Your audience expects more interactive ad formats to make purchases. While video remains one of the most engaging marketing methods, rich media can be used in multiple content formats to increase the success of marketing campaigns. Using QR Codes, you can integrate rich media into both print and digital ads, all with campaign tracking data and maximum customization possibilities.
What is rich media and why use it for marketing?
The term rich media describes a particular type of digital media form that uses motion, movement, and interactivity by incorporating video, audio, customer interaction, and/or animation. Specific types of rich media include:
Videos
GIFs
Social media stories
Podcasts
Webinars
Content narration audio
Infographics
Interactive movements from a digital ad or website
Rich media advertising has become more popular, because of its success rates in conveying content in a unique manner. There is a connection with video marketing in particular in that 57% of consumers say that watching videos makes them more confident in their purchasing decisions, while 47% of buyers consume between three and five pieces of content before they ever talk to a sales rep. Overall, the lesson here is that ads should use media formats that make their content more interactive in order to better engage with their target audiences.
Why use QR Codes to upload videos and other rich media?
But what if your marketing campaigns entail that you use both print and digital marketing methods? Is it possible to create print ads with rich media? Actually, yes! The answer can be found with QR Codes. QR Codes use their innovative 2D technology to be read horizontally and vertically using a square shape. This shape enables faster loading times for linked information to the QR Codes, plus creates a direct connection between print ads and digital platforms. Here is an overview of how QR Code technology can be used in combination with rich media ads.
Breathe life into print ads using rich media
Let's say, for example, that you'd like to use a billboard ad. These are large scale print ads that need to be distinguishable from a distance in order for the initial investment to make sense. Marketers may choose to use billboard ads for the purpose of spreading brand awareness for a particular product or service in order to drive purchases.
In today's technological world, this often involves readers visiting a particular website, social media, or other digital platforms. The trouble with this model is that on the one hand, if you've included a link on your billboard ad, a reader has to find a way to look it up later. Maybe they find it, maybe they don't. As a result, the whole ROI (return on investment) calculation process is a giant guessing game, because you don't know which purchases are a direct result of your billboard ad.
Here is where QR Codes come into play. First off, you can add rich media formats to print ads like billboards using a particular QR Code type. This then makes your billboard ad much more interactive by adding videos or sounds. Secondly, the reader now has a direct way to access your link by scanning your QR Code. This process is tracked in QR Code Generator software so you can monitor each QR Code scan your billboard ad gets.
Trackable rich media marketing campaigns
What sort of information does QR Code Generator enable you to analyze for rich media marketing campaigns with QR Codes? If you've chosen a Dynamic QR Code, you receive QR Code scan data such as location by city and country, unique vs. total scans, time scanned, and operating device used. This provides campaign optimization and tangible ROI calculations for print ads like never before.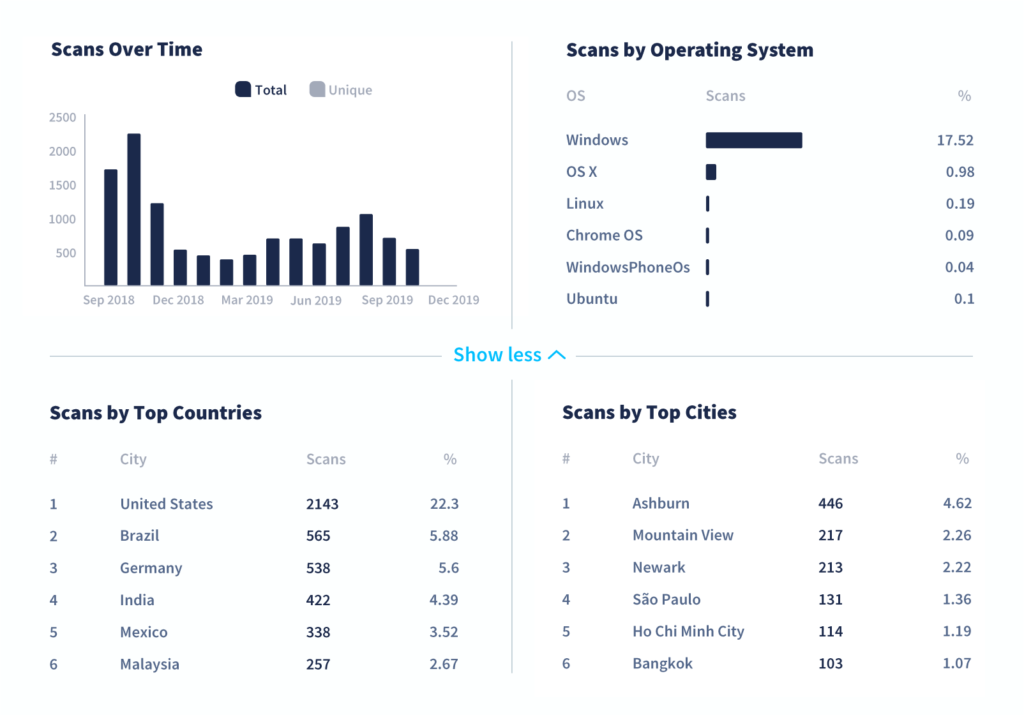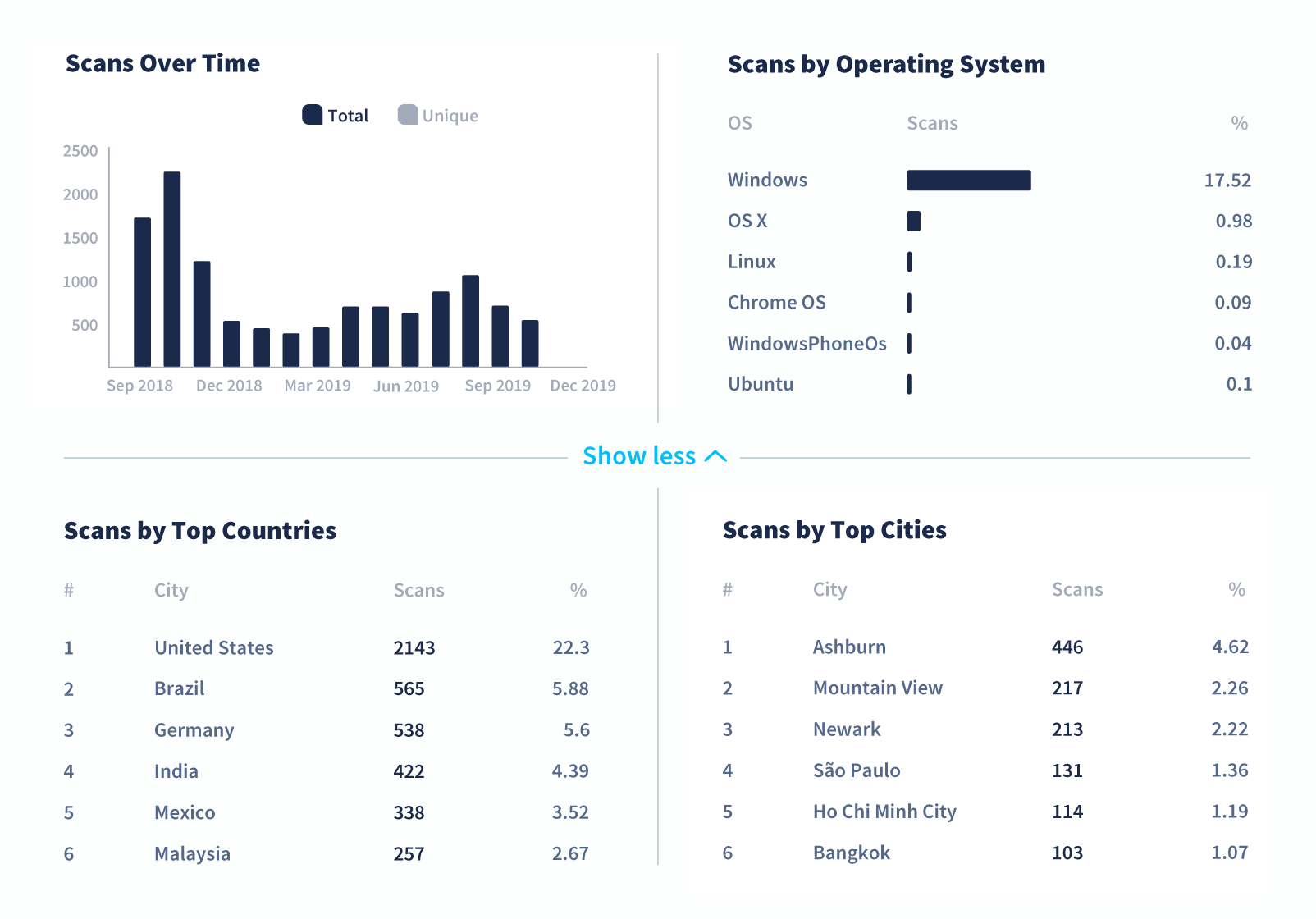 Furthermore, no matter whether you've used rich media in a print ad or as a digital version, the complete process is trackable with QR Codes. If you integrate your QR Code campaign with Google Analytics, you can monitor the entire customer journey after a user has scanned your QR Code. This enables you to test campaigns by time period, marketing method, and location so you can maximize your revenue generated.
Editable links and changeable QR Code solutions
A second advantage of using Dynamic QR Codes is they are always editable and updatable. If you need to update your link or even change your type of QR Code solution (like changing from a video to an app), all of this is possible without changing the original appearance of the QR Code. For print ads with rich media, this means that you can change what you'd like customers to view without having to reprint your QR Code.
Speeds up loading times with short URLs
QR Codes maximize loading efficiency due to their use of short URLs. A short URL is basically a condensed version of a long link that makes the loading time faster, just like on social media. QR Codes create the same type of short URL for your link as well, which means you can add the QR Code and its short URL to all marketing mediums to ensure all types of users are reached. What's more, all QR Code solutions automatically optimize content for mobile, as well as that you can edit your short URL for an extra dose of branding.
Custom QR Codes for every platform
If you're worried about QR Codes destroying the look of your ad designs, think again! You can customize every aspect of QR Codes with QR Code Generator software. Give your QR Code a custom frame, unique edges, particular brand or graphic design colors, your logo or an image in the middle, and a CTA (call to action) so that a user understands why to scan your QR Code.
Pro tip: QR Code designs can be scaled both up and down. For tips on sizing, coloring, and methods for minimizing scanning errors, take a look here.
QR Code solutions that link to rich media and how to use them
To get a clearer idea of how QR Codes can be used with rich media ads, here is a list of QR Code solutions with example use cases as inspirations for your next campaign.
Video QR Codes
What it does: Video QR Code displays one or more videos on a customizable, mobile-optimized page that includes a link to your website, a contact form, or wherever you'd like to direct traffic.
Use example: Videos are one of the most successful forms of rich media. In fact, 64% of consumers make a purchase after watching branded social videos. For instance, let's take a health and fitness studio. They create a print banner ad for new fitness courses. They add a Video QR Code to their banner to show potential customers what the courses look like with an option to book a trial session. They track how many QR Code scans that banner ad got, while even testing out different videos and locations that get the best results.
Image Gallery QR Codes
What it does: Image Gallery QR Codes display a mobile-optimized page of a series of images. This page can be customized with brand colors, a unique title, a description, and a CTA button with an additional link for a landing page or purchase page. Images include features like zooming, social media sharing, and download to device.
Use case example: Similar to the photo above, an Image Gallery QR Code is one way to make print ads interactive. For example, if you're a real estate agency, you could add an Image Gallery QR Code to your shop front and for sale property signs so that passersby can book viewing appointments, regardless of whether you are open or not.
MP3 QR Code
What it does: MP3 QR Code can be used to link to any sort of sound files, such as music, audiobooks, sound tutorials, and podcasts. After a user scans, they can view a custom mobile-friendly page with a short description, an option to download the file to their phone, and a CTA button to drive purchases with a landing page or option to purchase.
Use case example: Audiobooks are a great method for increasing book sales. Already an interactive format themselves, you could add an MP3 QR Code linked to an audiobook in a print magazine ad. The sound file could be a teaser for the audiobook recording with a link to purchase the entire audiobook
Social Media QR Code
What it does: Social Media QR Code provides a convenient method to share all your social links on one mobile-optimized page. This can be edited at any time to add more profiles and connects users with your social profiles without them having to look them up later. Users also have the option to share social links through a built-in Share button.
Use case example: A fashion retailer with a physical location could take advantage of using their product packaging for small print ads. For example, they could add Social Media QR Codes on shopping bags, on clothing tags, and in the dressing room. Users could be offered rewards for social media shares after their QR Code scan to boost results.
App Store QR Code
What it does: App Store QR Code works perfectly with rich media ads, because it adds interactivity to any type of ad (both print and digital) by linking users to your app through a QR Code. Customers who scan the QR Code are sent directly to a mobile-optimized page with links to download on the app stores, as well as a customizable CTA button to encourage purchases or link to a video trailer of the app.
Use case example: Marketing mobile apps means that you need to direct users to a mobile platform to download them. Instead of ads and landing pages that use a difficult link that needs to be typed in later via mobile, use a QR Code so that users can directly access the app with their smartphone after they scan. Put the QR Code on a landing page, in marketing emails, or on any print ads to streamline the entire download process.