Industry Trends
How QR Codes on Company Cars Boost Marketing
Like many print materials, company cars can be used as a brand awareness tool. Generally speaking, the more branding methods a company uses, the better people will recognize them. However, print materials often run into the problem that it's hard to estimate how much revenue they actually generate. But with QR Codes, the campaign can easily be tracked, edited, and updated.
The reasons for using company cars for marketing
The purpose of vehicle marketing basically comes down to one core thing: branding. The fact is that 60% of consumers would rather buy products from companies they've heard of than ones they haven't, meaning that the more brand awareness you have, the more sales you will generate. There's actually a term for this known as brand recall, which is a quantifiable metric for how well users can "recall" or remember a brand. It's often used in studies to give calculable numbers to brand awareness. There are some brands that are so synonymous with the product, that that's often the term used to describe that object in general, such as Kleenex for example.
The premise for marketing with company cars is the same. This can be done in a few different ways: Car wraps (a vinyl wrap around the entire car that works as an ad), magnetic signs placed on the sides of cars, bumper advertising (think bumper stickers), and last but not least, QR Codes.
The benefits of company car ads with QR Code marketing
Not only company cars, but any vehicle marketing can be used in combination with QR Codes. There are often banners on the sides of buses, trains, and planes that come with the same branding benefits. Adding QR Codes simply gives vehicle marketing an extra boost.
Stand out through customized designs and sizes
The essential elements of branding are design and styling. For vehicle marketing, not only does the ad need to match your brand, but it also has to fit in the space of the car. QR Codes made with QR Code Generator software all come with detailed customization features such as custom frames, the ability to add a logo, unique edges, brand colors, and a unique CTA (call to action). Their size can also be adjusted according to the requirements for the specific car ad.
Calculable ROI through tracking metrics
Using QR Codes takes the guesswork out of print material ROI (return on investment). Branding is a difficult concept to quantify in general, but QR Code campaigns simplify this process. All Dynamic QR Codes made with QR Code Generator software include tracking metrics such as location by city and country, total vs. unique scans, time scanned and operating device used. These metrics provide the conditions to calculate the ROI for company car ads used because the complete customer journey can be tracked due to the scanning of the QR Code.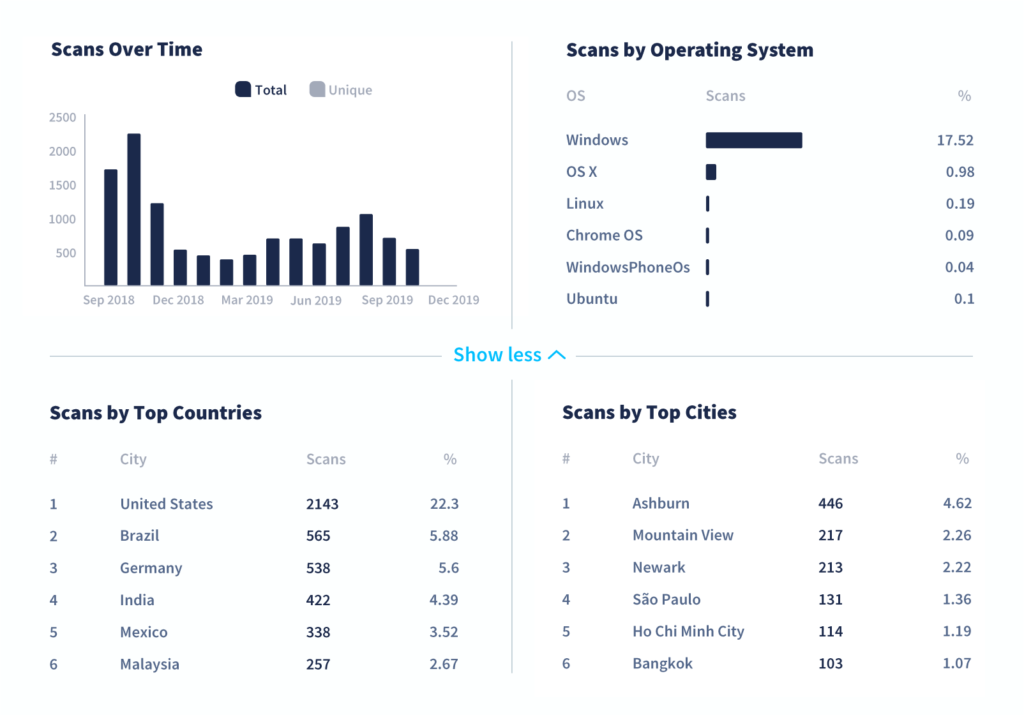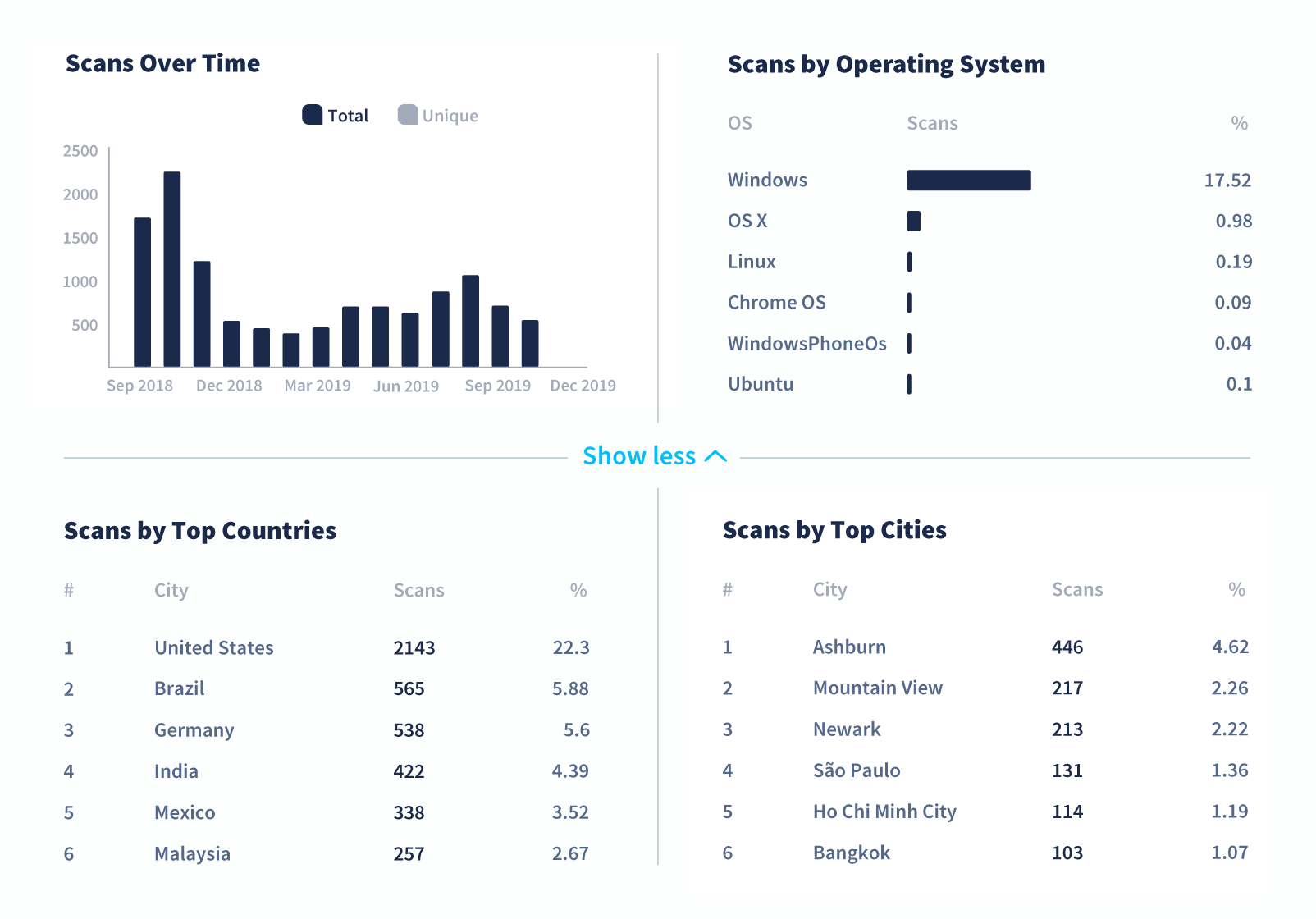 Pro tip: Tracking each customer's actions after their QR Code scan is possible by integrating your QR Code short URL with Google Analytics. For a quick overview on how this works, take a look here.
Link to many types of information
QR Code Generator has developed QR Code types for nearly every purpose possible. No matter whether you'd like to get more app installs, direct users to a business page, increase social media followers, provide limited offer discounts, or generate customer reviews, all of this is possible and more with QR Codes.
Connect with mobile users
In addition to valuable tracking metrics, another advantage of QR Codes is their ability to reach mobile users. The best marketing campaigns are optimized for both desktop and mobile users, but vehicle marketing, in particular, should be mobile optimized. If you want a user to take a direct action once they see the QR Code on the car ad, this will be done using a smartphone, so it makes sense that the information on the QR should work on all mobile devices as well.
Always editable means no reprinting costs for car wraps
Dynamic QR Codes have yet another major advantage: they can be edited and updated at any time. Car ads and vehicle marketing, in general, are costly with the first print, so to avoid the cost of reprinting, the size, and style of the ad need to be calculated perfectly. But with a QR Code, fixing mistakes is easy. Not only can the information linked to the QR be adjusted at anytime (for example, redirecting the link a new website) without changing the QR Code's appearance, the type of QR Code can also be changed (for example from Video QR Code to App Store QR Code).
Examples of how to use company car ads with QR Code marketing
Whether on your own company car or as part of car ads or other vehicle marketing, QR Codes step up your marketing game. To give you some inspiration, here are a few examples of how QR Codes can be used in combination with company car marketing.
Emphasize coupons & discounts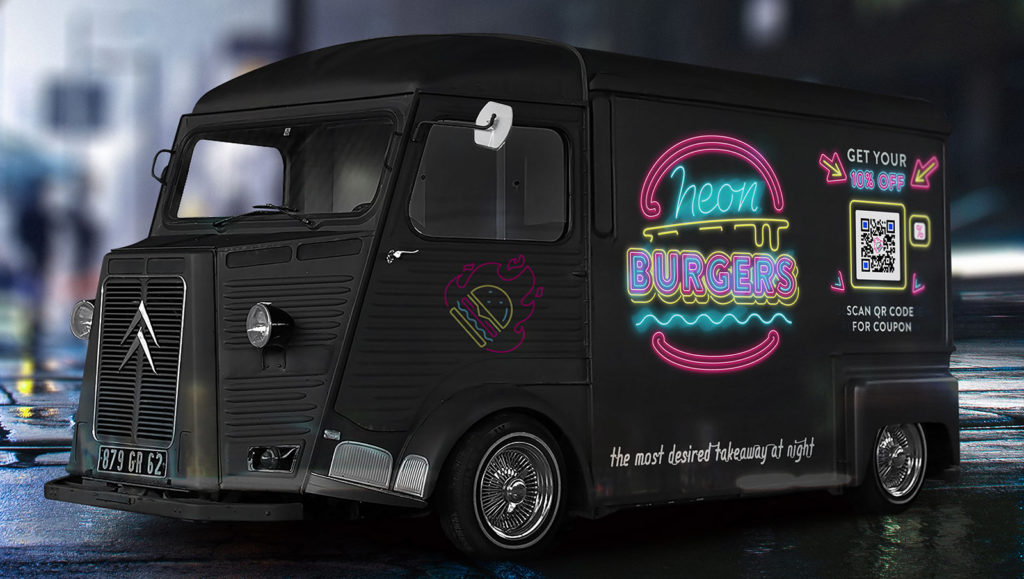 A food truck or food cart is the ideal place for car ads because the entire purpose of that vehicle is for that specific food business. You can entice new customers to try out your food through a discount from a Coupon QR Code. Then, no matter where you drive to and even when you are closed, customers can redeem the coupon and come back to enjoy your food. This is particularly useful if you have multiple trucks for the same company because you can compare the scan rates between different cities.
Improve social media or get reviews
A food truck might want to consider using a Social Media QR Code as well to improve followers. Restaurants and the food industry, in particular, rely heavily on social media for their marketing, so this type of QR Code streamlines that process for a user to find and follow you.
Further ideas for a food truck could involve Facebook reviews. Along with other types of customer reviews, reviews, in general, are crucial for hospitality industry businesses. To generate more reviews, you could add a Rating QR Code as part of a vehicle wrap. Furthermore, you can also link customers to menus with a PDF QR Code or add a Dynamic URL QR Code to link customers to a food delivery page.
Bikes & e-scooters
Many cities have begun to incorporate shared bikes into their public transit systems, and even more recently e-scooters through companies like SIXT. This technology often uses QR Codes to unlock the devices. QR Codes have become more popular than credit cards to unlock the bikes and e-scooters because they're much faster and simpler to use.
Showcase your business page on the go
Nearly every type of business can take advantage of the Business Page QR Code placed on company cars. Now a user doesn't need to separately type on your website or take a photo of the car ad to remember to look up your company later. They can simply scan the QR Code and arrive directly on your specific business page. This can include similar details like a landing page such as opening hours, a description, a customized button for booking, purchasing or appointment scheduling, but is already optimized for mobile so that no user is overlooked.
Showcase images and videos
Image Gallery and Video QR Codes are particularly useful for design-related businesses such as event management, landscaping, design studios and more. Images and videos can be added to company cars so that they add extra information that a user can directly interact with. This means an upgraded form of an ad that works 24/7 to showcase your top projects.
Increase app downloads
If you have a company that would like to get more mobile app usage, using an App Store QR Code generates great results. Particularly when used in vehicle marketing, it's frustrating and unrealistic for a user to see an ad and then have to search separately for the app on their phone. They either will abandon it after they can't find it or possibly not even try. This issue is avoided entirely with App QR Codes because the user is then linked directly to the app after they scan the QR Code so it can be immediately installed.