COVID-19
Using QR Codes to Curb Coronavirus at Your Healthcare Facility
The coronavirus disease (COVID-19) outbreak affects hundreds of thousands of people and it has a growing impact on how we live our daily lives. This article is aimed at supplying healthcare providers with ways to use our free QR Code tool to help prevent the disease from spreading further.
About Quick Response (QR) Codes
As the name suggests, QR Code is the quickest way to access information stored within a two-dimensional barcode. It contains seven different elements that made up its square shape and can store various types of information.
Why was it developed?
Before QR Code was invented, the barcode was the leading tool used to store information as a way to keep track of products in supermarkets in Japan. The demand for more storage eventually grew and its one-directional scanning capability also proved to be limited. Masahiro Hara, the lead developer of DENSO WAVE, stepped in and invented the QR Code to fix the failing system.
Reasons for QR Code's success
Even though DENSO WAVE holds the patent to the Codes, they have chosen not to exercise it, allowing anyone to use it without licensing fees. Aside from being free of patent infringement, QR Code's success is attributed to these reasons:
A QR Code can store up to 4296 characters (versus barcode's 20 characters).
A QR Code can still be read/scanned even if the Code is partially visible due to its error correction function.
A QR Code is easy to read because it has three position detection patterns that make it easy for scanners to read the Code at any angle.
How China is utilizing QR Codes to their fullest
Though QR Code was invented in Japan, the true champion is, of course, China. With over 1.3 billion people, the country needed a way to streamline daily operations with a simple, yet effective piece of technology. QR Codes are used in a lot of ways in China—from payments to advertisements—but its recent application to combat the coronavirus disease (COVID-19) has a significant impact on the healthcare industry.
What is coronavirus?
Coronavirus disease or in short, COVID-19 is the infectious disease caused by severe acute respiratory syndrome coronavirus 2 (SARS-CoV-2). People can catch COVID-19 when they breathe or touch the small droplets from an infected person when they cough or exhale. This is why it is important to stay more than 1 meter (3 feet) away from a person who is sick. The outbreak first originated in Wuhan, China, in December 2019.
QR Code acts as a close contact detector
During the COVID-19 outbreak, China rolled out a mobile app enabling people to check whether they are at the risk of catching the disease. People fill in their details in a questionnaire and when they're done, they're assigned a color-based QR Code that indicated their health status.
The QR Code has three colors: Green for the general public, yellow for people returning from affected countries, and red for patients, suspected cases, or people under medical observation. There are checkpoints at most public places where the QR Code and person's body temperature is checked. Those with green Codes are allowed in public spheres while people with yellow and red Codes are advised to stay in.
Efficiency in hospitals increases
While the use of the color-based QR Codes is regarded as controversial, it has benefited hospitals the most. Before the health QR Code was implemented, patients would have to go through a series of questions asked by doctors, and this often took several minutes to complete. Besides, some patients reportedly lied about whether or not they've traveled to areas affected by the coronavirus outbreak just to get the service they needed. With the QR Code used to confirm the truth about their health status, those with green Codes can use the hospital freely while saving medical personnel considerable paperwork and time.
According to Chen Fang, Party secretary of Shanghai Sixth People's Hospital, the QR Code system brings convenience to both the patients and hospital, as early screenings were done beforehand, thus eliminating long queues just for registrations.
Improving cleanliness on everyday objects
Scientists studying the coronavirus quickly found out that the virus can potentially infect a person through everyday objects. The research showed that the virus remains active for up to 24 hours on cardboard and up to three days on plastic and stainless steel. The Centers for Disease Control and Prevention (CDC) says that it may be possible for a person to get COVID-19 by touching a surface or object that has the virus on it and then touching their own mouth, nose, or possibly their eyes.
No-contact interaction with QR Codes
With QR Codes, you can, at least, slow down the spread of COVID-19 by making everyday objects accessible without ever touching them. Depending on the size of the QR Code, you only need a minimum of 25 cm (10 in) to scan a QR Code. In comparison, NFC (near-field communication) devices can only interact when they're brought within 4 cm (1​ ½ in) of each other.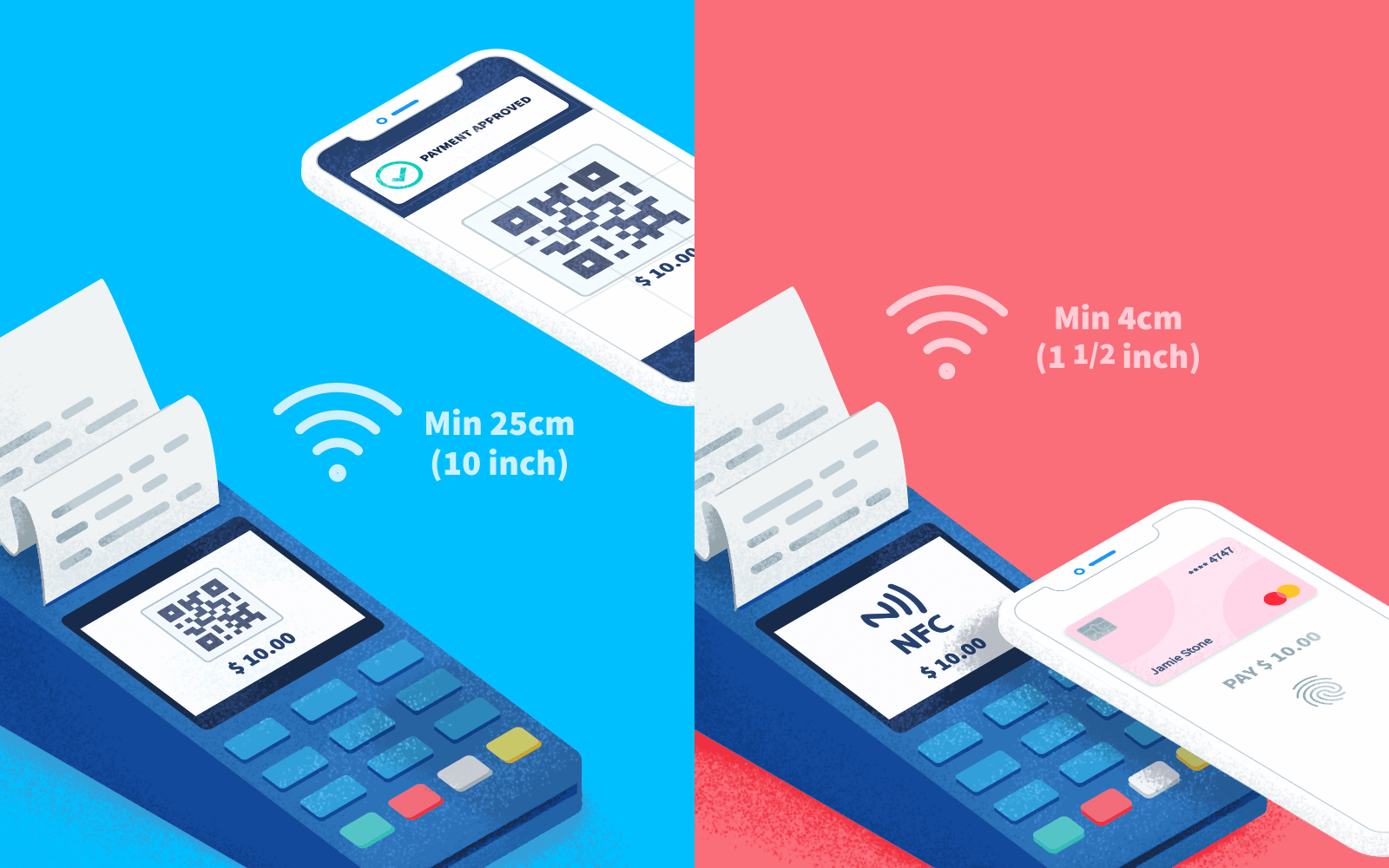 Restaurants are taking the lead in "sanitizing" their establishments
To help slow down the spread of coronavirus on surfaces, restaurants are now slowly getting rid of paper menus. A popular ice cream parlor in Savannah, Georgia has started to replace their paper menus with just a QR Code on its entrance doors. Some establishments are even using QR Codes to replace the ordering and payment system entirely.
QR Code ideas you can implement in your hospital or clinic right now
QR Codes are not only cost-effective, but they are also quick and easy to implement. Plus, in the wake of COVID-19, there's an added benefit that keeps everyone clean through contactless interactions. Below are just some of the QR Code examples you can create for your healthcare facility.
Eliminate pen and paper registrations for patients
It's easy to set up, and there is absolutely zero cost to implement this QR Code in your patient registration process. You only need to print or display a QR Code at the entrance or directly at the waiting room for a hassle-free and no-contact registration process. Follow these steps to create a QR Code to register your patients:
Step 1: Create your registration form
First, go to forms.google.com to create your registration form.
Select Blank + to create a new form.
Add all the required fields needed for your patients to fill in.
Step 2: Get the link
On the top right, select Send.
At the top of the window, select Link.
Copy the link that appears or press Ctrl + c (Windows) or ⌘ + c (Mac) on your keyboard.
Step 3: Create your QR Code
Go to qr-code-generator.com.
Paste the registration form link you copied into the Enter your website field.
Your QR Code will be generated automatically. Do a test scan to see if it's working correctly.
To finish up, you can customize or download it directly.
You can now use this QR Code and display it on a sign at the registration counter or the wall in the waiting area. When a patient submits the form, you will receive an email notification from Google Form directly so there's no need to physically check in on them whether they've submitted or not.
Provide contactless information
Hospitals and clinics are big proponents of sharing information via brochures, flyers, and posters. You've seen them everywhere on the counter, tables in the waiting room, and even in doctors' offices. Not only are they a waste of resources, but they are also rarely replaced or cleaned. What if there's a way to reduce paper waste and still share information without physically touching them?
Create downloadable marketing materials
Brochures and flyers are usually text-heavy, and the information in it can get outdated from the time they're printed to when they get to your patients. Add QR Codes on your marketing materials that lead to their digital copies so that your patients can take the information home without ever touching them. Follow the steps below to create one:
Step 1: Upload the digital copy of your brochure or flyer to the cloud storage of your choosing. You can use the free versions from Google Drive or Dropbox.
Step 2: Get the link from the cloud storage and set it to public.
Step 3: Go to qr-code-generator.com and paste the cloud link to create a QR Code that displays your PDF for free.
Step 4: Download the QR Code and add it to your marketing material and display them wherever you want.
If you need to update the information on a regular basis, we recommend signing up for our QR Code Generator PRO version and create a PDF QR Code or Image Gallery QR Code where you can replace the files whenever you want without ever reprinting a new QR Code. This way, you save even more on printing-related costs.
Provide different ways to access information
Everyone absorbs information differently. That's why it's important to prepare multiple ways to share information. A traditional poster or infographic can be enriched with videos or sound files with the addition of QR Codes. How?
Step 1: Upload your video to Youtube or select one from a reputable source.
Step 2: Copy the link where the video is located in.
Step 3: Go to qr-code-generator.com and paste the video link to create a free QR Code for your video.
Step 4: Download the QR Code and add it to your marketing materials.
If you need to display more than one video, you can use the PRO version of the Video QR Code and add as many videos as you want on a customizable landing page. Plus, you get the added bonus of adding more or replace any videos in the future without changing the QR Code. To give it a try, all you have to do is sign up to the 14 days PRO version and see if the tool is right for you.
Streamline inventory management
Proper inventory management at a healthcare facility can be tricky. By adding QR Codes into your inventory, you can implement a more organized system that could potentially help cut costs as well. Use Plain Text QR Code to assign labels to your storage drawers or cabinets so you can check what's in them with a quick scan. You can also assign a different color to each QR Code to indicate their type, expiry date, and more. To create one, follow these steps:
Step 1: Go to qr-code-generator.com where the Plain Text QR Code is already pre-selected for you.
Step 2: Enter your desired content using words, numbers, or special characters. There is a limit of 300 characters per QR Code, but you can create as many QR Codes as you want entirely for free.
Step 3: Download the QR Code and print it as a sticker or label that you can easily add to your storage units.
Improve your relationship with patients through QR Codes
Go even beyond the standard service you provide and offer a better experience for your patients. Aside from keeping everything cleaned and sanitized, there are also other ways for you to make your healthcare facility more accessible with QR Codes.
Offer multi-channel communication
Did you know that putting patients on hold is actually costing you money, running at a minimum of $32-50 per patient? There are other ways for you to communicate with your patients, and they're all—you've guessed it—free. Simply add an Email QR Code or SMS QR Code that your patients can scan and send you emails or text messages in seconds. Or use a Twitter QR Code to redirect the more tech-savvy patients to send you a tweet or direct message (DM). If that's not enough, follow the simple steps below to get patients to send you a message using Facebook Messenger.
Steps to create a QR Code that opens your Facebook Messenger:
Go to qr-code-generator.com.
Copy this URL https://m.me/ and add your Facebook page username at the end before pasting it into the URL field. For example, ours would be https://m.me/qrcgcom. This link is used to open the Facebook Messenger directly when it's accessed.
Your QR Code will be generated automatically. Test your QR Code to see if it's working correctly.
Finish up by adding some finishing touches by customizing the QR Code's appearance or just download it in black and white.
Enhance the overall experience
The waiting area is often filled with worried friends and family members. To help keep them occupied during this tough period, why not offer free WiFi? Adding WiFi to your healthcare facility has the same benefits as adding magazines or a fish tank that helps patients relax and decrease perceived wait time.
Steps to create a free WiFi QR Code:
Go to qr-code-generator.com.
Enter your WiFi network name or SSID.
Tick the box if this is a hidden network.
Enter the password (leave empty if there's no password).
Select the password encryption type (none if there's no password).
Download the WiFi QR Code and display it where it's easily accessible in your facility.
Not only does it keep patients and their families busy, but it also allows staff members to work more productively without distractions from non-patient queries.
Why you should implement QR Codes in your healthcare facility now
We've only scratched the surface of the things you can do with QR Codes here. Research shows that 72% of all internet users will solely use smartphones to access the web by 2025. It makes sense to start revamping your healthcare facility now to prepare for that future. Besides, adding QR Codes to your strategy will significantly reduce costs, save the environment, and help you maintain cleanliness in places where they're often overlooked. So act now by making your healthcare facility more accessible to patients, especially in a market as competitive as healthcare. For more help on QR Codes, see our resources below: