Best Practices
Why Your Print Marketing Materials Need QR Codes
Isn't there a way to connect print marketing materials with digital content? Can you track print advertising ROI? Will QR Codes match my graphic designs? You have the questions and we have the answers.
What types of print marketing materials are there?
Print marketing materials can be found in many different formats, including brochures, flyers, stickers, stationery, magazine and newspaper ads, poster ads, billboard ads, and more. The basic idea is that there is a print material (i.e. not digital) that's used to market, sell, or promote, a brand, product, or services.
What are the benefits of designing print marketing materials?
Despite the fact that companies are projected to spend less on print advertising in the future, there are still some major benefits to continue using print advertising in marketing strategies:
People are 70% more likely to remember businesses seen in print compared to online.
95% of people under 25 read magazines.
61% of readers trust newspaper ads as opposed to 42% who give credibility to online ones.
By combining print and digital ads, it will make online campaigns 400% more effective.
Grow brand awareness
A major driver behind print advertising is brand awareness, meaning how well consumers recognize a particular brand. Print marketing often focuses more on brand awareness versus direct sales, because print materials are limited in space and can't directly connect with digital platforms (with QR Codes now you can! More on this below).
Nonetheless, with the rise of digital marketing activities, brands are beginning to integrate the two methods to make sure they reach all types of potential customers.
Convey your brand's uniqueness
All types of marketing and advertising, both print and digital, should be used to convey a brand's particular uniqueness. But there's still a lot to be said for a professional appearance with print advertising because we as consumers simply tend to take it more seriously than what we view online. This "uniqueness" is also what grows brand awareness. Take a major brand that everyone knows like Coca Cola. Nearly everyone on the planet will connect their brand colors and logo to that company, regardless of whether they even consume their products. Their whole brand began with print advertising, so this shows the effect print can truly have.
A typical part of marketing & sales
Coca-Cola certainly didn't have to compete with the marketing technology that's available today, so that has completely changed the branding process for newer companies. Nonetheless, there's still power behind print ads when done properly. N26, one of the fastest growing online banks on the planet (here it's quite ironic because they're an online bank), is a prime example of this as shown in the following image.
Why should you use QR Codes on print marketing materials?
No one can say that N26's ad campaign was any less than crazily successful. But the ad can certainly be improved with one simple trick; QR Code!
In the ad, they're promoting their mobile app in a clever way. However, for anyone who reads this ad, they still need to look up the app on their smartphone later. Plus, it's difficult to tell which print ads got the most app downloads for different locations. This is exactly why print marketing materials need QR Codes!
Streamline print to digital
If we take the case of downloading the N26 app as an example, the process would work like this if they had used a QR Code:
Create an App Store QR Code.
Add it to the print ad design.
A reader views the ad, scans the QR Code, and installs the app directly to their smartphone, no matter from which app store.
Track the results and optimize the app marketing campaigns based on which ads and locations are the most successful.
The image below is an example of how an App Store QR Code can be used on a poster ad to streamline the app downloading process:
QR Code campaign tracking
If you're curious about how to optimize a campaign with QR Codes, you can do this by monitoring QR Code scan metrics and integrating your QR Code campaigns with Google Analytics. With QR Code Generator, you can view real-time scan metrics such as location by city and country, time scanned, unique vs. total scans, and operating device used. This combination of information enables location comparison, as well as calculable ROI (return on investment) for any print marketing materials with QR Codes.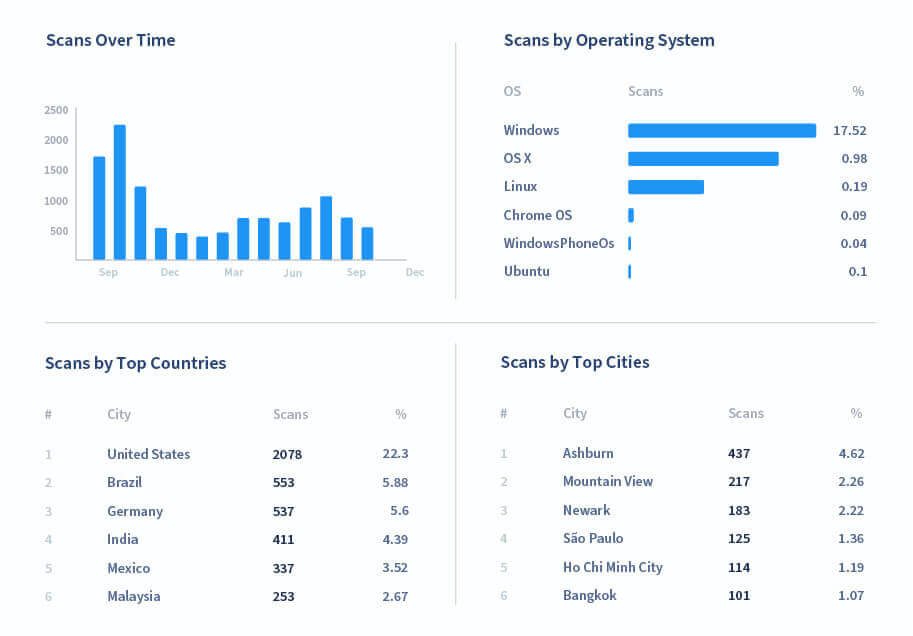 Pro tip: To ensure you have access to QR Code tracking data, make sure you choose a Dynamic QR Code solution. If you don't need to track your campaign and only need a QR Code without editing, a Static QR Code might be more suitable. View a list of all the QR Code types here.
Completely customizable
QR Codes are no longer limited to their black and white originals. QR Code Generator has developed full-scale customization options, both for the display page connected to your QR Code's content, as well as your custom QR Code design. Style your QR Code with brand colors, a logo or image in the middle, different edges, and custom frames with an editable CTA (call to action). There is no worry about whether QR Codes will match your print material designs whatsoever.
File types for all design formats
For marketers and graphic designers keen on getting the perfect design or doing their own customization, you can download QR Code image files into four formats: JPG, PNG, EPS, and SVG. To add QR Codes to any designs, any photo editing tool will do the trick. In either case, make sure that you use the appropriate color contrast and maintain the quiet zone so you don't run into QR Code scanning problems.
Scale them up or down
As long as you design your QR Code at a minimum size of 2 x 2 cm (around 0.8 x 0.8 in), you can scale them up as large as you need. QR Codes have been made as large as wheat fields so we're absolutely sure you will have no problems finding the right QR Code size for your print marketing materials.
Always editable means no reprinting necessary
In case QR Codes don't sound awesome enough already, we'll mention another aspect of Dynamic QR Codes. They can be edited even after you print them. This means if you need to update your display page, swap out a link, or even change your type of QR Code solution, this is entirely possible at any time without changing the QR Code's appearance. Updating print materials has never been so easy!
Make sure the size of your QR Code isn't too small to be read
Examples of print marketing materials with QR Codes
To get your QR Code design off on the right foot, we've compiled a few useful examples for how fictional brands combined QR Code campaigns with print marketing materials.
Magazine & newspaper ads
A fashion retailer created a print magazine ad promoting its mobile shopping app. They used an App Store QR Code so that readers can view the ad, scan the QR Code, and automatically download the app to begin shopping.
Poster ads
An event management company is promoting a concert in a local area with poster ads. In order to make the registration and ticketing process easy, they added an Event QR Code on all the poster ads.
Brochures & flyers
A fitness studio promoted their membership subscription with a Video QR Code on a flyer. Those who viewed the flyer could scan the QR Code, watch the video, and were directly encouraged to purchase a subscription with a customizable CTA button on the video display page.
Product packaging
An e-commerce retailer used QR Codes on the product packaging of a new line of candles. They wanted to know which candle scents customers like best so they added a Rating QR Code on the product packaging. The company received automatic email updates with the ratings and were able to determine which products to prioritize in the future.