Product
Revamp Landing Page Design With QR Codes

Businesses across the globe and in every different industry use landing pages to generate new customers. While landing page design involves more or less the same elements, each page should contain a certain uniqueness for the specific product or service sold. An inventive way to make your landing pages stand out and improve traffic is with QR Codes. How? Keep on reading!
What is a landing page?
"Landing page" has become a buzzword across the business and marketing world due to its usefulness. A landing page typically has the purpose of lead generation, meaning capturing the attention of potential new customers who come to the page and then take a specific action as directed by the CTA (call to action). The CTA is likely the single most important element of a landing page because it directs the customer to do something in particular once they've come to this page.
Usually, there are two purposes: Reference and transactional. Reference landing pages typically are for educational and informational content like e-books, white papers or special reports. On the other hand, transactional landing pages focus on getting customers to directly make a purchase then and there.
Users are brought to landing pages with a combination of the following methods:
Google ads
Social media (ads and post content)
Email marketing
SEO (search engine optimization)
Landing page design with QR Codes
Landing page design often includes a few crucial elements that the top landing pages use. The key is to arrange these elements in a way that conveys your brand, as well as effectively speaks to the target market in a manner that incentivizes them to take a specific action. QR Codes, therefore, are the ideal partnership for landing pages because of how their technology has been developed to work together with typical landing page design elements.
Focus on the CTA
A CTA is the core of every landing page because the CTA pinpoints the goal that the landing page was developed around. In the example above the CTA is "Play MP3", because the page is focused on getting customers to play a podcast. Once a customer scans this QR Code, or completes any CTA action, the goal is to then retarget the customer with other marketing methods such as email marketing or social media in order to convince the customer to make a purchase. Or in the case that they already made a purchase, the goal is to keep them interested.
The best landing pages use a CTA with an active verb and that's just a few words; no more than 5, at the most. The CTA should be placed in a clear and easily findable area on the page. Depending on the page length, sometimes it's just in one place, or can also be placed in multiple places on longer pages.
How this works with QR Codes: QR Codes made with QR Code Generator software all have an option to add a CTA. Adding this to a landing page will make your CTA stand out loud and proud.
Use clear-cut headings
The main heading from the example above is "Gadgets We Should Have By 2020". The goal with headings is to summarize the point of what you'd like to convey – in this case, the topic of the podcast. If you use multiple sections, each one should have a clear heading that explains that particular section, a bit like a news headline.
Style your brand's copy
A copy is all the text that's written on the landing page. It should reflect your brand's style and tone. For landing pages in particular – which is a big difference from long-form SEO (search engine optimization) content that has 1000+ words, landing page copy should be short and snappy. The point here is not to inform your reader in-depth, but rather to get them to take a particular step bringing them further into the sales process with a summary.
High-quality brand imagery & logo
The images used on a landing page reflect the quality of your brand and also help customers to associate a specific message in connection with your brand. Use high-quality images that are purposeful in that they support the copy and the general tone you're using. It's also important to display your logo at least once on the page as well.
How this works with QR Codes: QR Code Generator makes it simple to customize every aspect of your QR Code. You can choose from custom frames, add exact brand colors, and put your logo in the middle so that every feature fits perfectly with your landing page design.
Don't forget social links
It's also highly recommended to include social media links on your landing page. Particularly because these pages are intended to get heavy amounts of traffic, especially from your target audience, you can use this to simultaneously amplify social media engagement.
How this works with QR Codes: Maybe your intention with the landing page itself is to get more social media engagement. There is a QR Code for exactly this purpose: Social Media QR Codes. This works exceptionally well for when you want to ensure that both mobile and desktop users are targeted because QR Codes streamline the process from desktop to mobile by making links easier to access for smartphone users.
Forms are great, but what about a QR Code?
Many landing pages use a form to encourage users to input their personal data in exchange for a type of information. As already mentioned, this is a common form of lead generation, because this gives marketers insight on which types of audiences are interested in their products and services. It's also one of the most common methods for growing email marketing lists.
How this works with QR Codes: Instead of a form, considering using a QR Code. Forms are limited in space and scope. You can't make them too long or no one will take the time to fill it out. Sometimes even having a form in the first place can be a deterrent. But if you add a QR Code, it's only one simple step that the customer has to take. You'll still get customer information if you've used a Dynamic QR Code (which are always editable and trackable), as well as that you can link the user directly to whatever information they need instantaneously. The information linked to the QR Code has an endless amount of use cases and types for every business.
Always test it
The most successful landing pages are developed with multiple versions that are tested over time, also known as A/B testing. A/B testing is absolutely crucial for ensuring that your conversion rates are the best they possibly could be. You can gain insight on which types of pages work with which audiences so you discover the best possible recipe for selling your products and services. It's often the case that the most successful companies are as such because they've put the effort into continual testing and optimization.
How this works with QR Codes: All Dynamic QR Codes made with QR Code Generator software reveal valuable tracking information: location by city and country, operating device used, time scanned, and total vs. unique scans. This allows the comparison for campaigns over different time periods and locations so you can reach your target market exactly as needed.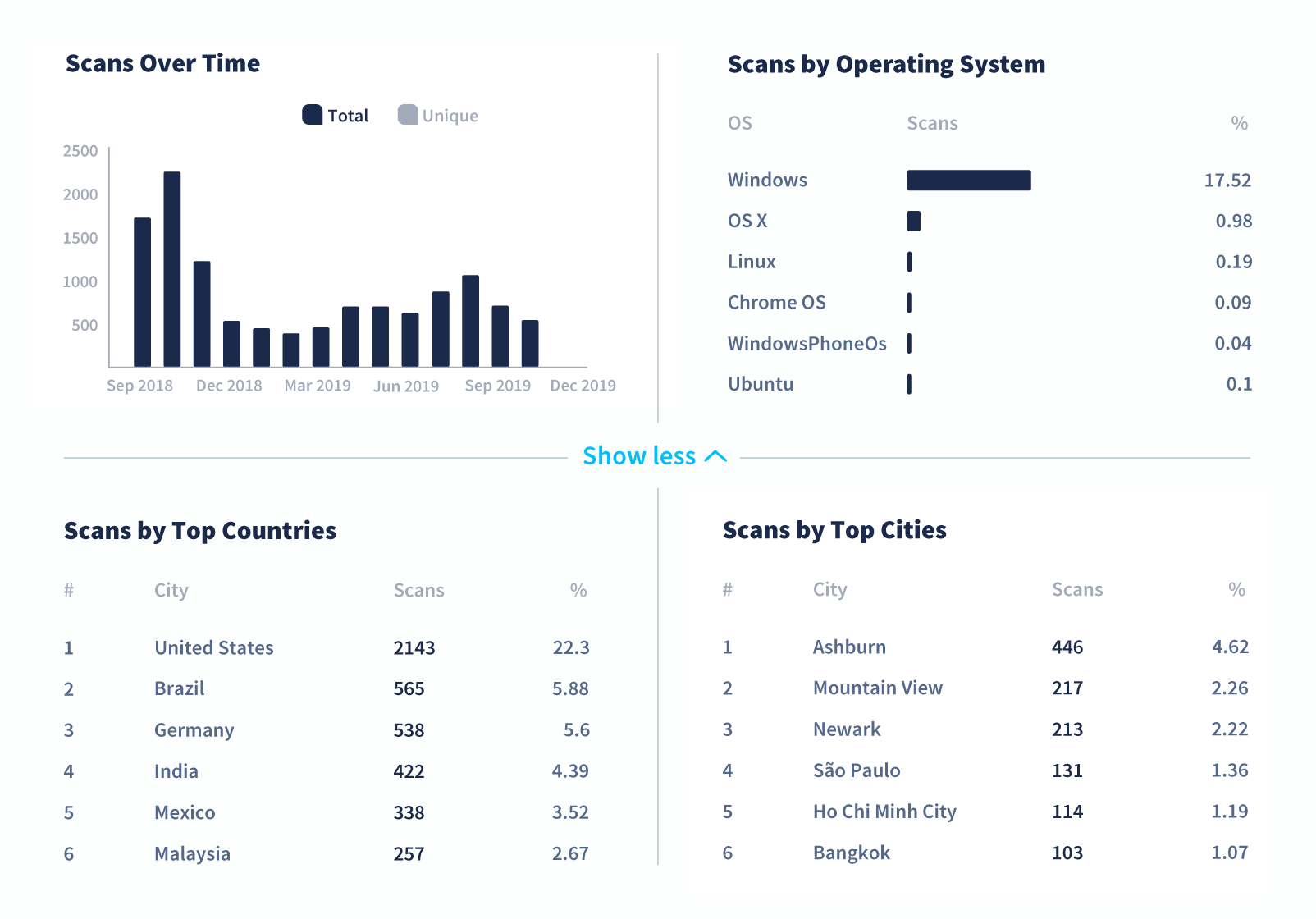 Cover desktop and mobile
You might design landing pages differently based on whether your target audience is using mobile or desktop devices. In some cases, you may want to target both. Whichever one is true, make sure that your landing page has been thoroughly optimized for display on all devices so that no potential customers are lost.
How this works with QR Codes: QR Codes relieve the issue between desktop and mobile because they are easily usable for both devices. Let's say you wanted to test a landing page for both mobile and desktop use but the goal was to get more mobile views (often is the case for app downloads). Adding a QR Code makes this possible because users on a desktop can scan it and then still have access to the mobile content without having to research the content when switching devices.
Keep your content short
It was already mentioned that landing pages are typically shorter forms of web pages because the goal is to convert the customer by providing a summary of a product or service. Both the copy and the page itself should be short and to the point. If you take a look at the example below, you'll see that it's extremely to the point. There's bare minimum copy and the CTA is positioned directly in the middle. They convey a specific value to gain a customer's attention quickly and have been extremely successful in doing so (considering they had a 57.92% conversion rate).
How this works with QR Codes: A QR Code is a perfect place to store the additional information that you'd like to incentivize the customer with or direct their attention to. Not only does it cover both mobile and desktop users in one go, but you can also link all different sorts of information, including videos, PDFs (think ebooks here), event registration details, sound files, apps, and more.